Lucia and the Best Boys, SWG3, Glasgow review - a celebratory homecoming for rising star |

reviews, news & interviews
Lucia and the Best Boys, SWG3, Glasgow review - a celebratory homecoming for rising star
Lucia and the Best Boys, SWG3, Glasgow review - a celebratory homecoming for rising star
The songstress and her band cut an entertaining but inconsistent performance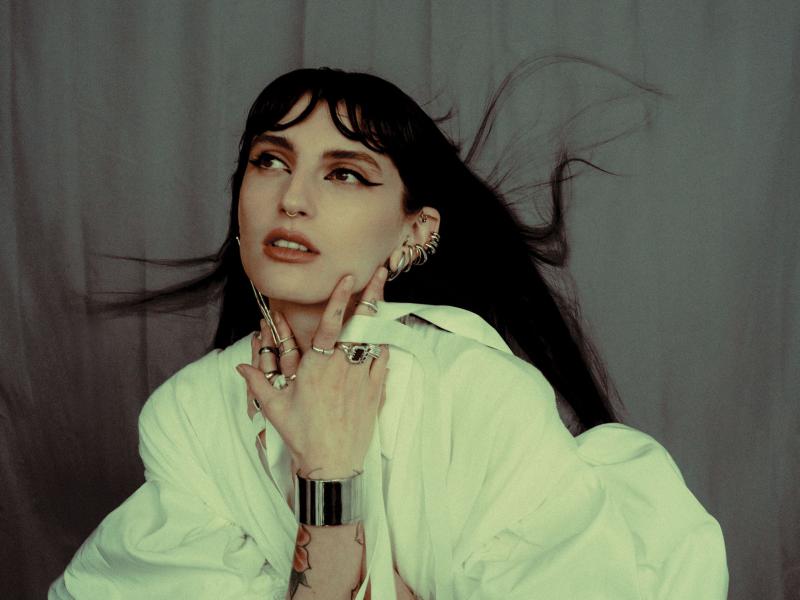 Lucia Fairfull looking towards the future
Jessica Winter is clearly a hardy soul. The Portsmouth singer made a point of shedding her jacket and top as her support set went on, a bold choice given the typically unpredictable Glasgow weather was serving up freezing snow outside at the time.
It was hard to decipher if her music was as adventurous, as it shifted from dance heavy bangers to melodramatic pop that thrived on theatrical gestures and movement, but was hindered by choppy sound that left her vocal inaudible entirely for one number. She did, however, handle proceedings with a flair that bodes well.
There were moments when Lucia Fairfull displayed similar pizazz in the evening's headlining set, a hometown gig the singer declared was seven years in the making. The group's first gig had been in SWG3's much smaller Poetry Club section, and the intervening years have seen them built a dedicated local following, support the likes of Wolf Alice and Sports Team, and shift their sound around in the process. Fairfull herself has a strong voice though, no matter the genre, and it was the unifying element in a night that was both entertaining and inconsistent.
When the singer arrived it was to wild screams from many of the teenagers in attendance, and her heart-on-sleeve writing and take-no-crap attitude makes it easy to see why she'd be looked up to. At its best, her music uses that to ride on, with one of her earliest numbers, "Good Girls Do Bad Things", a glam meets Billy Idol sprint carried with sassy charisma, and the following "You're So Sweet You Should Die", a filthy stomper with an intense drumbeat and driving synths. They let Fairfull's voice really reach out, and it is a powerhouse of a vocal when she lets loose.
In fact, sometimes both the voice and the music can be a little too powerful. Her most recent material, with a debut album arriving this year, have moved towards 80s pop, and on the likes of the acoustic guitar flavoured "Let Go" and the big, lumbering beats of "My God" it was all too unwieldy, reaching for the heavens and smashing the roof in the process. On a track like "Forever Forget", which was on nodding terms within Madonna around the time of "Lucky Star", it felt like Fairfull herself was rendered too indistinct by the booming sound.
As well as her various Best Boys who form the core line-up of the band, there were friends popping by to add fiddle, whistle and backing vocals at various points, and the vibe was overly cluttered at times. However this was still a celebratory night, and there was talent and tunes on display, particularly when a clearer sound came into focus, from yearning ballad "Burning Castles", a tune that screamed out a possible hit to the mass sing-along that greeted "Perfectly Untrue", a fine slice of pop.
When the closing run arrived with synth heavy single "When You Dress Up" and the encore's feedback drenched "Saturday's Dead" there was enough to suggest Fairfull might be able to coalesce her various influences into a satisfying whole.