Martha Wainwright sings Piaf, Barbican |

reviews, news & interviews
Martha Wainwright sings Piaf, Barbican
Martha Wainwright sings Piaf, Barbican
High-risk strategy for an American to take on the French icon
Thursday, 12 November 2009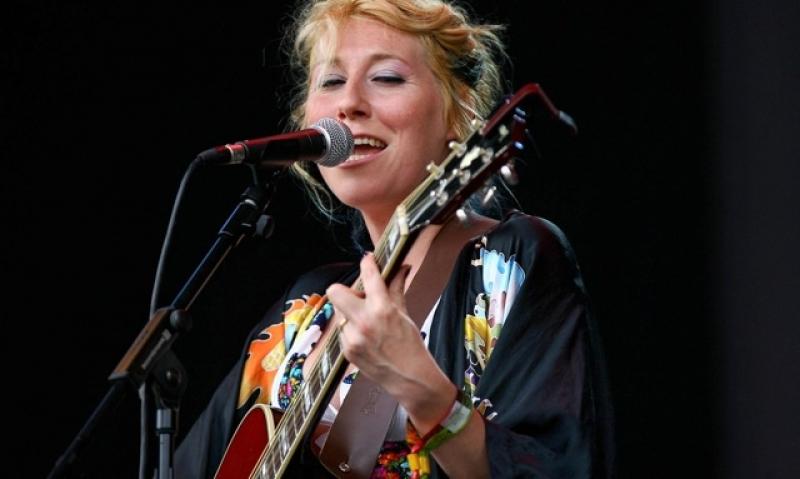 Martha Wainwright: an unlikely hommage that comes off better than expected
Martha Wainwright's decision to perform and record a selection of songs by the late Edith Piaf is a bold, not to say high-risk strategy that made for a fascinating one-off concert at the Barbican last night.
Plenty of pop divas from Minelli to Bassey and most recently Grace Jones have covered Piaf evergreens such as "Non, je ne regrette rien." But none has dared to take the Wainwright route and build an entire concert and live album around interpretations of more obscure items from the soi-disant little sparrow's giant catalogue.
While tribute albums loom ever larger in pop's rear view mirror, Wainwright's latest Ni Fusils, Ni Souliers A Paris takes on an iconic figure whose ownership of her work has proved pretty burglar-proof. Though she only personally wrote a handful of the hundreds of songs she sang, Piaf's turbulent and well-publicised demi-mondaine life - in which whores, pimps, doomed love affairs, unforeseen disasters and premature death loomed large - supplied more than a backdrop. It was a large part of her act. She sang of what she knew in a voice whose extraordinary timbre and elastic delivery could simultaneously express defiance, vulnerability, passion and regret. No modern popular singer has so far cloned Piaf's vocal style, and none – with the possible exception of Amy Winehouse – has lived anything like such a chaotic life. How would the feisty and witty American folk rocker Martha Wainwright make out?
Better than expected, just, was my initial response at the Barbican. In a show of two halves – closely modelled on a couple of concerts Wainwright recorded in New York in June – she seemed to need time to assume the Piaf persona. Being several months pregnant hardly helped her hommage to a woman who lived childless throughout her career, but the sparkly baggy top with the pink hoops and black leggings which she wore in the first half looked more like a harassed housewife's cry for help than Piaf's stoically understated little black dress.
Luckily Wainwright had if not the, then a voice which could carry the songs with confidence. Her vibrato couldn't match Piaf's and she didn't even try to handle the conversational asides, but her grasp of French, learned during her childhood in the French Canadian metropolis Montreal, sounded perfectly convincing. It was, as she acknowledged, a shame she needed a stand for the lyrics but memorising the words was impossible "because there are just so many of them." The audience tittered, Wainwright gave a sly grin – and therein lay the problem.
Wainwright is a gifted, highly-strung singer with an irrepressible urge to send herself up. The title of her last album I Know You're Married, But I've Got Feelings Too gives the measure of her take on emotional upsets and like the loud top, it isn't exactly Piaf's. You noticed this in the second number "Une Enfant," a tale of teenage love snuffed out, as Wainwright explained in her amusing intro, by cruel circumstances "and because they're French, they have to die." She delivered the climactic exclamatory line 'Morte!' with a broad smile on her face, and again the audience tittered.
Perhaps an ironic approach was the safest way to handle such melodramatic material. It didn't detract from the pin-sharp playing of her 9 piece band of brass, strings, guitar, piano aand accordion, and on the more straightforwardly brassy numbers, such as "Marie Trottoir " – "it's about an old hooker basically," cue more tittering – the concert really started to swing.
It wasn't till the second half though, for which Wainwright wore a more subdued black silk smock over her bump, that you really felt the spirit, as well as the style, of Piaf. The best moment for me came with "Les Grognards", one of her odes to the military whose thunderous discordant arrangement and declamatory vocal suited Wainwright well. No grinning for this one, or the equally oblique "Le Metro de Paris" that ushered in the encores.
It was here that Wainwright began to shine and the self-consciousness melted away. First she deviated from her script and sang a heart-rending version of the Dustbowl lament, "Brother, Can You Spare A Dime." Then dispensing with the microphone – a good move in itself - she led the audience through a Piaf standard she had deliberately refrained from recording, but perhaps should have done, "La Vie En Rose." As we all la-la-ed away some of the communal emotion that powered Piaf surged at last around the Barbican hall.