Mdou Moctar, Hare & Hounds, Birmingham review - Tuareg rock'n'rollers have their audience entranced |

reviews, news & interviews
Mdou Moctar, Hare & Hounds, Birmingham review - Tuareg rock'n'rollers have their audience entranced
Mdou Moctar, Hare & Hounds, Birmingham review - Tuareg rock'n'rollers have their audience entranced
Niger four-piece put on a shamanic show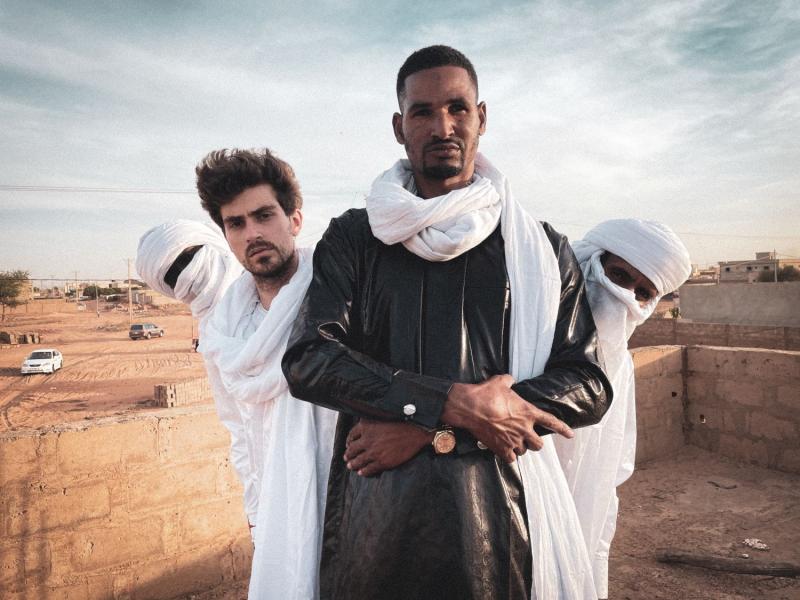 Mdou Moctar: the Hendrix of the Desert
It doesn't happen very often that I find myself experiencing a performance of music that I don't really know, sung in a language that I don't speak – and completely entranced by what's going on. But prior to this week, Mdou Moctar was a bit of an unknown quantity to me.
Mdou Moctar (or Mahamadou Souleymane to his closest and dearest) and his three-piece band are Tuareg musicians from Niger and play muscular psychedelic desert blues sung in the Tamasheq language. To those who are unfamiliar with their recent Afrique Victime album (and those that have come before it), they have something of a kinship with Tinariwen's assouf tunes but with more heft and some serious guitar pyrotechnics.
The performance venue at the Hare and Hounds is just a room above large-ish pub and so the first that most of the Birmingham crowd of hip predominantly 30-somethings saw of Moctar and his crew was when they stepped out of the audience and onto the low stage dressed in black leather jackets with white keffiyeh scarves wound around their necks. Not ones for onstage banter, they briefly tuned up their instruments and magicked up a swirling and trippy, trance-like blues with a laidback dromedary's gait. This immediately captured everyone's attention and, as the band expanded upon their woozy groove, a mosh pit didn't exactly open up but hips certainly started swaying.
As the music gathered some pace, Souleymane Ibrahim's drums became heavier and more insistent, while Moctar, a full head taller than bassist Mickey Coltun and rhythm guitarist Ahmoudou Madassane, pointed his left-handed white Stratocaster to the ceiling and let rip one of his many incendiary guitar runs that have earned him his "Hendrix of the desert" epithet. This had the audience responding with loud whistling and clapping that was enough to put a big grin on Mdou's face.
The music that Mdou Moctar and his confederates conjured from their instruments may be largely unfamiliar to the Western ear but it was certainly rock'n'roll and not something to be filed away as some quaint foreign sounds from a far-off land. Their shamanic sounds pushed the vibe to ever greater heights as the evening progressed and in previous times, before today's rather intrusive health and safety legislation, the likely clouds of cannabis smoke wafting above those present would no doubt have made this performance into something of a trippy, psychedelic ritual.
However, just as Mdou Moctar's show had begun with little fanfare, so as the last tune came to an end, the band merely unstrapped themselves from their instruments and stepped back into the audience. The lights stayed down and cries of "one more song" were shouted, but to no avail. At which point, the house PA system sprang back into life with the sounds of Van Halen's "Jump", which was enough to bring anyone back to earth after such a mind-blowing gig.
Not something to be filed away as some quaint foreign sounds from a far-off land
rating
Share this article