Music Reissues Weekly: The Boo Radleys - Giant Steps |

reviews, news & interviews
Music Reissues Weekly: The Boo Radleys - Giant Steps
Music Reissues Weekly: The Boo Radleys - Giant Steps
Thirtieth-anniversary reappearance of the landmark Creation Records double album
The Boo Radleys at the time of 'Giant Steps'
The final track of Giant Steps is titled "The White Noise Revisited." Its lyrics recount the crushing impact of a job where you "kill yourself at work for what seems nothing at all." After coming home, "you listen to the Beatles and relax and close your eyes."
Inevitably, as it was also a double album with a similarly hop-scotch approach to musical styles, the newly reissued Giant Steps was bracketed with The Beatles' eponymous double album from 1968; what was dubbed "The White Album." Little needs saying about what's in the grooves of the wonderful Giant Steps on the occasion of its 30th-anniversary reappearance. There was a reason it was at number two, behind Björk's Debut, in NME's 1993 albums of the year.
When The Boo Radleys' second album for Creation Records, and third overall, was originally issued 30 years ago this month the music monthly Select ran a tie-in feature which said the band's songwriter "Martin Carr was born in 1968; the year of the White Album" and that "the Boos have a Beatles fixation they can't shake."
Of Giant Steps, which borrowed its title from a 1960 John Coltrane album, Carr told Select that "I had a vision to make an album that sounded big somehow. Just huge open plains, something like (Miles Davis') Bitches Brew. It was the feel rather than the variety, which is something I've always believed. And things like the White Album or (Sonic Youth's double-album) Daydream Nation, you just lose yourself in them. I don't think Giant Steps would have worked as a ten-­track album."
Of course, another band which Creation signed also had The Beatles on their mind. The first Oasis single, "Supersonic," was issued in April 1994. Their first album, Definitely Maybe, was issued exactly a year after Giant Steps. Another double, it was more stylistically focussed than what The Boo Radleys had created. The two Beatles' preoccupations produced very different results. However, after Oasis hit big The Boo Radleys issued the straightforward "Wake up Boo!" as a single and found themselves in the singles chart for the first time.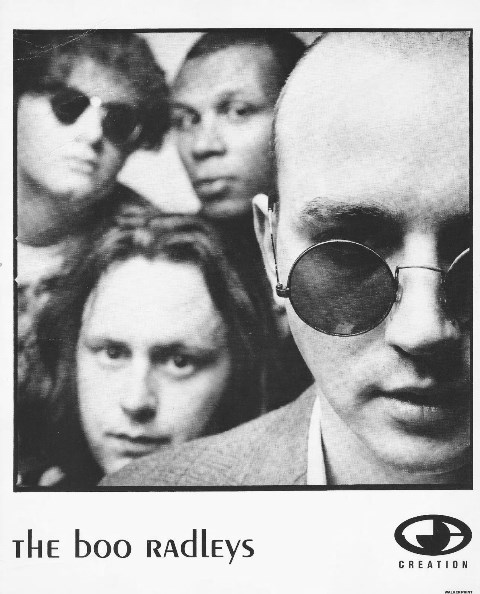 In essence, the pre-hit single Boo Radleys' diversity was at one with their label's outlook. Creation issued Giant Steps between The Jazz Butcher's Western Family: Live in America and Canada and the Felt compilation Absolute Classic Masterpieces Volume Two. Immediately before the Jazz Butcher album was Ride's Carnival of Light. Immediately after the Felt album was Momus' Timelord. Around the time of Giant Steps, the biggest Creation bands in terms of sales were the post-Screamadelica Primal Scream, Bob Mould's Sugar and Teenage Fanclub. Maybe Ride too. Around this time, Adorable, Slowdive and Swervedriver had their profiles. Idha, Medalark Eleven and Poster Children had varying levels of cult appeal. Conspiracy Of Noise and Dreadzone were on the roster too. Creation was not about one thing.
However independent-minded Creation may have been in relation to who it signed, the label as it was in 1993 was no longer independent. In 1992, the year before Giant Steps appeared, it was in debt. This was dealt with when multi-national label Sony paid £3.5m for a 50% share in the label, bringing it into the corporate music business. Giant Steps was released in this new context and the looming stylistic levelling-down which Oasis and Britpop came to represent. Later, in November 1999, Creation was closed down and its remaining assets were sold to Sony Music for £17m. The Giant Steps reissue is licensed from Sony Music Entertainment UK Limited. The reappearance of the album is a reminder that creativity for the sake of it still thrived shortly after Sony stepped in to bail out Creation.
The new Giant Steps comes in various configurations: black vinyl (selling for around £35 to £40); a version with an LP apiece in orange and purple vinyl plus a 10-inch with a couple of remixes by Saint Etienne first issued on singles back then (around £38 to £45); an edition on marble vinyl with a 12-inch collecting the Saint Etienne remixes and two other single-only tracks from the period (also around £38 to £45). Some copies of the orange and purple version come with a badge. First pressings from 1993 sell for about £50. Whichever version is chosen – even a CD – doesn't matter. It was great then. It is great now.
Next week: Keith Levene and The Clash – what were the UK punk pioneers like before their founder-member guitarist left?

'Giant Steps' was great in 1993. It is great now
Explore topics
Share this article