Music Reissues Weekly: Cherry Stars Collide, Waves of Distortion |

reviews, news & interviews
Music Reissues Weekly: Cherry Stars Collide, Waves of Distortion
Music Reissues Weekly: Cherry Stars Collide, Waves of Distortion
Shoegazing confirms its resonance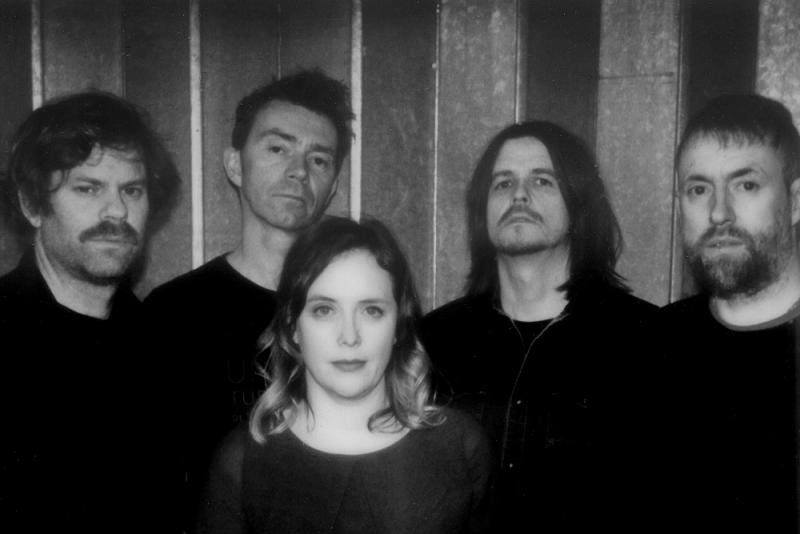 The post-reunion Slowdive: their 2014 reformation has been pointed to as pivotal in shoegazing's history
In July 2007, an article in The Guardian expressed surprise that shoegazing was influencing a series of current musicians, Blonde Redhead, Deerhunter, Maps and Ulrich Schnauss amongst them.
"You could hear the heady, woozy influence of a style of music that had been a byword for naffness and overindulgence for the past 15 years," said the article's opening paragraph. "A type of music that Richey Edwards of the Manic Street Preachers had said he 'hated more than Hitler'".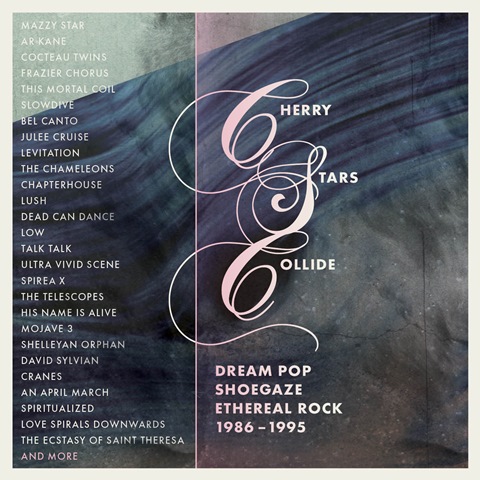 Five years on, in the same newspaper, a May 2012 live review of America's Beach House said much the same thing: "The early 1990s shoegaze scene is not widely regarded as British music's finest moment. Peopled by bands such as Lush and Slowdive — who crafted sumptuous, serene art-rock that was heavy on non-specific introspection and FX pedals — it was to prove a mere footnote to the era of acid house and Britpop. Twenty years on, the Baltimore duo Beach House are doing a sterling job of rehabilitating that much-maligned scene's ethos".
Notwithstanding shoegazing's seemingly negative aura – evidenced by the above – two compilations dedicated to a "mere footnote" which was "a byword for naffness and overindulgence" have appeared to offer overviews of what the 2007 piece described as "the sound of jangly indie fed through layers of distortion, overdrive and fuzz; of delicate souls turning themselves up to 11". Cherry Stars Collide Dream Pop, Shoegaze & Ethereal Rock 1986-1995 is a 4-CD clamshell set, following-up 2016's Still In A Dream casebound set. Waves of Distortion (The Best of Shoegaze 1990-2022) is available as a double album or double CD (the latter with more tracks than the vinyl version – the CD is not a dead format).
In the UK, shoegazing was one in a string of weekly music paper-conceived labels for a groundswell which had been detected. It followed baggy and/or Madchester. It also followed fraggle, the Camden lurch scene, lion pop and other less-well remembered tags. Next up, grunge, the new wave of new wave, and Britpop – grunge and then Britpop seemingly obliterated shoegazing; an ironic outcome in the case of the latter as more-than a few bands lumped-in with shoegazing had surfaced on Creation, the label helping to bring Britpop titans Oasis to the world.
In the US, shoegazing was swiftly sloughed-off as a tag. In late 1991, British music journalist Simon Reynolds wrote a piece for The New York Times headed "Dream-Pop" Bands Define the Times in Britain. "This year", he wrote. "The most popular phenomenon in British alternative rock is a wave of hazy neo-psychedelic guitar groups. Some critics call them 'shoe-gazers' because of their on-stage bashfulness. Perhaps the more appropriate term is 'dream pop', which evokes these groups' blurry, blissful sound and out-of-this-world aura". He pointed to Chapterhouse, Lush, My Bloody Valentine, Ride, Slowdive and Swervedriver as leading names.
While the terms can be interchangeable, the dream pop handle allowed room for slightly earlier, foundational US bands Dinosaur Jr., Hüsker Dü and Sonic Youth, as well as the UK's Cocteau Twins. Reynolds concluded "in Britain, with dance-rock groups like EMF and the Charlatans seeming like yesterday's news, dream pop is increasingly identifiable and saleable, and major labels are starting to pay attention".
And, naturally, what bands and fans clung to from around this point resulted in ripples through reunions, the related comeback albums and live shows, archive collections, high prices for original records (Pygmalion, the third Slowdive album, can sell for £300) and a concomitant influence on current musicians. Back in 2012 or 2007, it was worth noting that a purportedly marginal sound which had emerged 15 or more years earlier still exercised a grip – a sound expected to have faded away, that is. In this still on-going context, it's unsurprising these two compilations have emerged.
Waves of Distortion is a fine listen, a primer demonstrating that the vibe was international (Beach House, Australia's Lowtide, Sweden's Echo Ladies are amongst those collected) and that beyond a lull from the later Nineties into the early part of the next decade, the sound never went way. Slowdive's 2014 reunion is pointed to as a pivotal moment. Fittingly, the track selection brings things almost up to now.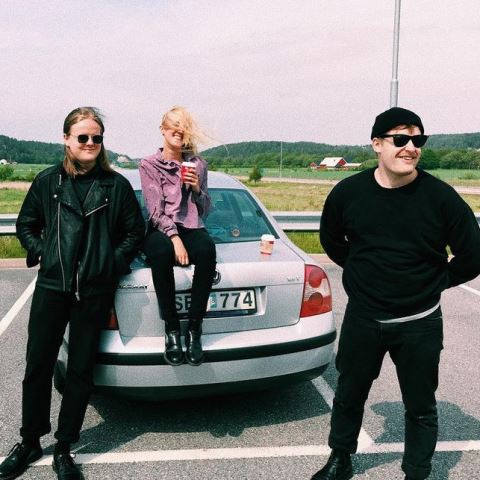 As its "Dream Pop, Shoegaze & Ethereal Rock" subtitle suggests, Cherry Stars Collide is more amorphous. Tracks selected demonstrate that one aspect of an act's catalogue fits the bill without strictly representing who they were or are overall. This applies to what's heard by The Cranberries, Louis Phillipe, Saint Etienne, David Sylvian and more, but the point is made: folks created atmosphere instead of embracing immediacy. (pictured right, Swedish shoegazers Echo Ladies)
There are crossovers between each release. Blind Mr Jones, Chapterhouse, Kitchens Of Distinction, Pale Saints, Slowdive, Spirea X and The Telescopes are on both, though with different tracks. With its older selections, Waves of Distortion plumps for better-known cuts (Kitchens Of Distinction's "The 3rd Time we Opened the Capsule", Pale Saints's "Sight of You", Spirea X's "Chlorine Dream"). Cherry Stars Collide sets-off material which has been less-close to the surface (Kitchens Of Distinction' "Hypnogogic", Spirea X's cover of "Signed D.C.") against selections which, though within the self-appointed stylistic brackets, feel less surprising (AR Kane's "Lollita", Cocteau Twins's "Iceblink Luck", Julee Cruise's "Falling").
As to the wider context of these sets in 2023, it's hard not to wonder about their resonance echoing an interpretation raised over three decades ago. Back in 1991, in his New York Times dream pop piece, Simon Reynolds said the "yearning for escape [heard in the music] relates to the groups' socio-political environment. After 12 years of Conservative government in Britain, any idealism or constructive political involvement seems futile to these alienated middle-class dropouts". Perhaps these compilations reflect an analogous, present-day situation?
Next week: The roots of Oi - Cock Sparrer's The Decca Years

In the US, shoegazing was swiftly sloughed-off as a tag and replaced with 'dream pop'
Share this article