Music Reissues Weekly: Dave Brubeck Quartet - Debut In The Netherlands 1958 |

reviews, news & interviews
Music Reissues Weekly: Dave Brubeck Quartet - Debut In The Netherlands 1958
Music Reissues Weekly: Dave Brubeck Quartet - Debut In The Netherlands 1958
Previously unheard Amsterdam concert enhances the existing catalogue
Off the train, onto the stage: Dave Brubeck at Amsterdam's Concertgebouw, 26 February 1958. To the right, drummer Joe Morello
For Dave Brubeck, his Quartet's first concert in the Netherlands was memorable. Getting to Amsterdam's Concertgebouw for the 26 February 1958 booking was difficult, possibly unfeasible. The band were travelling from Berlin, and arrived at the show a half-hour after they were meant to be on stage.
The adventure is described by Brubeck in his note for 1958's The Dave Brubeck Quartet in Europe album (a live set recorded in Copenhagen on 5 March: pictured below left). A blizzard had hit Berlin and all flights out were grounded. They got onto one for Düsseldorf, from where they'd have to take a train to Amsterdam. The train originated in Vienna and was probably going to be late so, assuming a delay, sax player Paul Desmond went off to search for his typewriter which was missing from the luggage pile on the platform. It arrived on time, so Brubeck commandeered the station's PA system to make an announcement calling Desmond. They only made it onto the train after holding it on the platform.
Still, they made it. Also in his text, Brubeck says the Amsterdam show was recorded but that he didn't want to listen to the tapes due to the concert's less-than ideal history. Just over a decade from his death, this show is issued as Debut In The Netherlands 1958. The tapes were in the archive of Dutch national broadcaster VARA. The sound quality is superb, though the performance of "Take the 'A' Train" cuts off at 09:22 as the tape ran out.
Dates from this tour have been heard before. Back in 1958, material from Copenhagen was heard as the Dave Brubeck Quartet in Europe album. Berlin, from 22 February, was issued as Complete 1958 Berlin Concert. Hannover, 28 February, became Live in Hannover 1958. The tour is notable as after Europe, through a US State Department initiative, the quartet headed off as musical diplomats to Turkey, Iran, Iraq, India, Pakistan and Afghanistan. Ultimately for Brubeck and his fellow musicians, the result of this was caught at New York's Columbia studio over July and August 1958 in what became November 1958's Jazz Impressions of Eurasia album. "Blue Rondo à la Turk", issued on 1959's Time Out album, was also composed in this period.
In Amsterdam, most of this was in the future. The band was Dave Brubeck (piano), Paul Desmond (saxophone), Joe Morello (drums) and Eugene Wright (double bass). Swing veteran Wright had just joined after passing through bands led by, amongst others, Gene Ammons and Red Norvo. Morello came on board in 1957.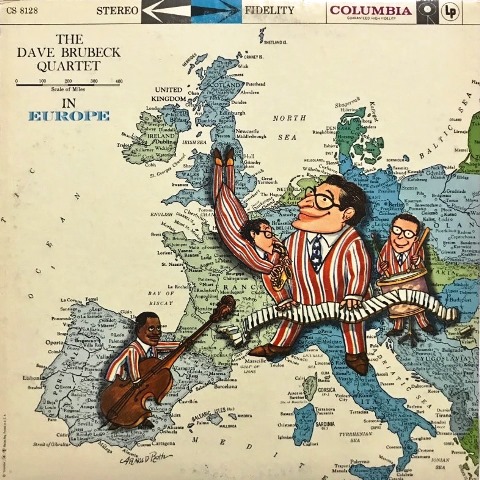 Given what's already been issued from this tour, Debut In The Netherlands doesn't offer big surprises. All the compositions performed are heard on the other releases. Even so, the amazing sound quality is complemented by slightly different slants on what might be familiar. The opening "Two Part Contention" begins tentatively – unsurprising considering the circumstances of the show – but at around 02.30 lifts off as Morello's drums get busy. The set's sequencing is different to that of the Berlin and Hannover shows which have been released. As a result, following "Two Part Contention" with "Someday my Prince Will Come" is an interesting contrast especially after Desmond begins flying. Hereon in, the quartet is poised and kinetic. There's no evidence the band had taken the stage while in a flap.
Buyers should be aware the booklet says this concert was played 26 November 1958. To eradicate any doubt this sows, the set list here comprises seven pieces also played in Hannover (as per the Live in Hannover release) so this has to be a February date. Furthermore, before Amsterdam, "The Duke," "Take the 'A' Train," "Two Part Contention" and "These Foolish Things" were played in Berlin (see the Complete 1958 Berlin Concert release). Proof-reading should have been undertaken. There is no mention of Brubeck's entertaining account of the Amsterdam show. The lack of contextualising research is also disappointing.
Nonetheless, although Debut In The Netherlands 1958 might be seen as a inessential supplement to the other February / March 1958 releases it stands alone due to the sound quality and the cohesiveness of the playing. Even when soloing, each player is part of the whole. There's no reason this can't act as an entry point into Brubeck's early 1958 escapades.
Next week: Stranger In Town - A Del Shannon Compendium. 12-CD, 302-track celebration of the unique stylist

At the time, Dave Brubeck said he didn't want to listen to the tapes of the Amsterdam show
Explore topics
Share this article