Music Reissues Weekly: Stranger In Town - A Del Shannon Compendium |

reviews, news & interviews
Music Reissues Weekly: Stranger In Town - A Del Shannon Compendium
Music Reissues Weekly: Stranger In Town - A Del Shannon Compendium
Baroque wonders, haunted psychodrama and garage-punk power
Del Shannon in 1990
After Del Shannon took his own life in February 1990 at age 55, some obituaries were careful to point out that he stood apart from other pop stars who were big in pre-Beatles America. "The most tragic thing would be for Del Shannon to be lumped with, as he sometimes was in the past, all the Bobbys and Frankies and the other teen idols," said the L.A. Weekly.
As he surfaced in 1961, Shannon would inevitably become lumped in with contemporary US male teen-pop singers. Fair enough to a limited degree as he had the moodiness of Roy Orbison and the edge of Dion, but he was his own thing.
In their obituary, Rolling Stone caught a lot of what made him special. "Shannon wrote his own material, an anomaly at the time, and played rhythm guitar on his records; his songs – "Hats Off to Larry," "Keep Searchin'," "Stranger in Town," "I go to Pieces" and, of course, "Runaway" – were dark, paranoid tales of loneliness, heartbreak, betrayal and revenge." In the hyper-reality of his best songs, the sun was always behind a cloud or shadows were inescapable.
Del Shannon hit big in early 1961 with his debut single "Runaway," but it was the extraordinary run of late 1964 to summer 1965 singles which most explicitly underscores his capacity to create amazing records: "Keep Searchin' (We'll Follow the Sun)," "Stranger in Town," "Break Up" and "Move it on Over" (not the Hank Williams song). Haunted and haunting, all were self-penned and garage-punk powerful, presaging the heft of fellow Michigan musical auteurs The MC5.
Even when the hits dried up – he was always bigger in the UK than the US: there seemed to be more room over here for an individualist than in the States – his distinctiveness meant he had his confirmed supporters. Peter & Gordon took his loss-of-self psychodrama "I go to Pieces" into the US Top Ten in early 1965. The lyrics he wrote were bleak. "I go to pieces and I wanna hide, Go to pieces and I almost die every time my baby passes by."
Rolling Stones manager Andrew Loog Oldham was the first of the British music biz superfans to work with him in the recording studio. In 1967, they made a UK-recorded album which was only partially issued at the time. Fellow fan and A&R man Andrew Lauder got it released in 1978, the year after he signed Buzzcocks to United Artists. It was revealed to be a baroque wonder. Buzzcocks's Pete Shelley would have understood Shannon's ever-present anguish.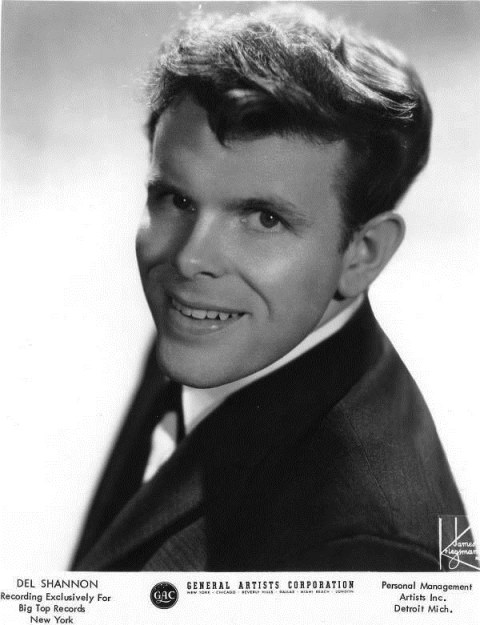 In 1973, Jeff Lynne produced Shannon, with backing by the Electric Light Orchestra. Dave Edmunds produced him at Rockfield (Andrew Lauder had also been behind this). Shannon was appreciated back home too. In 1979, he began collaborating with Tom Petty – the results took a while come out: 1981's exceptional Drop Down and Get Me album. (pictured left, Del Shannon in 1961)
Around that time, author, journalist and NME contributor Cynthia Rose saw him in London at Putney's Half Moon. She was taken aback. "Del Shannon steps onstage: a modest bloke in black cord trousers, pink shirt and stripped-down, zipped-up black leather jacket carrying a guitar, a pint of water – and an unseen roadmap to the endless hallways and horizons of the heart. Shannon doesn't just know the territory; he is the inspiration of the image. Yet none of this prepares me for the delirious disorientation I experience when Shannon opens his mouth. The bottom line is consummate professionalism; constant tempo changes, speedy cutting, acute sequencing and expert guitar work which runs the gamut from statuesque to stone country to rock and roll knife-fight dynamics. How he sang…has to wipe you out: Shannon's incredible voice synthesises influences from country, rockabilly, Four Seasons-era falsetto, street corner doo-wop and Orbison-style operatic into something inimitable in every respect. It sounds unbelievable – I have never heard another more poetically honest. And at 43, he's the best-looking guy I've ever seen on a stage."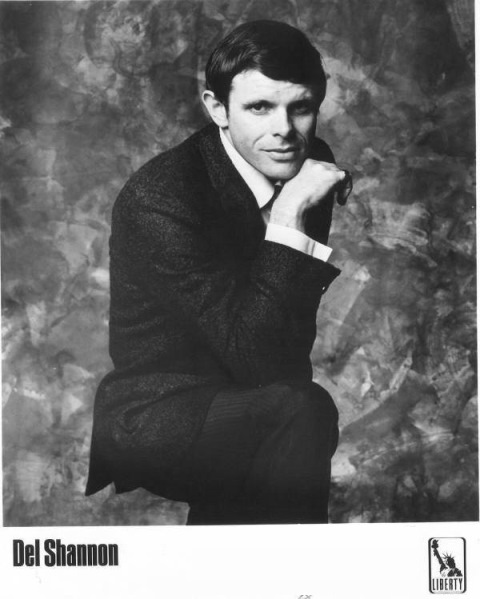 But little momentum followed this. The stop-start pattern continued. As a single, Drop Down and Get Me's "Sea of Love" was a minor US hit and sessions in Nashville over 1982 to 1985 only yielded two singles as his label Warners wanted a more commercial approach to country music. As it had been in 1967 with Loog Oldham, what should have been an album was shelved. Before Shannon's death, Lynne and Petty united to work with him, and the Rock On album was issued posthumously in 1991. He was set to replace Roy Orbison in The Travelling Wilburys. Indeed, one track with that in mind, "Hot Love" was made with Lynne, Petty and George Harrison. (pictured right, Del Shannon in 1966)
Ultimately, Del Shannon followed his own path. Occasionally it dovetailed with voguish musical flavours – from the psychedelic era, 1968's The Further Adventures Of Charles Westover album astounds – but despite being forced in the Sixties by labels to record pointless cover versions of then contemporary songs, his own identity was paramount. He found ways to do own thing so in 1965 issued the Sings Hank Williams album – probably the first country rock album. While on tour in the UK in 1963, he picked up on The Beatles and became the first American to record one of their songs. His "From me to You" was a US A-side in June 1963, in shops only three months after the original was released in the UK. He was hip.
The man born Charles Westover also had his demons and personal issues. These can be set aside for the new Stranger In Town: A Del Shannon Compendium, a no-frills (it has to be, to keep it affordable) 302-track, 12-CD set in a slipcase which includes most every recording which survives. In 2004, the eight-CD Bear Family box set Home and Away took it to 1970 and became the benchmark Del Shannon archive release. For that period, it still is: it includes oddities such as no-overdub and mono-stereo versions not reprised on Stranger In Town.
Obviously, the new set's bulk and inclusivity means not every track can be or is a winner. A widely cast net hauls in small fry as well as hefty cod. This is not 302 reasons to demonstrate Del Shannon's brilliance. Even so, he was brilliant. There is more than enough proof here. Dig in.
Next week: Jon Savage's 1980-1982 - The Art Of Things To Come