Music Reissues Weekly: Jon Savage's 1980-1982 - The Art Of Things To Come |

reviews, news & interviews
Music Reissues Weekly: Jon Savage's 1980-1982 - The Art Of Things To Come
Music Reissues Weekly: Jon Savage's 1980-1982 - The Art Of Things To Come
Thought-provoking overview of three flux years when shininess became a goal
From the cover of 'Jon Savage's 1980-1982 - The Art Of Things To Come': popping at New York City's Roseland Ballroom, 1980
Jon Savage's 1980-1982 - The Art Of Things To Come continues a series which began in 2015 with 1966 - The Year The Decade Exploded, a compilation springing off from Savage's book of the same name. A follow-up looked at 1965, but after that the series has marched forward chronologically.
This new 35-track double CD set – as before, the tracks are from singles rather than albums – follows seven compilations dedicated 1965, 1966, 1967, 1968, 1969-1971, 1972-1976 and, most recently, Jon Savage's 1977-1979 - Symbols Clashing. Together, they chronicle Savage's take on popular music from the beat-music era to post-punk and, now, just beyond. As a one-person soundtrack to their path through all this, it's unique. But it did seem as though the last set was a logical end point. Reviewing Symbols Clashing Everywhere, I wondered if it "will become the full-stop to what began with The Year the Decade Exploded. If that's wrong, a 1980 to 1982 collection could be very interesting". The header noted that 1977 to 1979 were "three years when disparate outlooks could happily coexist". The Art Of Things To Come points to a slightly different musical ecosystem,
In the booklet's introductory essay, Savage says "While black American music began to de/reconstruct, the cutting edge of British pop [in 1980 to 1982] reflected the breakdown of its youth culture into mutually exclusive and sometimes battling tribes: punks, skinheads, mod revivalists and, perhaps its most creative example, Two Tone – a much-needed ideal of racial harmony in a newly polarising climate". After 1979, disparate outlooks did not necessarily happily coexist.
A photograph titled "The Popper" is used as the atmospheric cover image. Taken in 1980 at New York City's Roseland Ballroom, its appearance telegraphs that black American music will be heard and that it's an influence on what's collected: as it was with, say, the Sixties British mod sounds cropping up on the sets dedicated to the earliest years. Popping was a style of dancing which had been around some time but – for a while – became tied-in with hip-hop, one of the genres represented here.
The eclectic Art Of Things To Come is informed by Savage's circumstances in the period, especially by being based in Manchester rather than London, and also his decoupling from writing for the music weeklies. "No longer being subject to the weekly music press agenda was a relief", he writes. "Manchester was also removed from the action in London – where all the talk was of new romantics, Hard Times and the like".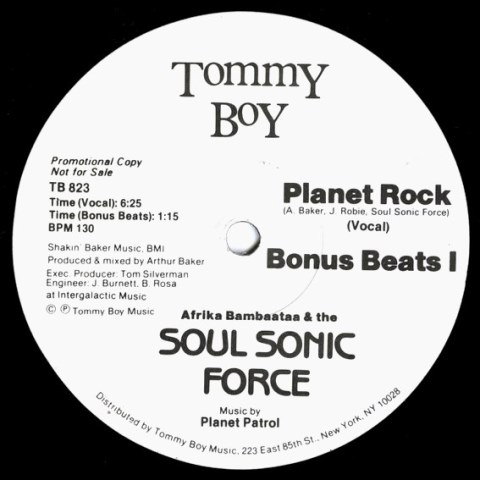 This was, notes Savage, "a period when the underground discovered the overground. In the UK, the move was towards what Paul Morley termed new pop, a glossy, post-modern approach that satirised at the same time as it flirted with glamour – reflected in the popularity of magazines such as The Face and Smash Hits. The ironies would soon be glossed over, but this fascination with the shiny surfaces of pop worked extremely well in balance during 1981 and 1982, with terrific records by The Associates, Soft Cell, Orange Juice and Gang Of Four. It became hip to think about hits".
Or, as Dave Rimmer titled his pivotal 1986 book, it was Like Punk Never Happened.
Along with goals, technology was changing. Forward-looking musicians were incorporating rapidly evolving digital equipment which could and would alter what they created. New Order's "Everything's Gone Green" sounded weird, psychedelic even, and was the future coming into focus. Just as Simple Minds's "I Travel" also was.
No one strand seems to run through the 35 tracks. There are hits: The Human League's "The Sound of the Crowd", the 12-inch version of Soft Cell's "Bedsitter". There are ground-breaking and influential American tracks: Afrika Bambaataa & The Soul Sonic Force's "Planet Rock", Grandmaster Flash & The Furious Five's "Adventures of Grandmaster Flash On The Wheels Of Steel". Post-punk types who were musically moving on: Au Pairs's "We're so Cool", A Certain Ratio's "Flight". US new wavers doing their own thing: Devo's "Whip it", The B-52's "Dirty Back Road". Recent-vintage UK bands also doing their own thing: Public Image Ltd's "Home is Where the Heart is", Echo & The Bunnymen's "Simple Stuff". Amongst this is the 12-inch version of Donna Summer's "Our Love", which New Order openly drew from when creating "Blue Monday".
Perhaps then, there is a strand: that no one wanted to be like anyone else. If that was the case, this reading of 1980, 1981 and 1982 renders these three flux years as totally open. As a free for all out of which keen students of the contemporary landscape emerged as pop-video-boosted commercial winners – Culture Club, Duran Duran, Spandau Ballet, Wham!, et al.
And at the end of 1982 in Jon Savage's adopted home of Manchester, The Smiths began making headway. Where to go at this point? Mainstream or indie-alternative of whatever flavour? Back into or remain in the underground? The disparate patchwork chronicled by Jon Savage's 1980-1982 - The Art Of Things To Come confirms that choices were being made over these three years. Choices which once made solidified a pop-cultural topography which has remained petrified. As to how this happened? Look to the eight collections in this series for answers.
Next week: Heavy Metal Kids in a box - The Albums 1974-76. The complete works of Gary Holton and Co.
Over 1980 to 1982, disparate outlooks did not necessarily happily coexist
Share this article