Music Reissues Weekly: John Barry - The More Things Change |

reviews, news & interviews
Music Reissues Weekly: John Barry - The More Things Change
Music Reissues Weekly: John Barry - The More Things Change
Deep-digging collection reframes perceptions of feted composer's soundtrack work
John Barry in 1970, when some profile-raising was on the cards
By 1970, John Barry had composed music for Born Free, The Lion in Winter, Midnight Cowboy, You Only Live Twice and about 38 other films. His work with cinema began in 1960 and averaged around five films a year. In 1965, eight films were released with his music. He was busy.
Yet when the album Ready When You Are, J.B. appeared in 1970, its liner notes said "he's invisible most of the time." Although he had recently appeared briefly in the film Deadfall, Barry was principally a backroom presence; his name less prominent than those of the songs or films he contributed to. Earlier, he'd hit the pop charts with The John Barry Seven and was integral to Adam Faith's success but once cinema took precedence he became less perceptible. Even so, Louis Armstrong took "We Have all the Time in the World" into the charts, as did Matt Monro with "Born Free." John Barry crossed boundaries, but some profile-raising was on the cards.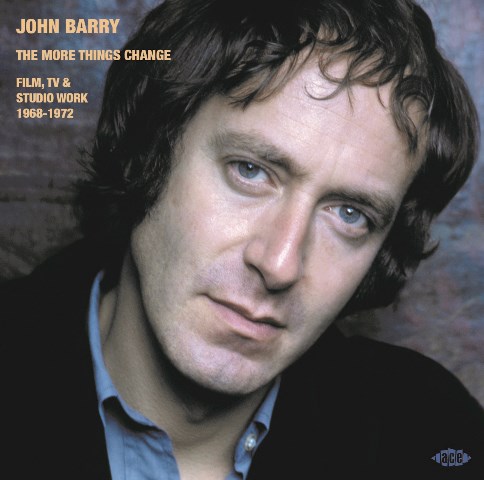 So enter Ready When You Are, J.B., an attempt to consciously shoehorn the soundtrack-era Barry into the pop market, a deliberate foregrounding of his name over the titles of the films or the names of the singers singing his compositions.
Ready When You Are, J.B. has now become the jumping-off point for The More Things Change – Film, TV & Studio Work 1968–1973, a deep-digging 22-track collection of Barry's work. The first 11 tracks are as per the (surprisingly) never-before-on-CD Ready When You Are, J.B.: the original album's final track "Them From 'Born Free'" is absent. The remaining tracks are from singles and albums, some of which are very rare.
After the Ready When You Are, J.B. material, The More Things Change emphasises how peculiar John Barry's music could be. He was a pop-cultural phenomenon and familiarity may have blunted reactions but "Theme From The Persuaders" boldly matches an aurally compressed piano figure with Moog synthesiser and a cimbalom. Isolated from the programme's setting, it conjures a frozen form of exotica – evoking a place where a thaw might reveal what would better remain hidden.
The More Things Change ends with 1972's "Alice's Adventures in Wonderland Suite." This strange, seven-minute union of three distinct compositions feels more like it ought to be accompanying panoramic images of tundra rather than episodes from the Alice story. On the way to this atmospheric gem, the exotic "Follow Follow" from the 1972 film Follow Me! and Barry's edgy single version of "Diamonds are Forever."
Just as Ready When You Are, J.B. sought to reposition John Barry, The More Things Change offers a similarly nuanced perspective on his work. A main driver for compiler Bob Stanley might be rarity and the associated desire to get fallen-between-the-cracks recordings heard but as an overview of John Barry this collection of his film-related work turns out to be a form of concept album. While much of this music is about melody, much of it is also about mood. After it's all over, a sense of disquiet lingers: that something peculiar though impalpable has happened. It suggests that Barry was writing for himself rather than to a received brief.
John Barry died in 2011 and his volume of work means that – if the trouble is taken – it's possible to reinterpret or reframe what he did. In doing this, The More Things Change – Film, TV & Studio Work 1968–1973 goes beyond its stated intent to "collect Barry's finest work from this period." After a hard listen, it's impossible not to be taken aback by unexpected peculiarity of this particular sound-world.
Next week: In A Rocking Mood - Ska, Rock Steady & Reggay from Beverley's 1966-68
It's impossible not to be taken aback by unexpected peculiarity of this particular sound-world
Explore topics
Share this article