Music Reissues Weekly: The Telstar Story, The Heinz Sessions Vol 1 |

reviews, news & interviews
Music Reissues Weekly: The Telstar Story, The Heinz Sessions Vol. 1
Music Reissues Weekly: The Telstar Story, The Heinz Sessions Vol. 1
Bounteous yield from Joe Meek's for-real legendary 'Tea Chest Tapes'
Joe Meek: caught at a happy time
"Telstar" was released 60 years ago this week. On 17 August 1962, British record buyers could purchase the second single by The Tornados, a band whose claim to fame until then was being Billy Fury's back band – their March 1962 debut 45 was fittingly titled "Love and Fury."
It took a while, but "Telstar" entered the Top 40 in early September. It held the top spot throughout October and the first week of November, and was a big seller in continental Europe, especially France. More surprisingly, it became a US number one over Xmas 1962 and New Year 1963. The Tornados were the first British group to achieve this. The release of the 10-inch EP The Telstar Story celebrates the anniversary and the achievements in fine style. The related The Heinz Sessions Vol. 1 also out – Heinz Burt was The Tornados bassist and soon-to-be solo act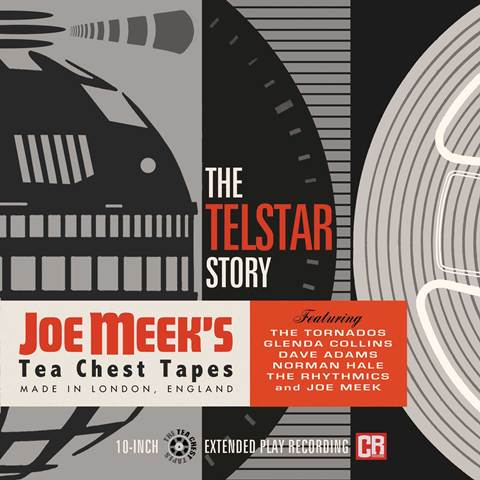 All the "Telstar" stats would be notable enough, but "Telstar" was created by producer Joe Meek in his home studio in North London. Meek worked independently and to his own drum: he took his finished masters to record labels who issued the completed recordings after a deal was made. He operated outside music business norms.
The whys and wherefores of Joe Meek, his personal and professional life, have been gone into thoroughly and what needs to be said has been said. All that sits alongside the astonishing and sometimes bizarre records he was responsible for. The eerie "Telstar" is a tremendous gateway into his auteur world. Like the later and similarly out-of-the-blue "A Whiter Shade of Pale," endless oldies-radio play has never diminished its impact.
After he took his own life and that of his landlady on 3 February 1967, many loose ends remained. His business affairs were a mess and The Official Receiver was appointed. His recording equipment was sold off in in April 1968. Many of Meek's master tapes were stuffed into 67 wooden tea chests and stored. There were around 2000 reels which ended up with Cliff Cooper, who bought them from the estate around 1968 for either £300 or £400 (accounts vary). He had been in the Meek-produced band The Millionaires and latterly ran a recording studio and the Orange amplifier company. He planned to reuse the tapes but did not, so they remained in storage.
In 1982, Cooper gave long-time Joe Meek aficionado Alan Blackburn permission to catalogue them on an unpaid basis – by this time the tape reels were not in boxes. Blackburn went through 1,856 tapes and handed over the resultant listing to Cooper, who did who knows what with it. After this, the lot were shoved back into storage. There was a failed attempt by Cooper to auction them in 2008 – a £170,000 bid was made but Cooper did not sell. Fans of Joe Meek even demonstrated outside Cooper's offices with the aim of freeing what had become known as The Tea Chest Tapes. The Cherry Red label bought them in August 2020. The 10-inch reels arrived at the label in cardboard boxes – unlisted and unindexed. Many of the tape boxes themselves had no annotation. Cataloguing began.
Now, the two well-annotated and spiffily packaged 10-inch EPs have arrived. The Telstar Story and The Heinz Sessions Vol. 1 are the initial releases drawing from The Tea Chest Tapes. The first record has eight tracks, the second nine. Apart from Meek's vocal demo of "Telstar," everything is previously unheard – mostly hitherto unknown too. This is major stuff. There have been millions of Joe Meek archive releases and tons of originally unissued tracks have surfaced but these were often sourced from acetates, copy masters or nth-generation tapes with the concomitant shortcomings in fidelity.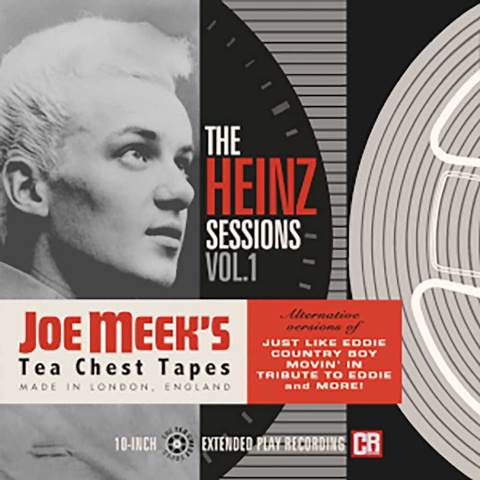 The new release dedicated to "Telstar" is culturally significant. It is also extraordinary. After Meek's vocal demo of 12 July 1962, two demos recorded the next day (one by Dave Adams, the other by Norman Hale) are heard. Then, there is the mind-blowing finished full-band version by The Tornados recorded on 16 July: the un-messed with master, without the trimmings such as the sound effects. It is not speeded up as per what was released, so sounds weirdly jarring to ears used to the hit (Meek habitually speeded-up masters to achieve a sonic cut through: hence The Honeycombs sounding like cartoon characters). This frill-free version is amazing, with astounding clarity and punch. There is also an alternate, shelved and super-fi edit of the final track. Additionally, a rhythmically unstable version included by a between-the-cracks band named The Rhythmics was unknown. So too was a tentative though convincing vocal interpretation – titled "Magic Star", like the Kenny Hollywood version – by Glenda Collins. Anyone with a passing interest in the history of British pop needs The Telstar Story.
The Heinz Sessions Vol. 1. is more niche but, again, what's here is extraordinary. There's a Geoff Goddard guide-vocal demo of "Just Like Eddie" and Meek's demo of "Tribute To Eddie." Take 8 of "Movin' in" features some wild guitar – presumably from Ritchie Blackmore. During an engagingly rough-and-ready take of "I Get up in the Morning," Heinz declares "take it Ritchie." Take 1 of "Country Boy" is fascinating as it's another pre-speeded-up version. A great track titled "Voices in the Wind" wasn't released contemporaneously and its fidelity here makes all previously issued alternate versions redundant.
These two dives into Joe Meek's Tea Chest Tapes have made public bounteous gems for the first time. What a splendid way to celebrate "Telstar's" anniversary. More please. Some late-era beat-music stuff would be great.
Next week: Lou Reed's Words & Music, May 1965. The revealing, well-trailed early demo tape hits shops.