Music Reissues Weekly: Tony Rivers - Move A Little Closer: The Complete Recordings 1963-1970 |

reviews, news & interviews
Music Reissues Weekly: Tony Rivers - Move A Little Closer: The Complete Recordings 1963-1970
Music Reissues Weekly: Tony Rivers - Move A Little Closer: The Complete Recordings 1963-1970
Celebration of the British harmony pop titan who became Cliff's vocal arranger
Tony Rivers, seated centre, with Harmony Grass in 1969
Amongst the stranger recordings surfacing in 1977's summer of punk was the version of Sex Pistols's "Pretty Vacant" appearing on the budget Hallmark label album Top Of The Pops Volume 60 – the latest in a long-running series collecting ostensibly sound-alike versions of current hits recorded by anonymous session musicians and singers in a Wembley studio.
This "Pretty Vacant" just-about caught the heft of the original but was in no way a convincing facsimile. The singer tried though. He adopted a voice along the Old Man Steptoe lines which might have caused the then Johnny Rotten to chuckle. The singer was Tony Rivers, a regular Top Of The Pops contributor. On a previous album in the series, his take on "Bohemian Rhapsody" was amazing; in a good away.
The same year he was an uncredited faux Sex Pistol, Rivers was heard – with credits – on albums by Roger Daltrey, Steve Harley's Cockney Rebel, Linda Lewis, and The Alan Parsons Project. Also in the shops in 1977 was the Rivers-featuring Cliff Richard album Every Face Tells A Story. Rivers's main job at this time was as Cliff's vocal arranger. In this world, taking on Johnny Rotten was balanced with working with the UK's longest-running pop star.
Tony Rivers was born Douglas Anthony Thompson. His family were originally from County Durham but he grew up in East London. His first break came in 1961 when, at a Butlin's holiday camp, he sang versions of Cliff's "Gee Whizz it's You" and "Theme For a Dream". Fifteen years later, in 1976 with the I'm Nearly Famous album, he had his first credit with the actual Cliff.
It's evident Tony Rivers has had a prodigious path through the British music business. Yet there was only one hit: early 1969's "Move in a Little Closer Baby", when he fronted Harmony Grass – a renamed version of his band Tony Rivers and the Castaways, who had debuted on single in October 1963. The 3-CD set Move A Little Closer - The Complete Recordings 1963-1970 covers exactly what its title says.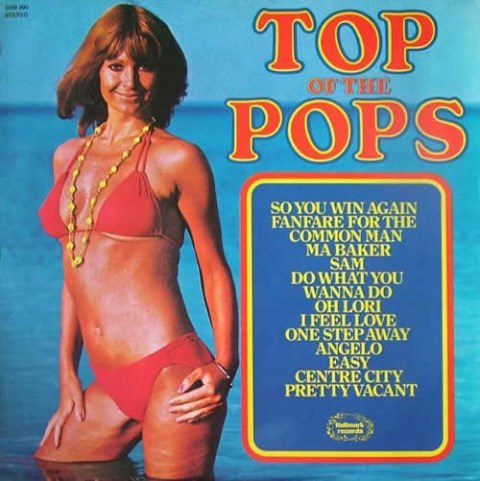 There have been previous overviews of Rivers which have taken it from the Sixties into the Seventies. Japan's EM label released two compilations in 1998 as well as a reissue of This Is Us, early 1970's sole Harmony Grass album. The UK's RPM label issued three compilations over 1999 and 2000 plus, in 2003, another reissue of This Is Us. Move A Little Closer's first two discs offer nothing new but its third collects previously unissued BBC recordings from 1965 to 1970 (the dates of the first 16 tracks are not known, but they must be from 1964 to 1966). (pictured left, the Top Of The Pops Volume 60 album, featuring the version of "Pretty Vacant" with Tony Rivers's uncredited impersonation of Johnny Rotten)
While the cyclic presence of Cliff is important, it's not the defining presence in Rivers musical life. That role belongs to The Beach Boys, who he first heard them in 1964. Later that year, he befriended them when they came to the UK. He and his band took Carl Wilson to a café in Tottenham Court Road. In 1966, while in London, Bruce Johnston played Rivers Pet Sounds before it was out. Scattered amongst the Rivers/Castaways pre-Harmony Grass singles are BB's songs "Girl Don't Tell me", "Girl From New York City", "God Only Knows" and "Salt Lake City". BBC versions of "I Get Around", "Surf City" and "When I Grow up to be a Man" are also heard on Move A Little Closer.
The fascination with America's harmony-debted pop went further than The Beach Boys. Other BBC tracks here include The Association's "Windy", The Rascals "A Girl Like You", "Wichita Lineman" and a stellar "Walk on by". He wasn't alone in looking to contemporary American vocal styles. The Ivy League and Montanas were doing so, as were – to a degree – The Bystanders and The Rockin' Berries. Bands like The Beatles and Hollies's US harmony influences drew from a previous phase of US pop, especially The Everly Brothers. Tony Rivers was the UK's prime Beach Boys head.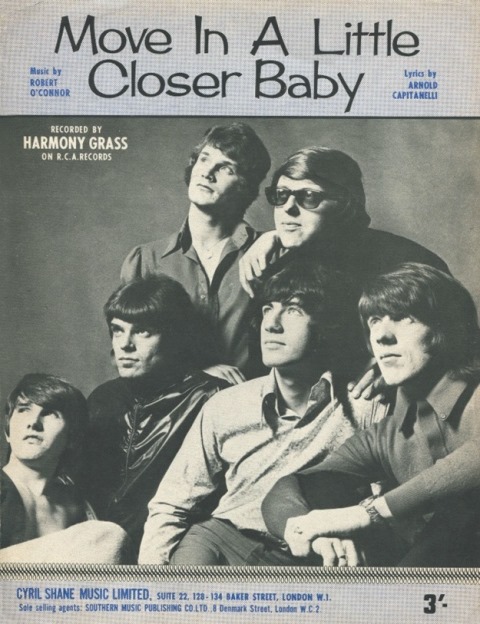 But there wasn't a place on the charts for Tony Rivers and the Castaways. Nonetheless, there was a music biz commitment. Before Harmony Grass there were nine singles, one of which was on fellow California pop fan Andrew Loog Oldham's Immediate label. The reason for the lack of chart action may have been all or any of the absence of original material early on, having a band identity out-of-step with the voguish group ethos and the high profile of The Beach Boys themselves. One aspect of this was rectified in 1966 when Rivers began to get going as songwriter.
When the Harmony Grass album came out in January 1970 he was on a roll. It includes some of the classiest UK pop of the period. "My Little Girl", "What a Groovy Day", "I've Seen to Dream" (one of British pop's best pop-psych tracks),"Mrs. Richie" and "Summer Dreaming" were wonderful. All were written or co-written by Rivers. He was as good a songwriter, singer and arranger as those who inspired him. And he produced most of This Is Us. The era's only analogous figure in British pop is the more prolific John Carter, who had been in The Ivy League.
After Harmony Grass fizzled out in 1970, it was into session work – he sang the theme tune to Whatever Happened to the Likely Lads? – and one-off releases, under names like Hollywood Freeway, Indiana, Magic Bus, River, Summer Wine and many more. This, too, was like John Carter, recently celebrated by the My World Fell Down - The John Carter Story 3-CD set. As it as with that, the Tony Rivers collection Move A Little Closer - The Complete Recordings 1963-1970 is essential to the understanding of the world of British pop in the Sixties. Of course, it is also stuffed with great music.
Next week: Shoegazing's unforeseen long tail - Cherry Stars Collide - Dream Pop, Shoegaze & Ethereal Rock 1986-1995 and Waves of Distortion (The Best of Shoegaze 1990-2022)

In 1964, Tony Rivers took Beach Boy Carl Wilson to a café in Tottenham Court Road
Explore topics
Share this article