Music Reissues Weekly: When the Alarm Clock Rings - A Compendium of British Psychedelia 1966-1969 |

reviews, news & interviews
Music Reissues Weekly: When the Alarm Clock Rings - A Compendium of British Psychedelia 1966-1969
Music Reissues Weekly: When the Alarm Clock Rings - A Compendium of British Psychedelia 1966-1969
Fine double-album entry point into the world of fiendish noises and freak-outs
The avowedly psychedelic Dantalian's Chariot in 1967, with future Police-man Andy Summers taking the front spot
"How psychedelic is your pop? This is the demanding question posed to many groups today, struggling for acceptance. It's no longer any good to say: 'Well, mate, we can play Wilson Pickett, James Brown and all that gear,' to anybody contemplating booking a band. One has to explain whether one is likely to set fire to the auditorium, or batter the audience's senses with flame, light and fiendish noises."
When music weekly Melody Maker got to grips with psychedelia in its 14 January 1967 issue, it was noted that Pink Floyd were "originally an R&B blues-type group." Drummer Nick Mason told the paper "You have to be careful when you start on this psychedelic thing. We don't call ourselves a psychedelic group or say that we play psychedelic pop music. It's just that people associate us with this and we get employed all the time at the various freak-outs and happenings in London. Let's face it, there isn't really a definition for the word 'psychedelic.' It's something that has all taken place around us – not within us." Note that "not within us."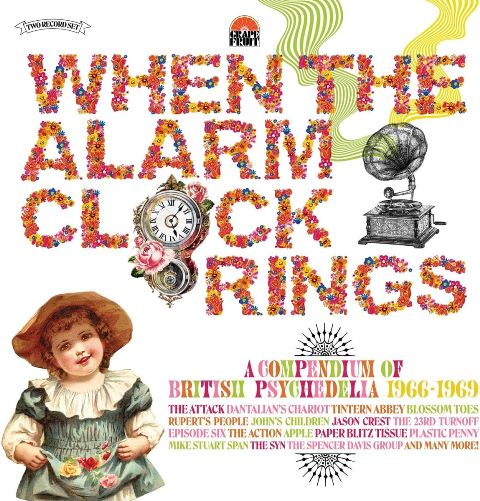 A month on, in its 14 February issue, the same paper's Nick Jones asked "can you stop from laughing every time somebody says 'psychedelic'? Do you believe in mind manifestation? Growing in the brain? Homage to gropery? How about the revolution of the young? Or soul liberating? Did you laugh? Why has psychedelia become such a national joke?"
Jones finished with "let's have less of the bandwagon-jumping by the untalented opportunists and more room for the genuinely good, hard-working, thinking young musicians of today."
At this point, the 17 February release of the era-defining "Strawberry Fields Forever" was days away.
While concluding that Melody Maker was wishing-away British psychedelia isn't entirely sustainable – after all, column inches were filled with what was newsworthy and on the rise – a dose of finger-wagging caution was in the air. This didn't stop musicians going for it. Psychedelia was worth a try.
Take the not-so-young but certainly hard-working Alex Harvey, whose September 1967 single "Maybe Some Day" was a cover of an Incredible String Band song. He was 32 when this flop was issued. It was wonderful nevertheless, and psychedelic in the Traffic way. Its B-side was a bets-hedging, unpsychedelic version of the blues chestnut "St. James Infirmary."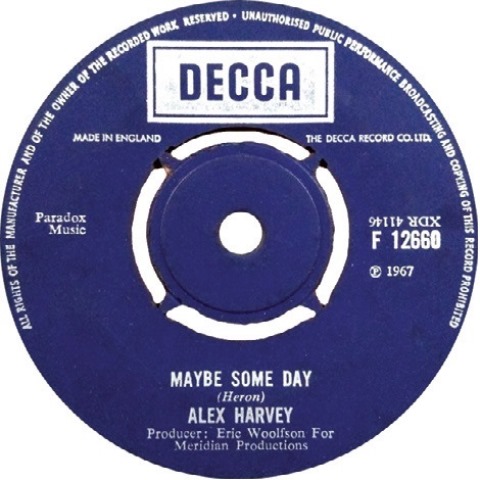 Harvey's "Maybe Some Day" appears on the terrific double LP When the Alarm Clock Rings - A Compendium of British Psychedelia 1966-1969. Also here are popsters The Merseys, Plastic Penny and The Spencer Davis Group, examples of those who, like Harvey, could be seen as amongst Melody Maker's "bandwagon-jumping…opportunists" – though the word "untalented" doesn't apply.
Also on the 30-track comp are Blossom Toes, The Crazy World Of Arthur Brown, Dantalian's Chariot, Elmer Gantry's Velvet Opera, honorary Brits The Misunderstood and Tintern Abbey, all of whom are more easily seen as fully on board with psychedelia. Then there are bands like Living Daylights and The Mirage, who emerged around 1966 and 1967 and earlier might have been an equivalent of The Hollies or Searchers but were now tuning in to the new musical wavelength. This Beatles- and Pink Floyd-free version of psychedelia embraces what emerged from the London underground as much as it does what was created by those trying something on for size.
When the Alarm Clock Rings is a hitless zone. The Merseys and Plastic Penny had brief brushes with the charts but it wasn't with "I Hope You're Happy" and "Wake me up," which, respectively, are heard here. Some tracks – Jason Crest's "Teagarden Lane" and Tintern Abbey's "Magic Horsemen" – couldn't have been hits as they weren't issued the time. But failing to grab the psychedelic brass ring was no barrier to later recognition for others of those collected here. Alex Harvey is in this bag, as are Barclay James Harvest and Genesis as well as The Shame. They included Greg Lake. Their contribution is the bubblegum-ish, slightly risqué "Don't go 'Way Little Girl." The most extreme example of this deferred success is Dantalian's Chariot, whose guitarist Andy Summers turned up with bottle-blond hair in The Police during 1977's punk boom.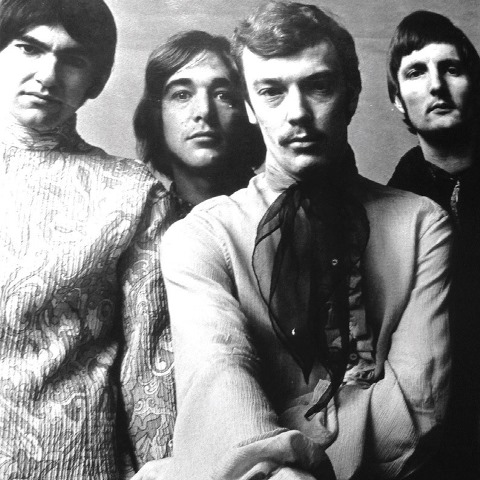 This sense that When the Alarm Clock Rings occupies a continuum outside its given time frame of 1966 to 1969 is reinforced by some of its tracks having first been reissued in 1980 on the bootleg comp Chocolate Soup For Diabetics. In much lower fi then here, Chocolate Soup… included Apple's "The Otherside," Dantalian's Chariot's "The Madman Running Through the Fields" and The Voice's "The Train to Disaster." Furthermore, When the Alarm Clock Rings' The Misunderstood and Tintern Abbey were also on Chocolate Soup, albeit with different tracks to those collected here. Chocolate Soup For Diabetics set this particular agenda.
Since this 1980 benchmark, there have been myriads of Brit-psych comps. And also many single-band releases dedicated to those heard on When the Alarm Clock Rings: amongst them The Attack, Dantalian's Chariot and Tintern Abbey (pictured above right) – the three bands kicking-off the double album.
However, none of this perviousness undermines the When the Alarm Clock Rings - A Compendium of British Psychedelia 1966-1969. See it as an entry point into the amorphous, ever-fertile and never less-than thrilling world of British psychedelia. Good thing that in 1967 no one paid attention to Melody Maker's nay sayers.
Next week: Incident At A Free Festival - Saint Etienne-compiled tribute to Seventies rock festivals

'Can you stop from laughing every time somebody says psychedelic?' asked 'Melody Maker' in February 1967
Explore topics
Share this article