Other Voices Cardigan review - a celebration of music on the cusp |

reviews, news & interviews
Other Voices Cardigan review - a celebration of music on the cusp
Other Voices Cardigan review - a celebration of music on the cusp
New music and ancient traditions collide in this unique alternative festival
Tuesday, 08 November 2022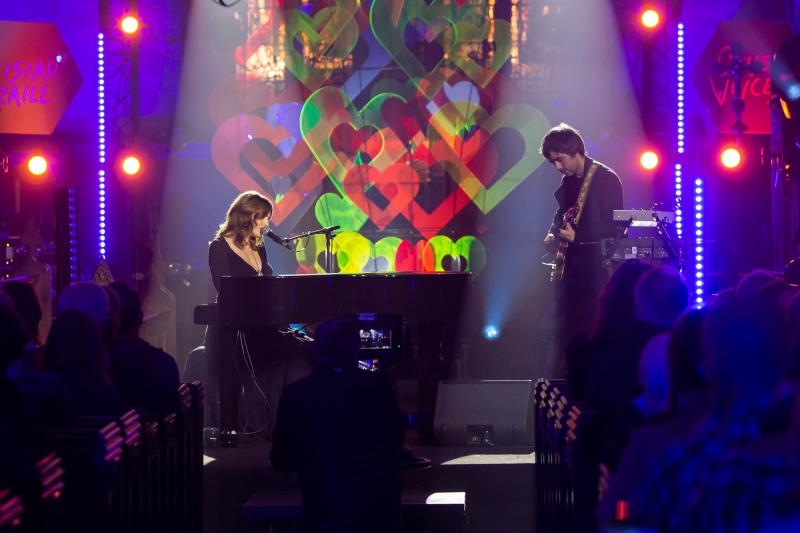 Gwenno's tender vocals and sonorous keyboard playing were beautifully blended with Rhys Edward's bowed guitar
Other Voices is, according to its founder Philip King, a festival which celebrates what's about to happen. Indeed, artists like Hozier, Fontaines DC and Amy Winehouse cut their teeth at this unique musical event which, although it has its home in the west of Ireland, has iterations across the world.
Other Voices is currently two years into a five year residency in Cardigan, Wales, as part of a partnership supported by the Welsh and Irish governments. With a heavy focus on artists from Wales and ireland, Other Voices Cardigan 2022 had three main strands: headline sets at St Mary's Church, the Music Trail, which featured numerous artists at venues throughout the town, and the Clebran sessions, a series of talks with an in-depth focus on music, song, language and shared culture. Friday night's headline set kicked off with an intimate performance from Welsh/Cornish singer-songwriter Gwenno (main picture), whose tender vocals and sonorous keyboard playing were beautifully blended with Rhys Edward's bowed guitar. The swirling, aquatic-esque patterns which illuminated the ceiling perfectly matched her blend of dreamy pop, especially in her track Tonnow (Waves), which evoked, as Gwenno puts it, "the spirit of the Celtic sea seducing you down to the bottom".
A partnership forged through the festival – King thought they'd get on and suggested they meet, and they're now about to release their debut album as a duo – is that of Welsh harpist Catrin Finch and Irish fiddler and violinist Aoife Ní Bhriain, who performed with such an innate synergy it was hard to believe this was only their second live gig together with an audience, the first having been on the music trail the night before. Their set of all-original music – some so fresh the tracks are still nameless! – showcased an ingenious blend of myriad influences. Handelian runs slid into more driven, folky rhythms, with lush romantic glissandos, jazz harmonies and flamenco flourishes all thrown into the mix. Friday's headline gig finished with a rip-roaring set from the Llareggub Brass Band (pictured below), named (read it backwards!) after the fictitious Welsh fishing village in Dylan Thomas's Under Milk Wood. It celebrates the Welsh tradition of brass bands in mining towns, but its music is anything but traditional, with oompah, klezmer, jazz and hip-hop all crashing together in glorious cacophony.
Two Welsh rappers featured on the bill at St Mary's: Sage Todz performed on Friday with a fizzing energy, particularly in his drill reimagining of the nearly four decades-old protest song Yma o Hyd, which has recently been adopted by the Football Association of Wales ahead of their appearance at the men's world cup later this month. The next night Welsh Music Prize-nominated L E M F R E C K had the crowd dancing in the pews with his soulful yet gritty tracks.
Poppy Ajudha opened the final headline show, her smooth vocals and sophisticated songwriting producing an enticing blend of sultry soul with an angry, almost grungy twist. Her band expertly conveyed the urgent energy of her music and lyrics, clearly feeling the songs' message as they played. Saturday's sets closed with an artist who is truly unique. Ghanian-born, London-raised, Vancouver-dwelling singer and songwriter mauvey (pictured below) brought a curiously compelling aesthetic with his soulful, funk-tinged pop. Theatrically honest, shyly melodramatic and delightfully peculiar, he joined his purple-clad band on stage dressed like a kind of parma violet-coloured raven, donning a fringed lavender tunic, barbie-lilac boots and a single amethyst-hued glove. His mission is, as he puts it, to "spread love", and it's clear from his heartfelt performance that genuine human connection is what drives him. His track On the 14th is a powerful tale of the grief of having your heart broken, while the more upbeat The King encapsulated an infectious joy.
Highlights from the music trail included Rachel Lavelle, whose otherwordly experimental pop was as soporific as it was witty; Daithi, an electronic producer whose house bangers have a heavy injection of Irish folk, including live looped fiddle playing; and Ynys, whose shoegazey, nostalgia-tinted indie pop features lyrics sung in both Welsh and English. Other Voices Cardigan is very much a festival in the town, for the town, with independent bars, hotels, restaurants and cafes providing pop up performance spaces, which give audiences not only a taste of some of the freshest new music being made, but also an authentic flavour of Cardigan itself.
The Clebran sessions – all hosted in Cardigan's Mwldan Theatre – illuminated the musical offerings with discussion from some of today's most important cultural voices. It was perhaps Friday's session titled Who Are We: Culture, Identity and Diaspora, a translated trilingual talk in English, Welsh and Irish Gaelic, which best encapsulated the soul of the festival. BBC Radio 6 Music's Huw Stephens hosted the First Minister of Wales, Mark Drakeford; Irish musician Aoife Ní Bhriain; and Welsh poet and professor Mererid Hopwood in a fascinating discussion on language, identity, music and poetry, and the importance of these things shared.