P!nk, Principality Stadium, Cardiff review - stunning theatrics astound |

reviews, news & interviews
P!nk, Principality Stadium, Cardiff review - stunning theatrics astound
P!nk, Principality Stadium, Cardiff review - stunning theatrics astound
Back and bolder than ever, P!nk opens her UK tour in Cardiff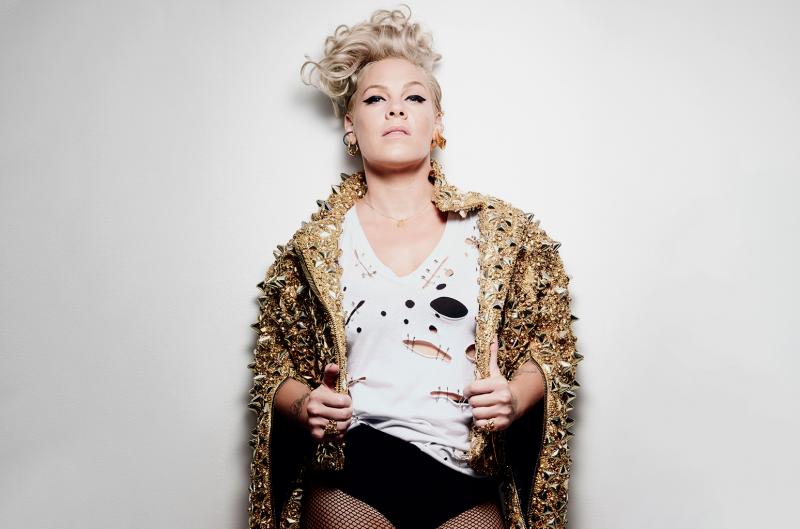 Bringing the carnival to a stadium near you
"I want to be just like P!nk," a little girl screams as the lights begin to dim and the introductory music grows louder. It's no wonder this leg of the Beautiful Trauma World Tour sold out in under 15 minutes. The whole stadium is packed full of adoring fans, in a sea of varying shades of pink, visiting from all over the UK and some further afield. A man takes to the stage offering an out-of-tune version of the 20th Century Fox intro sequence, gesturing towards a popular viral video shown onscreen.
The pink satin curtain at the stagefront falls, the lights go up. P!nk is already onstage suspended high above her dancers below. Sporting a skintight black leotard, and exceptionally high silver platform boots, the unstoppable 39-year-old is here to give us the show of a lifetime. Kicking the performance off with nothing less than the Grammy-nominated monster hit "Get the Party Started", P!nk is already projecting the rebellious persona that harks back to her M!ssundaztood album of the early '00s.
Complemented by advanced pyrotechnics, choreographed dancers, and tailored theatrics, this introductory sequence offers her audience a juicy taste of what's to come. The former elements only enhance the main event as, sooner or later, the eyes always wander back to P!nk and her flawless delivery. The set is around 20 songs long, offering everything from sensitive ballads such as "Just Give Me a Reason", with Nate Ruess of US pop outfit Fun projected onto a series of analog TVs, to her hits "Raise a Glass" and "Blow Me (One Last Kiss)".
2008's "Funhouse" is given a twist by being paired with the No Doubt's "It's My Life", and at this point P!nk takes it upon herself to introduce the members of her band individually, allowing them a moment in the spotlight to showcase their talents. The show is built around unity and female strength, a welcome message to the women and girls who have come to pay homage in their tens of thousands. Midway through, we see a montage of home videos that show P!nk's progression as an artist. Later on, she delivers a poignant story about her six-year-old daughter who came to her one day saying she felt "ugly". She's ever keen to make a wider point about motherhood, feminism and the importance of "living your truth."
Empowerment ballads such as "What About Us" and "Try "are met with wild applause. In the section of the show when they're played, P!nk is adorned in a white jumpsuit; she appears vulnerable, a far cry from the diamante-covered jumpsuits she wears throughout the rest of the show. It's no coincidence that these more emotional songs are accompanied with a stripped back performance. But then she completes the night with "So What", its a punchy, unapologetic commentary ("I got a brand new attitude and I'm gonna wear it tonight!"). It sums her up, emanating the ideal of overcoming all obstacles, as if she's saying "So what! This is me!"
It's clear, as the final notes of the evening fade, why this tour has sold out. P!nk combines a strong emotional narrative with impressive vocal ability; despite the vast numbers of the audience the event is both intimate and spectacular.
Below: Watch the video for "90 Days" by P!nk featuring Wrabel