Reg Meuross and David Massengill, Green Note, Camden review - master craftsmen at work |

reviews, news & interviews
Reg Meuross and David Massengill, Green Note, Camden review - master craftsmen at work
Reg Meuross and David Massengill, Green Note, Camden review - master craftsmen at work
Ballad-mongers weave intricate tales
Reg Meuross: living traditionalist
When all around you is chaos and depression, an afternoon spent listening to acoustic music in a small club is as cleansing and restorative as a warm bath.
At Camden's Green Note on Saturday afternoon, two superlative
folk music
talents shared the small stage: Reg Meuross, a very English
singer-songwriter
who grew up in the south of the country, traded songs with David Massengill, who has made his home in New York's Greenwich Village these past 40 years, arriving there from Bristol, Tennessee carrying the Edsel Martin Appalachian dulcimer his mother had bought him as a child.
The two men met some years ago at the Kerrville Folk Festival, from where Michelle Shocked sprang to fame back in the mid-'80s. Both are true craftsmen, their carefully wrought songs telling stories that are both personal and universal, drawn from real life and, in Meuross's case, often from English history, which he brings vividly alive. Both can move you to tears with words that deal in profound emotion, not cheap sentiment.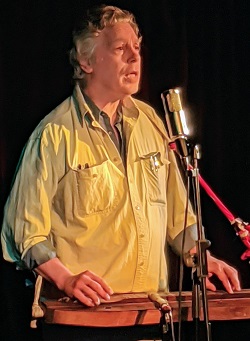 Massengill (pictured left) opened the proceedings, no stranger to these shores but here making his London debut – and what better place to do so than in an award-winning club with a vibe straight out of Greenwich Village. He opened with "Rider On an Orphan Train", the story of two small brothers, despatched to the mid-west in the early part of the 20th century in search of a new home but separated, never to find each other again. I've heard it numerous times, live and on record (Amy Speace has also recorded it) and the poignancy of the story, so eloquently and so economically told, never fails to move me.
Two other songs spoke to our common humanity: "The Great American Dream" and "My Name Joe", both written in the Reagan era but even more relevant today, both taking flight from real-life encounters in downtown Manhattan. And then there's "Fairfax County", a song about a highwayman straight from the pages of traditional balladry and often mistaken as such. Other numbers, "To a Mouse" and "Jesus, the Fugitive Prince", revealed Massengill's wry and subversive sense of humour. Throughout, he accompanied himself on the dulcimer which, perhaps uniquely, he slings over his shoulders, in the manner of a guitar – the instrument is customarily placed across the legs, the player of course seated.
Meuross also plays the dulcimer, but at Green Note he stuck with his trusty and aged mellow mahogany Martin as he led the audience on a journey through English history, beginning with "What Would William Say?", a song about the great William Morris. He followed it with "Tony Benn's Tribute to Emily Davison", illuminating a lesser-known moment in the suffragette's story. And that is Meuross' real genius, bringing to life the many hidden human stories buried in celebrated moments of history.
Take "The Band Played Sweet Marie", an exquisite song inspired by the fiddle given to Wallace Hartley by his fiancée in 1910. Hartley was the bandleader on the Titanic and famously played to calm the passengers during that long night to remember. In the vessel's final moments, he placed the instrument in its case which he strapped to his body, which was recovered two weeks later. A century later, the violin was discovered in a Lancashire loft, the silver plate Marie Robinson had affixed to it bearing the inscription: "For Wallace on the occasion of our engagement". The song is breathtakingly beautiful, its melody line hinting at "Nearer My God to Thee". Or take "William Brewster's Dreams of America", the story of the senior elder of the Plymouth Colony who arrived on the Mayflower in 1620. But who knew Brewster had attempted the voyage 11 years earlier, or the names of his four children – Patience, Love, Fear and Wrestling? Meuross finds inspiration everywhere – at the Bluebell Inn in an Essex village, the gallows notes revealed the man behind the Dick Turpin legend. "Lizzie Loved a Highwayman", written in blank verse from the perspective of his wife and mother-in-law says it all.
After their solo sets, Meuross and Massengill sat down together to trade songs and stories, each noodling gently behind the other's playing as they tripped through the foggy ruins of time past such figures as Hank Williams, Woody Guthrie and Dave van Ronk, who liked to joke that Massengill "took the dull out of dulcimer" and whose memoir inspired the Coen Bros movie Inside Llewyn Davis.
It was the bestest way to pass an afternoon.
Meuross's real genius is bringing to life the many hidden human stories buried in celebrated moments of history
rating
Explore topics
Share this article