Reissue CDs Weekly: Hank Williams |

reviews, news & interviews
Reissue CDs Weekly: Hank Williams
Reissue CDs Weekly: Hank Williams
'Pictures From Life's Other Side' reveals less-familiar aspects of the life of troubled country star
The eyes have it. From the cover of 'Pictures From Life's Other Side', Hank Williams takes charge at his first professional photo session, 1949
Any knowledge of the Hank Williams narrative heavily influences how he is perceived. He died at age 29 on New Year's Day 1953, in the back of a car while travelling to a show in Ohio. His schedule was punishing. A day earlier he had played in West Virginia but a storm meant he could not fly from one show to the next.
He had spina biffida and was in constant pain. There were prescribed painkillers, self-medication and a long-standing problem with alcohol. He missed shows. Contracts were cancelled due to drunkenness. He had married Audrey Sheppard in 1944 but they fought. Divorce came in 1952. It seems that few paths were smooth for Hank Williams.
Yet, he was a star and a clever, prolific songwriter. He wrote "Hey, Good Lookin'", "I'm So Lonesome I Could Cry", "Move It On Over", "Your Cheatin' Heart" and many, many more. His songs transcended genre barriers. Beyond country, Hank Williams was a great American songwriter.
And, then, there's that biography. One where its well-known, oft-recounted aspects suggest he ought to have been as cheerless in person as much of the detail. However, the new release Pictures From Life's Other Side – The Man and His Music in Rare Photos and Recordings challenges any kneejerk impressions of what this man might be like by collecting six CDs of recordings he and his band The Drifting Cowboys made for radio broadcast in 1951. What's heard reveals brighter sides of this man.
He is droll, eloquent, sardonic, self-mocking and in never less-than good humour. A version of "Low and Lonely", most familiar as by Roy Acuff, is introduced as being played "to break the monotony of these Hank Williams tunes" (Disc 5, Track 3). Before singing "I Dreamed About Mama Last Night", which was issued under his Luke The Drifter persona, he says it was released "by a very good friend of ours, in fact I even sleep with him every day and night, a fella by the name of Luke The Drifter" (Disc 5, Track 1).
Of "Cool Water" (Disc 2, Track 3), he says it is "One of the prettiest sweetest songs I reckon anyone ever wrote. I don't know how pretty I'm going to sing it." "Mind Your Own Business" is professed to be "a little masterpiece of nonsense I wrote a couple of years ago" (Disc 2, Track 11). He is very funny. Self-aware too. (pictured left, posing streetside, 1949)
Such self-awareness is also attested to by Pictures From Life's Other Side's book (the title comes from one of his Luke The Drifter singles, a version of which is heard on Disc 3). This package fuses a lovely, 272-page hardback with a CD box set: the discs slot into the book's fold-out front and back covers. It's all housed in a hard slipcase. Leafing through shows the grip he had on his image. OK, he looks skeletally thin and shot to bits in some shots but this biggest-ever illustrated Hank Williams compendium captures a man who was never off his game sartorially. The shirts and suits change. The hats and cowboy boots do too, but he was the complete article. He knew how to package himself.
His attention to image management is underlined when he's seen with fans. Some photos are posed, others are quick snaps. He never looks unhappy, and seems always ready to meet his audience. He made the time. Whatever the issues, Hank Williams is revealed as a professional. The sequence from Page 91 to 101 of Williams and other Grand Ole Opry stars playing Germany in 1949 is fantastic. Mind-bogglingly, he poses with a young boy in lederhosen. The wildest photo catches him on a flight to New York in March or April 1952. He and two female flight attendants are on their knees, facing the camera. With their hands up, the trio make out that they are praying and are clearly larking about.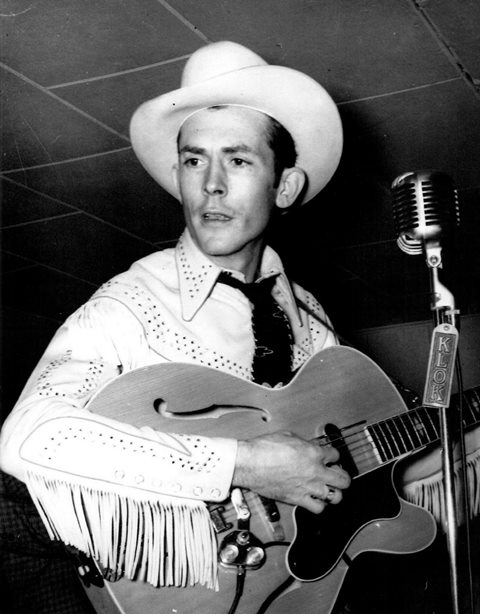 The music comes from the Mother's Best Flour Show, a 15-minute show sponsored by the titular flour, grain and animal feed company which aired on week days at 7.15am. Due to his road commitments, many of the shows were pre-recorded on acetates for broadcast later. These discs, cut over January to November 1951, surfaced in the Sixties after which tracks were selected for a 3-CD set in 2008. The full shows were issued as a box set in 2010 as The Complete Mother's Best Recordings…Plus! Pictures From Life's Other Side hones-down what will be familiar to buyers from 10 years ago by extracting just the Williams material from the shows (including duets with Audrey – who is not as bad a singer as is usually alleged). The sound quality is fantastic. Each track is annotated as an "2019 remaster" but although there are credits for "original source disc transfers" and "mastering and restoration", no information is given on how any of this was done. Failing to go into this is remiss. There are no illustrations of the acetates themselves. (pictured right, a rare shot of Williams with an electric guitar, 1952)
Equally frustrating is that the five-page essay on the radio shows by Williams's biographer Colin Escott is not complemented by a detailed analysis of what is heard. It would have been good to set these on-air performances in the context of what was issued on record, when the records were released (how much of what was aired was known by listeners?), what was not issued, the potential reasons the songs were chosen to be performed on the shows and to also have a comparative analysis between the issued and radio versions of the tracks.
Perplexing textual omissions aside, this is a wonderful release and worth endlessly digging into. Not least for the reason that it challenges perceptions of who Hank Williams was.
Next week: The Joe Meek-produced Honeycombs in a box – Have I The Right? The Complete 60s Albums & Singles
Hank Williams was never off his game sartorially. He knew how to package himself
Explore topics
Share this article