Reissue CDs Weekly: Tennessee Ernie Ford |

reviews, news & interviews
Reissue CDs Weekly: Tennessee Ernie Ford
Reissue CDs Weekly: Tennessee Ernie Ford
Lavish box set puts a new twist on the great American songbook
Tennessee Ernie Ford in a 1949 Capitol Records promotional shot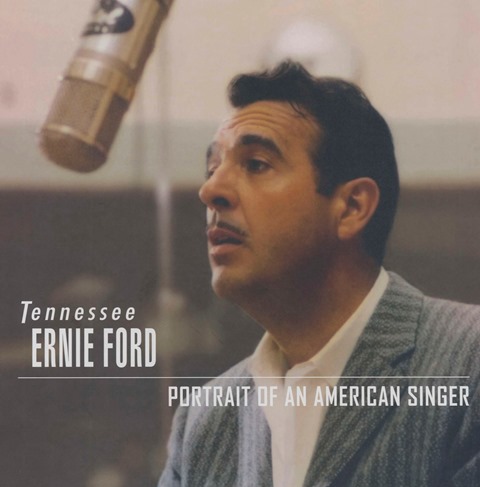 Tennessee Ernie Ford: Portrait of an American Singer
Although there are different American music charts, success in one category but not another is not a marginal accomplishment. A major star on the country chart can be as popular, heavy selling and as big a live draw as one on the mainstream chart – now known as The Hot 100. But crossing over is still the dream. Taylor Swift isn't for the country charts alone. Back in the Nineties, nor was Alan Jackson. The daddy of them all though was Tennessee Ernie Ford (1919–1991). In 1955, his single "Sixteen Tons" figured as strongly on the pop charts as the country countdown. Although notionally a country singer, Ford was making co-billed records with pop singers Kay Starr and The Dinning Sisters as early as 1951.
The opening section of the book coming with the box set Portrait of an American Singer is headed "Crossover Artist Extraordinaire". And as the story unfolds, both through the music and in the book, it's clear Ford had no time for musical boundaries and, as it is put, "recorded what and how he pleased, and he was not afraid to be hip and not afraid to be square".
Nowadays, Ford may seem to define the cornball and it's undeniable he had his cheesy moments. No one is going to treat 1950's "Cincinnati Dancing Pig" too seriously. But after taking in the 397 minutes of music collected on this box set and digesting the full account, this default position is shown to do him a great disservice. Much of what's heard is as good, if not better, than the mainstream country recorded in Nashville, Tennessee during the Fifties. Despite his name though – he was born in Bristol, Tennessee on 13 February 1919 – Ford lived and recorded in Los Angeles.
Portrait of an American Singer is a lavish 5-CD, album-size box set with a black and white/colour 124-page hardback book. The period covered is 1949 to 1960, beginning with Ford's first recordings for Capitol Records. The focus is on his complete secular recordings for the period – 154 in all – although a few of his earliest sacred-themed songs are included to round-out the picture. The earliest recordings are 12 January 1949's "I've Got the Milk 'Em in the Morning Blues" and "Tennessee Border". The latest are from a five-song session recorded on 22 November 1960. Everything is newly mastered from the master tapes. It all sounds great and so alive that Ford and his musicians may as well be playing a few feet away. (Pictured left, Tennessee Ernie Ford on radio station KXLA in 1949)
Ford himself was the character his boundary breaking suggests. A city boy, he nonetheless grew up helping out on his extended family's farms. By 13, he was playing trombone in his high school band. At 18, he became a radio announcer while also studying music, first at a local college and then at Cincinnati Conservatory. His was the first voice on radio in Tennessee to announce the attack on Pearl Harbour.
After enlisting in the Air Corps, he trained as bombardier but was soon also put to use on the Armed Forces Radio Network. Following his discharge, he and his wife stayed where he had been stationed in California and he worked for various radio stations. He was also, in 1947, performing as an opera singer. His radio shows were peppered with live songs and, in 1949, they attracted the attention of Capitol Records.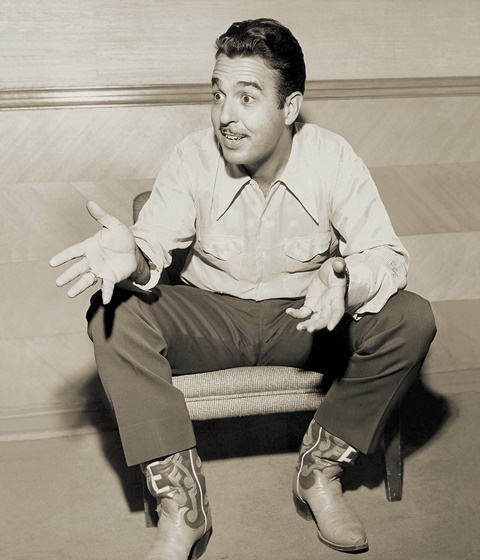 Once signed to the label, Ford was an easy sell. He was well known from radio and, while in the service, had made public appearances with stars like Eddie Cantor. Once making records, he continued with his radio shows. His public persona was a broadened version of his actual self: a Tennessee homeboy who, despite living in California, brought the flavour of his home state to all of America. He was selling Tennessee. (Pictured right, Tennessee Ernie Ford backstage in Las Vegas, 1956)
The early records are – apart from the overt novelties and some pappy pop schlock – super. He dealt in a rollicking hillbilly boogie one step from rock 'n' roll. His voice was rounded and powerful. His accompanists included now legendary players such as guitarist Merle Travis, steel player Alvino Rey and pianist Moon Mullican. Within the studio inside the Capitol Records Tower, Ford was creating a California take on the music of America's south.
Portrait of an American Singer is bursting with gems. "Sixteen Tons" is obviously an irresistible classic. His personality is stamped on everything. While recording material by or linked to Roy Acuff, Floyd Tillman and Hank Williams, Ford dug deeper and interpreted the Child Ballad "Barbara Allen", folk songs like "Pretty Little Pink" and the 19th-century popular song "My Grandfather's Clock". In essence, Portrait of an American Singer is a new twist on the great American songbook.
With detailed annotation, insightful track-by-track commentary and its well-designed book, this is exactly what a box set should be. Although the price makes Portrait of an American Singer a major investment, no single-disc best-of could tell the story this well and with this degree of class.