Reissue CDs Weekly: Roy Acuff |

reviews, news & interviews
Reissue CDs Weekly: Roy Acuff
Reissue CDs Weekly: Roy Acuff
Hefty box set dedicated to the King of Country Music is a lesson in the history of American music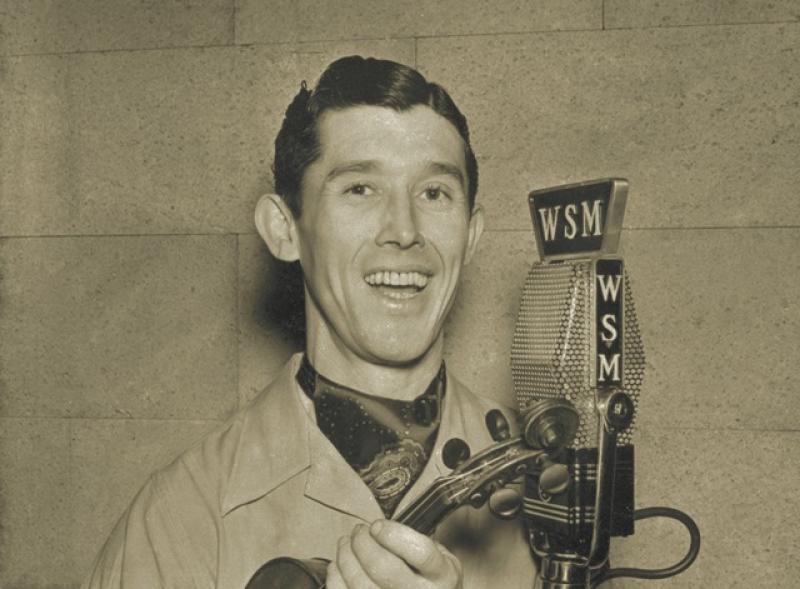 Roy Acuff: a taskmaster
In 1942, Roy Acuff set up Acuff-Rose Music in partnership with Nashville-based songwriter and talent scout Fred Rose. The new publishing company was dedicated to treating songwriters decently. They would not be cheated out of their copyrights. There would be clear and honest accounting. The contracts offered would have better percentages than rival publishers. There would be no shady deals.
Acuff-Rose cocked a snook at the country music establishment and, in time, had writers as important as The Everly Brothers, Lefty Frizzell, Don Gibson and Roy Orbison on its books. Acuff and Rose had changed the way the Americana music business worked.
If that were all Acuff had done, his place in music history would be assured. But it was not. Roy Acuff (1903–1992) was a musical giant and, in the title of a 1962 album, dubbed "The King of Country Music". He was famous, from 1938 a long-time star of the Grand Ole Opry, a mean fiddler and changed how bands worked – he was crucial to the change from bands being a line-up of instrumentalists to showcasing a leader; the focus and star. It was Roy Acuff & The Smoky Mountain Boys, not The Smoky Mountain Boys. Any way it's looked at, he was a key player in the development of America's music scene.
But without the music, he would have had nothing to build on. The King Of Country Music, The Foundational Recordings Complete 1936-51 is a weighty (3kg) box set dedicated to the earliest years of Roy Acuff & The Smoky Mountain Boys. Issued by the high-end German archive label Bear Family, it is another of their definitive packages. An LP-sized box houses nine CDs, a DVD (the hokey Acuff & The Smoky Mountain Boys-starring 1940 film Grand Ole Opry) and a full-colour 184-page hardback book. The annotation is meticulous and, in the book, Acuff's story is told and every track discussed: its origin, history and how it came to be recorded by Acuff. This is the first time Acuff has been looked at so thoroughly, is the last word on him and a tribute to the conscientiousness of independent labels.
The King Of Country Music is not an impulse purchase. It sells for around £190 and includes every master recorded for the period covered – when he was at the ARC-Columbia-group labels Columbia, Conqueror, Okeh, Perfect, Vocalion – whether or not they have previously been previously issued. There are 228 tracks and a playing time of 11 hours. It is an extraordinary object.
For The King Of Country Music, the story begins on 20 October 1936 at a studio located in Chicago's Furniture Mart Building, the Acuff band's first recording session where five tracks were taped. They included the soon-to-be classic "The Great Speckle Bird". The band were back there on each of the next three days and tracked 15 more songs. All, except two lost masters, are heard. Fifteen years later, the ninth CD finishes with four tracks taped at a studio in Nashville's Tulane Hotel on 24 September 1951. In between are recordings made at a radio studio in Hollywood (Acuff was often there as he and the band made a string of low-budget films), Memphis and Birmingham, Alabama hotels and a Saginaw, Texas flour mill. The unconventional approach to recording ensured that, at all times, Acuff had control of his output.
It's not all what might be expected. At those first sessions, dynamic versions of "Wabash Cannon Ball" and "Freight Train Blues" are accompanied by "When Lulu's Gone" (aka "Bang Bang Lulu") and the double-entendre stuffed "Doin' it the Old Fashioned Way", both funny, borderline-smutty songs recorded to garner under-the-counter sales. Acuff was interested in sales.
Most of all though, he and his character-filled band swung. Hard. The music is driving and irresistible. He was not dealing in bluegrass as such, but a clutch of tracks from April 1941 – when his preference for traditional material was diminishing – are not far from the full-on, banjo-dominated style which was soon widely popular. Acuff moved with the times.
While his band were fantastic, versatile musicians they also had on-stage lead spots where they took on roles. Rachel Veach was a banjo-playing stomper whose persona later loomed large for The Beverly Hillbillies' Granny Clampett. Guitarist Lonnie "Pap" Wilson assumed the role of an elderly hayseed. Pete "Bashful Brother Oswald" Kirby was a simple-seeming but canny bumpkin. Letters from fans expressed concern about Veach travelling on the road with a band of men, so Kirby acted the part of her brother. Membership of Acuff's band meant mugging and playing up to the audience but not at the expense of the music. Rather than a comedy band, The Smoky Mountain Boys were an all-round entertainment package with the emphasis on propagating country music. Acuff was a taskmaster.
Roy Acuff & The Smoky Mountain Boys' The King Of Country Music, The Foundational Recordings Complete 1936-51 is a lesson in American music history and a delight from beginning to end.
It's not all what might be expected: "Doin' it the Old Fashioned Way" is stuffed with double-entendres
Share this article