Reissue CDs Weekly: Gene Clark - No Other |

reviews, news & interviews
Reissue CDs Weekly: Gene Clark - No Other
Reissue CDs Weekly: Gene Clark - No Other
Deep-digging revisitation of one of the pre-punk Seventies' best albums
Gene Clark at the time of 'No Other': always searching
Three years after its release, Gene Clark explained where he was heading while creating 1974's No Other. "I was strongly influenced at that time by two other artists. Stevie Wonder's Innervisions and [The Rolling Stones's] Goat's Head Soup.
When I was writing
No Other
I concentrated on those albums a lot, and was very inspired by the direction of them...which is ironic, because
Innervisions
is a very climbing, spiritual thing, while
Goat's Head Soup
has connotations of the lower forces as well. But somehow the joining of the two gave me a place to go with
No Other
, and I wanted it to go in a powerful direction".
Clark was speaking to Zigzag magazine. The quote appears in the book accompanying the new box-set reissue of No Other and is amongst the myriads of illuminating insights revealed by this deep-digging revisitation of an album now more widely recognised than ever as one of the pre-punk Seventies best. Five years ago, 23 years after Clark's death and on the 40th anniversary of the album being recorded, the Gene Clark No Other Band played shows where it was performed in its entirety. The prime movers were Beach House and along for the ride with them were members of Fleet Foxes and Grizzly Bear as well as former Fairport Convention member Iain Matthews.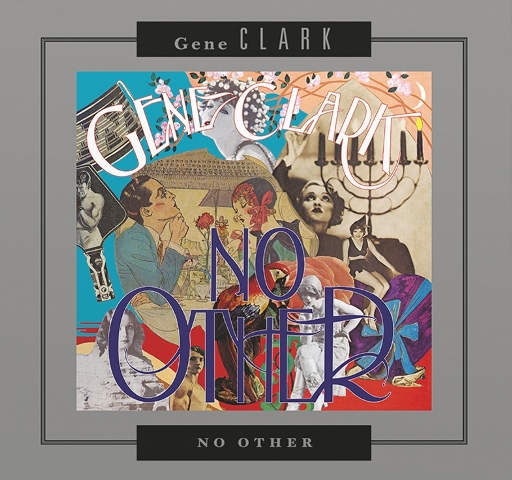 Back in 1974 though, the boss of Clark's label Asylum wasn't so keen on No Other. David Geffen had allocated a $100,000 budget, awarded on the back of the label issuing an album reuniting him with his fellow former Byrds. Clark's contributions aside, the album was a dud. As Byrds biographer Johnny Rogan puts it in the book, "Like a phoenix, Gene Clark was expected to rise from the ashes of the disappointing Byrds reunion."
Hot-shot producer Thomas Jefferson Kaye was assigned to the project. In the reissue's book, he is quoted as saying "Asylum was not behind that record. I got flak from David Geffen about how come there are only eight songs on the record after they spent all this money? They were eight great songs and that was it. We were trying to make a real piece of art and we thought that David Geffen, being a really artsy guy, would get it. But he didn't. I think it went over his head."
Clark's unhappiness with the response was compounded by Asylum offering no support for live dates tied-in to the release. He encountered Geffen at Dan Tana's restaurant where, the book reports, "Gene went after Geffen…he was going to get physical. [Troubadour venue manager] John Desko got Gene outside. John had his heavy shoe on Gene's hand and said to him, 'If you continue to resist I'm gonna break your fuckin' hand!' And Gene was very protective of his hands, of course. They were sensitive because he played guitar. That was rage, more than just drunken rage."
Even if No Other was the greatest album ever made and despite the money spent, it was not going to be heavily promoted.
Nonetheless, Cashbox declared "It's great to have Gene Clark recording again and teaming up with Thomas Jefferson Kaye he has come up with a winning new album on Asylum. Clark's distinctive vocals at times hauntingly take you back to early Byrd days, but his new material has character and body that are unique." Billboard said Clark's " back with his usual superb mix of country and rock tunes, his melodic vocals and his beautiful set of songs. A magnificent effort." (pictured left, the master for Side One of No Other).
Such a backstory set up No Other for cult status, a pedigree Zigzag recognised in 1977 when speaking with Clark. A new opportunity to appreciate the album's elliptical, moody magnificence comes with its reappearance. As is customary these days, the new reissue comes in a range of formats: a single CD, a single LP, a double CD teaming the album with previously unissued tracks from the sessions and a multi-faceted box set. The latter includes the album on vinyl and CD, two discs of session tracks (the three discs are SACDs), the hardback book quoted from here, a Blu-ray of a new documentary on the album (not supplied for review), another Blu-ray of surround-sound mixes and such, and a seven-inch of two tracks not otherwise collected (also not supplied for review). The box set is the goods.
The abundantly illustrated book – the photos from the album's cover session are astonishing – says more than could be imagined about No Other; there's even a meticulous dissection of the sleeve imagery by Martin Aston. The book's opening shot is a contextualising essay by Rogan which is followed by Clark biographer John Einarson telling the story of the album. Next, The Long Ryders's Sid Griffin contributes an insightful track-by-track commentary based on his trawl through the masters and multi-tracks. Griffin scrutinised the previously unheard, unmixed multi-track tapes and with veteran British producer John Wood created what's heard on discs two and three of the box: new versions of the album drawing from the subsequently archived recordings of work in progress. There are no unreleased tracks expect for a try-out of "Train Leaves Here This Morning" which was later recorded by The Eagles: this is on the seven-inch which was not supplied for hearing. (pictured above, a previously unseen shot from No Other cover session)
Beyond the absorbing book, the unreleased session material is the draw. The new remaster of the album itself is a sonic treat, but what's not been heard before is what matters. Griffin and Wood's new masters adroitly replicate the ambience of the original album. Griffin says "My assigned task was to listen to all the out-takes of No Other and a) decide which completed unreleased tracks were the best, and b) remix those unreleased tracks into something worthy of Gene's reputation. I therefore called on John Wood, the great producer/engineer of Fairport Convention, Nick Drake, Squeeze and so many others to help me out as he knew this kind of music A to Zed, backwards and forwards. I could not have chosen better."
Griffin goes into the differences between the various versions and it's worth stressing that Disc Three is dedicated to the first recorded take of each album track. Disc Two is a collection of works in progress. Clark and producer Kaye's way of working did not conform to a standard process where backing tracks were laid down by session players and then, when a good version was captured, the vocals overdubbed. Clark played and sang with each version of each song as it evolved. Potentially, Griffin and Wood were dealing with multiple alternate versions of the album.

Clark's hands on, in-the-moment approach meant that, for example, the package includes two previously unheard versions of "Silver Raven": a sparse full take from 23 April 1974 and an earlier, longer version from 21 April 1974 (pictured left, a studio tracking sheet for "Silver Ravens" [sic]). Clark was editing, reconfiguring his songs in real time and using musicians to help him do so. Likewise, on 25 April 1974, "From a Silver Phial" develops from an arrangement focussing on the electric guitar to one melding it with a piano and former Byrd Chris Hillman's mandolin, bringing it close to what was issued. "Some Misunderstanding" moves from being predominantly accompanied by acoustic guitar on 8 April 1974 to a groove-bedded arrangement on 30 April 1974, yet still had not become the filigreed version which was released.
Most of what Griffin and Wood have brought the world could have been issued at the time and still would have made for a benchmark release. The box set confirms – as it was when he left the Byrds, with his temporary link-ups with the Gosdin Brothers and Doug Dillard – that Clark was always restless, always exploring new ways to best present his songs. While making No Other, Clark was still searching.
In the end, nothing on No Other sounded like Goat's Head Soup or Innervisions but this major new release confirms that Gene Clark's ever-inscrutable search was about trying to capture the elusive soul of the song.
Next week: Yesterday Has Gone – The Songs of Teddy Randazzo

Even if 'No Other' was the greatest album ever made it was not going to be heavily promoted
Explore topics
Share this article