Sónar 2011: Day 1 |

reviews, news & interviews
Sónar 2011: Day 1
Sónar 2011: Day 1
Raving it up in Barcelona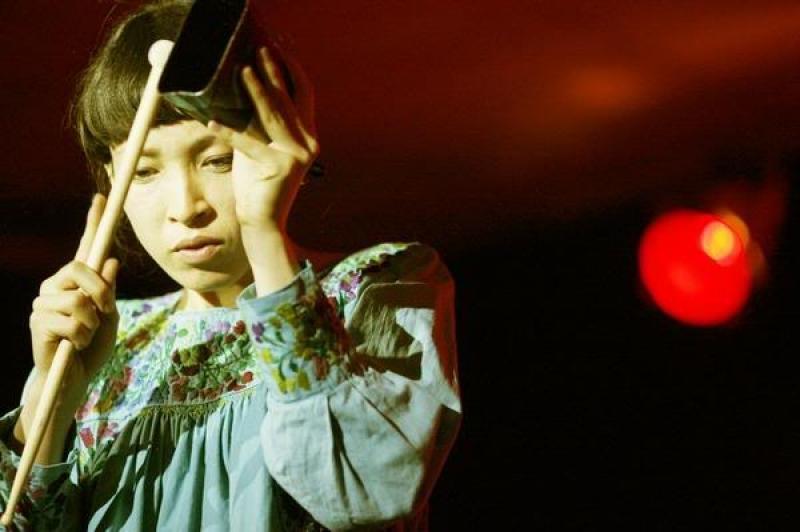 Dazzling stage presence: Singer/percussionist Yukimi Nagano of the fabulous Swedish electropop band Little Dragon
"This is what Ibiza used to be like," said the man dancing next to me.
"This is what Ibiza used to be like," said the man dancing next to me. I've never been to the White Isle, so I have to take his word for it, but he presented a very convincing argument that the commercialisation of dance music's Mediterranean Mecca has led to a polarisation of its crowds towards either ostentatious spending or mindless drunkenness – whereas Barcelona's Sónar Festival attracts more diverse and discerning hedonists focused on music above all.
Certainly a good cross-section of people were in attendance for the first day of Sónar. A large number of electronica nerds mingled with groups of fearsomely tattooed Spaniards, moustachioed and strangely bespectacled international hipsters and a very impressive turnout of Scottish teenagers out to support Scots DJ teams/record labels Numbers, LuckyMe and Optimo, who are all playing in and around the festival. This latter group provide a great sideshow as many of them look as if they have never seen sunshine before, and we have begun taking bets on what proportion of them will end up badly scorched by Sunday.
Also among the crowds – and this is vital to Sónar's character – were women: lots of women. This might not seem worthy of note, but at an event so centred on exploratory electronic music it very much is. The festival's greatest strength is that it is able to put that experimentalist music within a broader context of modern music so that its appeal can be shown to be much broader than the clichéd geek gatherings one can often witness in the UK would suggest.
And so it proved yesterday. One contrast between acts in particular demonstrated that breadth of appeal. Playing in the SónarDome tent outside the front of the MACBA museum venue that hosts the daytime events, Quebecois DJ/producer Ghislain Poirier (pictured right) played a high-energy set of internationalist dancehall reggae. With a Spanish vocalist rapping and singing over beats from Trinidad, Jamaica, North Africa, the US and South America he had his audience gyrating happily, and when he played Heatwave's remix of Adele's "Rolling in the Deep", the crowd erupted with joy.
Listen to the Heatwave remix of Adele
Yorkshire producer Kidkanevil (pictured below) followed this peak moment with some deeply peculiar sounds. Making no concessions to trying to match Poirier's energy at first, he steadily built layers of his own slowed-down hip-hop beats, strange dub reggae swirls and swoops and snatches of haunted blues vocals. The crowd thinned out to begin with, but with great patience he built from this base, increasing the tempo until he proved conclusively that his sounds were every bit as good for partying in the sunshine as was Poirier's reggae.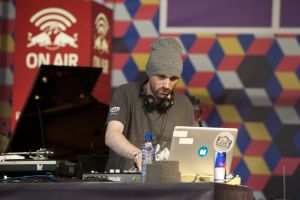 Out in the main courtyard of the museum, people swayed blissfully to the gorgeous psychedelic pop of South Carolina's Toro Y Moi, bobbed happily as Londoner Floating Points wove jazz and funk records in and out of classic house music, then became more animated as the fabulous Swedish electropop band Little Dragon delivered a set loaded with rather more energy than their very poised and delicate records might suggest. This was aided in no small part by the dazzling stage presence of livewire singer/percussionist Yukimi Nagano: it's easy to see why major artists from Damon Albarn to R'n'B mega-producer Raphael Sadiq have been queueing up to work with her.
I was unable to get through the unprecedented crush to see downbeat French techno producer Nicholas Jaar play in the MACBA's cool and cavernous downstairs hall, but I did get down there to witness an absolutely extraordinary set by Tyondai Braxton. His former band, Battles, have become a more straightforward proposition since his departure, and it became very clear why this is: a huge amount of the band's weirdness must have sprung from him. Sitting cross-legged on a large podium, surrounded by guitars and electronic boxes, his ragged Afro hair gave him the appearance of a high-tech hippie.
His sounds were anything but zoned out, though. Darting back and forth between his bits of equipment, he built up gruesomely heavy and sluggish beats, their relentless plod related to techno as Black Sabbath were to the blues. Over this, he sampled bits of his own voice pitched up to make demented robot melodies of the sort that filled Battles's first album, and occasionally picked up a guitar to record and loop spiky, sparse riffs. It should by rights have been a gruesome mess, and indeed at points it tested the limits of enjoyment, but in fact overall its complete assurance and warped internal logic was compelling, and the crowd watched agog – even throwing a few rave moves when more high-pitched synthesiser noises appeared.
From Adele and reggae to this in one afternoon was quite a sweep, but somehow Sónar makes it work... and there's still a whole weekend to go. If Ibiza was ever like this, I'm sad to have missed out.
Also among the crowds - and this is vital to Sónar's character - were women: lots of women
Share this article