The Struts, O2 Forum Kentish Town review - a masterclass in pleasing an audience |

reviews, news & interviews
The Struts, O2 Forum Kentish Town review - a masterclass in pleasing an audience
The Struts, O2 Forum Kentish Town review - a masterclass in pleasing an audience
There's no shortage of love for the Derby glam-rockers at this wildly entertaining show
Thursday, 17 October 2019
A big hand for Struts main man Luke Spiller
Having exploded on to the scene like a cross between Queen and My Chemical Romance, Derby's young glam-rock upstarts the Struts are on top of the world. They've cracked America, supported the Rolling Stones, the Who, Mötley Crüe, Foo Fighters and Guns N'Roses and delighted a home crowd at 2018's Download festival, and are currently thrilling audiences on their own ludicrously entertaining headline tour.
Tonight they hit London, and judging by the fevered crowd jammed into the Kentish Town Forum there's a good night to come. The lights go down and the band saunter on, fully aware that it's ridiculously charismatic frontman Luke Spiller that everyone's itching to see. Seconds later, Spiller – who's been described, pretty accurately, as the lovechild of Mick Jagger and Freddie Mercury – capers on in a grandly tasselled red and black outfit and launches into the splendidly daft "Primadonna Like Me", from current album Young&Dangerous. "Don't you wanna be a primadonna like me tonight?/Don't you know it's all about me tonight?" The crowd is already delirious with excitement, so the next song, one of the Struts's biggest, sends them into a frenzy. "Body Talks", a version of which the band also recorded with Ke$ha, is a fabulous, strutting (naturally) preening paean to self-confidence, tips the delighted audience over the edge – and there's still the rest of the night to get through.
It's incredible to watch how expertly and instantly Spiller gathers the crowd into the palm of his hand and holds them there for the entire show. His every exhortation to clap, sway, shimmy, get down and jump up is instantly obeyed with gusto, and from a raised vantage point on the balcony the mass of arms held aloft and waving in unison looks like underwater footage of gently moving seaweed. At one point, we're informed that we're all about to be part of a "one-take music video", so during the next song a camera operator weaves around the band in dizzying circles to capture the magic.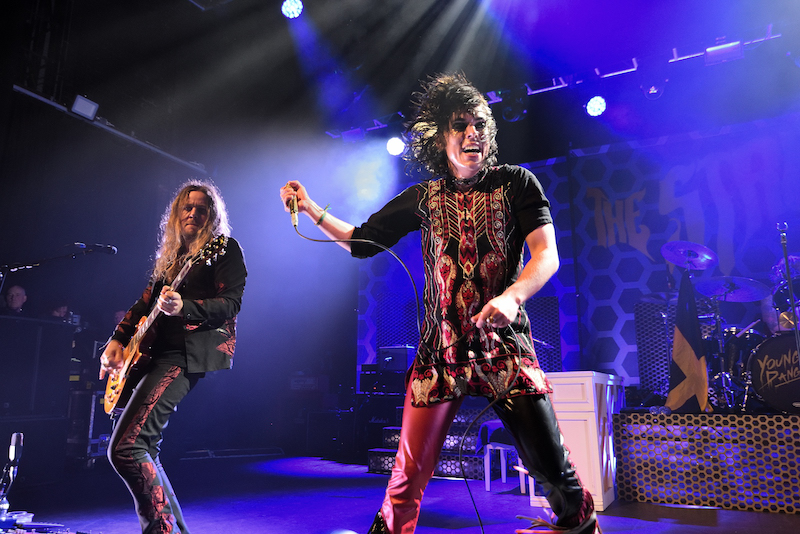 The set brings to mind a groovy 1960s studio, with spinning flower-shaped lights dappling the stage and a honeycomb-patterned backdrop adorned with the band's Cramps-esque jagged logo. A white piano allows the impossibly energetic Spiller to have a melodramatic sit-down now and then, but he still can't help leaping up from the stool to encourage some more arms-aloft clapping before he resumes his seat.
An impressive solo from dramatically spotlit guitarist Adam Slack goes down well, and we're secretly hoping that it means a costume change for Spiller is coming – the singer's extravagant stage outfits are so splendid that they've even been designed by Zandra Rhodes on occasion – and we're not disappointed. Spiller bounds back on in a fabulous red silk kimono jacket for the irresistible "I Do It So Well", before indulging in a bit of glam-rock scat singing and a rousing speech with the central theme of "never stop being yourself".
The hits are all here, from Young&Dangerous and the band's debut album Everybody Wants, with highlights including the loud and proud "Kiss This", the bouncing, groove-laden "Dirty Sexy Money", the bonkers "Tatler Magazine" and, as a melodramatically marvellous encore, "Could Have Been Me". They really work best in a live setting, with the deafeningly raucous crowd elevating them into a life-affirmingly uplifting experience with consummate showman Spiller the glittery, fabulous heart of the action.
It's incredible to watch how expertly and instantly Spiller gathers the crowd into the palm of his hand and holds them there
rating
Share this article