Supersonic Festival 2019, Birmingham review - the weird and the curious get together |

reviews, news & interviews
Supersonic Festival 2019, Birmingham review - the weird and the curious get together
Supersonic Festival 2019, Birmingham review - the weird and the curious get together
Musical leftfielders bring the noise and the strangeness for another fine weekend of sonic celebration
Pigs Pigs Pigs Pigs Pigs Pigs Pigs: Magnificent (picture by Joe Singh)
2019 is a big deal in the Supersonic universe, as it marks the fifteenth time that the Festival has been held in Birmingham – the Home of Metal. So, what better way to celebrate than to kick things off with a double header at the City's iconic Town Hall venue and what better bands to do the honours than local lads, Godflesh and US noise veterans, Neurosis?
Despite being July, Birmingham was distinctly soggy as fans queued to get into Town Hall, and not one for acting like a star, Godflesh's Justin Broadrick hit the stage in an anorak and rucksack with sodden hair. Initially, the band's industrial sludge sound was a bit on the quiet side and the lights considerably brighter than usually seen illuminating their shows. However, once the first track was brought to an end, technical hitches were sorted out and Godflesh's relentlessly brutal groove had the crowd, not exactly dancing, but at least nodding along to the hardcore aural violence. Neurosis, on the other hand, had no such technical issues and launched into their swampy and slow-paced but heavy, drone-blues with some gusto. However, while Scott Kelly (picture below by Joe Singh) and Steve Von Till racked up their epic noise, it soon started to feel a bit overwrought with lots of bluster in their gloomy dirge – not that this seemed to phase anyone else in the Devil's horns-flashing audience one bit though.
Once Godflesh and Neurosis had done their best to reduce Town Hall to a heap of rubble through deep vibration, it was time to stumble down to the Digbeth area of the City and to the Festival's main site for more musical heaviness from Hey Colossus, Savage Realm, Big Lad and Yob. Hey Colossus again demonstrated the fine quality of the local musical contingent, with a Captain Beefheart-like set that ploughed through the night like a juggernaut on airport-trolley wheels, while Big Lad's thrash electronics got many up on their feet, before Yob brought the tempo but not the heaviness down to the bottom of the dial. It was a fine evening to get things started and created quite a sense of anticipation for the rest of the weekend.
Saturday 20 July
The weather for Saturday was far more fitting for the end of July, if not exactly Mediterranean, and despite all the festivities taking place indoors, it made for a more relaxed atmosphere than tramping between venues in the rain. Good vibes weren't in short supply on the stages either, as the second day's performances commenced with the beat poetry of Daniel Higgs. Looking like a tattooed garden gnome with a woolly hat and grey beard, Higgs recited a 45-minute monologue about "demons and odours", occasionally sitting down with an acoustic guitar for random accompaniment and spreading the cheer. Other highlights of the day included Faten Kanaan's church organ-like instrumentals, which had something of Philip Glass' minimalism about them, played in front of a huge forest projection, viewed through gothic windows. Her set was gentle but strange and provided a pleasant and mellow break between her more noisy confederates. Similarly, Hen Ogledd's experimental folktronica meshed with strange mellow pop provided a chilled, if very weird, break from acts like Big Joanie's empowering, Riot Grrrl tunes, The Body's brutal noise and CZN's relentless high-tempo drumming and percussion.
Saturday's top acts, however, proved to be Portuguese percussion-heavy dance monsters, HHY and The Macumbas and grime-ragga don, The Bug. HHY and The Macumbas played a set that felt like techno played on acoustic but amplified instruments. Band leader Jonathan Uliel Saldanha conducted events throughout, with his back to the audience and a strange mask worn on the back of his head, as drummers and trumpet players knocked out a wild groove, drawn mainly from the band's Beheaded Totem album, and many in the audience got down and got sweaty, lost in the red spot lights and sea of dry ice.
The Bug on the other hand, were a completely different prospect. The show itself was slow to start due to problems with lost equipment and with Kevin Martin almost knocking himself unconscious on a low ceiling before taking to the stage. However, Martin and his crew battled on, with King Midas Sound vocalist, Roger Robinson lighting the fuse with a spoken word intro "For the living and the dead of Grenfell". Unfortunately, this was the point when Martin's borrowed equipment decided to give up the ghost. However, not one to chuck in the towel, he improvised walls of electronic noise while the dreadlocked Moor Mother let rip with improvised dystopian poetry and ranting through a mountain of reverb.
After some 20 minutes, in a packed and sweaty room, the first beats made their appearance in a dub ragga riddim. The bassline for "Function" burst forth from the speakers and Moor Mother started laying down some aggressive and righteous chanting. "The world is burning – this is a warning" she spat over a dirty, slow groove that was loud enough to mask the sound of bombs. With his equipment now sorted out, Martin was soon supplying skull-rattling sounds with a depth charge bass and industrial slabs of noise. It was at this point that Miss Red (picture below by Mark Rhodes), the last of his conspirators took to the stage.
Supersonic's performers, it is fair to say, are not usually known for being raunchy and sassy. However, Miss Red soon changed that, dancing, skipping and twerking her way around the stage as she took tracks like "One Shot Killer" and "Shock Out" from last year's top debut album KO, and injected some serious energy into the evening. The audience reacted accordingly and, given the Bug's earlier problems, it surely was a magnificent way to bring things to a close on Day Two.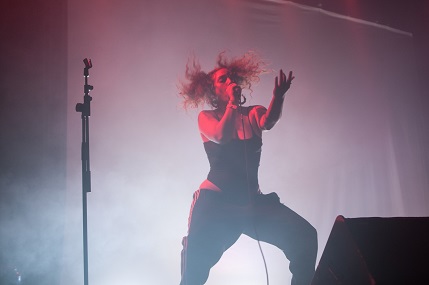 Sunday 21 July
In years past, Sunday at the Supersonic Festival has often been a more chilled affair. Not so much this year though. That said, the day did begin with a talk on New Weird Britain, a round of Dysfunctionale Bingo and an onstage conversation between Daniel Higgs and Jerusalem in My Heart's Radwan Ghazi Moumneh. Indeed, Higgs proved just as fascinating and gently hilarious in conversation as when performing. Tales, thoughts and insights into the nature of improvisational music and the role of volume and place in the creative process followed, as well as the idea of making music as a tool to becoming a better human being. However, there was also some more strange and beautiful music to round off the weekend.
Japanese post-rock foursome, Mono played an epic set, that was in parts ambient and instrumental, soaring and cinematic, loud and powerful. Their oceanic soundscapes were like beautiful melodies from the eye of the storm that built up into a cathartic climax that had many claiming to have seen them play best performance of the weekend.
Sly and the Family Drone's collaboration with experimental composer Sharon Gal was altogether more strange. Temple chimes broke the silence and initiated a low drone. Cat-like screeching and random percussion came and went before the band picked up on something resembling a groove. Some of the audience seemed in a trance, some stood still, not knowing quite what to do, while others headed off to find sounds that were easier to digest. Jerusalem In My Heart similarly proved somewhat perplexing for some with Radwan Ghazi Moumneh's use of electronics, samples and live buzuk accompaniment to strange experimental films of Middle Eastern family life, cinema and irregular patterns. It was engrossing and very trippy but not in a way that might encourage audiences to move their feet.
While many of Sunday's acts had demonstrated a contemplative, if not particularly chilled, approach to music, the final two bands, Dälek and Pigs Pigs Pigs Pigs Pigs Pigs Pigs brought both the noise and the groove. MC dälek and Mike Manteca's sometimes harsh and experimental hip hop certainly got the crowd going. This was aided in no small part by MC dälek filling the stage with both his character as well as his frame. No bling-obsessed bore, instead he spat lyrics about revolution with bass and beats from Mike Manteca that could have knocked holes in walls. Their heartfelt "fuck you to Donald Trump" as they launched into "Numb", from their Endangered Philosophies album, also got plenty of audience appreciation from a crowd that swelled significantly as the gig progressed.
The last band to hit the stage on Sunday was the mighty Pigs Pigs Pigs Pigs Pigs Pigs Pigs and their lively stoner rock. It proved to be a fine show and an excellent crowning to fine weekend. Vocalist Matt Baty appeared in a glittery hoody and football shorts and proceeded to practice his infamous metal yoga as the band cranked up the volume and laid waste to "GNT", "Shockmaster" and "A66" from last year's King of Cowards album. "Sweet Relief" from Feed the Rats followed and the mosh pit went nuts. "Gloamer" may have been played at a slower tempo but that didn't calm anyone. Indeed, by the time the band finally called time on their show, a stage diving Baty had been passed around over the heads of about half of those present, as the room became one with the driving groove, moshing crowd, heat, sweat and dry ice – and that's the way to finish a real rock'n'roll show.
Many in the audience got down and got sweaty, lost in the red spot lights and sea of dry ice
rating
Explore topics
Share this article