Supersonic Festival 2023, Birmingham review - musical eccentrics battle the odds and come out on top |

reviews, news & interviews
Supersonic Festival 2023, Birmingham review - musical eccentrics battle the odds and come out on top
Supersonic Festival 2023, Birmingham review - musical eccentrics battle the odds and come out on top
Twentieth anniversary wild ride for those with broad musical tastes
Wednesday, 06 September 2023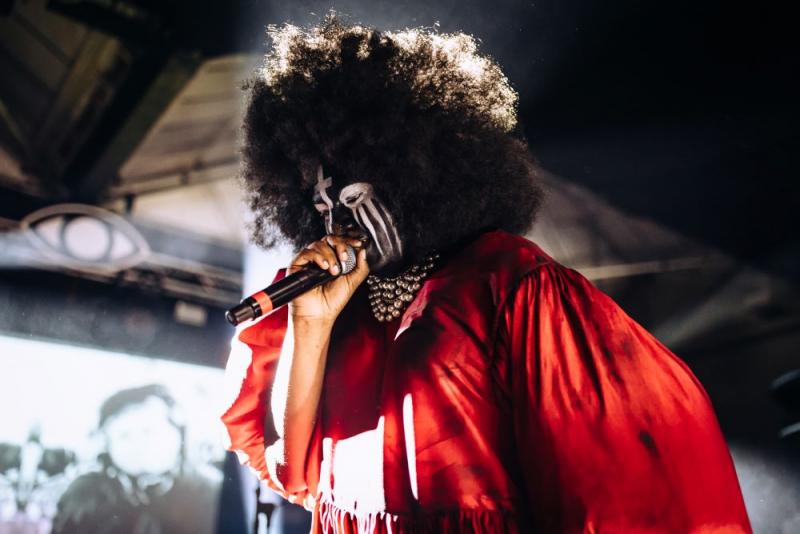 The ferocious Backxwash
You've got to feel for Lisa Meyer and the team behind Birmingham's magnificent Supersonic Festival. Just as the live music scene gets to a point where the Covid pandemic is no longer a malign influence on dancing and having fun in a room full of like-minded people, the UK is hit by a two-day rail strike that coincides with this annual shindig of the musically wild and wonderful. On top of that, our loathsome Home Secretary refused to grant a visa for Day One's headline act, MC Yalla.
However, these Brummies aren't ones to just throw their hands in the air and give up, and on the festival's 20th anniversary, they again managed to deliver a weekend of superb entertainment for the musically curious while the UK finally warmed up again after a wet and somewhat autumnal July and August.
Friday
theartsdesk turned up at the Supersonic Festival, held again in the somewhat industrial yet bohemian (but rapidly gentrifying) area of Digbeth in Britain's second city, just as things began to get moving on Friday evening. Fortunately, it was immediately apparent that the festival had somehow avoided the crowd cull that could have been expected with the latest national rail strike. This might have been helped by the site's proximity to Birmingham's main coach station, but nevertheless, a diverse crowd of musical eccentrics young and old, from all over the UK and far beyond were already there in droves. First off, we grabbed a beer, hit the food court for something Thai and quickly stumbled upon French experimental violinist, Agathe Max's first appearance of the weekend with her new project, the decidedly spooky Ondata Rossa. Electronic loops, drones and strange projections were on offer for this introduction to things and it was a fine way to get ready for the weird and musically obtuse sounds that would be encountered over the next few days.
Soon it was time to move on to see Deer Hoof's lopsided and off-kilter groove, which constantly jumped tempos with their asymmetric tunes and wilfully strange noise. Their sound managed to hypnotise plenty though, as they were sucked into a set of avowedly non-commercial and obscure tunes. From there, local crew un.procedure's woozy jazz, electronics and motorik sounds took their audience further out on a narcotic and dystopian journey that had plenty of heads spinning, with Cassie Kinoshi's saxophone floating above Piera Onacko's trippy atmospherics, as they negotiated the "Mouth of the Sun", "You Stepped in a Hole" and plenty of other strangeness.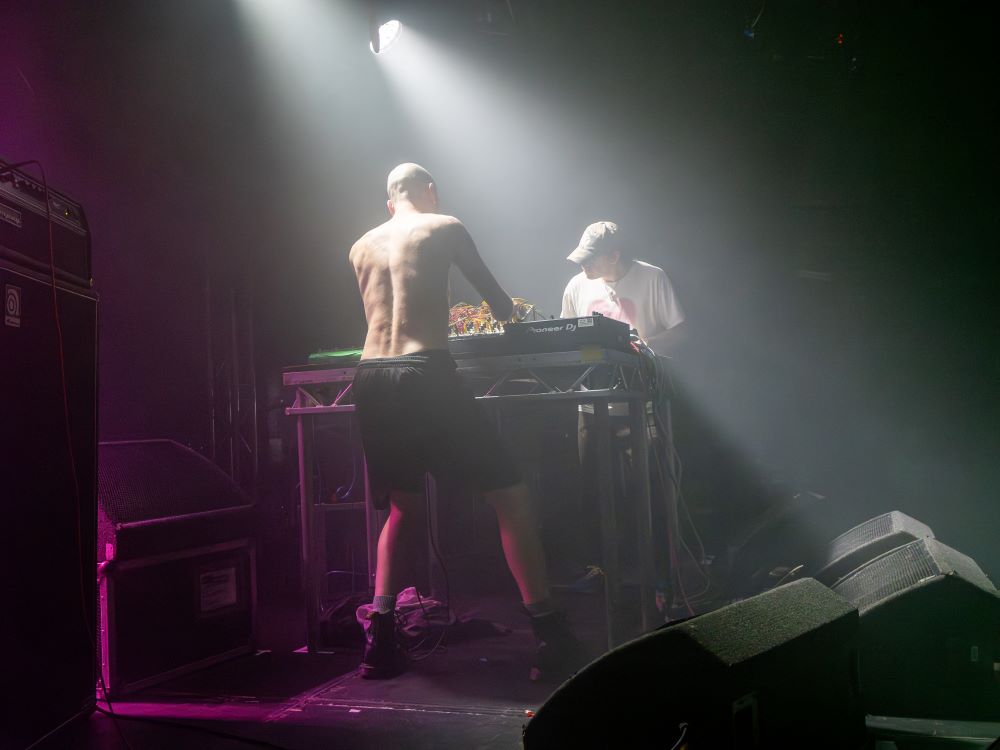 As the evening went on, however, wooziness gave way to something considerably more forceful, with Hey Colossus grinding out and chewing up the groove with a sound that seemed to take in the best of the Fall and the Birthday Party before giving those in the audience a serious sonic slap. Stand-in headliners, Giant Swan (pictured above by John Convey) similarly got plenty to stomp their feet and shake their bits to a set of warped and gnarly live techno that was fiery but groovy in its dirty and unrelenting vibe. Make no mistake, it was all a fine start to what promised to be a great weekend.
Saturday
As in previous years, Day Two was the time when the Supersonic Festival brought some serious noise to those in attendance. Riff-meisters from across the world added their feral sounds to a celebration that began, for theartsdesk, with the splendid Taqbir (pictured below, by John Convey): a Moroccan hardcore punk five-piece that were all dressed in black with niqab face coverings. Their short and sharp Dead Kennedys-esque political tunes about sexual harassment, oppression and society-sanctioned discrimination were a serious breath of fresh air. It took a while to get the crowd going but once their unnamed female singer asked "Are you tired? Why are you not dancing?", things livened up considerably.
High up on the roof of The Mill stage, Agathe Max reappeared to bring the tempo down a bit and performed a haunting solo set of droning violin with a mountain of pedals. Eugene Robinson was interviewed on stage in the Market Place and discussed the wisdom of recounting tales that involved high profile members of the US punk fraternity, gun ownership and fucking the wife of a man with incurable cancer, in preparation for Oxbow's set on the 7SVN stage and to promote his forthcoming memoir.
Oxbow's sound has evolved considerably over time and this year, Supersonic was treated to a set of grinding, slow-tempo punk blues to accompany Robinson's slow-motion striptease and occasional Ian Curtis-like dancing. Meanwhile, US post-hardcore female two-piece Ragana, performed a loud and atonal collection of anarchist anthems, including "Burning Structures" and "You Take Nothing", that sounded like a fox being sucked up into a combine harvester. Elsewhere, Elvin Brandhi's industrial noise set was reminiscent of a vacuum cleaner being thrown down a flight of stairs, but it was all grist to the mill and an integral part of the wide-ranging sonic palette of loud and experimental sounds that was on offer.
Saturday's headliners were local industrial metal-heads Godflesh, who played a fine foundation-shaking set of titanic riffs and relentless pounding beats that were loud enough to summon the dead back to life. "Like Rats", "Streetcleaner" and a feral "Slavestate" were like a soundtrack to the modern urban warfare presently going on over the other side of Europe and were accompanied by projections of drug visions from the film Altered States, fire, destruction and the paintings of Hieronymus Bosch. The unrelenting power of Justin Broadrick and Benny Green's performance, however, was a mind-blowing and eardrum shattering treat that went down especially well.
Godflesh may have been Day Two's headliners, but they weren't the last act to hit the boards on that day. Who would have the nerve to follow such sonic legends though? Clearly a woman was needed. So, step forward, industrial hip-hopper Backxwash to play her UK live debut. This formidable warrior queen hit the stage in serious warpaint with a red, puffy prom dress and a magnificent afro hair style. Slow and violent beats were illuminated with spoken samples from the likes of Angela Davis, Nina Simone and Malcolm X for a sound that was reminiscent of Dãlek but much more so. In between verses of black and female empowerment, she howled lines like "I go into the void… fuuuuuck!" and "She's a witch! She's a witch!" over and over during a truly cathartic set that had everything to offer that anyone might possibly want in the early hours of a Sunday morning. That said, she seemed genuinely blown away by the rapturous response that her show received from the packed-in audience that was there to experience a performance that will be remembered fondly for many years to come.
Sunday
After Saturday's sonic storm, Day Three of the Supersonic Festival provided the soundtrack for a suitably mellow comedown with plenty of folkie-influenced sounds from around the world. Unfortunately, the widely anticipated appearance of Slovenia's Širom was stymied by an over-zealous airline's rules for transporting musical instruments. However, Supersonic regular, The Seer was kind enough to step in at short notice, for a set of witchy electronics and enhanced and weirdly autotuned vocals. More of an art installation or even a sacred ceremony than a straight-forward musical performance, her claustrophobic, fuzzy plainsong was accompanied by a low, rolling thunder that spun plenty of heads.
The day's opening act, however, was Josephine Foster, whose warbling and woozy lullabies were part-Neil Young and part-Mary Margaret O'Hara but wholly entrancing. Also, from the other side of the Atlantic, came Jessica Moss who played two separate sets: one with just her violin and a pile of pedals, that was an atmospheric, post-classical chill out and the other, accompanied by fellow Canadians, Big Brave. A drone-heavy performance with wailing vocalisations to accompany her fiddle, it lost some momentum after a while but was well worth a listen. As was the fantastic minimalist earthy trance music of 75 Dollar Bill. Che Chen and Rick Brown's trippy but gentle sounds were just the thing and, in fact, had many in the audience in raptures.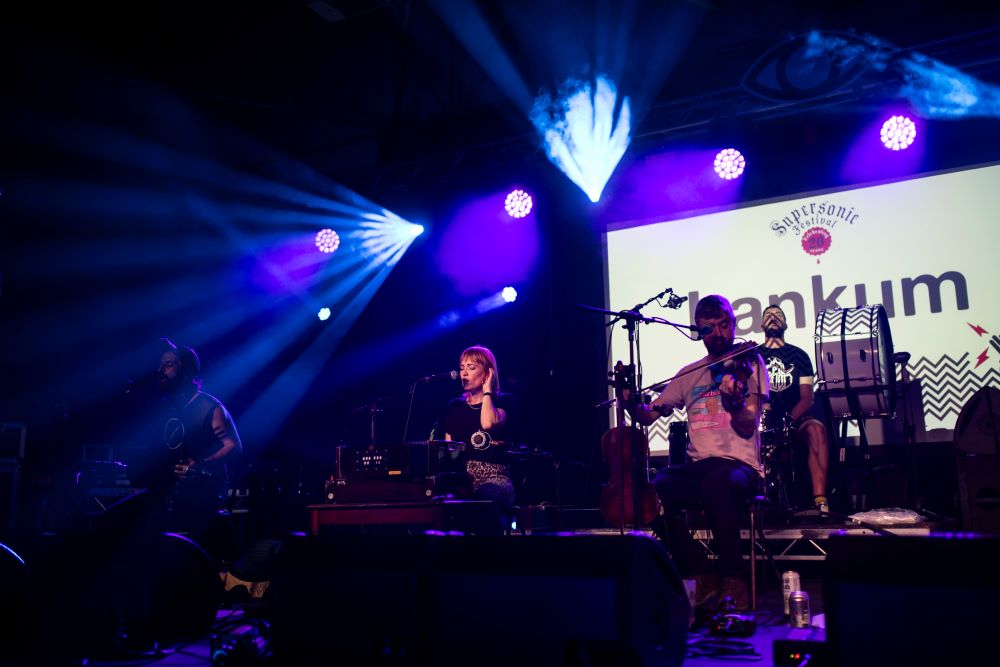 Something that was more emphatically fun, was the Supersonic Mass. A ritual celebration of all the freaks, musicians, artists and audiences who have attended and contributed to the Supersonic Festival over the past 20 years. There were banners with plenty of positive messaging for this disparate community of groovy people and the procession around Digbeth ended with a musical and chanted crescendo of sound, as participants and audience members remembered all those who have lent a part of their souls to this wonderful event.
The nine-piece Shovel Dance Collective dragged Sunday from the folk-ish to an emphatic performance of the real thing, with a set of ancient tunes from the British Isles and Ireland that was played on the kind of musical instruments not usually seen at a festival of this type. Hammered dulcimer, bowed cittern, mountain banjo and pump organ brought drone sounds and free improvisation to tunes like "The Handsome Cabin Boy" and shone a light on the LGBT+, proto-feminist and working-class viewpoints that are often forgotten from our islands' histories – as well as a righteous cry of "Fuck the Tories and fuck Keir Starmer!", which got a suitably loud cheer.
Sunday's headliners, Lankum (pictured above by Cat Dineley) claim to be non-traditional Irish folkies but, to the untrained ear, they sounded very much in the traditional folk music camp. For their set, the Dublin four-piece was seated on a stage so low that they were barely visible to the majority of the audience. Nevertheless, there was plenty of interaction with those present and a performance that included the toe-tapping and hip-swinging "New York Trader", the atmospheric "The Young People" and the mournful "Go Dig my Grave". Their set was a wonderful way to bring the curtain down on the main stage of an event that the band freely described as "one of the coolest festivals we've ever played – or even been to. Even the Security are sound. Imagine that?"
Backxwash seemed genuinely blown away by the rapturous response that her show received from the packed-in audience
rating
Explore topics
Share this article