Terry Riley Celebration, St George's Bristol & Bristol Old Vic |

reviews, news & interviews
Terry Riley Celebration, St George's Bristol & Bristol Old Vic
Terry Riley Celebration, St George's Bristol & Bristol Old Vic
The minimalist pioneer attracts Portishead, Goldfrapp and classical musicians
Saturday, 06 November 2010
Terry Riley, the ur-minimalist who shaped the creative paths of John Adams, Peter Townshend, Mike Oldfield and Philip Glass
Terry Riley is one of the great unsung heroes of contemporary music, the ur-minimalist who shaped the creative paths of John Adams, Peter Townshend, Mike Oldfield and Philip Glass, to name just a sample of the wide range of musicians who have been inspired by his raga-tinged loops and all-enveloping electronic soundscapes.
This week Bristol has hosted a series of exciting concerts celebrating the 75-year-old Californian composer, whose groundbreaking genius feels as fresh today as it first sounded in the 1960s.
Back in the early 1950s, Terry Riley was one of the first composers to experiment with tape loops: in the pre-digital era pieces of magnetic tape were dexterously joined in a looped form that could be played continuously. The idea of using repetition in music, associated as it is with modal harmonies and drones, could be seen as the musical expression of a desire to escape from the tyranny of resolution-driven narrative. Terry Riley's music goes nowhere out of choice and draws the audience beyond boredom into an awakened apprehension of the here and now. This is the soundtrack for the years in which people first imagined the end of history. Riley both reflects the cultural currents of his time and has played a part in shaping them.
The first Bristol concert, at St George's, featured the master himself, accompanied by saxophonist George Brooks and Talvin Singh on tabla and percussion. This was, paradoxically, the least captivating of the evenings, perhaps because Riley chose to make it a homage to his teacher Pandit Pran Nath, the Indian singer who taught Jon Hassell, La Monte Young and US avant-gardists of the 1960s. Indian vocal forms the core of a rich and profound musical tradition, and Riley's singing in Bristol was little more than a touching and respectful attempt at impersonating a practice that, when followed by the masters of the genre, is one of the most powerful and sophisticated expressions of the human spirit. The American, looking like a hippie sage, sat benignly at the keyboards, and even played a few jazz standards with some feeling. There were moments of magic when the sounds from the three musicians blended in a modal mix, producing a series of wave-like surges, but the event as a whole was a little disappointing.
Terry Riley should have returned to Bristol for the next concert, a stunning rendition of his masterpiece "In C", played by a 20-guitar orchestra led by Portishead's Adrian Utley (pictured right) who was joined by Will Gregory of Goldfrapp, Graham Fitkin and Charles Hazlewood on an assortment of keyboards including an ear-tingling Farfisa organ and the honeyed tones of a Hammond B. The piece consists of a series of 53 separate modal fragments, all in the key of C, played not always in strict order and only sometimes in unison by the assembled musicians.
The regular pulse which sounds almost ritualistically through the piece was held steadfastly by percussionist Tony Orrell, a man better known for his inventive free jazz drumming. The ensemble was completed by the delicate and contrasting textures of Ruth Wall's harp.
This was not the first guitar orchestra adventure for Adrian Utley, who is probably Britain's most versatile and creative electric guitarplayer in terms of the range of moods and timbres he can produce. Last year he created a 100-guitar piece for the re-opening of Bristol's Colston Hall, a site-specific piece with musicians strategically placed to produce a kind of musical architecture. A few months later, in collaboration with Will Gregory, he created a brilliant new soundtrack for Carl Dreyer's silent classic, The Passion of Joan of Arc, this time with eight guitars, a small choir, keyboards, percussion and harp.
On paper, this is a piece that threatens chaos, but the absence of soloists or stars seems to bring out the cooperative spirit that anarchists believe natural to humanity
While the music for Dreyer's film was undeniably a major and original piece, the performance of In C was something else. Within the warm embrace and uniquely vivid acoustic of Bristol's St George's, Adrian Utley's ensemble, who played without a PA, gave Riley's classic remarkable presence. The piece requires from each and every musician a deft mixture of discipline and instinct, close reading of the simple score and individual improvisation. The assembled musicians felt their ways forward, at first tentatively, only slowly winning the audience's engagement and battling against an annoying buzz from one of the amps, but 30 or so minutes into the piece they found a groove, and the audience followed, having no doubt unconsciously, as Riley intended, internalised the piece's many-layered and shifting patterns of sound. On paper, this is a piece that threatens chaos, but the absence of soloists or stars seems to bring out the cooperative spirit that anarchists believe natural to humanity.
From that point on, the event took on an otherworldly quality, the relentless repetition no longer binding the audience to feelings of bemusement or boredom, but facilitating a kind of liberation. I spoke to several people afterwards and they all felt the same sense of near-ecstatic release, as if something inside them had been turned on, that made them feel an extraordinary sense of wellbeing.
In C is skilfully constructed – perhaps according to what Sufi musicians would call "soul science", techniques for inducing trance. The piece starts simply, moves into more intricate and interlaced patterns and finally reaches a series of emotional climaxes. The orchestra rode the successive waves of climactic energy as if they were one - even though without a conductor (Charles Hazlewood was only playing the organ), collectively sensing the diminuendos and crescendos with uncanny sensitivity.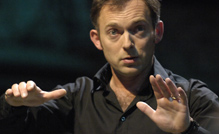 Last night some of the same musicians reassembled at the Bristol Old Vic to perform improvisations based on Terry Riley's later and better-known masterpiece, Rainbow in Curved Air. The concert was part of "Bristol Jam", BOV artistic director Tom Morris's unique and imaginative celebration of impro. The stage of the atmospheric 18th-century theatre was bathed in dramatic light and dry ice as Charles Hazlewood (pictured left) gave a pithy and articulate introduction to Riley and minimalism. We were, he said, to have a "psychedelic experience". Much as with St George's, a beautiful (and architecturally minimalist) converted church building, the Bristol Old Vic provides the perfect vessel for a musical journey in which intimacy allows for the mind to wander and open up to Riley's meditative music.
The first half of the show took as a starting point "Poppy Nogood and the Phantom Band", one of the two compositions from Rainbow in Curved Air, the album that was so influential when it came out at the end of the Sixties. A trio of saxophones - Andy Sheppard (tenor and soprano), Jason Yarde (alto) and Will Gregory (baritone) – formed a chorus of understated sounds that ran from breathy whisper to mournful screech. Adrian Utley slowly drew a bow across his electric guitar transcending the instrument's sonic clichés, while Graham Fitkin produced otherworldy textures from his keyboards and synths.
That Terry Riley's music should have inspired such genre-free improvisational exploration says a great deal about its lasting importance
After the interval, they launched into Riley's iconic Rainbow piece, a modal adventure in 7/8, whose introduction inspired the opening of The Who's "Won't Get Fooled Again" and Pete Townshend's "Baba O'Riley", the guitarist's homage to the American minimalist and his own spiritual teacher Meher Baba. If Poppy Nogood had led us into a wondrous world of moods and textures, stilling that part of the mind that is programmed to expect narrative (or "teleological" as Hazlewood put it) music, the final piece enabled the musicians to let rip and freely explore the possibilities of the piece's modal structure.
They were visibly having a great time, playing with sound as if for the first time: Ruth Wall plucking the extremities of her harp strings to produce tiny insect-like phrases, Tom Jenkinson (aka "Squarepusher") slapping his bass with a mixture of razor-sharp funk and wild abandon, often in perfect harmony with Tony Orrell's discreet but potent drumming, the sax players Sheppard and Yarde alternating sensitive washes of reedy colour with sheets of sound reminiscent of John Coltrane, and Hazlewood, Gregory and Fitkin - at various keyboards - providing a thrilling range of rhythmic runs, bass-heavy chords and mesmeric drones.
Although this was nominally "The Charles Hazlewood Allstars", this was music made by stars - but without the intrusion of competing egos. There is something about drone-based modal music that transcends the strictly personal, favouring instead the pull of the collective and the sheer thrill of creative collaboration. That Terry Riley's music should have inspired such genre-free improvisational exploration says a great deal about its lasting importance.