theartsdesk in Borneo: The Rainforest World Music Festival |

reviews, news & interviews
theartsdesk in Borneo: The Rainforest World Music Festival
theartsdesk in Borneo: The Rainforest World Music Festival
Deep in the wilds of the forest, a great music festival
Saturday, 04 September 2010
The group Pingasan'k "calls for good spirits". The name refers to "a bucket to put rice in, tied with the bark of a tree". Regardless of rice or spirits, this band touched my heart. The gentle, haunting sounds come from the bamboo tube zithers (pratuon'k) made from giant mountain bamboo, which is only cut down when they see the moon. "We do not want our instrument to smell sweet or our insects will bite it," explains leader Arthur Kanying.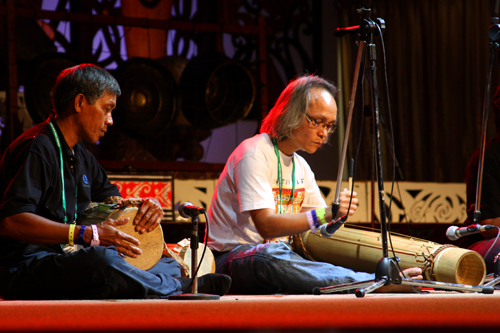 But the hypnotic groove of the music does sound sweet (Pingasan'k pictured right). Who would expect that these gentle sonic waves include pieces for warriors returning after a headhunting expedition? A practice, we are assured, which is no longer an active part of their culture.
However, if you visit their Annah Rais longhouse about 50 minutes from the charming capital city of Kuching, you will still see the skulls in their Bidayuh head-house, where forgotten tunes and instruments are being preserved and revitalised. Music festivals – like delicately woven textiles made of many strands – leave an indelible imprint, long after the individual acts or threads have faded. Years later, I enthusiastically remember satisfying music fests of all genres: classical music at the Verbier Festival in an enchanting mountain village of Switzerland, the ecstatic sounds reverberating off the stone walls at the World Sacred Music Festival in Fes, Morocco, and the high energy pulsing through the Montreal Jazz Festival in Canada. But my most recent find in outstanding global music festivals is the exhilarating Rainforest World Music Festival in Borneo.
Below, watch a video from the 2007 festival (YouTube):
It's an island where you can discover exquisite cloth and finely crafted baskets along with a first-class world music festival skillfully woven together by artistic director Randy Raine-Reusch, a Canadian musical visionary, who has worked with the locals since the inception of the Rainforest World Music Festival (RWMF). After attending, it is easy to understand why the RWMF has loyal viewers/ listeners coming back year after year to join those soaking in the sounds (sometimes accompanied by rain and mud).

The 13th annual RWMF brought 20 ensembles from 18 countries to perform concerts on two outdoor stages in a three-day festival. While the evening concerts showcased an incredibly high calibre of musicianship with virtuosic multi-instrumentalists in bands I'd never heard of, the afternoon workshops in more intimate venues were often the highlight of the day. Working with thematic concepts, members of the groups were often separated from their band mates to spotlight instrumental families.
Sessions exploring Lutes ("Sticking Out Your Necks") or Bagpipes ("It's in the Bag") educated and entertained audiences, who sprawled across the floor on handwoven mats in the Iban longhouse or on plush seats in an intimate, indoor theatre. All events took place at the Sarawak Cultural Village, a "living museum" presenting cultural heritage of many ethnic groups living in Sarawak (the largest state of Malaysia) in traditional longhouses amidst a lush 17-acre site in the foothills of Mount Santubong. More than empty wooden structures, local members of each community demonstrated their craft, music, or aspects of daily life. But with a packed festival schedule, there was not much time to explore the village or simultaneous Rainforest World Crafts Bazaar. At RWMF, six to eight musicians from different countries shared workshops, demonstrating their instruments before joining each other, searching for common ground in improvisations. (Some more successfully than others.)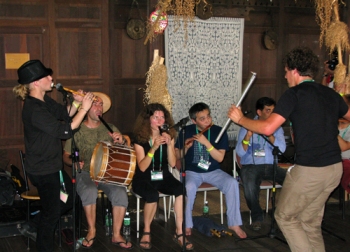 The "Fluent Flutes" workshop (pictured left), led by Australian silver flute player Michael Brown from the Afro-Colombian rock and roots band Watussi, featured eight virtuosic players on a range of flutes. Fipple flutes: a three-holed vulture bone flute with tabor from north-east Portugal, a Czech woman playing a medieval tune on a recorder, a Belgian musician performing a waltz on an Irish tin whistle, and a Sufi-playing Indonesian suling. Transverse flutes included a religious piece from southern Iran on a wooden flute, a classical South Indian bamboo flute, and a Japanese shinobue.
Some sessions involved elements of audience participation. A dynamic, classically trained South Indian percussion group, Layatharanga (meaning "Waves of Rhythm"), joined forces with Musafir (known for their soundtrack to the film Latchmo Drom). This feisty folk group of gypsies from Rajasthan in North India even featured intoxicating sounds from wooden clackers. Although these two ensembles shared a country, their languages, styles and training were very different. Here the common thread was rhythm. They used a call-and-response technique, reciting a drum language with the audience. In India this system of rhythmic syllabic recitation differs in the North and South but it was not an obstacle at the workshop, where the tempo accelerated, leaving the audience breathless.
The call and response technique was also part of the Song Bird Workshop, featuring women vocalists from four continents including Fatoumata, a female griot, singing the news of the day from the well-established band Farafina (meaning "Land of Black Skin") in Burkina Faso. She got a warm reception from the audience when she added: "I sing for peace all over the world." The irresistible Leila Negrau from Reunion Island led the vocal session. She accompanied herself with a square shaker filled with seeds, evoking the sounds of the sea. Later, in concert, she also performed straddling a traditional barrel drum (usually played by men) made from a keg once used for exporting rum. This consummate, gender-breaking performer and sultry singer of French Creole songs connected with and electrified her audience while belting out songs about women and humanity.
At the Bagpipe Workshop we learned there are over 100 varieties of the instrument in Europe. From rough goatskins to highly decorative, sparkling velvet bags (and others without a bag), the family of bagpipes from around the world met, rubbed shoulders and embraced like a reunion of kin. Members of the Russian band, Reelroad'b, discussed history, explaining folk instruments like the bagpipes were outlawed by the Tsar hundreds of years ago, while Saeid Shanbehzadeh, the primal and passionate Persian player who dances with his instrument asked, "Why do we kill goats to make bagpipes to sound like goats?" In concert he removed his shirt and swivelled his hips in moves that made Elvis look tame while his son Naghib provided impressive dumbek accompaniment.
On a more pensive note, Saeid played a soulful, shawm-like instrument, reminding listeners of the depth of his musicianship. Amidst this high-energy festival, the acoustic bands from Japan, Portugal and Borneo were particularly enchanting. The appealing Kimura-Ono duo from Japan, performing on a traditional 3-stringed (silk) tsugaru shamisen lute made of dog skin and bamboo shinobue flute, featured a lively, itinerant folk-music style associated with blind buskers and the natural world. It was hard to sit still while listening to the Portuguese quartet Galandum Galundaina, who played a regional folk music from north-east Portugal with "feel-good" songs speaking of a rural lifestyle and love. Their high-spirited, infectious tunes are still reverberating in my head.
As I leave Borneo, my head is still very much attached and it resonates with the sounds of nature, which we heard during our post-festival explorations with Borneo Adventure, the captivating music at the Rainforest World Music Festival, and the thoughtful words shared by the musicians. "There are so many things to learn from each other's culture," said Remi Decker, the impressive Belgian wind player from the French band, Minuit Guibolles. Veteran Rajasthani tabla player Hameed Khan echoed the thought: "We have to learn from all the world."
Explore topics
Share this article