theartsdesk at Camp Bestival 2015 |

reviews, news & interviews
theartsdesk at Camp Bestival 2015
theartsdesk at Camp Bestival 2015
Rob da Bank's annual family fest explodes into life once again
Wednesday, 05 August 2015
Buggies, trollies, flags, fun and sun at Lulworth Castle
Camp Bestival 2015 was bathed in four days of glorious sun, a rare window of idyllic weather in this most cantankerous of summers. It took place, as it has since it began in 2008, amid the hilly, verdant and well-kept grounds of Lulworth Castle in Dorset. Run by DJ Rob da Bank, his wife Josie and their team, it remains the country's premier family festival, attended by some 30,000. Those are the facts, yet Camp Bestival is a curious creature, tricky to encapsulate.
Camp Bestival 2015 was bathed in four days of glorious sun, a rare window of idyllic weather in this most cantankerous of summers. It took place, as it has since it began in 2008, amid the hilly, verdant and well-kept grounds of Lulworth Castle in Dorset. Run by DJ Rob da Bank, his wife Josie and their team, it remains the country's premier family festival, attended by some 30,000. Those are the facts, yet Camp Bestival is a curious creature, tricky to encapsulate. I went with my girlfriend and two daughters and, like most families there, much of our time was spent as if on a camping holiday rather than at a festival. We spent Saturday at nearby Durdle Door beach lazing and swimming, regularly missed quite a bit on account of leisurely barbecuing at dusk, and I prioritized my youngest's need for rest over watching bands. Camp Bestival is not, thus, all about the music. It's a family occasion. Consequently it is assessed here in variety of formats.
Top 15 Things We Saw at Camp Bestival
15. Bob Geldof
This was initially heard from a distance, but "I Don't Like Mondays" came roaring through the woods at force. When I reached the Castle Stage, Geldof was already attacking "Rat Trap". I used to like this song and was scolded for it by keeping-it-real punks, many moons ago. They were wrong. It's a great song. Looking like a grey-haired gypsy, with his voice all growl, he ended with a garbled folk hoedown but had the large and bouncing afternoon crowd in the palm of his hand.
14. Level 42
Musically this wasn't for me as songs such as "Lessons in Love" simply remind me what an appalling time the mid-Eighties was for music. However, the last third of Level 42's set saw slap bass don Mark King tear into a non-stop medley, his fret board lit up with LEDs, leading his band in synchronized routines akin to an old funk revue, dancing in circles round the stage, bringing their families on for a boogie, and assaulting his 2013 song "Build Myself a Rocket" with enormous gusto. He deserves his due.
13. The Fabulous Lounge Singers
As so often at festivals, wandering into the night and coming across an old-fashioned bandstand can prove a treat. The Fabulous Lounge Singers, in the shadow of a helter skelter, with two men and a woman upfront, took a classy range of pop and deconstructed it into jazzy lounge-ska, turning the likes of Meghan Trainor's "All About That Bass", Human League's "Don't You Want Me", Amy Winehouse's "You Know I'm No Good" and Britney's "Toxic" inside out but retaining their inner zest. Great fun.
12. Kate Tempest
Sometimes festival-set times can undermine an artist's potency and this is what happened to Kate Tempest. She was, as ever, an impassioned poetic force, delivering her verbal broadsides over reckless dubstep-tinted techno, letting rip with force-of-nature polemics in-between, but she did so at supper time, at the point when tired children were being wheeled off to bed, when a plate of paella seemed more vital than an anarchist bard.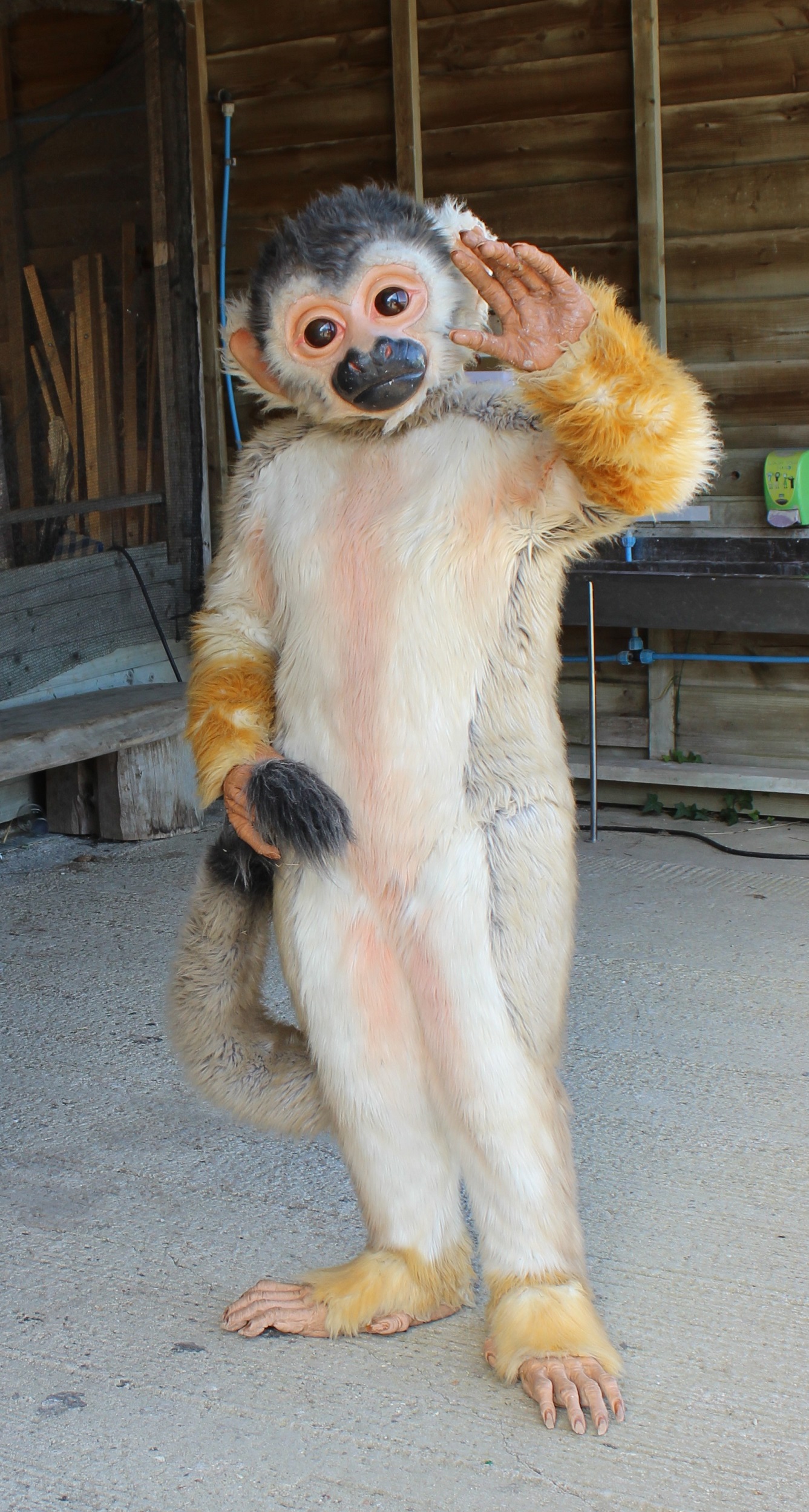 11. Mr Wilson's Second Liners
The first act we saw on the main Castle Stage summed things up. They were a New Orleans-style brass band, dressed like a cross between Sergeant Pepper-era Beatles and a Bollywood musical, and they entertained a lunchtime crowd with a beyond-revved rendition of club classics such as "Blue Monday" and Orbital's "Chime", alongside brassed up Costa del disco cheese such as SNAP!'s "Rhythm is a Dancer". They were a hoot.
10. The Blue Coats
In the Magic Meadow every year at Camp Bestival are the Blue Coats, twisted, alternate universe Butlins-style entertainers/hosts. Their show is not something I've ever stopped to watch for long but consists, as far as it's possible to tell, of a bunch of mates dressed up vaguely like The Banana Splits, dancing around to old funk and hip hop, being silly, doing karaoke, and having an endless, energized blast. They always had an audience laughing along and always seemed to be having fun.
9. The Dingly Dell Trail
Lulworth Castle's wooded areas had been adapted into something both charming and rather like a rustic hippy fantasy. It made for a betwitching, Tolkien-esque forest wander that was also home to a massed mess of kid-friendly mud pie-making, tree-climbing and story-telling. At night, for those who could drag themselves away from the music, it was an enclave of peace and twinkling fairytale lights.
8. Dick & Dom Go Wild in the Ring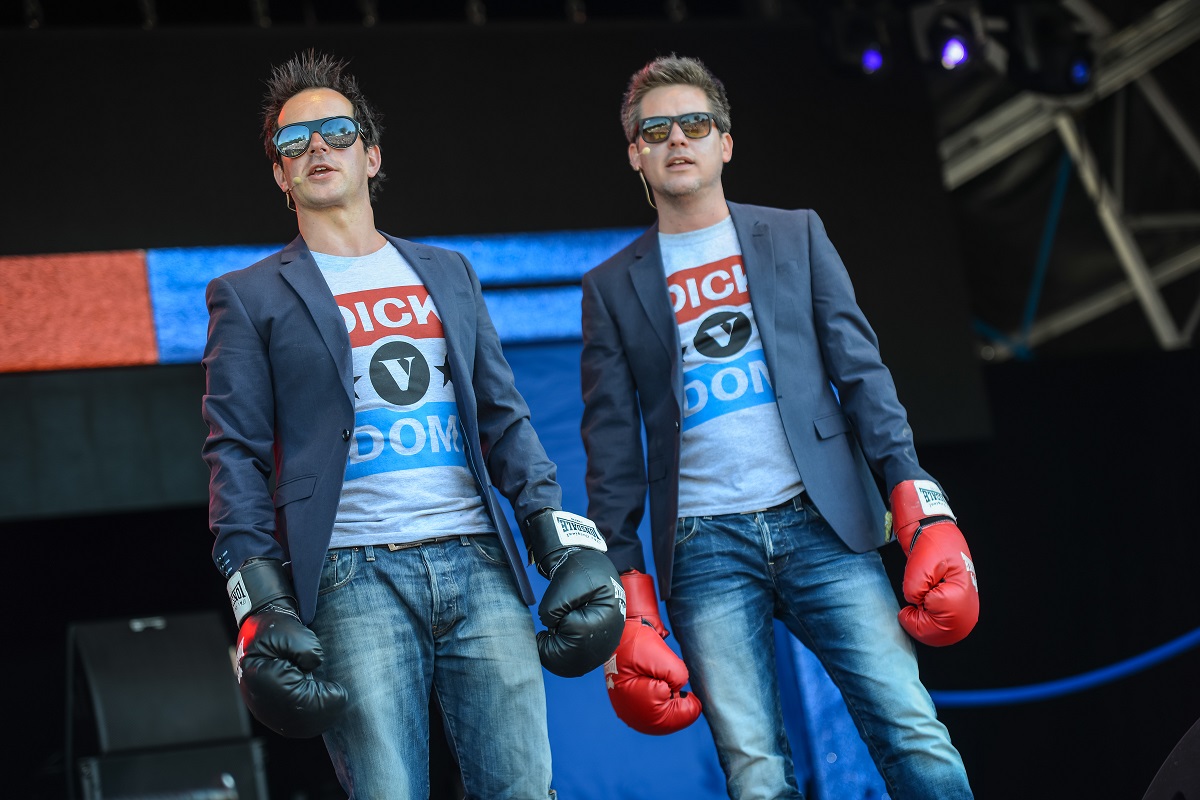 Dick & Dom's taste for the ridiculous should appeal to anyone who likes silliness, adult or child. Their half hour performance was a case in point. Refereed by Geordie ex-police detective Harry Batt (AKA actor Ian Kirkby), a regular from their long gone …In Da Bungalow weekend morning TV series, Dick and Dom (pictured above) played a series of wonderfully puerile and surreal games, involving the crowd, such as a singing competition based around the song "My Bogies Lie Over the Ocean", bouncing a tent-sized football back to the sound desk, tormenting a near-weeping child called Lewis, and they finished with a cream pie fight to Motorhead's "Ace of Spades". Brilliant fun.
7. The Buzzcocks
An unlikely late afternoon success on Friday, first generation Mancunian punk rockers The Buzzcocks (pictured left) had teens and grizzled oldies, pogo-ing together. Primary songwriter Pete Shelley now looks like a crumpled, bearded Latin teacher, his approach to everything wryly off-hand, certain in the knowledge that his songs are the band's gold-dust, as he banged out classics such as "What Do I Get?" and "Ever Fallen In Love (With Someone You Shouldn't've)". Guitarist Steve Diggle, meanwhile, dapper and mod-ish in appearance, adds a necessary rock star energy to the proceedings.
6. Steve Backshall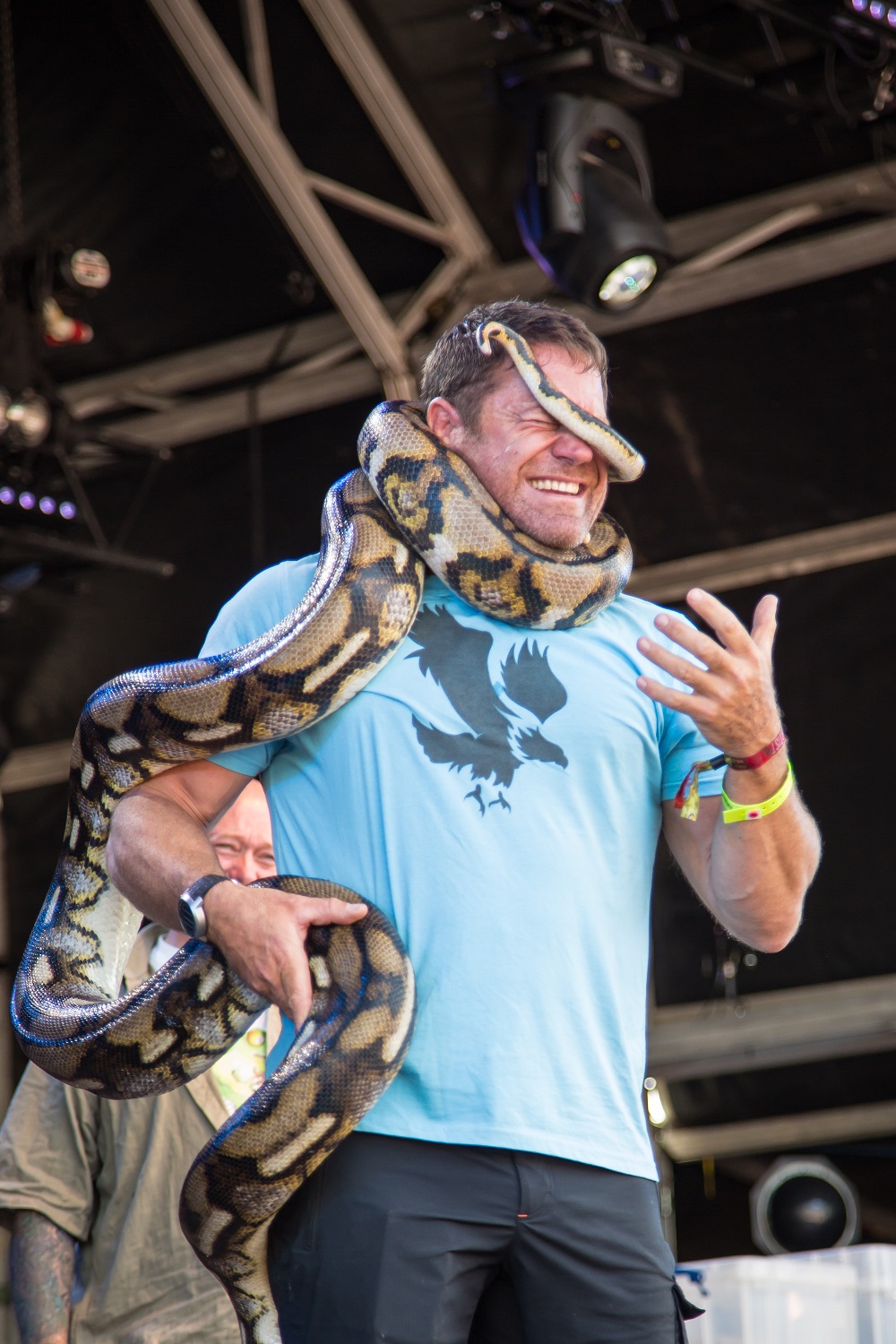 The wildlife presenter Steve Backshall (pictured right) is probably still best known for his children's TV series Deadly 60, wherein he showcases animals who are dangerous to their peers and prey (if not necessarily to us). He seemed an odd choice to helm the main stage for half an hour on Sunday lunchtime. What would he do? It turned out he'd have us all sit down while he brought various animals onstage, from an alligator snapping turtle to a barn owl to a reticulated python that attempts to strangle him, describing them and, every now and then, asking us to shout en masse that these animals are "definitely deadly". All the while – and perhaps most impressively – he took questions from children in the audience and answered them, even when they ran along the lines of "What do X-Ray Tetra eat?" He was only stumped once, when asked "Why are snakes called snakes?", but he proved an unlikely and endearing success, nevertheless.
5. 808 State
In the Big Top on Saturday night, at the same time as the Kaiser Chiefs played the main stage, it looked initially as if no-one was coming to see venerable Manchester techno unit 808 State. As soon as their first bleeps and beats rang out, however, the massive marquee began to fill with men whose gurn-lines were still etched in their faces from back in the proverbial day, along with their children brandishing glow-sticks. By the time they reached the ballistically bangin' "Cubik" at the end, the place was writhing.
4. Bollywood Tent
Every night this was where parents who'd been allotted the night off babysitting – and teenagers – disappeared to. The atmosphere was frenetic but very friendly, a passing whiff of skunky funk never too far from the nose. It was here that Rodigan held court but on the occasions I popped in with my youngest for a disco-granddad leg-shake, Ralph Lawson and festival maestro Rob da Bank were ripping through an eclectic selection that mashed the populist into the propulsive. Then, on Sunday night, closing the festival, World of Rave featured the likes of Slipmatt and Rat Pack laying down wall-to-wall Nineties nutty choons and occasionally their modern equivalents.
3. Underworld
This had "cannot fail" written all over it, as the festival programme correctly observed. If Camp Bestival is the festival for old ravers and their kids, then this was the perfect Sunday main stage closer (followed by an epic, musically choreographed fireworks display). Kark Hyde is a genial frontman, emanating self-effacing charm but happy to give it welly in the big moments. They gave us what we wanted – plenty from their classic "Dubnobasswithmyheadman" album from 1994, as well as contemporaneous singles such as "Rez" and later classics such as "King of Snake". Their encore was, of course, one of the defining tunes of its era, "Born Slippy (Nuxx)". And we all shouted "lager, lager" with rising glee
2. Caravanserai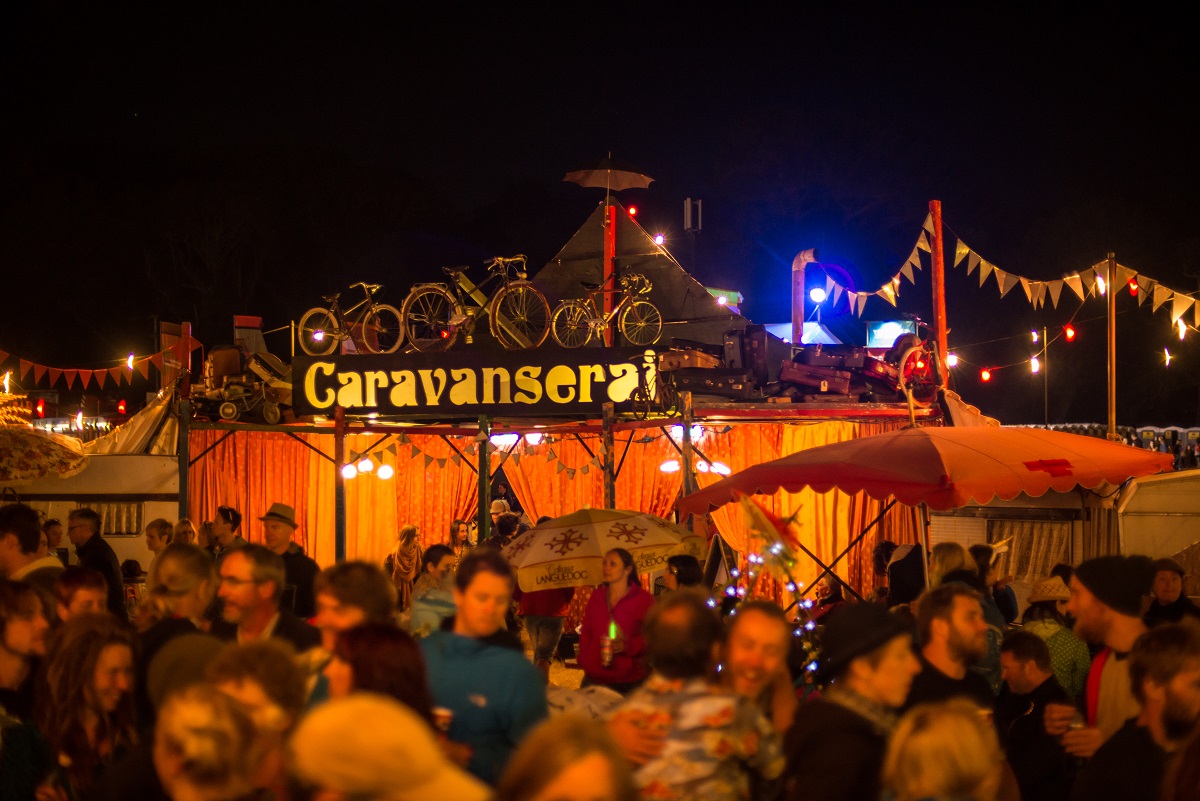 This spirit-raising space (pictured left) had the feel of Glastonbury's wild far-flung fields, alongside musical programming to suit. It looked amazing, a corral of caravans, everything decorated with old suitcases and the very stage blurring into its surroundings. It was a thriving social hub, especially at night, existing on a diet of ska, swing and Balkan beats, festival staples all. I felt safe leaving my 12-year-old daughter playing cards with peers in a battered caravan of seats while my girlfriend and I romped along to the likes of Chris Tofu's Vintage Remix sessions and a night of Jump-Up Dutty Moonhsine Big Band vs Big Swing Sound System.
1 .Clean Bandit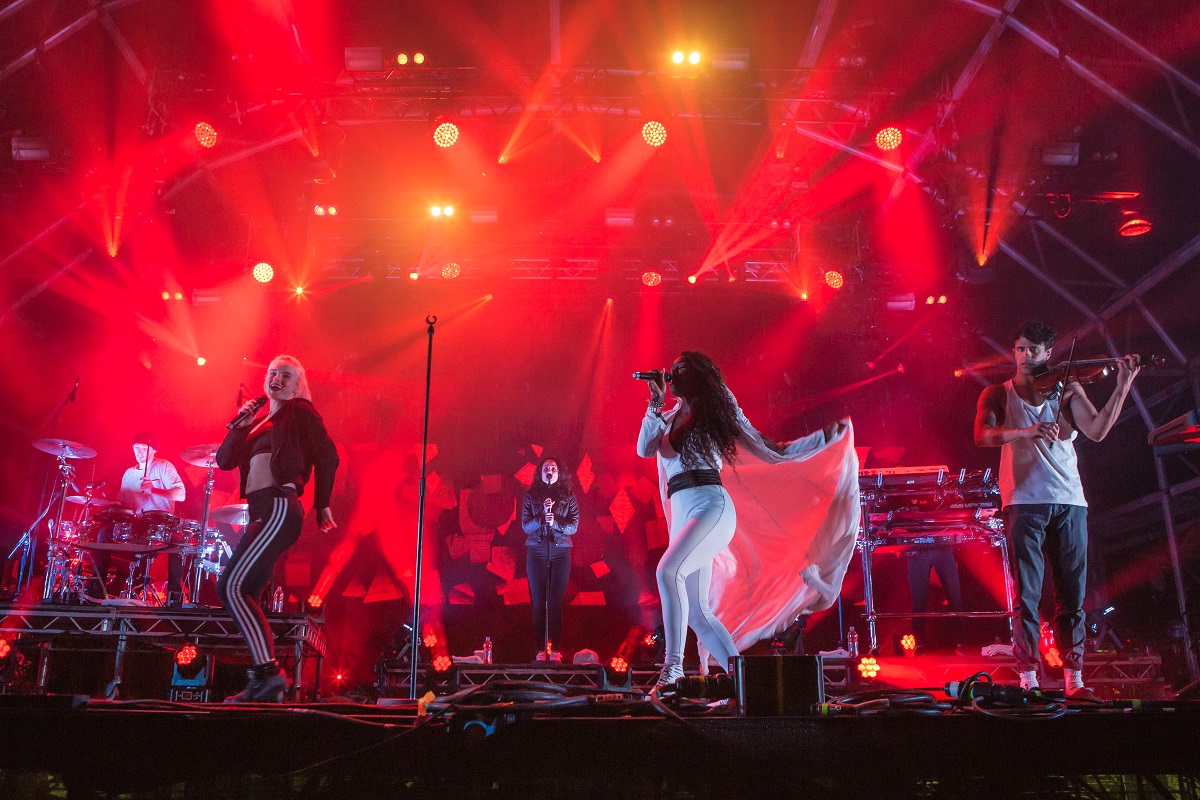 Headlining the Castle Stage on Friday night, Clean Bandit (pictured right) showed, once again, that they are more than just a bunch of Cambridge string quartet poshos who lucked out with mega-hit "Rather Be". Of course, that chart-topper was a set highlight but Grace Chatto led the band with huge gusto, sparring with singers such as rave perennial Elisabeth Troy and a variety of other guests, as well as with her violin-playing opposite number (and band heart-throb) Neil Amin-Smith. Moulding everything from deep house to wob-wob bass to a cover of Robin S's "Show Me Love" to their purpose, Clean Bandit nailed the set of Camp Bestival 2015.
Three Artists I Missed That Were Regularly Mentioned By Festival-Goers As Excellent
Alison Moyet
The Crazy World of Arthur Brown
Kaiser Chiefs
Three Odd Things
£45 for a wood-fired two-hour hot tub on the top of a double decker bus.
The Indesit Family Fun Laundrette and Bar in Association With Arsenal Young Gunners and Puma – words fail me, for once.
The world's smallest man – or so I was told – a truly tiny moustachioed gentlemen of possibly Indian origin, being held aloft by a backstage barman, before disappearing swiftly through a back door. I briefly felt my mind had finally come unstuck.
Top Three Camp Bestival Fashion Items
3. Primal Scream Screamadelica tee-shirts (men, all ages)
2. Nirvana smiley-with-x-eyes tee-shirts (young teens)
1. Masses of glitter (both sexes, all ages)
The Last Word
Mainly, Camp Bestival was huge fun, permeated by colour, imagination and real pizzazz, genuinely catering for children of all ages. Where many festivals' family-friendly aspect is a merely a few words on the promotional material, some face-painting, and a crappy crafting tent, Camp Bestival goes the distance. Whole fields were packed with activities impressively early in the day, from puppet shows to hooping to Hello Kitty to baby chill-out to Michaela Strachan to, inevitably, CBeebies totemic Mr Tumble.
At the start of the festival I heard a female voice shout out, "Malachi, Avalon, come back to the tent now." It has, for years, been a running joke, the Primrose Hill-friendly, Boho, wealthy, upper middle class-ness of the kids' names here. This aspect partly sums the place up. We decided to take note of any children's names we overheard, regardless of whether they fit the stereotype. Perhaps the names speak for themselves. I have, for reasons of propriety, included my own daughters' names too.
Here they are: Charlotte, Megan, Maisie, Matthew, Stanley, Rupert, Rachel, Poppy, Edward, Rose, Joe, Joey, Juno, Iris, Malachi, Avalon, Noah, Felix, Isaac, Tarquin, Isla, Sam, Patrick, Thomas, William, Louis, Caitlin, Eden, Phoebe, Tasha, Jason, Aidan, Al, Richard, Melody, Theodore, Benjamin, Ben, Hugo, Olivia, Leo, Nancy, Mitchell, Jamie, Jacob, Sam, Jack, Abigail, Maddie, Orly, Oscar, Finlay, Byron, Lottie, Mia, Matilda, Toby, Jemima, Otto, Rowan, Rihanna, Rosie, Isabella, Mollie, Alisha, Otter.
What does that lot shout out? I'm not sure I know. However, it's very easy to sneer at Camp Bestival as a bubble of self-satisfied, Guardian-friendly, alt-bourgeois back-slapping. I found myself doing it upon occasion. I was particularly irritated by a rising gigantism in tents and encampments – glamping gone mad. Traditionally a festival is, surely, a place to escape everyday reality, to get back to nature and our folk-ish pre-Victorian past, simplicity and hedonism. Instead many had apparently brought along a portable version of their own homes – kitchens, bedrooms, lounges and, yes, even toilets and showers. Children or no, it seemed excessive and unnecessary.
This, however, was as nothing compared to the campsite land-grabbers. Tent-space was at a premium so people marking off territory represented the encroachment of mundane, petty suburban thinking. There were all kinds of fences, even wind-breaks with stone-walling screen-printed on them to drive the point home The worst I saw was a truly vast area roped off, a corral of tents with an enormous gazebo inside enclosing a 20-person dining-table, all amid open lawn space and a children's play area (and private toilets), every bit of it locked off from the rest of us with a zeal and efficiency that was grotesque. These people were missing the point.
Counter to that, though, Camp Bestival's tattooed rave-dads and cleavage-showing, wig-wearing disco-mums, pulling round a Lilliputian wagon-train of playfully decorated trolleys containing their progeny, appeared to be parents who aren't defined by parenthood. They looked like they have good sex, read interesting books, enjoy a dance, don't vote Tory, revel sometimes in the mischief of the nightworld. They looked to have kept commuter belt consensus reality at bay, albeit only just. There was still a glint in their eyes.
It's a fine balancing act, as it is also for the team behind Camp Bestival. A Volvo stall, with a great fat Chelsea tractor out front, seemed an ugly thing, offensive even. It was something that belonged to the bland everyday, the outside world of mortgage statements, rugby blokes in Sky sports pubs, and glazed work-worn eyes staring at convention-inducing TV ads. But the array of activities on offer for free at Camp Bestival does not come cheap. The money must come from somewhere. Everything costs, from the acres of gigantic smile-inducing flags to bizarre wooden elvin structures to motorbike mayhem at the Wall of Death to a site-patrolling dinosaur. Camp Bestival rides the line between art and commerce to near breaking point but they mostly get away with it. We did not leave wishing to buy a monster four-wheel drive or a particular brand of yoghurt. We forgot all that and left, instead, sated with good music, cider, sun tans, visual excitements, family spirit, goofy jokes about Steve Backshall, and a strong desire to come back and do it all again next year.
One Addendum
To my journalistic discredit I forgot about the Cuban Brothers. Their romping Friday main stage gumbo of double entendres, breakdancing, bare flesh and funk was great fun, deserving of a spot between Dick & Dom and the Buzzcocks in the Camp Bestival countdown.
And finally...
Our favourite quote of Camp Bestival: (heard in very small girl's voice from the next door tent):
"I don't need a hug, Mummy, I need a poo."