theartsdesk Q&A: Musician, writer and performance artist Cosey Fanni Tutti |

reviews, news & interviews
theartsdesk Q&A: Musician, writer and performance artist Cosey Fanni Tutti
theartsdesk Q&A: Musician, writer and performance artist Cosey Fanni Tutti
The "Wrecker of Civilisation" on artistic independence, magick and motherhood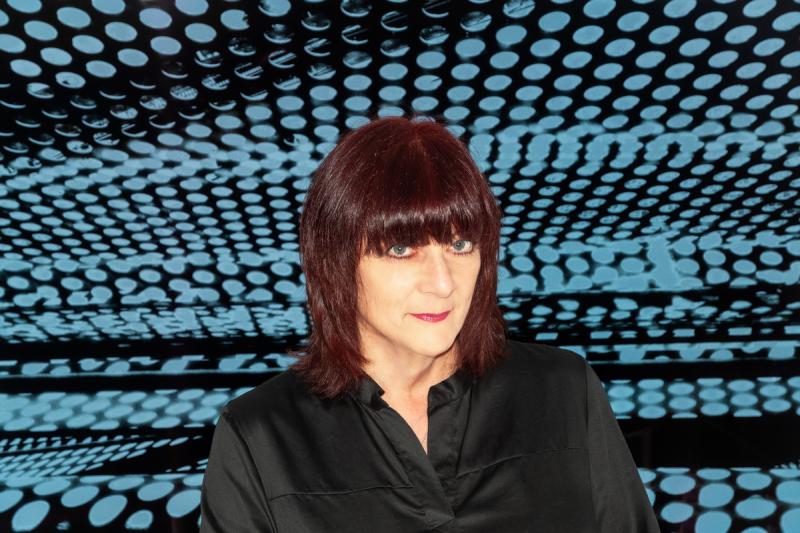 Cosey Fanni Tutti: electronic mum and Devil's filth witch
Cosey Fanni Tutti was born Christine Newby in Hull in 1951. She is a musician, performance artist and writer and is best known for her time with COUM Transmissions, Throbbing Gristle and Chris and Cosey. Her memoir Art Sex Music came out in 2017 and her second solo album, Tutti is released on 8 February.
GUY ODDY: I really like your new album, Tutti. I understand that it started life as a film soundtrack but then you reworked it as a standalone piece. How do you feel about it now that it's all finished?
COSEY FANNI TUTTI: I feel fine about it because the decision to make it into an album came more than a year after the initial live performance. But I liken it to Time to Tell (Cosey's first solo album from 1983), which was itself a soundtrack to a live action. That side of my work simmers over time and then it finds its place to be released as a solo album.
It sounds like a strange thing to say, but I don't really think of things as solo albums. I just think of them as projects. It just happens it was something I did on my own. But it found its right time and place and reworking it was the way that it had to be. When you watch the film, the sounds and visuals are married so close together that when you separate the two, it just doesn't fit as an album. So, it gave me the opportunity to work with those sounds again in the studio, rather than on the fly, performing it live for the film.
I'm just quite forthright and determined in what I want to doYour memoir, Art Sex Music was released in 2017 to great acclaim. Did you find it easy to tell your tale or did the book have a difficult gestation?
I didn't find it difficult to write, once I got going. There were moments of hiatus, where you stop and think and then you re-enter it a bit further on and everything starts to flow again. That kind of thing happened but I was quite happy for the process to take it in that direction.
The writing process was difficult because it's not something I do other than lyrics. I have done a lot of academic writing but I had to make sure that I didn't go down that avenue. I wanted it to be like a conversation about my life. Just telling people about what happened to me, how I felt and all the people that came into my life and left again. Just telling people about where I've been for the past 60-odd years.
I don't revel in it and I don't seek it. It was just my mother saying that in the beginning. I remember thinking, "Oh, ok". I don't mean to be difficult, I'm just quite forthright and determined in what I want to do and what I think I am able to do and entitled to do. And the fact that I get these labels is like a consequence of what I've done. I've not aimed to do that or upset anyone.
What were your thoughts when Acid House hit big in the UK in the late Eighties and early Nineties? I imagine that it must have been a bit of a surprise to have gone from being quite underground for so long to being viewed as a major influence on the "new music".
It was surprising because by then, we'd moved on. What we'd been doing in the early Eighties became really big but we'd already gone on to something else by then. It was a surprise but I had friends saying "You could clean up with this. If you just did a single like this." I thought "What? Where did that thought come from?" It didn't come from me. It was just part of our exploring and experimenting with music that happened to hit on that particular genre and then it got given a name.
Lots of people have named you as an influence over the years, from Andrew Weatherall to Sasha Grey and beyond. Whose music do you listen to these days and how has it influenced the compositions on your new album?
This sounds a really stupid thing to say, but I don't listen to a lot of music. Because I do music so much, it's a bit like a busman's holiday, do you know what I mean? I'm not a DJ, so I don't have to go and explore what's out, what's new and so on.
I've come across music as I've gone along talking to people and that's how I like it. Even last night, I watched a programme on BBC that was about best guitar records and stuff like that. Rage Against the Machine came on, which I'd never connected with back then. And I was blown away by it. Just the energy of it and that conflation of heavy metal and rap was just amazing. And the commitment behind everything. I missed out on that from just being too busy doing my own thing, I suppose.
You've been pretty industrious over the years and have a very substantial back catalogue. At times, you must have been writing and producing new music almost constantly. How often do you sit down and work on new compositions these days?
It depends what I'm doing. At the moment, I'm doing three things. I'm doing music, writing and art. So, it's hard to say how long.
Once we start working on a music project, it's pretty intense. In the studio, the only starting point we have is turning on the gear and then thinking about what we might want to do or some ideas that we'd put to one side that had come off another project but that didn't fit.
We have folders of different files of ideas and we might start from there and then see how it goes. But it's intense once we start and then we break off for a little while because your ear can get pretty tired. So, it comes back and you're fresh and you realise that what you've done is crap or something doesn't fit. We don't write music, we're working just literally from the sound and the emotions it evokes.
I was in the 'Sunday Times' for what you can hire. I was down as 'You can hire a stripper'.Depends what the deal is that they sign off on. It's as simple as that. I had government funding, in terms of Arts Council grants, way back in the very early Seventies, when you were given much more freedom. It was hands-off and now it isn't. There's a lot of people behind those forms that you have please. I was revisiting possibly getting a grant to do a particular project back in the very late Nineties and when I saw the form, I just didn't bother. I had to weave my work into something that would fit their particular criteria.
The simplest thing I can say, is that I work in an improvised way, and I have to fill a form, giving the script for what I'm going to do. How the fuck does that work? So, it was a non-starter immediately. The other thing is that when you start working and you're doing something, you just want it to flow. You don't want to have to stop to think that how it'll benefit the community. I've just thought that the best for me, is to just do what I want to do and not involve anyone else.
With crowd funding, you're not in hock to other people but then the word "obligation" comes into the frame. That is a barrier for me because I think that I've got to do this in a certain time limit.
That wouldn't have worked for the Tutti album because it sat there and simmered for nearly two years and crowd funding was such that I would have had that hanging over my head all the time. I just want to be able to do what I do and then the response is the response, once it's out there in the world.
You modelled for the cover of UFO's Force It album in the Seventies. Are there any other unexpected places where photos of you have turned up from the modelling side of your work?
I don't know, to be honest. I was in the Sunday Times for what you can hire. I was down as "You can hire a stripper". I also ended up in the London Transport News. I don't know if that's still going on but that was quite nice. But I don't know because once you sign the model release form, you don't know where they're going to be used.
You talk about magick practices and undertaking rituals in your book. The video of "Tutti" (from the new album) seems to have some kind of rite taking place too. Do you view magick as a tool to make certain things happen or does it have a more religious importance to you?
I don't think of it in either of those terms. I just think of it as a deep connection within myself and then externalising it into the world. That's why the objects that I use are very personal and I take them to a site or within a place that's very personal to me as well. Like with Sandringham and the grave of my mother. I wasn't allowed to go to her funeral, so that was very personal for me. Beachy Head was another one and Disneyland. They all have that link with important moments in my life and they all came around the same time as the ending of my ability to have children.
The beginning of the uproar about my tampons in 1976 came into full circle with the ending of all that and presenting what was left of it as you kind of trail away. You know, your blood trail just tends to disappear over time. Then that's the end. You're no longer fertile.
I remember someone say to me, when that happens you get really wonderful things that go right through your chakras, which is the hot flushes. Someone said to me to think of them as empowering rather than irritating – which is difficult when they're happening, to be honest. It was a nice thing to say, to make me feel better.
Kids sometimes seem to react to their parents by taking a dramatically opposite path in life. Did you ever worry that your son, Nick, might become an investment banker or a Tory MP?
No. All I didn't want him to do was join the police or the army or some kind of force. I didn't want him to do that. But we never actually said to him not to do anything.
He was just so much a part of our lives and what we were doing. There was nothing that was kept away from him. He just grew up with us and what we were doing. He's a really beautiful and rounded human being. But every mum would say that.
I don't listen to a lot of music. Because I do music so much, it's a bit like a busman's holiday, do you know what I mean?
Buy
Explore topics
Share this article