theartsdesk on Vinyl 39: Pink Floyd, Liines, Black Sabbath, Daniel Avery, Elvis and more |

reviews, news & interviews
theartsdesk on Vinyl 39: Pink Floyd, Liines, Black Sabbath, Daniel Avery, Elvis and more
theartsdesk on Vinyl 39: Pink Floyd, Liines, Black Sabbath, Daniel Avery, Elvis and more
The truly epic monthly record review round-up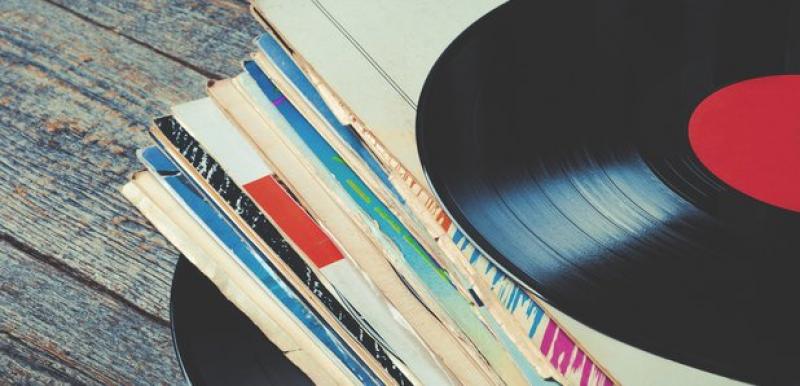 Pile 'em on
There have been reports that as many as 50% of vinyl-buyers don't actually listen to it. They keep records as a token of affection for the artist in question. This seems curious but, then again, most young people don't own turntables and the idea is anathema to the way they consume music.
However, while there's a healthy market in reissues and older artists, the most cutting edge music imaginable is appearing on plastic. Check out our
Vinyl of the Month
! All musical life is reviewed below. You won't find a more thorough and expansive set of monthly record reviews:
theartsdesk on Vinyl
is a one stop shop. Dive in!
VINYL OF THE MONTH
Park Jiha Communuion (tak:til) + Malphino Visit Malphino (LEX)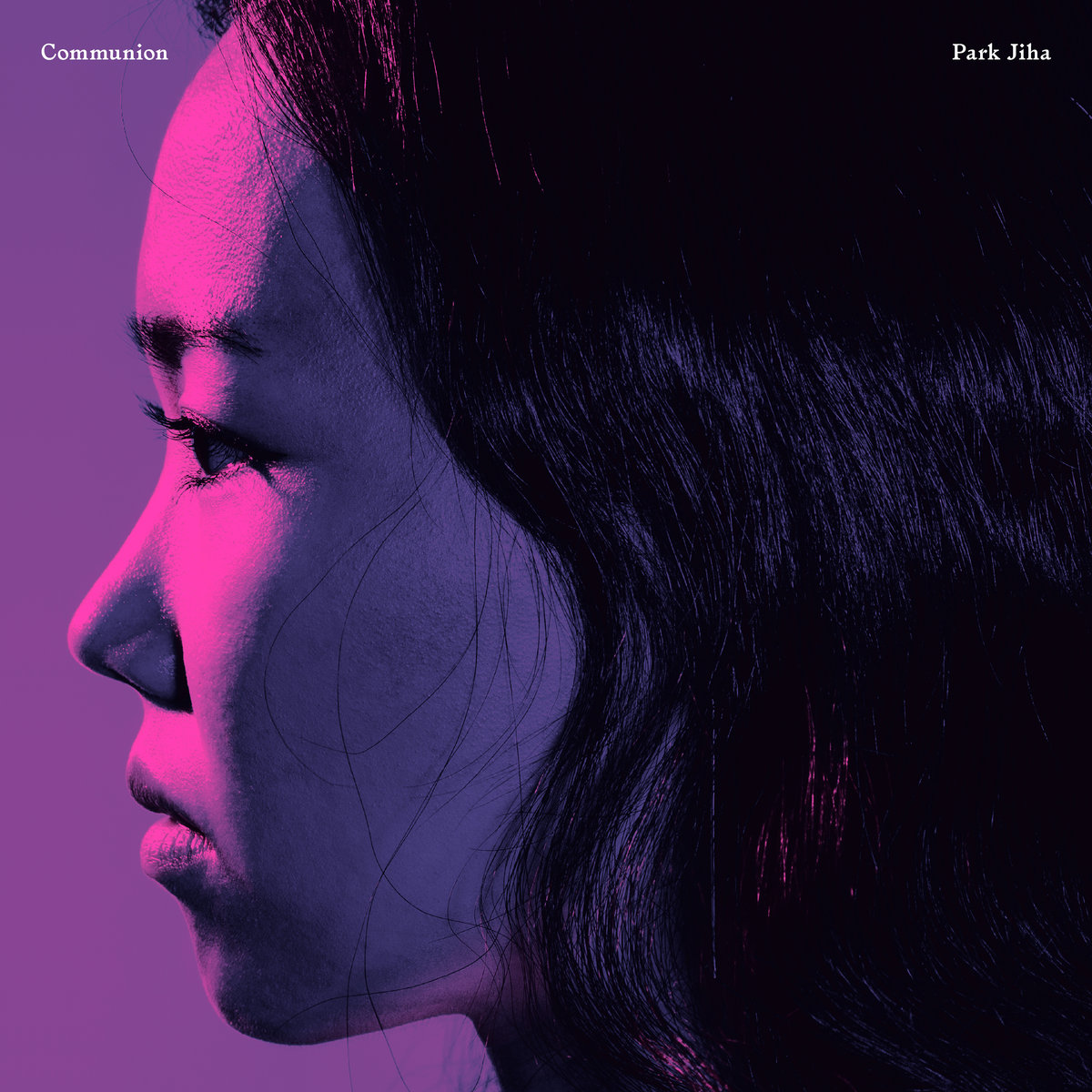 A double-headed Vinyl of the Month. Two records bound together by their willingness to deconstruct global roots music styles and reinvent them. First and best is female South Korean composer-musician Park Jiha who takes her nation's traditional instrumentation and, with three others (playing sax/bass clarinet, vibraphone and percussion), she weaves an original music that's thoroughly eastern-sounding yet at once as closely associated with American classical minimalism. She, herself, plays a squawky flute called a piri that's used to delicious effect on the title track, a Korean dulcimer (a yanggeum) and another blown bamboo instrument called a saenhwang. Somehow the resulting music ranges easily between a cacophonic challenge and delicately beautiful. Whatever else, it's truly original.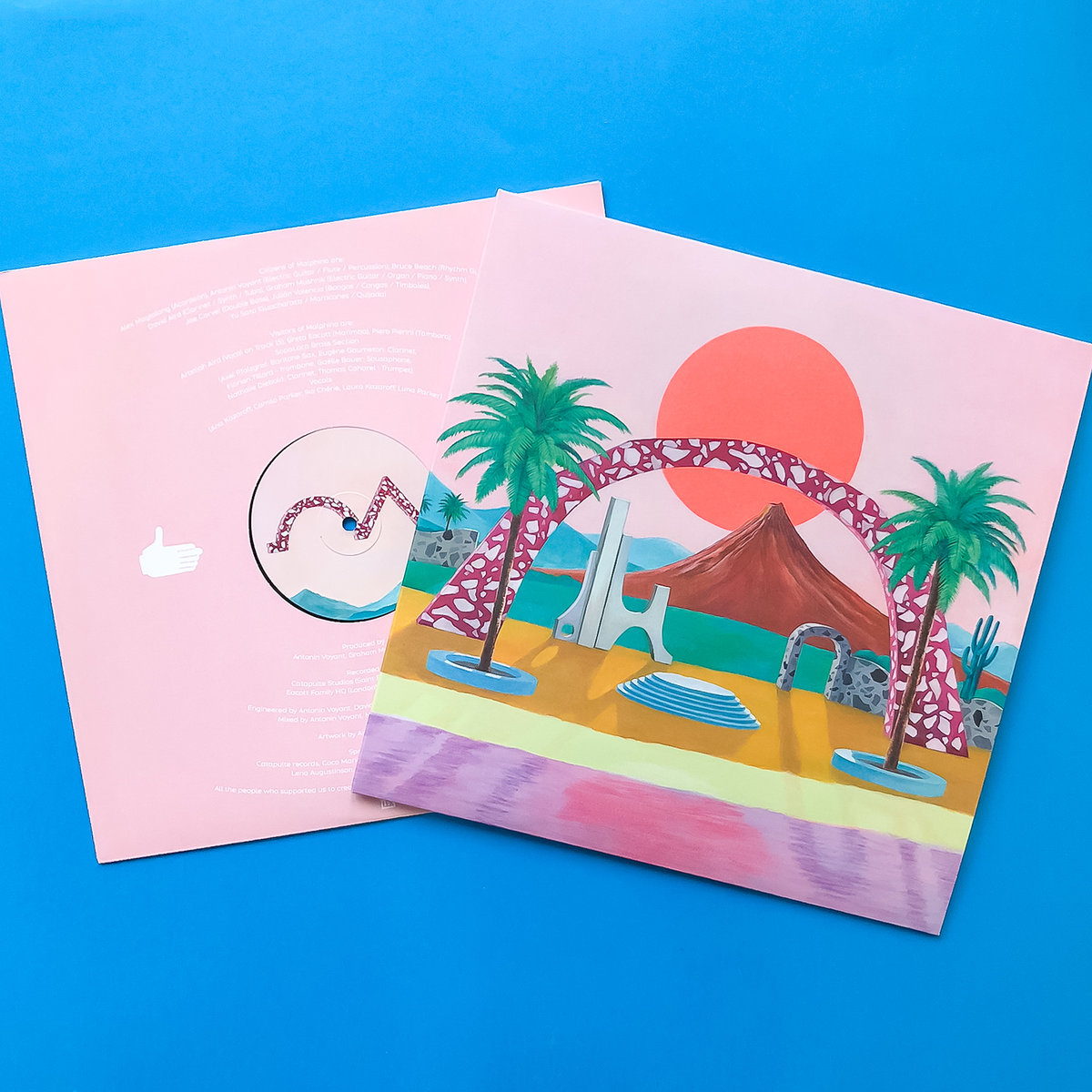 Malphino are a less overtly serious but ultimately more approachable proposition. They are a multicultural London outfit who claim to be from the República de Malphino, only such a place does not exist. Informed by the long-ago fashion for South American easy listening albums, their music is frivolous and very good fun, a novel take on cumbia. Whether the twangy shuffle of "The Sleep Tree" or the accordion-laced whoop-up "Viento del Mañana", the whole album is exquisitely conceived and cheeky in the best way.
Plaster Transition (Kvitnu)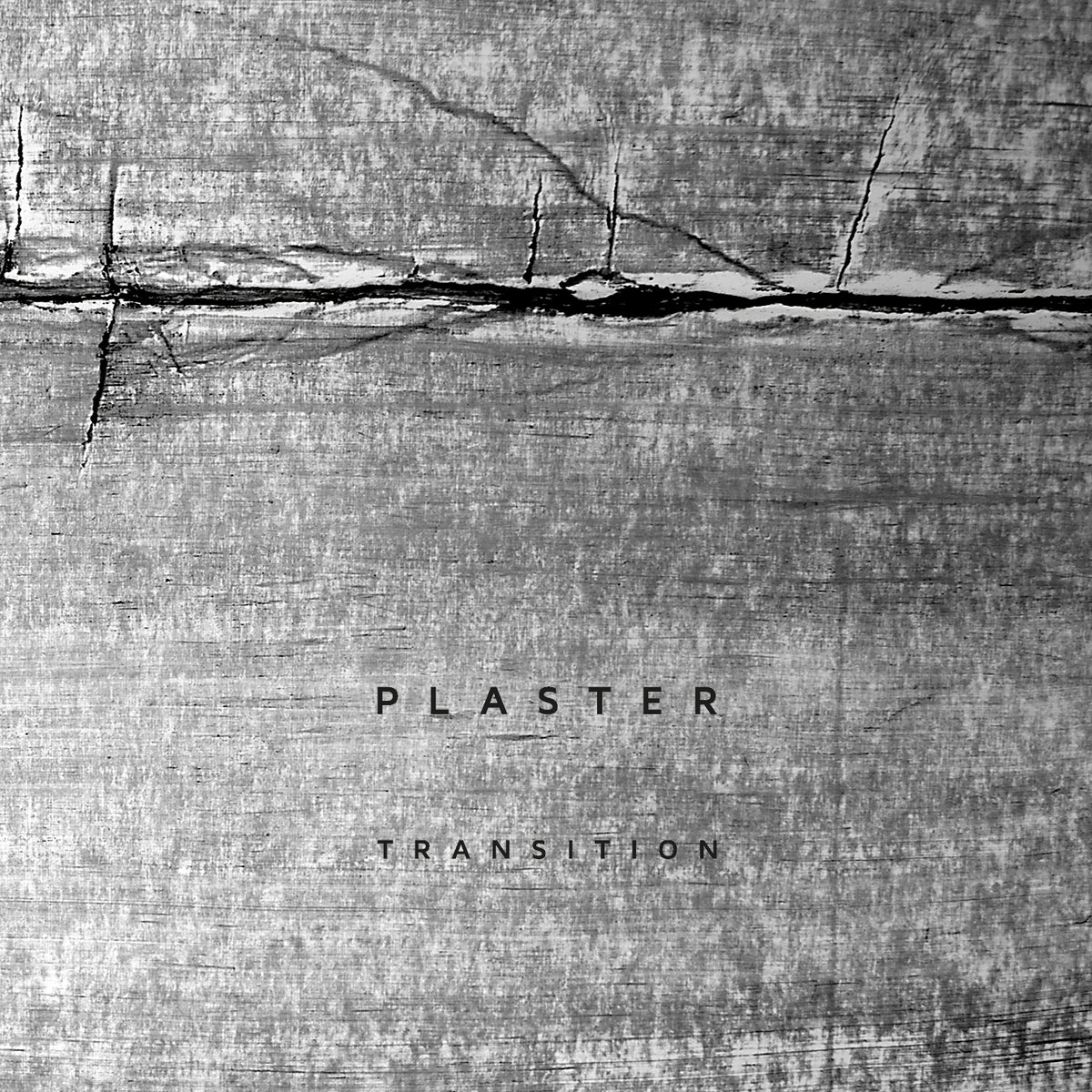 Purely on visual appearance, this album appears very boring. It comes in a grey cover that looks as if someone has impressionist pencilled the cracks in their bedsit wall. And it's also on blank grey vinyl. None more grey, then? Well, no. Transition is one original, noisy bastard that deals out head-nodding rising'n'falling patterns of electronic squall which bubble up from its depths like rumbling ill-defined threat. It's cataclysmic music, dark, but within its buzzing tones and clattering, there's much going on, some of it even melodic. Plaster was once a duo but, since 2015, has been Italian producer Giancarlo Moniri. On Transition he's located his very own sound, not fitting to the template of any of his industrial or electro predecessors or, indeed, his own back catalogue, but taking a reverberating trip into apocalyptic sonic cloudlands. It's potent stuff.
Metallica The $5.98 EP: Garage Days Re-Revisited (Blackened)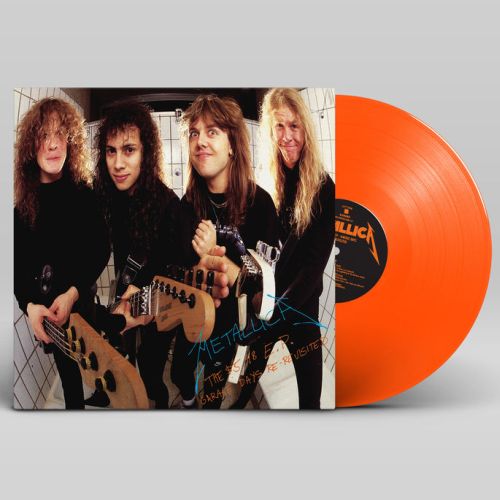 A cheerfully thowaway offcut from the back catalogue of the biggest metal band in the world. As the sticker on the cover jovially announces, it's "still not very produced". This is because it's a 12" of cover versions knocked out for kicks'n'giggles – and to promote the band prior to an appearance at Monsters of Rock 1987. Metallica had returned from their giant globe-trotting Master of Puppets Tour and were trying to locate their mojo before cracking on with their next album proper. The result is a blast, fulsomely pressed to plastic for the first time since 1989. The tracks covered are all late-Seventies influences on the band such as Killing Joke, Budgie and Scottish metallers Holocaust, but, for my money, the best two are their takes on Diamond Head's "Helpless" and US punks The Misfits' Ramones-ish "Last Caress/Green Hell. It feels like a band having a laugh and that carries over. Some editions are on orange vinyl.
Dessa Chime (Doomtree)
Rather large in the Minneapolis area, Dessa is a key persona in the Doomtree hip hop collective. She has a body of work and multiple guest appearances under her belt and her fourth album displays a crossover ambition without sacrificing any of her poetic bite. It's co-produced by Andy Thompson, who has worked with Taylor Swift in the past (he received a Grammy for his work on Red), but that side of things only pops out on very occasional tracks, such as the epic slowie "Good Grief". For the most part, while accessible, Chime has a drive and urgency that's better exemplified by "Fire Drills", a righteous burst of feminine anger riding a backing track of bite and propulsion. Dessa is also a published writer and her lyrics, laid out on a 12" x 36" photo fold-out insert and on a 10" x 10" card poem called "Tossed", only add to the sense she is a talent whose work will eventually reach beyond the bounds of a localized hip hop community.
Pink Floyd Relics + Pulse Boxset (Pink Floyd)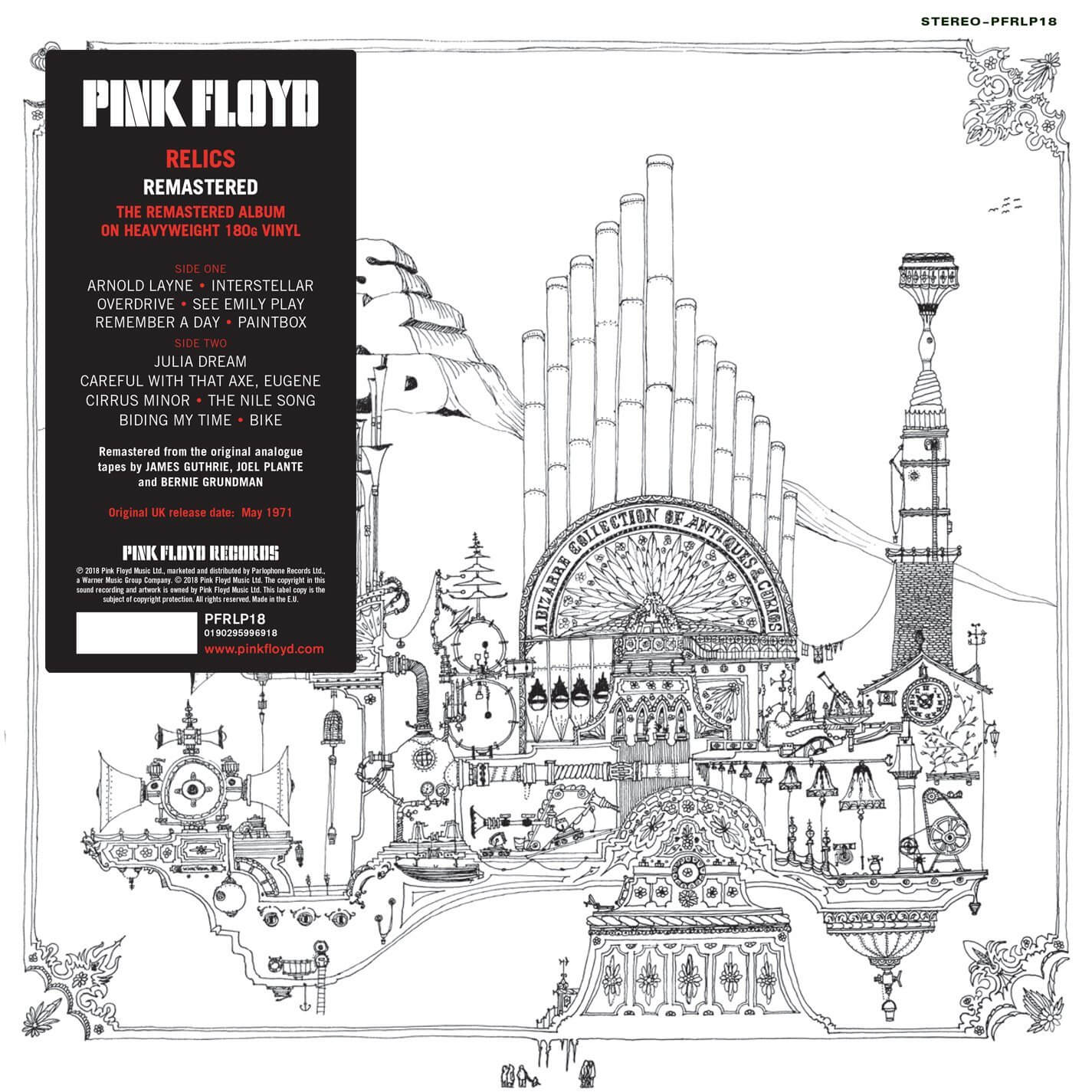 Two releases from opposite ends of the mighty Floyd's career. They are a band this writer started out hating as a teenager, primarily because Johnny Rotten's tee-shirt ("I HATE PINK FLOYD") advised me to do so, but which I've ended up embracing as the years pass, with certain stringent caveats. The first crack in my anti-Floyd stance came very early when I was introduced, aged 15, to their earliest work, music I later learnt was instigated by their then-leader Syd Barrett. Very soon, this version of Floyd was, to my mind, not really Floyd at all, but Barrett's Floyd, almost a different group. Floyd's record company, back in 1971, when they released the Relics odds'n'ends collection, were still not entirely convinced by the post-Barrett band, despite their recent Atom Heart Mother album reaching No.1 in the charts. Barrett's brain by then had folded in a blizzard of LSD and mental illness and the new line-up were working on Meddle. EMI nervously put out Relics which, including Roger Waters' wannabe-Barrett "Biding My Time" and a couple of bits from the soundtrack to Barbet Schroeder's ultra-Sixties sex'n'drugs-in-Ibiza flick More, harks back to the band's earlier incarnation. The fanboy cuts at the time were the early singles and, especially, their B-sides "Paintbox", "Julia Dream" and "Careful With That Axe, Eugene". It isn't that the majority of the songs are by Barrett, it's that the mood
is very much marinated in his version of Floyd. It's a great album. Pulse, however, comes right from other end of their career, and documents Pink Floyd's final tour in 1994. Remastered from the original tapes – and it sounds it – and with freshly tweaked cover art by Aubrey Powell of Hipgnosis, it comes on four records on art inner sleeves with a 52 page hard back photo/info book. The music marks a victory round. The band was now Dave Gilmour's, the period of uncertainty following Roger Waters' departure well behind them, and they were riding the back of The Division Bell, an album that, while no classic, is better than the stinky immediate post-Waters album, A Momentary Lapse of Reason. It starts with a majority of newer stuff but ends with the whole of Dark Side of the Moon, which is to say it gets better as it goes along. It's pretty and noodly, as one might expect, but doesn't have the wannabe-funky yuppie Eighties grooves of their other big live album Delicate Sound of Thunder. It's not an album theartsdesk on Vinyl will be returning to but Relics always has been and will continue to be.
Mélissa Laveaux Radyo Siwèl (No Format)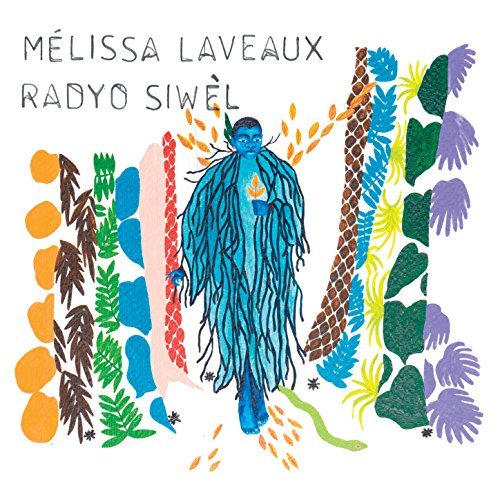 Canadian folk'n'blues artist Mélissa Laveaux returned to Haiti to search for inspiration for Radyo Siwèl, her third album. It is the country of her ancestors but not a place she'd been since she was 12. Nevertheless, she brought back a head full of ideas that she fuses with her own style, ending up with something that has a dose of indie guitar twang but attached to Caribbean flavours and rhythms. It's an album that grows on the listener as it progresses, mastered with richness and pressed to white vinyl. There's something of the young Eartha Kitt about Laveaux, not so much the put-on lasciviousness as the no bullshit attitude. Some songs, such as "Angeli-Ko", reverberate with a more Caribbean spirit whereas others, such as "Tolalito", seem more straightforward guitar pop. She traverses all these styles with ease, creating a palatable long-player that sparkles with musical charm. Comes in pale blue info inner sleeve.
Lord Huron Vide Noir (Whispering Pines/Polydor)
The third album from LA outfit Lord Huron, led by the talents of singer Ben Schneider. They are that rare thing, a rock band that's both original and accessible, poppy even. Vide Noir runs through four sides of vinyl and maintains a genial listenability, while also trying entertaining new things along the way. Whether the easy-listening shuffle of "Moonbeam" or the Crosby, Stills & Nash Still-go-Krautrock "Back From the Edge", the emphasis is always on memorable songs. The common trait throughout is a certain jangle we've come to associate with America's west coast, but it's contained with a framework that makes reference to classic Hollywood soundtracks, synth-pop and ballroom time signatures, so that one moment The Cars might spring to mind and the next, Rufus Wainwright. In short, on double in art/info inner sleeve, Lord Huron's latest is for everyone.
Oumou Sangaré Mogoya Remixed (Sony) + Various Hugh Masakela presents the CHISA Years 1965-1976 (Rare and Unreleased) (BBE)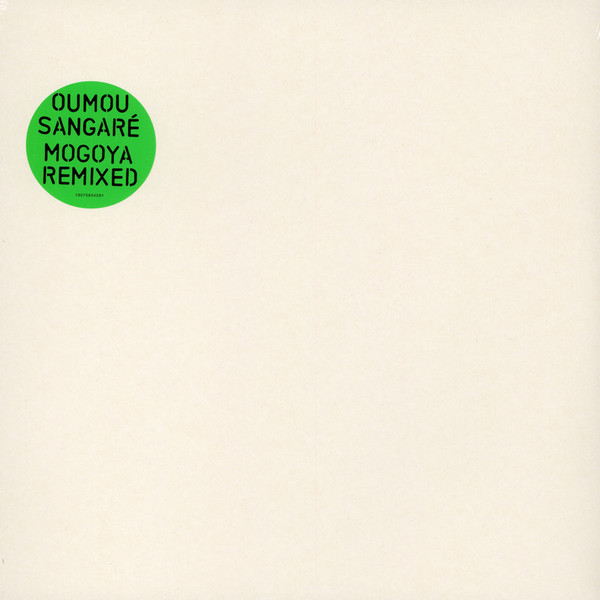 Two lovely albums rich in African flavour. The Oumou Sangaré set is a six-tracker on white vinyl, a solid reimagining of pieces from the Malian feminist singer's last album, Mogoya. This isn't one of those where the remixers have simply taken a snippet of her vocal and smooshed it onto some beats they had lying around. Instead, the original songs are treated with respect, laid over newly minted electronic instrumentals. There are versions by Natureboy Flako, St Germain, Sampha, and Pedro but perhaps the best couple are the rolling take on "Kamelemba" by rising Parisian duo Pouvoir Magique and Mancunian pairing TwoTek's housey take on "Fadjamou". Hugh Masakela died in January this year and BBE's new two record set acts as a suitable celebration, gathering together material released on CHISA, the label he ran with US producer Stewart Levine. This writer first came across Masakela when he appeared endlessly at left wing events in the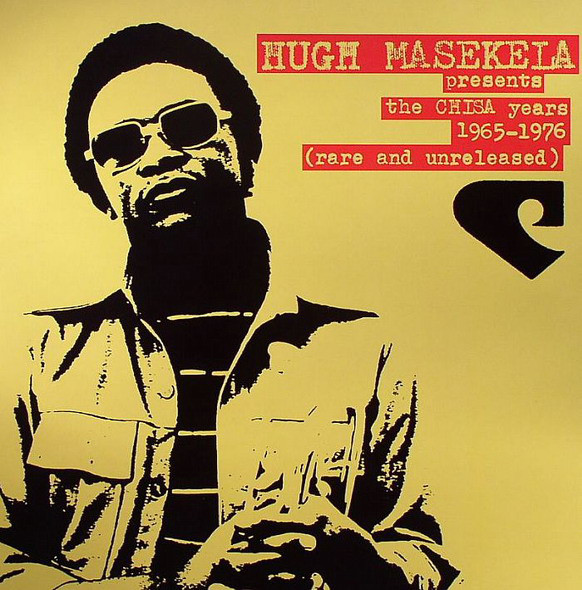 mid-Eighties, anti-apartheid gigs, CND stuff, GLC festivals, that sort of thing. To my shame, we never paid him much attention; he was one of those names like Working Week that we talked through waiting for Big Audio Dynamite, The Frank Chickens or whoever. Judging from these tunes, more fool us! Working first with Uni Records and then with Motown, Masakela and Levine put out music that blended the former's African origins with the wealth of blossoming sounds coming out of the States at the time, thus we have the likes of Lette Mbulu, the Johannesburg Street Band and The Zulus smashing their brassed up Afro good time into funky black America. The best of it is impeccable, the sheer catchy zest of Mbulu's "Mahlalela", or how about Baranta's "Witch Doctor" featuring singer Miatta Fahinbulleh, a searingly memorable reggae-imbued political soul song. Bathing in its brilliance, it's almost possible to forgive Stewart Levine for going on to discover Simply Red. Comes with a 12" x 12" photo/info insert.
Love Forever Changes 50 Anniversary Deluxe Boxset (Elektra/Rhino)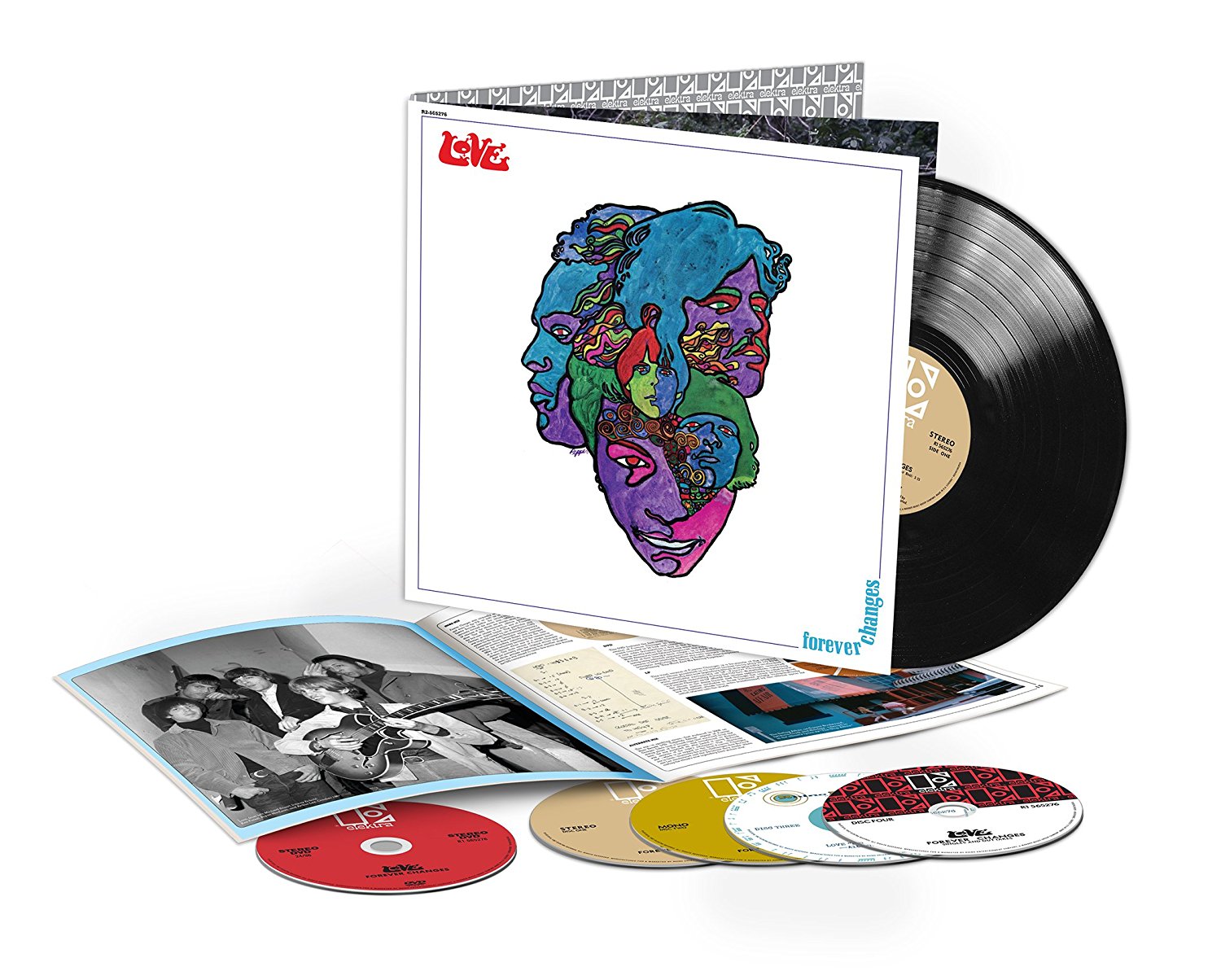 What can theartsdesk on Vinyl say that hasn't been said before? During its 50 year existence there's been an awful lot of words written about this sunlit apotheosis of Sixties Californian freak-pop. Perhaps best to retreat to the personal? When I bought this in the mid-1980s, I was going deep into a fascination with the 1960s (one that hasn't abated yet!). Back then I was increasingly fascinated by the rough'n'ready proto-punk sounds of garage outfits such as The Seeds, the 13th Floor Elevators, etc, and bought this little knowing what I'd find. It took a moment to make sense of it. It still does, for its Hispanic-tinted, elegant beauty is neither like the dissonant Blue Cheer/MC5 side of the Sixties nor the multi-tracked studio-as-instrument psychedelic pop of the immediate post-Sgt. Pepper years. Instead, what we have is something lush, laden with gorgeous brass, lysergically spiked with twitchy time signatures and bizarre lyrics ("You are just a thought that someone somewhere somehow feels you should be here"). This boxset is, in fact, more of a CD/DVD outing but does contain the original album on plastic, along with a 12" x 12" book jammed with information and background. The raft of CD/DVD extras includes a plethora of alternate mixes, a never-before-heard mono version, a rare video for "Your Mind and We Belong Together", a 24/96 stereo DVD mix, and various offcuts and outtakes (such as a bouncin' version of "Wooly Bully").
Daniel Avery Song For Alpha + Remixes EP (Phantasy)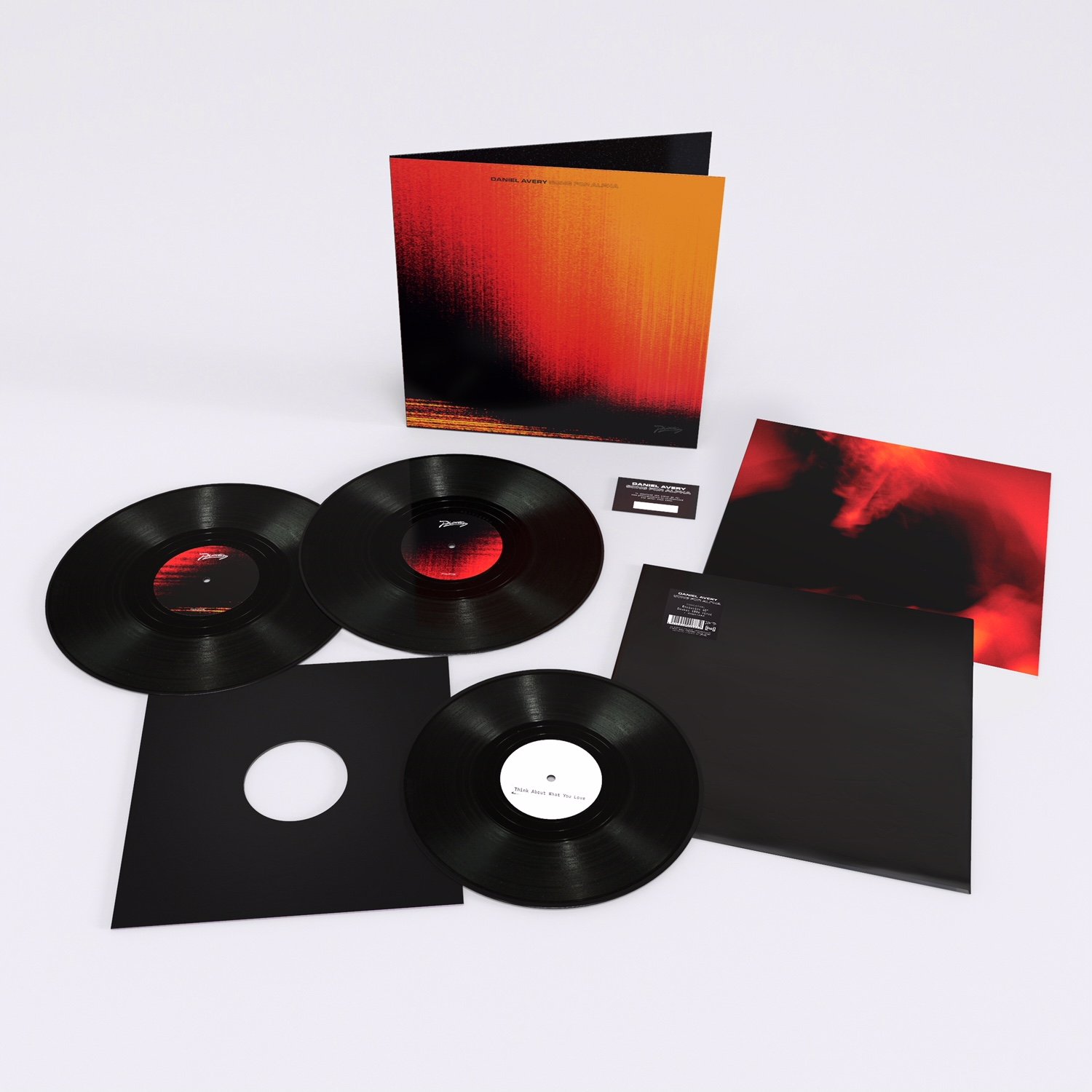 Daniel Avery's Drone Logic album was a hit five years ago with the kind of serious electronica-head who also likes dancing about at festivals. There's something of Orbital's ambition in the way Avery traverses 4/4 bangers and more delicate pieces that could eerily soundtrack the sun setting over the British countryside. Indeed, opener "First Light" is most Orbital-ish, luscious, slow-blooming, layered, squelchy, with melodies flitting about its restless, revolving heart. But Avery is more techno than the Hartnoll brothers and on Song For Alpha his musical idiom becomes harder-edged, with even the whooshing beatless pieces tinted with machine grittiness. That said, the album jumps about as it pleases, as when the bullish warehouse techno of "Diminuendo" segues straight into "Days From Now", a lovely, twinkling minimalist sketch. The album, which was partly mixed by DJ-producer Erol Alkan, comes on gatefold with a 12" x 12" art/info insert. There's also a three track remix EP which amps up the techno side severely. Surgeon creates a hammering version of "Radius" that's steely in intent and increasingly caustic as it progresses, Actress does haunted, hissing, subaquatic things to "Slow Fade", and rising Russian talent Inga Mauer assays a solid and faintly didgeridoo-flavoured "Fever Dream". It's tough and DJ-friendly but lacks appeal in more general terms.
Black Sabbath Supersonic Years: The Seventies Singles Box Set (BMG)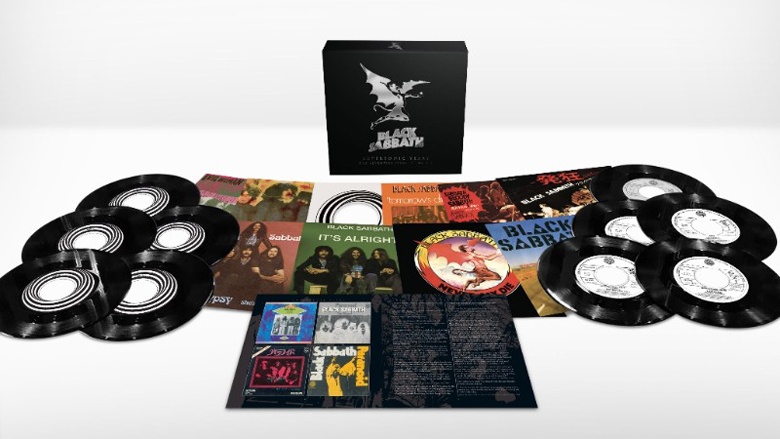 A boxset representing the ten single run released by the Brum hard rock behemoths prior to lead singer Ozzy Osbourne being kicked out of the band in the spring of 1979 amidst a haze of booze and drugs. The chronology misses out 1971's "Children of the Grave", a record company promo never endorsed by the band, but the rest is sterling, pelting along from the sassy blues-rock of their earliest material – check "Wicked Game", B-side to debut single "Evil Woman", a great riff'n'drums combo – to the pop-metal sound of 1978's "Never Say Die", which has more than a little of Thin Lizzy about it. Along the way are treats such as the psychedelic smear of 1975 B-side "Hole in the Sky", the unlikely baroque instrumental "Laguna Sunrise" (another B-side) and, of course, epic classics such as "Sabbath Bloody Sabbath". The box set offers full-on fans the temptation of rare single edits of songs such as "I Am Going Insane" and "Hard Road", as well as cover art from rare editions around the world (notably from Japan), and a booklet that places Sabbath in context, celebrating their influence. Black Sabbath were primarily an albums and live band – that's where they made their money – but these songs show a canny awareness of what might have wider appeal.
Various Back to Basics Rare Classics (Basic Vision)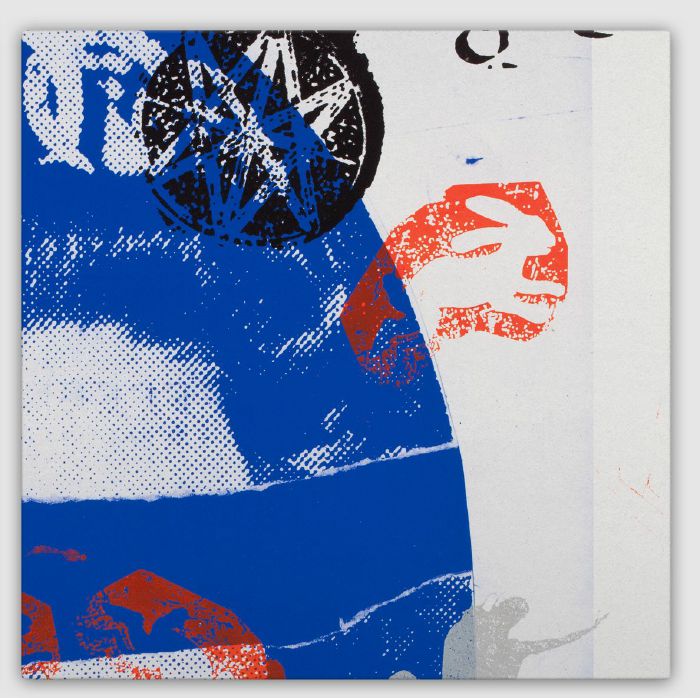 During the 1990s Leeds institution Back to Basics became of the decade's most famed clubs for its against-the-grain music policy (rejecting the then-popular bangin' rave sound), for its hedonism, and also for its unwillingness to kowtow to the predictable. Resident DJ Ralph Lawson went on to set up the 2020 Vision record label and 2020 Soundsystem performance unit. On his new imprint Basic Vision, he and fellow Basics resident Tristan da Cunha drop a series of four 12"s gathering rare tracks that became dancefloor favourites at their alma mater. Vol.1 kicks off with Lil' Louis & The World's saxophone-addled 1990 B-side "I Called You (The Story Continues)" which is typical of the fare on offer throughout the set, classy original house with a twist (the other tracks are Mike Perras' "Keep Movin'" and M-I-Cara's Italo-piano bubbler "Casa Beat"). This review would simply be a list if I just reeled off every track on this vinyl quartet in Jamie Reid cover art, but suffice to say other highlights include the gruff-voiced Barry White-style "sexy" Balearica "Paper Moon" by 51 Days ("So deep, so liquid"!) and Terence FM's relentless, jackin' "Feelin' Kinda High" (both Vol.2), the spaced out 1989 Chicago house Parliament rejig "House Nation Under a Groove" by Da Rebels (from Vol.3) and Chris Cuevas' funkin' "Hip Hop (MAW DUB) (Rob Mello Extended Edit)" and Black Science Orchestra's breakbeat disco rocker "New Jersey Deep (Lost in Time Edit)" (from Vol.4). The whole set are altogether essential if you went to Back to Basics, and a likeable look backwards if you didn't.
Cavern of Anti-Matter Hormone Lemonade (Duophonic UHF)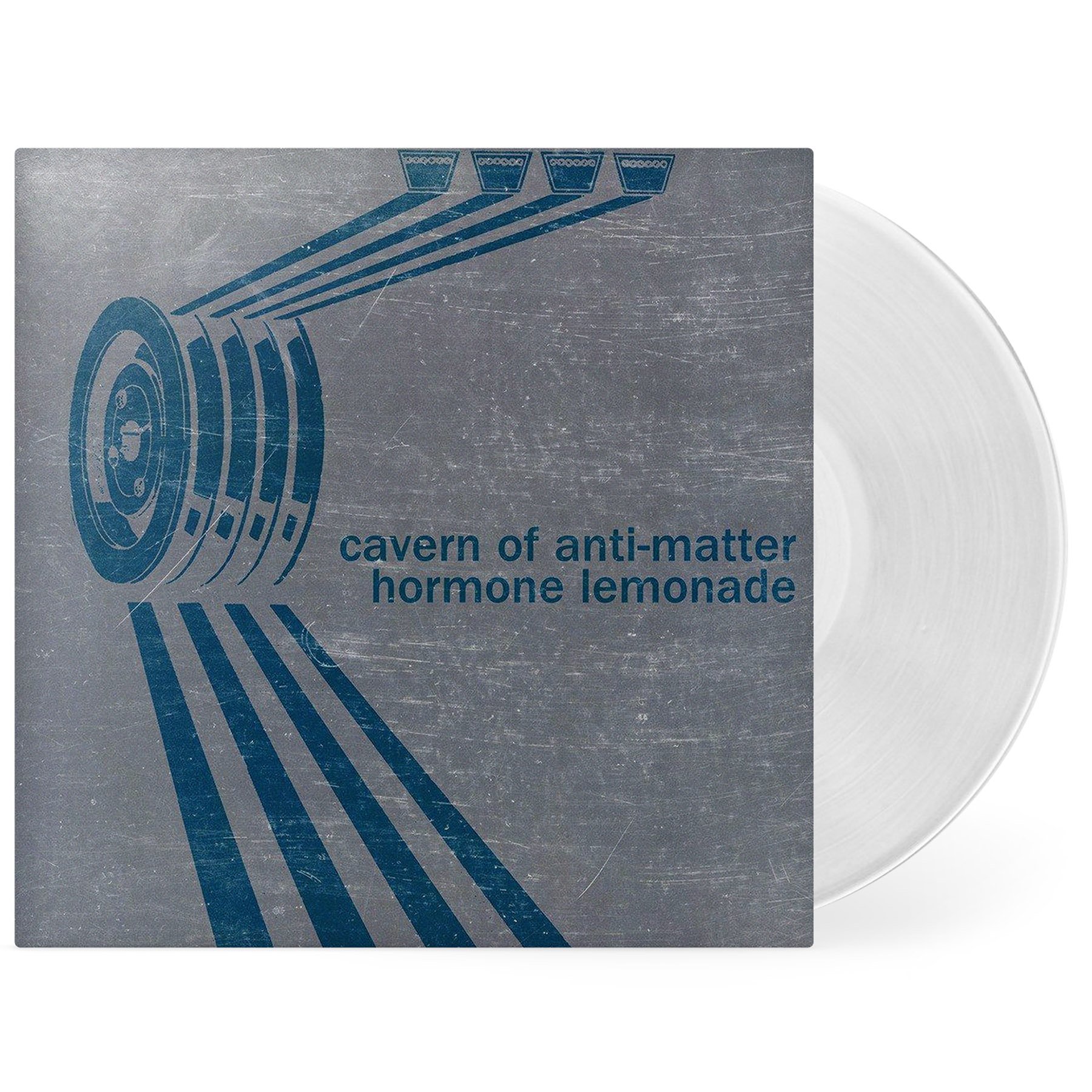 Third album from the trio of Tim Gane, Holger Zapf and Joe Dilworth and it's the artsdesk on Vinyl's understanding that it resulted from building on percussive experiments by Zapf on self-made machines. Whatever its origins, it owes a debt to the fluffier, more ethereal side of Krautrock, shimmering with Harmonia-esque flow on cuts such as "Phantom Melodies". The key track is 20 minute opener "Malfunction" which simply goes on and on and on until the listener, like a paper boat moored by a child on the shallows of a steadily flowing river, is simply swept off and along. Calmly hypnotic, steady, instrumental and completely single-minded, Hormone Lemonade won't be an album that introduces Cavern of Anti-Matter to new fans but it won't lose them any either. Comes on double vinyl with one-sided 12" x 12" info insert.
Boerd Static (Anjunadeep) + Henry Green Shift (Akira) + Alex Stolze Outermost Edge (Nonostar)
The thematic that binds these releases together is that they're all by singer-songwriters who reject the normal acoustic guitar route in favour of lean electronic soundbeds. Swedish producer Bård Ericson – AKA Boerd – drops a six-tracker on stadium trance act Above & Beyond's low key label Anjunadeep. It ranges from shuffling blissed Balearica to the ecclesiastical, laid back choral chill-out of "Ebb". It's all very Ibiza sunset rather than James Blake; pleasant rather than vital. Those who follow the Blake-ian path will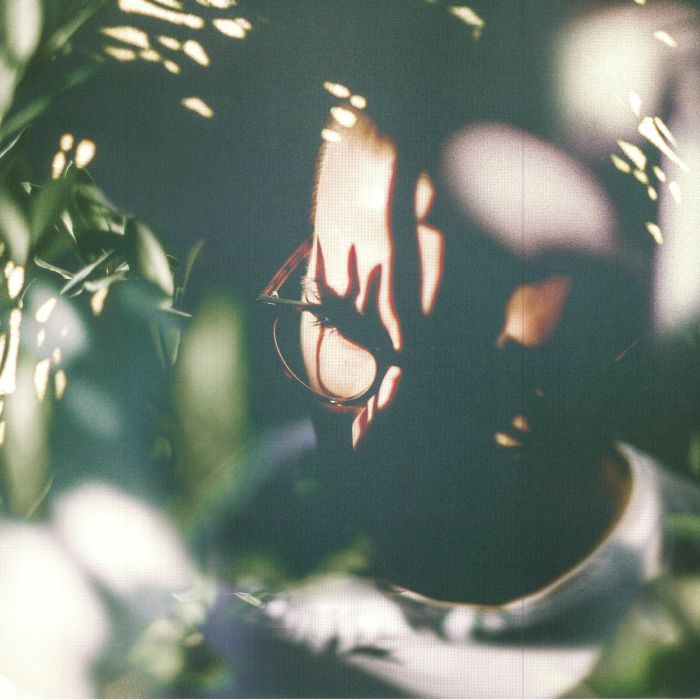 enjoy Bristol artist Henry Green whose work exists somewhere between the likes of fragile songsmith Rhye and more glacial cinematic types such as Ólafur Arnalds. Over diaphanous electronics, that occasionally, as on "Another Light", embrace a pulsing rhythm track. Green emotes in a vulnerable semi-whispered tone but, to his credit, he comes over well, as opposed to the usual falsetto voice-breaking I'm-so-vulnerable-me wank. Comes in photo/lyric/info inner sleeve. Best of this lot by a distance, however, is Alex Stolze whose dubby, chamber-tronic
orchestrations avoid being lumped in with the deluge of relaxer-music modern classical by dint of interludes featuring his voice, an instrument with the forlorn appeal of Momus at his most defeated. Stolze is a German violinist-composer – the violin features, plucked on many tracks – and his music is excellently original, inhabiting the quiet in a way that's impressive, then becoming more fervently present on the second side, even jolly on "New". He also observes on the mournfully uplifting "Way Out" that "if we do not change our ways to behave there is no way out of destruction on earth." And you can't argue with that.
The Courteeners St. Jude Re:Wired (Ignition)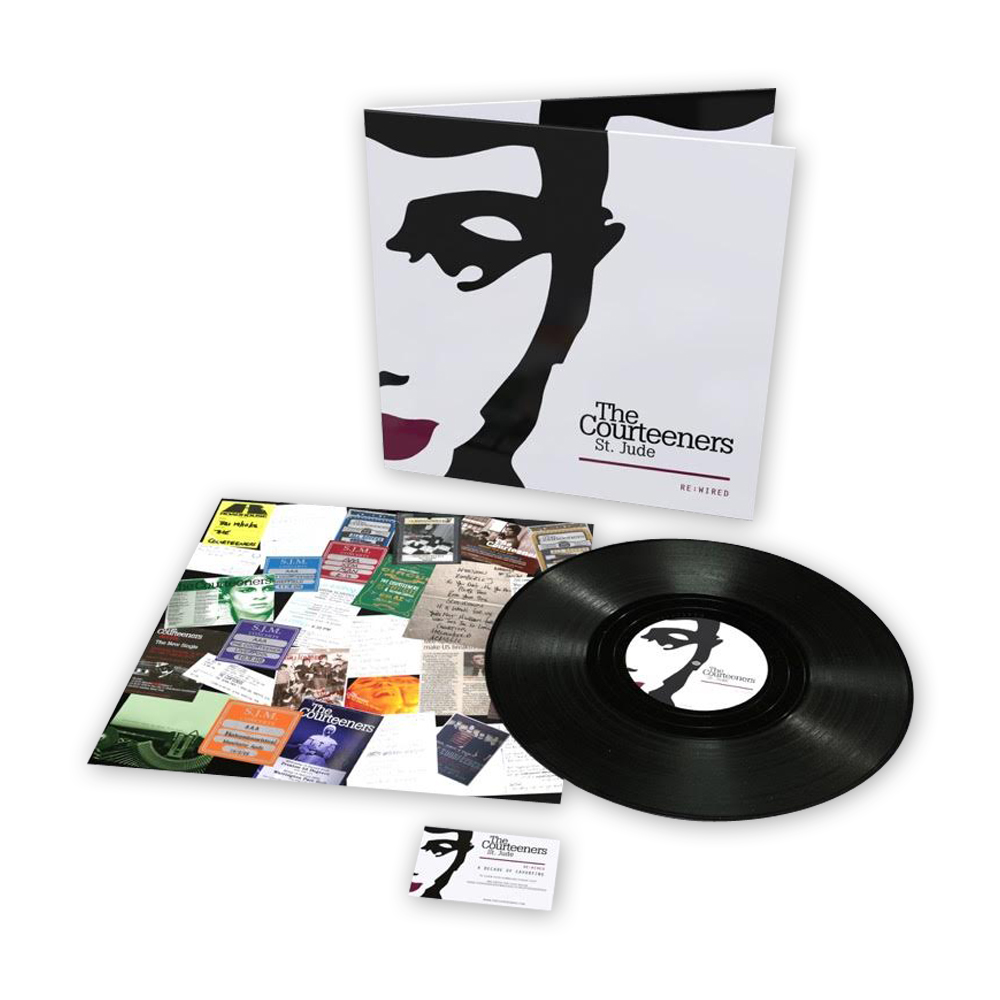 This is some lovely looking picture vinyl. Side B has a replica of the cover art, very well executed, its stark black and white imagery looking fine on the circle of vinyl. Side B is mauve and contains a quote from The Independent circa 2008, "I confidently predict that exactly no-one will be listening to it in 10 years time" – a good last laugh there - accompanied by the simple statement in a different font, "God Bless The Band". Coming on gatefold, Re:Wired is a tenth anniversary unplugged celebration of the raffish Manc rockers' debut album. Songs such as "Cavorting" captured their hedonistic aspirations and the lyrics, in a rich Lancashire accent, still have an appealing cockiness. From the boogie-woogie piano on "How Come" to the lovely melancholic "Not Nineteen Forever" with added strings, it's a successful reinvention that refreshes the album in a way fans will want to get their teeth into.
Ishan Sound C5/Still Smoking (Tectonic) + Riko Dan Hard Food EP (Tectonic)
Bristol's Tectonic was one of the original dubstep labels and has never veered from the scene's underground roots. Ishan Sound, from the area's Young Echo collective, works with peers Hodge and Muttley to give us "C5", a rustling stripped back thing with, expectedly, sudden phat wodges of bass. It is bare music, minimalist yet stentorian in its forward-movement. "Still Smoking" has a doomed quality and is closer to what we've come to expect of dubstep (although, I realise, we're not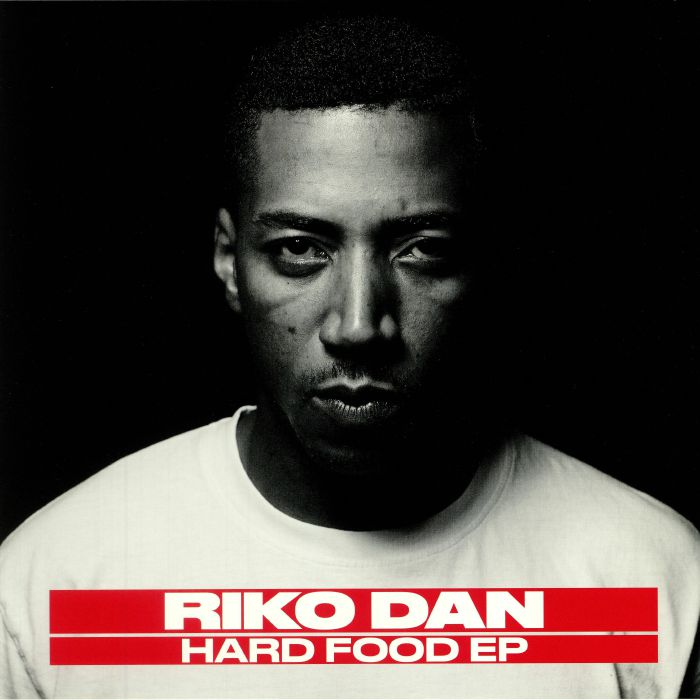 supposed to call it dubstep anymore). London MC Riko Dan's six-tracker is rough as industrial sandpaper and it is Tectonic's 100th release so deserves a glass raising in its general direction. Each tune is produced by a different accomplice – Pinch, Mumdance, Ziro - but it's "Hard Food", created with Joker and akin to The Bug at his most ragga-ragin', that stings the most, a truly caustic, aggressive tune that showcases a label not relaxing a jot 13 years into their existence.
Mudlow Waiting For The Tide to Rise (Stag-O-Lee)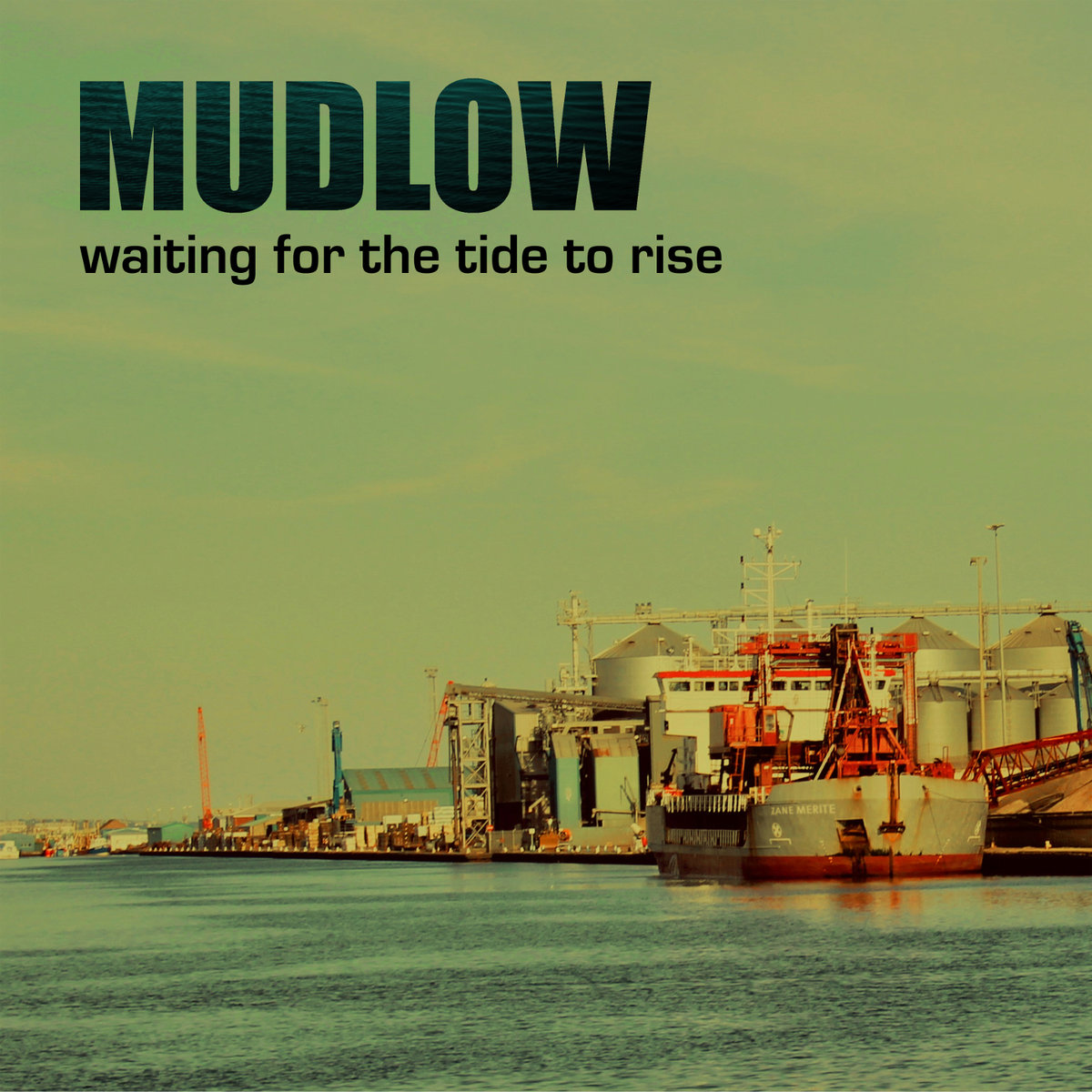 Brighton blues-punkers Mudlow have it going on. With the occasional sliver of sax to add sex to their crawfish-scuttlin' down'n'dirty sound, they inhabit a world where there's always a rusty truck waiting to take you to the nearest roadhouse juke joint. They've been going for years and cannot be young chaps as they were in another band before Mudlow started (Crawl Limbo), but they have a raw verve that cancels out any grey hairs. There's a maudlin late night one-last-round-at-bar-barrelhouse-piano number, "The Jester", but what Mudlow do best is kick up a stink somewhere between Tom Waits and The Jim Jones Revue, as on the harmonica-boosted grind of "So Long Lee" (and most of the others!). Unlike those acts they're not tempted by atonal distortion, boosting their power instead with loose jamming, and making the causal listener wish to hell they could see them live. Comes in photo/lyrics gatefold and well-mastered to vinyl.
Near Future Ideal Home (Blanc Check) + Jethro Tull Heavy Horses (Chrysalis)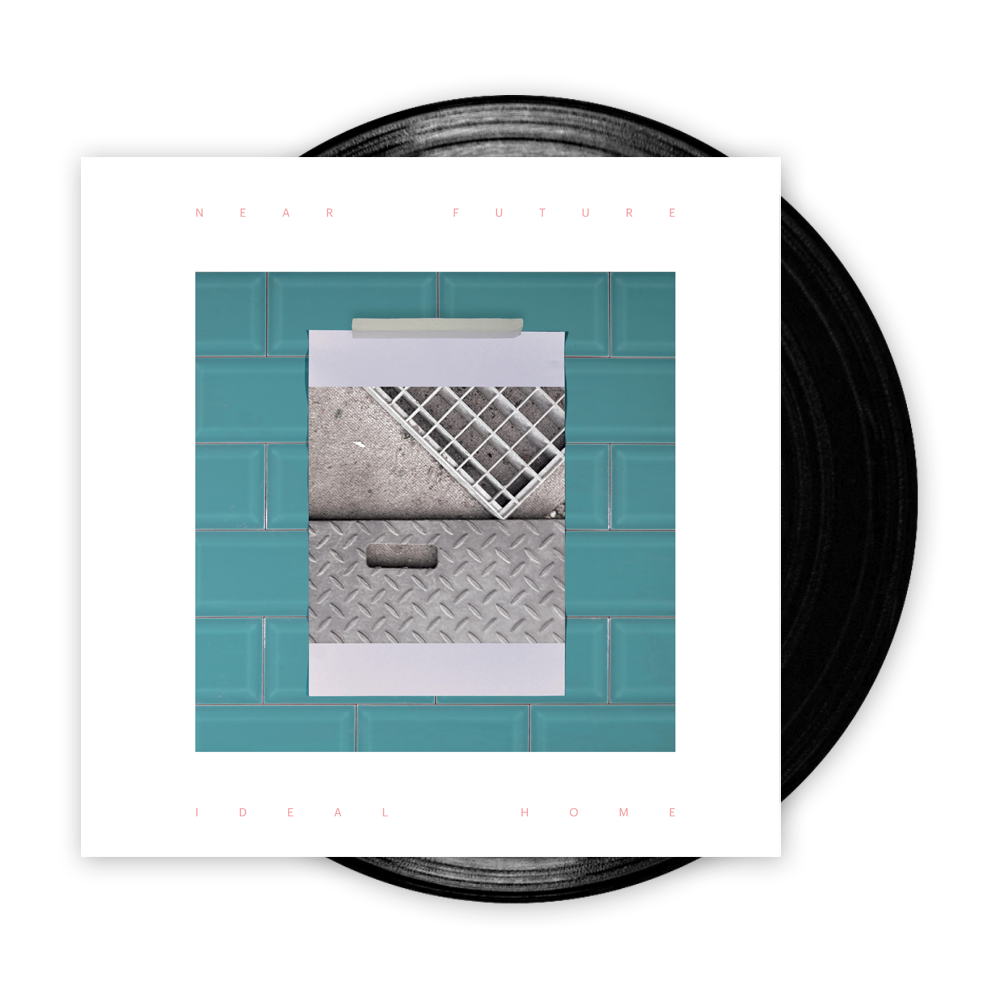 These two are Record Store Day releases that arrived too late. Near Future is Neil Arthur, of Eighties electro-pop duo Blancmange, and Jez Bernholz, an associate of Gazelle Twin and Anti-Ghost Moon Ray Records. It is closer in tone to the latter's camp than the former's melodic sensibilities. There's a lot of spoken word, from the everyday poetics of "Field This" to the treated vocals on the more science fiction "Dawn". Either way it's an exercise in art and tone rather than melodics and is interesting rather than essential. Comes in lyric inner sleeve. The other late Record Store Day release could not be more different. By 1978 punk rock had overtaken flute-touting rustic proggers Jethro Tull, but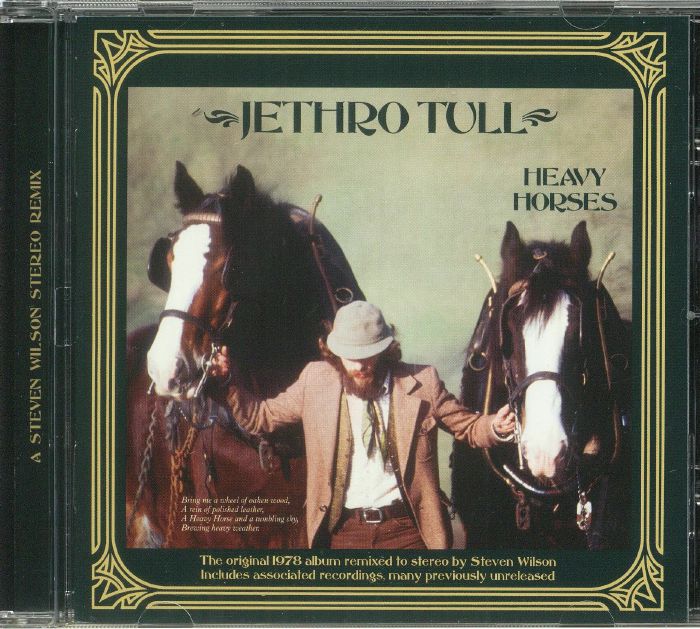 Heavy Horses still managed a Top 20 position in both the US and the UK. Its nine songs are particularly folky and, in fact, while I intensely dislike Jethro Tull's music, this one isn't nearly as offensive as the self-consciously wacky antics of their earlier output. It's their eleventh album and, after multi-millions of sales, perhaps leader Ian Anderson didn't feel he had anything to prove. He relaxes into straightforward songwriting such as "Rover" (about his dog!) and the barn-dancin' "Acres Wild". His very voice still irritates but he can't help that. I suppose they were the Mumford and Sons of their day. Oof! The big plus for Tull fans will be that the album, which arrives in lyric inner sleeve, is remixed, as in renovated, by Steven Wilson, a musician-producer who's built a massive sideline giving old prog albums a polish. Also that it comes with a chunky, colourful 12" x 12" booklet containing many words from Anderson and as much background and photography as anyone could wish for.
Elvis Presley The Searcher: The Original Soundtrack (RCA)
Director Thom Zimny is best known for multiple films about Bruce Springsteen, including the well-regarded The Promise, about the making of Darkness on the Edge of Town. In his new HBO two-parter he explores Elvis Presley's creative journey, the way he fused country, jump blues and much else to become one of the definitive pop artists of all time. This soundtrack collection, then, on two records in gatefold and photo/info inners sleeves, is flab-free, albeit it slows to more balladic fare towards its end. Running the gamut from his earliest songs, such "That's All Right", to material recorded in his final year ("Hurt" from the 1976 sessions in Graceland's Jungle Room), it also includes alternate versions of "Suspicious Minds" and "Separate Ways". The opening "Trouble/Guitar Man" from his 1968 NBC TV Special, announces the King in no uncertain terms, a monster tune, and there's not a duff track from there on in. Of course, the Elvis faithful will know this stuff already but for those who enjoy quality Presley but don't own billions of his albums (like us!) this is a superbly curated, vibrant alternative greatest hits, focusing on the moments when Elvis followed his own muse rather than that of his dreadful manager.
Chrome Sparks Chrome Sparks (Counter)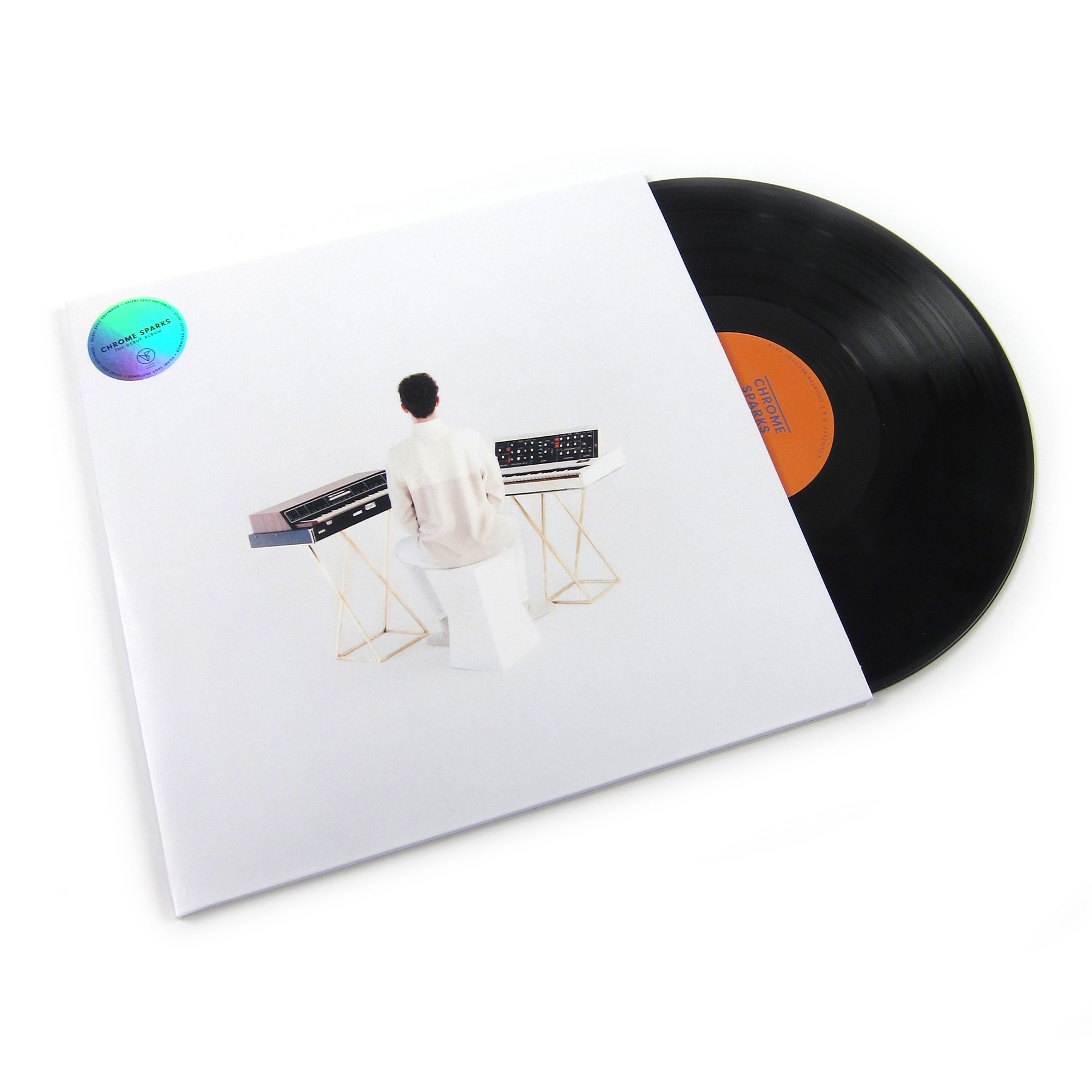 In New York's Chrome Sparks Ninja Tune's Counter sub-label offers up another hope for 21st century synth-pop. On double in art/info gatefold, his debut album sounds nothing like the ancient Eighties template but, instead, embraces today's chart music and forces it to his will, thus a song such as "I Just Wanna", featuring KLLO on vocals, is not that distant from Clean Bandit, while "What's It Gonna Take" (featuring Angelica Best) chills the same sound to something spacier. Then again, it's not all as clear cut for "Sugar" comes on like yacht rock meeting gloopy Lapalux-style squelch, and "Eternity" is a sweet Air-ish synth odyssey. He's one to watch, for sure.
Liines Stop-Start (Reckless Yes)
This female Mancunian three-piece fire out post-punk with a conviction that makes it sound current rather than retrogressive, in the same way that Savages achieve. Their music sits midway between The Banshees, The Cramps and something more angular and troubled. Singer Zoe McVeigh's voice has a harsh conviction that leads the Peter Gunn basswork and scratchy minor key guitars forward at a pace. "Brooding" is the word I see the press release uses to describe it and I wish they hadn't because I prefer to choose my own words, but that's about the best adjective for Liines. From the Birthday Party bassline ballistic "Never There" to the Nineties Seattle grunge vibe of "Disappear", they carry their influences well, transmuting them into more than they might add up to in other hands. Comes on white vinyl with a 12" x 12" lyric sheet.
ALSO WORTHY OF MENTION
Lybes Dimem Syncleft Chronem (SVS) + Christopher Ledger & Luigi Ranghino's Trio Cielo Intonmato EP (CL Series) + Alva Noto Uniequav (Noton): Here are three refreshingly abstruse leftfield electronica releases. Lybes Dimem is German producer Lukas Rehm. His default setting is industrial ambience, which means a catastrophe of arrhythmic earthquake beats overlaid with gloomy swirls of tone music that suddenly go squalling off like a post-apocalyptic storm riding into one of those grubby, post-Skynet subterranean rebel communities in the Terminator films. Lybes Dimem has form on the multimedia art-installation scene and that's where this fits, although it's a head-wibbling assault in its own right. The record, inner sleeve and sleeve come encased in a tough transparent bright red plastic outer sleeve. Christopher Ledger & Luigi Ranghino's Trio's Cielo Intonmato EP is much more approachable to these ears. Based in Berlin and Rome, Ledger is another uncategorizable art sort, and he's combined electronics with input from Italian pianist Luigi Ranghino and friends to good effect. It's Ricardo Villalobos territory, meaning that it's druggy cybernetic space-jazz. Lead cut "Cieli Intonato I" has a loose connection with dancefloor dynamics, at their most offbeat and glitchy, but from there things wander into the experimental until you flip to the B-side wherein enigmatic Dutch producer Ion Ludwig gives the whole thing a purposeful 4/4 remix that's serviceable rather than essential. In short, "I" is the one. Best of the lot is Alva Noto, the German artist and abstract/ambient musician whose associations with Ryuichi Sakamoto and Michael Nyman have assisted a rise in wider profile. Not that he doesn't deserve it in his own right. It's no surprise he began his production career at the dawn on the century on Force Inc's marvellously Teutonic ambient label Mille Plateaux. His work has progressed outwards from there. Uniequav makes the sound of very little into something the ear cannot help but be drawn to; clicks, whirrs and fuzz noises building in loops in a manner that's surprisingly addictive. Alva Noto has become a master in this area and Uniequav is yet more proof.
Christy Moore On The Road (Yello Furze): A three disc set scooting all over the venerable Irish folk singer's career, recorded live in a wide variety of venues. What strikes the non-follower of this storied character is how much is broad comedy, light entertainment-style observational pub cabaret but with a left-leaning political edge. Sure, there are maudlin Irish ballads such "Cliffs of Dooneen" and the electric guitar-fuelled righteousness and crowd sing-along stridency of "Ordinary Man", but there's more along the lines of boozy comic numbers such "Don't Forget Your Shovel" and "Delerium Tremens". There's also one new song called "Lingo Politico" which is a chatty throwaway thing that he half-raps and jokes his way through. Its key line is "I hate politicians". One can only concur. He's lost none of his way with words, wrapped up in a genial persona. Comes with 12" x 12" commentary on the songs by Moore.
Lydian Collective Adventure (Lydian Label): London quartet Lydian Collective have built up a considerable following on YouTube, especially given they're an instrumental jazz outfit. This may be because their output is varied and avoids straightforward categorization. For sure, drop the needle on "Mr Sunshine" and it's pretty straightforward ooby-dooby Ronnie Scott's-friendly virtuosity, but over the course of four sides (in gatefold) the four – keys, guitar, bass, drums - wander about where they please, from the sweetly downtempo "Overnight", which shuffles along like a broken movie private eye in the rainy city night, to "Cartoon Hero" which, in places, sounds like Seventies rockers Blue Oyster Cult. Akin to Portico Quartet in their ambition towards diversity, this two man/two woman unit are a great example of technical smarts adding up to something juicy and disparate.
Curxes Gilded Cage (Curxes): When I put this on I thought it might have been a return, in disguise, of New Young Pony Club, a much-underrated band. It has their sense of accessible electronic pop informed by punky and gothic influences. However, it's nothing to do with them. Curxes was originally a band (who remixed Chvrches' "Recover" back in 2013), but are now a one woman enterprise consisting of Isle of Wight singer-producer Roberta Fidora. While she clearly knows her way around a song, there are places where the sound could be produced up to its benefit. Nevertheless, there are tasty songs here that one can imagine appearing on TV ads and montage sequences, such as opener "Youth Acension". Balancing the poppiness out, there are also woozier floatier numbers such as "The Stars, Like Dust". On transparent orange vinyl, the vinyl release is a limited edition on 500.
We Are Scientists Megaplex (100%): Seven albums and a decade-and-a-half into their career US duo We Are Scientists are still on top tune-creating form. Whether it's hugely catchy opening cut "One In, One Out" or the vaguely Celtic-sounding slowie "KIT", the best of Megaplex (which arrives on white vinyl) is propulsive and poppy, mingling a hint of indie guitars with shiny modernist electronic production. They're funny guys too. The songs play it straight but they've a background in comedy that dryly comes to the fore on the picture/info inner sleeve (for example "All songs written by We Are Scientists and published by HEVVY COAR (ASCAP). Not "all songs ever, in human history" – but many of them. And every song on this album"). They did actually have Top 40 chart hits around decade ago, five of them, and judging from this brash, melodically fizzing outing, they deserve a few more.
Uniting of Opposites Ancient Lights (Tru Thoughts): Uniting of Opposites is a jazz trio who find themselves drawn to Indian music. Unbelievably, 20 years ago one of their number, Tim Liken, created ultimate speed garage anthem "Ripgroove" but none of that crazy energy is here. Instead, Uniting of Opposites stews up raga and sitar, occasionally over gentle dub basslines, and creates a very easy-going outing that one can easily imagine gracing film soundtracks and late night living rooms. It's experimental but never alienating and also heads off into percussive passages that meander attractively without crossing the line into self-indulgence. One for fans of Talvin Singh and Anoushka Shankar.
Far Out Monster Disco Orchestra Black Sun (Far Out) + Various Alex Attias presents LillyGood Party! (BBE): A decade ago Joe Davis, boss of Brazilian music specialists Far Out Records, had the idea of putting together a who's who of Brazilian music to create a fantasy disco outfit. Their second album regroups much of star Brazilian funk band Azymuth, alongside their less well-known contemporaries Banda Black Rio, and orchestral arrangements by the nation's jazz-funk institution Arthur Verocai and Azymuth's late leader Jose Bertrami. The sound they muster is never less than opulent, while keeping a foot-moving groove on the go, whether it's the more modern-sounding "Flying High", which comes on like early Jackson 5 mixing it up with a post-house Cymande, or the instrumental version of "Step Into My Life" which has a Seventies touch of MFSB about it. Arrives on double and will be sought out by those who enjoy their disco served lush. Swiss DJ-producer, Alex Attias, who sometimes records as Mustang, releases a double set named after his club night and radio show in Lausanne. Typical of the record label BBE, it's an adventurous collection of retro rarities, it's unpredictability offering excitement as it veers from the slow-rolling acid of Grooveman Spot's "Do the Dance" to the percussive bubbling of Tatham, Mensah, Lord & Ranks "Cascade" to the pure jazz club easiness of Root Soul's "My Dream Came True". Attias knows his oats and, on info-filled gatefold, it's an engagingly varied comp for connoisseurs.
Honeyfeet Orange Whip (Wah Wah 45s): Fronted with aplomb by Ríoghnach Connolly, singer with Afro Celt Sound System, Orange Whip is the debut album by Honeyfeet. Connolly is a great singer, able to express emotion convincingly whether on the drawled, laid back, airy Etta James stylings of "Woe" or leaping up front to compete with the jagged harmonica jam of "Colonel Hathi's Trunk Juice'. The band's sound is an adventurous – often spacious and slow - rhythm and blues that's as happy to draw right back and head into jazz, as on "Love in Vain", as it is hitting the guitars. In truth, they sound as much ones to catch live as on record, but these nine songs make a persuasive case.
Porcupine Tree In Absentia (KScope): It's interesting that KScope are reissuing this one on vinyl first, with CDs to follow. The CD format is well and truly down-and-out at the moment but will, no doubt, eventually develop its own collectors' market. In Absentia was the 2002 breakthrough album for Steven Wilson's modernist proggers Porcupine Tree. Stylistically the template is ballad-like acoustic songs that would fit well on BBC Radio 2, but that then suddenly explode into metal riffage. "Black Eyes" is typical but the attacking guitars on "Gravity Eyelids" are more persuasive, making me imagine Roger Waters solo fare colliding with Pearl Jam. Sometimes, as on the opening to "The Prodigal", they sound more like Radiohead. In fact, the latter band are not a bad reference point, a prog outfit in disguise but one that's won over a more mainstream media response, Porcupine Tree are worth a look for those seeking in that direction, albeit I am not such a person. On double vinyl in art gatefold with photo/lyric inner sleeves.
The Slow Readers Club Build A Tower (Modern Sky): With a multitude of groups called "slow" this and "slow" that – there's even a reasonably well-known one called The Slow Club – these must be annoying times for this Manchester outfit The Slow Readers Club. Or perhaps not as this album recently became the band's first Top 20 hit. Their fourth, it comes on somewhere between The Bravery, Tears For Fears and, even, occasionally Coldplay. The latter reference not so much for their wet mode as their propensity for stadium-sized tunes of personal longing. The album's "Never Said I Was the Only One" falls into this category. There's also a punchy propulsion to The Slow Readers Club's music that the above description doesn't capture. They combine the ability of synthesizers to give guitar melodies additional layers of melodic power alongside a canny ability to write catchy, touching pop songs. Comes on pale red vinyl in lyric inner sleeve with a great, atmospheric photo of them playing in the round at Manchester Albert Hall.
Rodney Crowell Rodney's English Disco (Happy Robots): A bright scarlet transparent 7" single that combines low-fi indie production with aspirations towards glistening European synth-pop. Sweetly tuneful and brandishing a vocoder, the A-side, "Comrades", zips along tunefully at a pace, while the flip, "Dreamland", is a more poetically mournful affair which opens, "I've tried Chinese remedies/So many herbal teas/Don't make me take another Temazepam". Full of mundane references as its singer places his lost love in an everyday context, it's the stronger song. Catford's Adam Cresswell, once of the short-lived bands Arthur & Martha and Saloon, inhabits his bedsit electro-pop world with just enough panache to carry these two sides but he'll need more to sustain an album.
Glassjaw Material Control (Century Media) + TesseracT Sonder (KScope): And here come the noisies with guitars. We need them to bash our heads about when we're growing complacent. That's certainly what New York's Glassjaw do on their first album in 15 years. The four-piece were 1990s innovators on their scene. Frontman Danny Palumbo has a sufficiently belligerent screech of a voice, but the music is built of more complex rhythmic patterns than their peers, learning its lessons from post-punk and no-wave. They're generally referred to as post-hardcore but could equally be termed progressive hardcore (not that they'd take kindly to that). Someone called "Klisk" in an Amazon review says Material Control is "straight boss ass gorilla" and I can't sum it up better. Comes in pink inner sleeve lyric gatefold with 12" x 12" surreal but real (I think) old photo of a man leaping into a swimming pool somewhere hot. Coming from the other end of things, Milton Keynes metallers TesseracT have definitely been listening to classic Seventies prog, but their guitar sound is deep-dipped in the heaviness of thrash metal, down-tuned and crunching between keyboard-laced sequences where the vocals swoop like Jon Anderson of Yes rather than Metallica. It's an intriguing combination although, in the end, doesn't drag me fully in. Comes on this month's second best picture disc, a gloomy purple-grey affair with a smartly designed minimal pattern on one side and a silhouetted boy looking out at clouds on the other. Presented in a sleeve die-cut to show off the picture disc, there's also has 12" x 24" art/lyric booklet.
Swingrowers Ousidein (Freshly Squeezed): Of all music sub-genres, electro-swing may be the most universally loathed by music biz insiders and media sorts. Its cheery bounce seems to outrage something deep within them. I'm not onside with all that. For sure, this jolly third album by Sicilian outfit Swingrowers may not dominate theartsdesk on Vinyl's sound system in coming months, but if I wandered into a particular type of festival tent at 2.35 AM and found oiled sorts jigging about to it, I might well hang around and shake a leg too. Outsidein, which comes in a forest art inner sleeve, is especially fluffy and frolicking, with frontwoman Loredana Grimaudo's cutesy vocals leading the two-step springiness. "Jukebox" delves into jitterbug territory but mainly this is business as usual and those who like that usual business will not be put off it by sneering trendies.
Carpenter Brut Leather Teeth OST (Caroline International): Ah, a soundtrack to an imaginary film. I love these sort of things. I have one called Logan's Sanctuary by Roger Manning and Brian Reitzell that's an Air-ish odyssey based around a non-existent sequel to the tacky Seventies dystopian flick Logan's Run. Leather Teeth isn't in that league. Well, it might be, as it does an excellent job recreating that moment when Eighties Hollywood synth soundtrack dons such as Jan Hammer and John Carpenter decided they wanted to rock out. However, to these ears, that was a horrible stage. It does have its moments, such as the ballistic buzz of "Inferno Galore" but most of it is more akin to the crashing Miami Vice-like sleaze-funk of "Sunday Lunch". Think Giorgio Moroder's "Push It to the Limit", which we all like because it's in Scarface but is, in fact, actually naff. Enigmatic French producer Franck Hueso does an excellent pastiche of the right sounds so if you like them you're in for a treat. I do not. Comes in a great trashy illustrated gatefold that makes reference to multitudes of Eighties horror films.
Radka Toneff/Steve Dobrogosz Fairytales (Odin): Get this; Fairytales is the best-selling jazz album in Norwegian history! It's their equivalent of Norah Jones's monster-selling Come Away With Me, but is a whole lot more delicate and sparse than that record. Recorded and released in 1982, it sees the late singer Radka Toneff assay a collection of well-chosen numbers, ranging from Elton John's "Come Down in Time" to the standard "My Funny Valentine", from Blossom Dearie's chirpy "Long Daddy Green" to her own "Wasted". Her voice exudes a crystal fragility, floating in the space provided by Steve Dobrogosz's elegantly sedate piano. The whole adds up to something suitably Scandinavian, in that there's a bleakness here, a sonic acknowledgement of the human condition's lonely state, yet also a beauty in that very same thing. Comes in an inner sleeve with a close-printed assessment essay by Norwegian music journalist Terje Mosnes.
Teleseen The Emotional Life of Savages (Goldmin Music) + Project Pablo There's Always More At The Store EP (Technicolour) + Cottam Locked in the Groove (FatCat) + Mind Patterns Vein Injection EP (6Dimensions) + Project 223 On A Mountain (FatCat) + Bicep Opal (Four Tet Remix) (Ninja Tune): A gathering of decent technoid electronica. First off, the fifth album from globe-trotting American electronic producer Gabriel Cyr (Teleseen). It's musically funky but never ostentatious, with hints of fringe Detroit techno bods such Kenny Larkin who value keys-led musicality over bosh-power. Various styles are on board, mostly adhering to a 4/4 kick, but while easy on the ear, nothing truly grabs except the potent percussive exercise "Jaguar" which, giving the lie to the above sentence, is a sturdy dancefloor cut with tribalistic interludes. Next up is a five-tracker from Canadian producer Patrick Holland (Project Pablo) who appears on Ninja Tune sub-label Technicolour. His past output has tended towards classy, swooshing deep house sounds and, indeed, the most likeable cuts here veer that way, albeit escaping straightforward four-to-the-floor surroundings. "Last Day" is a bubbling chugger that pitches itself midway between Warp Records-ish spaciness and a skittering electro rhythm. Keeping things pared back, as emphatically made clear in the title of "Less is Less", these cuts are, nonetheless danceable in a wibbling-about-in-pitch-black-at-4.00-AM-down-the-K-hole sort of way. Paul Cottam's lead tune, meanwhile, is a slow-growing piece of weirdness that eventually drags the listener off into the head-fry zone. Riding a looping repetitive bassline, as the title indicates, it builds a queasy groove that initially seems somnambulant, but then reels you in. It's very druggy but not at all obvious. On first listen or in the wrong mood, it seems flat and monotonous but, ah, when it hits you, it's quite a thing. FatCat also sent a package of other bits so let's also mention Mind Patterns whose lead cut is a no-prisoners, bass-heavy acidic techno stonker that will be useful for DJs who like to cut rough, just as one might expect from Brit techno don Steve Bicknell, and also the double-headed relentless revolving attack of Project 223. The Four Tet remix of Bicep, meanwhile, takes the original to pieces and rather than adding oomph, adds subtlety, making it as much an exercise in listening as a gentle club groove with thoughtful Balearic dancefloor flow. Of all these cuts, Cottam's is the one theartsdesk on Vinyl will be repeatedly returning to.
The Future Shape of Sound Shakedown Gospel (Gypsy Hotel) + Arkansas Dave Arkansas Dave (BIG indie): A couple of romping self-aware takes on raucous Americana. On the cover of Shakedown Gospel, a line-up of burlesque no-goods appear, the sort one might find in the naughty south-eastern corner of Glastonbury Festival jamming out a crazed blues gumbo in the wee hours. Put it on the turntable and that's just what leaps out of the speakers, a swampy stomp-along from a London ten-piece. Think barbecue, whisky and bad girls. It features contributions from mouth harp mischief maker Son of Dave and The Righteous Minds' Jim Jones. It has spirit but is let down by flat production. Arkansas Dave has a better engineered sound as he cackles and crazed-gospel-preaches his way through four sides that veer between Seventies Stones licks and hooch-swilling southern bar boogie, ably assisted by the Muscle Shoals Studio rhythm section. He's good at it, although no one song crams itself into this listener's head to stay much after it's concluded. Comes on double vinyl in photo/info gatefold. This sound is increasingly popular on the UK festival circuit with whole events devoted to it, such as Red Rooster and Black Deer. These two acts would do well there.
We welcome any and all vinyl for review. Please hit thomash.green@theartsdesk.com for a postal address.
A slow-growing piece of weirdness that eventually drags the listener off into the head-fry zone
Share this article