theartsdesk on Vinyl 80: Nanci Griffith, Scuba, Dope Lemon, Aerosmith, Bob Marley, Pharoah Sanders and more |

reviews, news & interviews
theartsdesk on Vinyl 80: Nanci Griffith, Scuba, Dope Lemon, Aerosmith, Bob Marley, Pharoah Sanders and more
theartsdesk on Vinyl 80: Nanci Griffith, Scuba, Dope Lemon, Aerosmith, Bob Marley, Pharoah Sanders and more
The most extensive regular record reviews in the known universe
Tuesday, 14 November 2023
Picking up the signal hot
VINYL OF THE MONTH

Being Dead When Horses Would Run (Bayonet)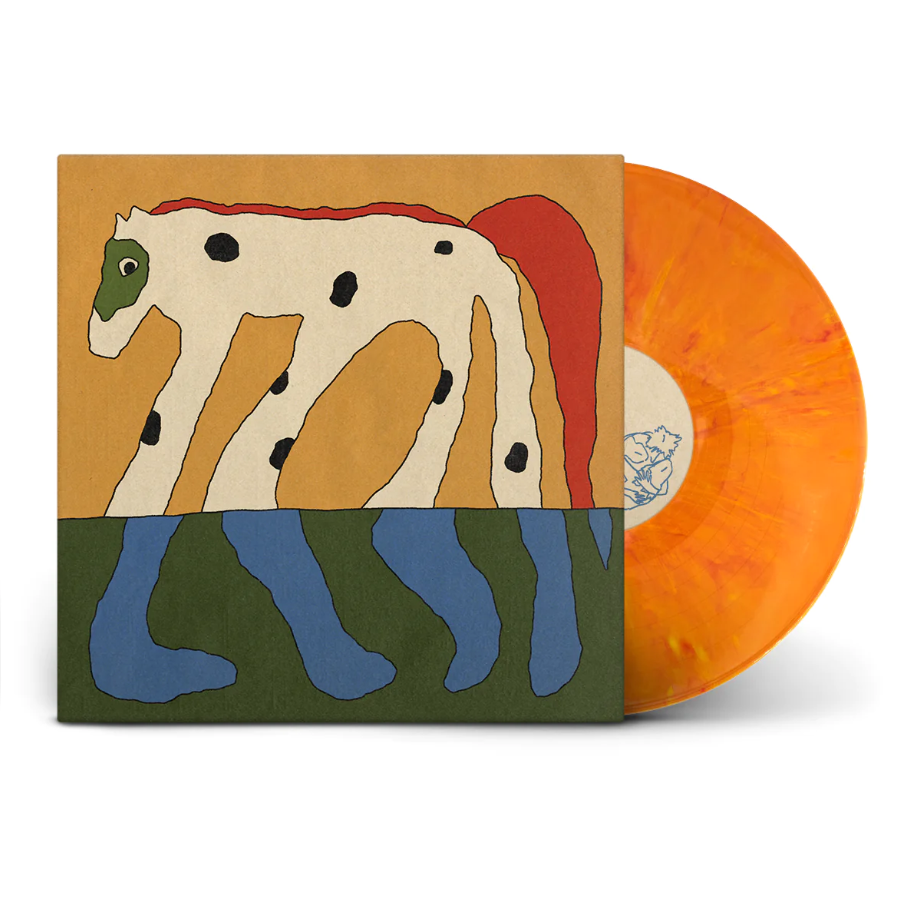 Being Dead are ostensibly an indie trio from Austin, Texas, but that description doesn't really do justice to their smörgåsbord sound. Their default setting seems to be Trashmen "Surfin' Bird" (just check "Come On") but they also enjoying fooling around with synths. They're not easily categorizable. What they are is catchy, whether combining sing-along choruses with flamenco and dream-pop on "Daydream", or inventing narcotic underwater country'n'western on the mournful, murky and bizarre "Livin'easy". Three more comparisons (faint) that may be useful: The Beach Boys at their most Seventies loopy, The Pipettes and Joe Meek. Being Dead can write songs, they're fun, and they like reverb. Comes with a 12" x 12" art/lyric insert on vinyl that looks like someone threw up after drinking a glass of milk and a bottle of Sunny Delight.
VINYL REVIEWS
Various The Spirit of Gravity: A Poem in 6 Parts (The Spirit of Gravity)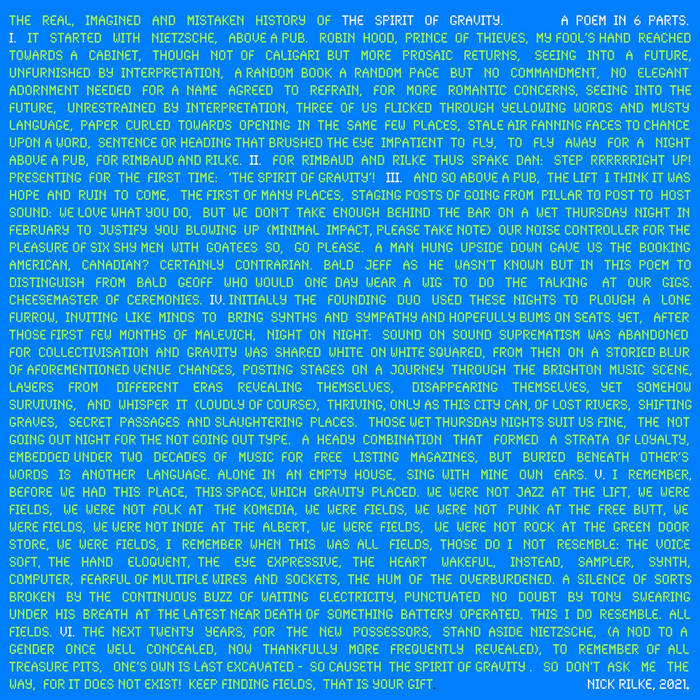 This release celebrates 21 years of a Brighton alt-music institution, The Spirit of Gravity, a "platform for out-there music and sounds". It's a night where the ideas of avant-garde composers such as Harry Partch, John Cage, or Nurse With Wound's Steve Stapleton run smack-bang into warm local community, beer and a few laughs. The avant-garde can sometimes be fun! The six tracks, each by a different artist, acknowledge the human voice, the rustle and blah of the everyday, and the way such things can be stirred gently into revolving minimal electronics and scuttering rhythm tracks. Built around the concept of a poem, the cover art contains Nick Rilke's tightly printed stream-of-consciousness overview of Spirit of Gravity and of these six pieces. The music aptly meets its remit, whether puttering to the broken samples and train rhythm of The Sound Bureaucracy's "All Fields", descending into a surrealist unpacking of the mundane on "Ear Graff" by McCloud, or attending to the jollier synth tunery of Andrew Greaves' "The Key". It's all of a piece. And with a techno banger at the end (Gun Boiler's "Let's Get Cancelled"). On lathe-cut clear vinyl it's a strictly limited edition of only 75 (!!!).
Nanci Griffith Working in Corners Boxset (Craft)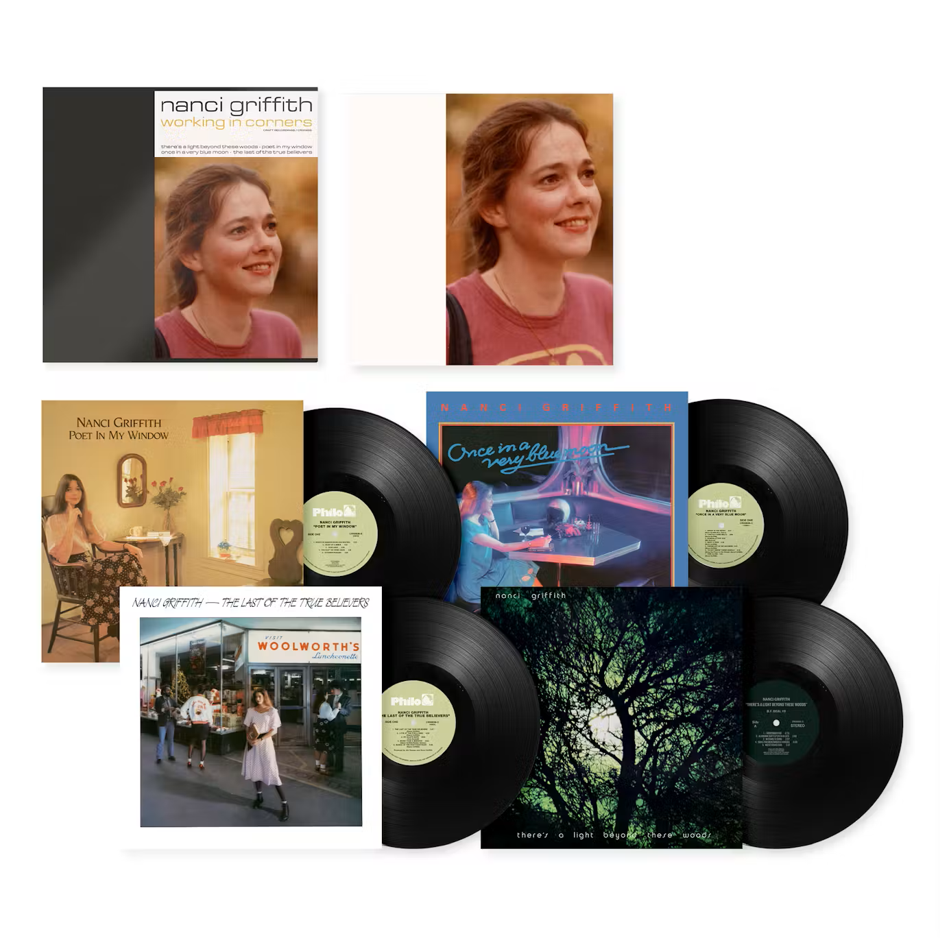 I confess to being a Nanci Griffith ignoramus. For years I associated her with "adult contemporary" music, probably due to stinking versions of a song she made famous, "From a Distance" (notably a Cliff Richard reeker). However, a couple of years after Griffith's death, Craft Records are here to educate me with a boxset containing her first four albums. Originally released on three separate small US independents, they are There's a Light Beyond These Woods from 1978, Poet in my Window from 1982, Once in a Very Blue Moon from 1984, and The Last of the True Believers from 1986. The first two are reasonably easy to purchase on plastic at a passable price, the other two less so. Perhaps this is because Once in a Very Blue Moon is the leap forward into country that set Griffith on the road to success. She has a literate writing style from the start, her songs full of the kind of detail that makes a story believable. But, despite their earthy production, I'm not swung by the first couple, despite the occasional cracker such as "Wheels" (about someone stuck in lonely Manhattan longing for Griffith's native Texas). The last two, though, have more weight, balancing country with wordy, emotional delicacy, ranging across the fiddle-fuelled honey of "Roseville Fair" to the slow romantic yarn of the better known "Love at the Five & Dime". Once in a Very Blue Moon and The Last of the True Believers are albums for quiet listening moments, but in that realm they succeed. They are cut beautifully to vinyl by mixdown don Jeff Powell (who's worked with Bob Dylan, BB King and more). The whole comes with extensive notes and back story buy co-producer Jim Rooney and journalist Holly Gleason, as well as 12" x 12" booklet of rare photos.
Jaimie Branch Fly or Die Fly or Die Fly or Die ((world war)) (International Anthem) + Asynchrone Plastic Bamboo (NØ FØRMAT!) + Don Kapot I Love Tempo (WERF)
A vast array of jazz this month, much of it worth review attention, so I've split it into a few reviews! This is Part 1. Trumpet-player Jaimie Branch died last year, apparently another casualty of America's ongoing and grotesque opioid crisis. She was only 39 but had made an impact on the New York jazz scene and beyond, working with everyone from noise artists Wolf Eyes to the late samba queen Elza Soares to indie rockers such as TV On The Radio. Her music tipped its hat to great free-jazzers of the past but she was, at the same time, utterly modern. It's worth mentioning that the way she looked and dressed was also atypical of the jazz scene, groundbreaking even. Her posthumous album is the final part of her Fly or Die trilogy with drummer-percussionist Chad Taylor, bassist Jason Ajerman and multi-instrumentalist Lester St Louis. It's a genre-chewing gumbo with sung elements: one moment it's Latin-flecked grooving, the next alt-pop, and the next a psyche-freak cello-fuelled rhythm cacophony. Comes with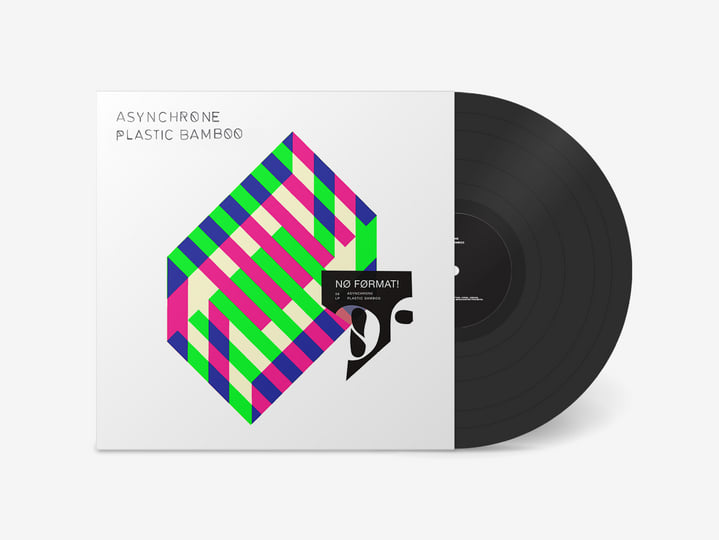 poster of Branch backed with extensive background info. Asynchrone are a French outfit mingling jazz and electronica, with jazz taking the lead, just about. Their rather brilliant idea, on the usually reliable NØ FØRMAT! Records, is to offer up reimaginings of pieces by the late, great Japanese composer and musical innovator Ryuichi Sakamoto. These range from lesser known cuts, such as a rowdy take on the 1981 proto-techno Yellow Magic Orchestra album track "Neue Tanz", to probably his most famous pieces, YMO's "Behind the Mask" and the theme to Merry Christmas Mr Lawrence. One of the minds behind the album is cellist Clément Petit and the way his instrument is woven into the mix is both incongruous and essential to taking the music somewhere original and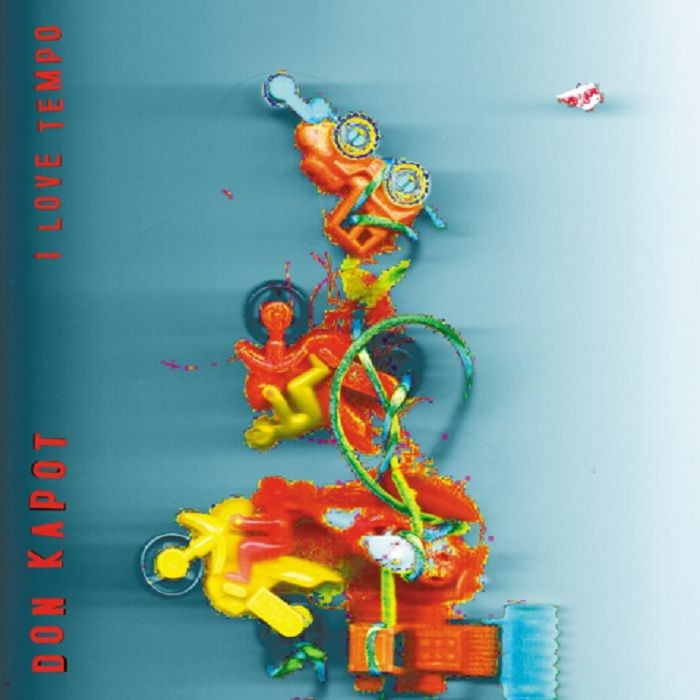 different. Finally (for the jazz time being), Belgian mavericks Don Kapot, consisting of drums, bass and baritone sax, with back-up keys, keep things noisy and exciting on the opening cut of their fourth album, "Me Pig", but they're as capable of reigning things in – a bit – as on the oblique synthy squiggles of "Terryble". There's not a duff track; the ear is constantly kicked to attention as they ride close to sonic discord but hang by their fingernails to a groove, whether motorik or their own smeared warp-funk. I'm not familiar with their other work but if it's all like this, it will be well worth pursuing. Comes in photo collage gatefold.
Various Arthur Baker presents Dance Masters: John Luongo Boxset (Demon) + Various Disco Discharge presents Box of Sin Boxset (Demon)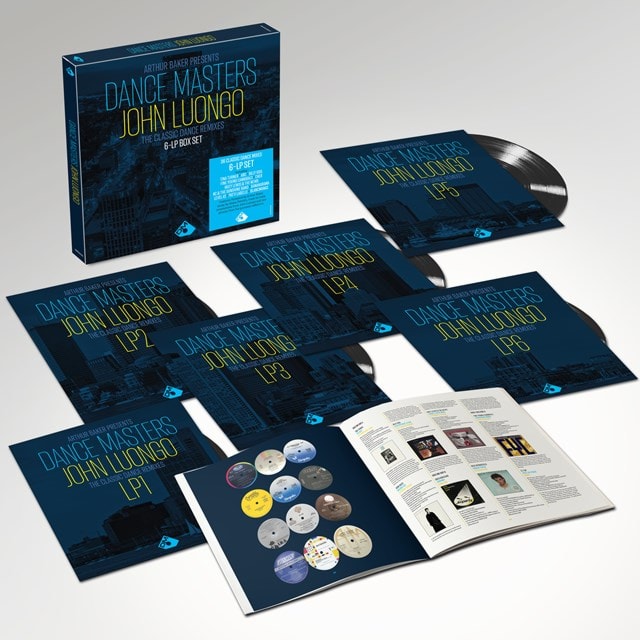 Two boxsets that showcase how disco mutated and thrived when the Disco Sucks movement in the US wiped it out, commercially, at the end of the Seventies. In truth, it was only semantically wiped out. The word "disco" and attendant musical clichés were verboten but the disco-makers just went on creating newer versions of the sound, the gay scene in New York particularly (from whence disco originally arose). Clubs such Paradise Garage simply cracked on. Someone who'd been there from the start, albeit in Boston, Massachusetts, was John Luongo, a DJ who, by the Eighties, was remixing endless pop cuts for dancefloors, particularly for CBS Records. His philosophy (as stated here in a rich and extensive interview with disco-disco.com) was that his "skills centred around the vocalist always being the star". This is absolutely the case. Over this six record boxset, Luongo's method is almost always to simply and subtly lengthen the song and add extra 4/4 oomph in the rhythm section. This means that, unlike the reinventions that often take place with modern remixes, it's down to whether the listener likes the song in the first place. In my case, I'm not really into Luongo's extended takes on, say, Tina Turner's "The Best", Level 42's "The Chinese Way" or Gladys Knight's "Save the Overtime (for Me)", but I'm into Cabaret Voltaire's "Crackdown", the "Historical 1979 Remix" of Dan Hartman & Loleatta Holloway's "Relight My Fire" and Falco's preposterous "Jungle Roemer". And, of course, there are discoveries to be made, such as, in my case, The Quick's smart Afro-Disco "Zulu" or a bonkers, bangin' (and cheesy!) take on ZZ Top's "Viva Las Vegas". Other artists on board include Billy Idol, Patti Labelle, Visage, Bananarama, Huey Lewis & the News, KC & the Sunshine Band, Fantasy, Baltimora ("Tarzan Boy", God help us!), Fine Young Cannibals, Cher, ABC, Serge Ponsar, and Melba Moore. The six discs come with a 12" x 12" pamphlet featuring words from Guardian scribe Alexis Petridis, producer Arthur Baker and Luongo himself, plus photos. The Box of Sin boxset is subtitled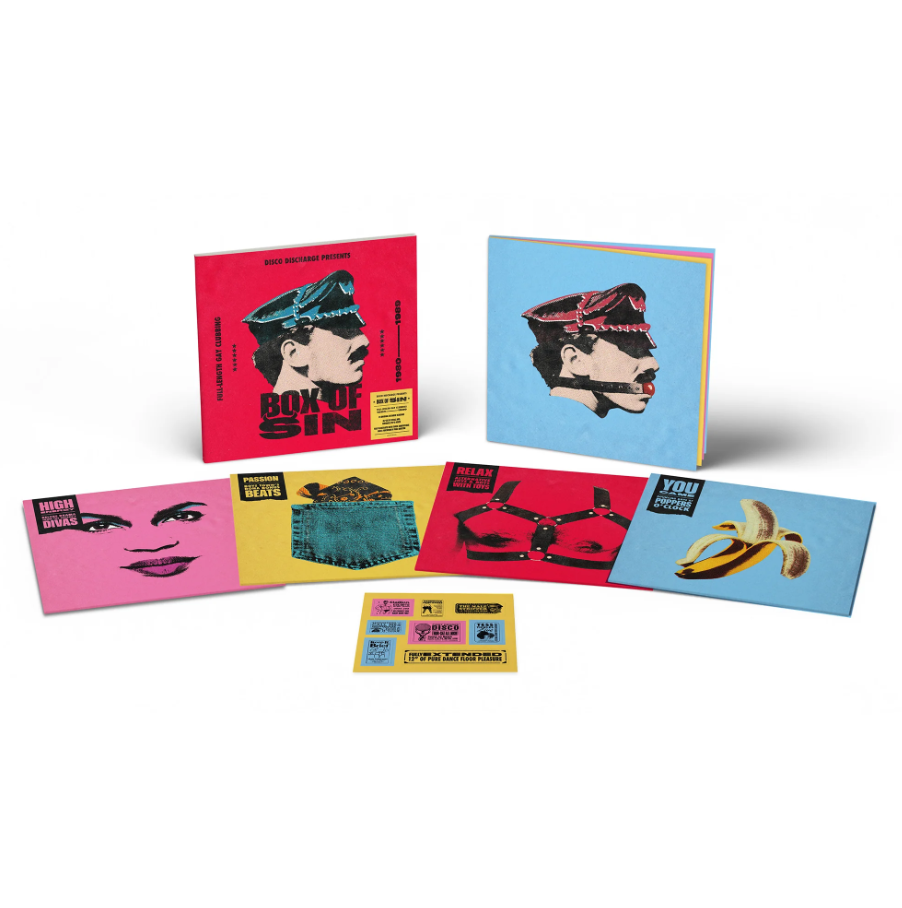 "Full Length Gay Clubbing 1980-1989" and contains eights sides of exactly that. Between 2009 and 2012 the Disco Discharge imprint put out a mighty series of CDs, with titles such as Pink Pounders, Mondo Disco and Cruising the Beats which took a deep dive into gay-centric disco. As well as classy classics, they contained brilliantly off the wall, eccentric and original material (they're still played regularly at theartsdesk on Vinyl Mansions). This new boxset focuses, instead on Eighties LGBT whoppers, a kind of "best of", featuring the likes of Bronski Beat, Man 2 Man Meet Man Parrish ("Male Stripper", of course), Frankie Goes To Hollywood, Divine and Dead Or Alive, alongside a cross section of Hi-NRG divas ranging from Evelyn Thomas's foundational text "High Energy", to the Benidorm-friendly ultra-cheese of "Call Me" by Italian pop star Spagna, to cuts by Dusty Springfield, Kim Wilde, Taylor Dayne, Maria Vidal, even Whitney Houston and Aretha Franklin. The hat is also tipped to more esoteric electronic dance, as on The Flirts' "Passion" and Gina X Performance's "No G.D.M.", as well as a hint of things to come in "The Theme From S'Express". The presentation is also great, the whole package presented as a book, each "page" containing a record and decorated with pertinent classified ads and photos, also background on each tune and an intro by activist-journalist Paul Burston.
Lewsberg Out and About (12XU)
Lewsberg are an outfit from Rotterdam who have clearly enjoyed The Velvet Underground in their time. They combine a dry lyricism, and the singing styles of both the Lou Reed and Mo Tucker, with a lo-fi indie ethic that recalls various bands who were on Rough Trade at the start of the 1980s. The word "post-punk" springs to mind but without the caustic edge that often impies, Indeed, a lovely folky violin pops up here and there, particularly poignant on "Canines". The lyrics are enigmatic, poetic, sometimes life-affirming, finding philosophical ruminations in the mundane. The visit to the doctor in the very Lou Reed-ish "An Ear to the Chest", for instance, appears to be a cue to accepting mortality and moving forward positively (not that this is ever explicitly stated). The song also contains great Devoto-era Buzzcocks guitar work. Comes with an A4 lyric sheet.
Scuba Hardcore Heaven II (Hot Flush) + Various Heavenly Remixes 7 (Heavenly) + Various Heavenly Remixes 8 (Heavenly)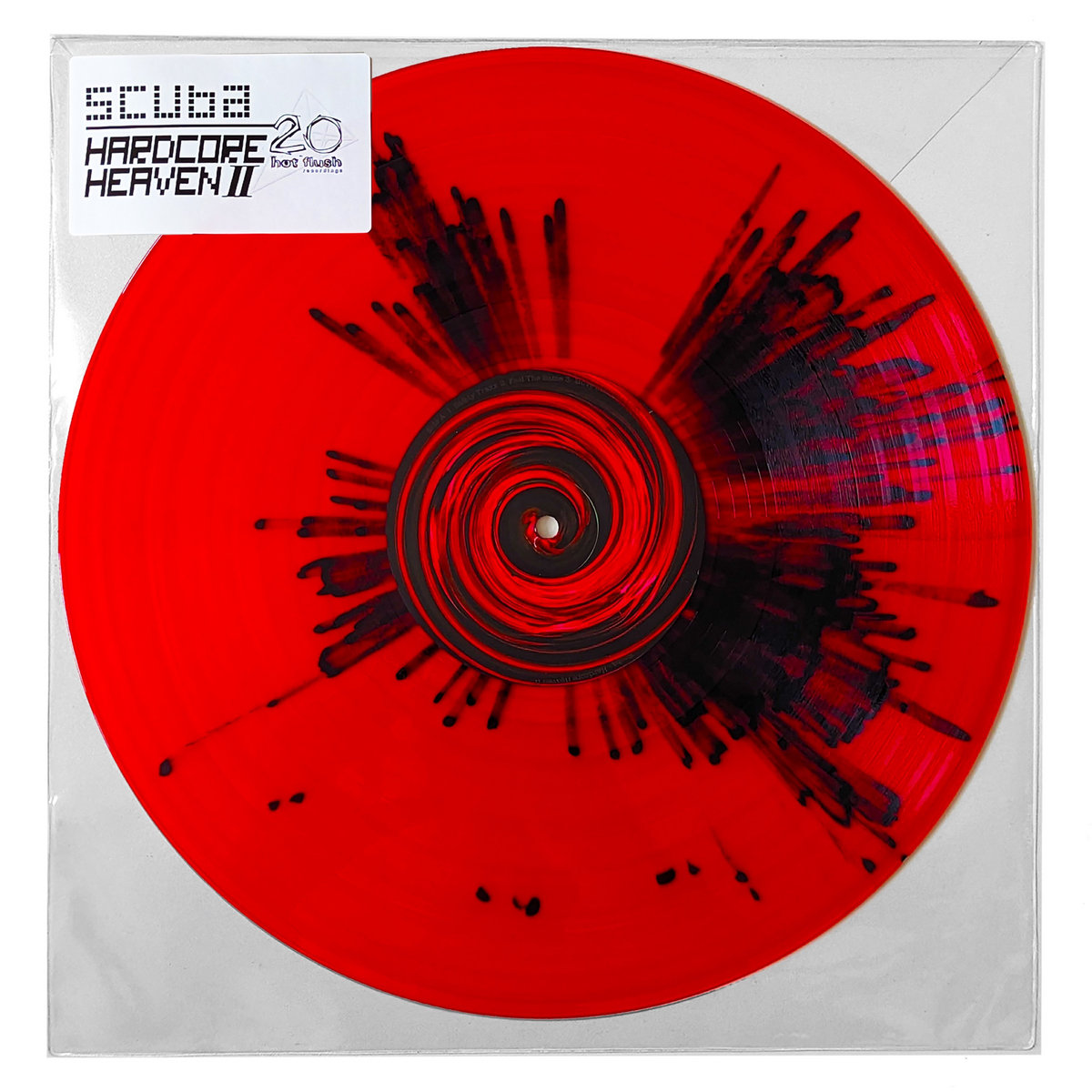 Three electronic dance outings to set the legs a-wigglin'. DJ Scuba released the original Hardcore Heaven collection on Record Store Day this year, celebrating 20 years of his Hot Flush label. It seems, though, that he can't get enough of building tasty pastiches of 1991-92 breakbeat rave hardcore, as here comes another volume. It's no less spirited and on-point than Volume I, those synth stabs, vocal samples, sped-up funk loops, and whopping basslines joyfully synched to sweat-inducing Ecstatic effect. Comes on transparent red vinyl with black star-like splatters. Heavenly Records launch two more double vinyl sets of remixes. There's an evangelical essay inside both by the label's Robin Turner, explaining their philosophy around remixes, running contrary to the ethos of the disposable culture times we live in: "a snapshot of a musical multiverse and a reminder that music doesn't need to stop once a band leaves the studio with a track they're happy with. Art evolves." Highlights on Volume 7 include Ludwig AF's quirked short deconstruction Pip Blom's "Keep
It Together", Shy One's abstract tech-house unpicking on The Orielles' "The Room", Leo Zero's synth-dub take on Fever The Ghost's "Sources", and Erol Alkan's acidic rework of Confidence Man's Orbital-like "Holiday". Also on board are remixers Hardway Bros, Horse Meat Disco, Warp Records original Forgemasters, Dan Carey and Bruise, with artists such as David Holmes, TOY, Eyes Of Others and audiobooks. Meanwhile, for me, the go-to cuts on Volume 8 are Pilooski's bleep techno revision of Baxter Dury's "Miami", Mella Dee's subterranean techno rendering of Working Men's Club's "Cut", Black Science Orchestra's cuddly back room dub of Unloved's "Number in My Phone", and, for spacing rather than dancing, the pared-back, cut-up TONE remix of Fran Lobo's "All I Want". Other remixers and artists on 8, not already mentioned in reference to 7, include (remixers) Justin Robertson, Space Afrika, Decius, Umlauts, and Lovefingers & Heidi Lawden, and (artists) Amber Arcades, Out Cold, and Katy J Pearson.
Dope Lemon Kimosabe (BMG)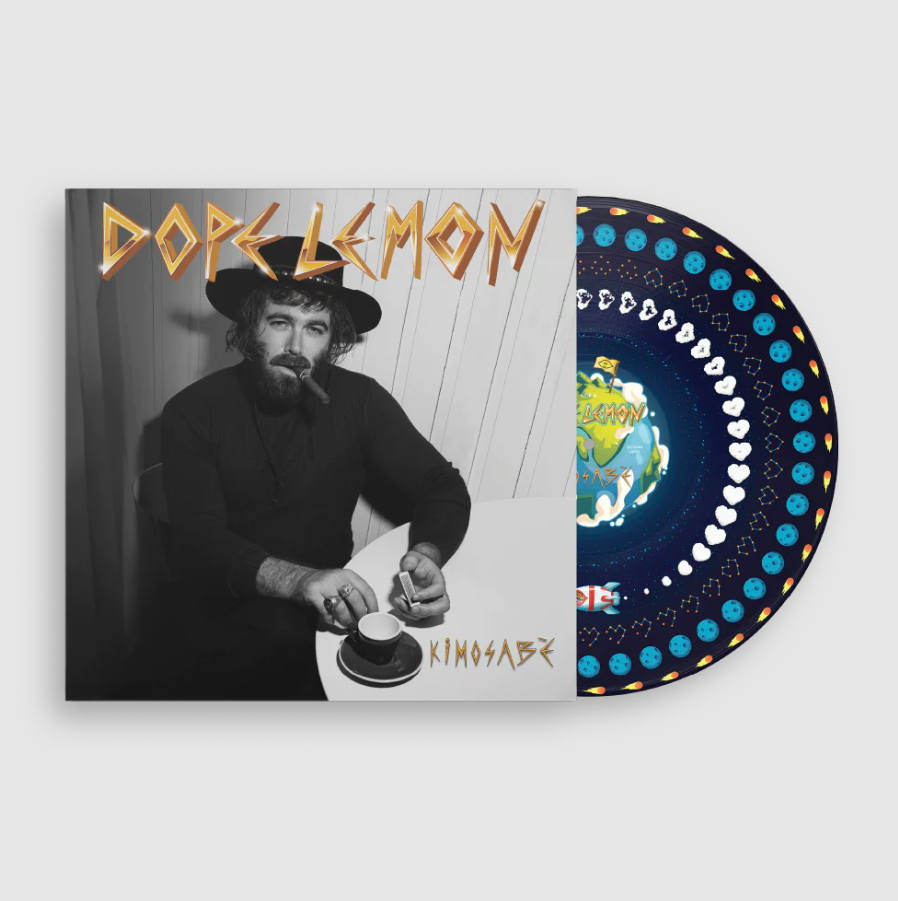 Dope Lemon was once a side project for Aussie singer Angus Stone but has slowly gathered a following that's a match for Angus & Julia Stone, the outfit that first drew attention his way. He's tried on a variety of musical hats since the first solo album, seven years ago, and this, the fourth album, might be the most dopily whimsical, chugging along somewhere between a stoned Beck and a trip hop Lemonheads. The songs are there, chuggers with a marijuana smear to them, the vocals affably sluggish and chatty, slurred even, a beatbox and a jolly strummed guitar the key to what's going on. It's a Sunday afternoon spliff album, sunny in aspect. Pop, really. A sample lyric to further illustrate the vibe: "Yeah, them Egyptian pharaohs came down from the clouds to watch us/Groove with the snakes up on the hill." Yeah, man! Comes with a 12" x 12" lyric'n'cartoon art booklet on gatefold on most excellent zeotropic vinyl of comets, clouds and rockets swirling around the Erath.
Aerosmith Greatest Hits Boxset (Universal) + Mötley Crüe Shout at the Devil: 40th Anniversary Limited Edition Boxset (BMG)
Two boxsets by monsters of rock, both of whom have classic autobiogs rife with as much excess as it's possible to have (Walk This Way and The Dirt, respectively). Boston band Aerosmith began at the start of the 1970s and had blown up to massive proportions by the middle of the decade. They weren't exactly doing anything new, combining aspects of peers The Rolling Stones and Led Zeppelin, with a good time bar band vibe. But they did it with aplomb. The early material on these four records (with a photo/info pamphlet) is proper unreconstructed rock of its era – there's a song called "Lord of the Thighs"! – but it rolls, as much as it rocks, as per Keith Richards' diktats. Knowing them primarily for their post RUN DMC hook-up material, when they finally went to rehab and slicked up their sound for hits such as the preposterous "Dude (Looks Like a Lady) and lights-in-the-air pap like "I Don't Want to Miss a Thing" (all here), it's a pleasant surprise to dip into material such as "Dream On", "Back in the Saddle" "Train Kept A'Rollin'"; even older slowies such as "Home Tonight" have a louche Lynyrd Skynrd-esque charm. Hell, if their 1976 album Rocks was good enough for Kurt Cobain, who am I to argue! Mötley Crüe are not in Aerosmith's musical league but, oh boy, The Dirt has never been topped as a rock'n'roll read, the Crü's lives an obliterating carnage
of grandiloquent Los Angeles tragicomedy. They've never been backwards in milking their history and the boxset celebrating the 40th anniversary of their breakthrough 1983 second album is a case in point. Here's what's in it: the album on splattery orange and yellow vinyl, a CD and cassette of the same, a white'n'red vinyl Demos & Rarities EP (the catchy OTT "Black Widow" demo is pure Spinal Tap), 7" singles of "Looks That Kill" and "Too Young to Fall in Love" (white and orange, respectively), a "devil board" (whatever that is!) and a Mötley Crüe Ouija board and planchette, a pentagram 7" adaptor (those plug-discs you put on the spindle to play ex-jukebox singles), a pentagram felt bag, a "devil" candle holder, tarot cards of the band, and a couple of prints. Despite all the macho bluster and snifters of Hollywoodised Satanism, the music is essentially post-KISS stomp rock, chugging and bullish, with a touch of American football terrace chant in there. I've never really "got" the album's appeal, although, this time, hearing it yet again, I confess that the title track and the Crüe's version of The Beatles' "Helter Skelter" have a certain something. One for uber-fans. But everyone should read The Dirt.
Bob Marley and The Wailers Catch a Fire: 50th Anniversary Boxset Edition (Island) + Creation Rebel Hostile Environment (On-U Sound)
Two releases that capture flavours of reggae, old and new. Catch a Fire was the first album that Bob Marley and the Wailers cut for Island, the start of their journey towards Marley becoming a global superstar, a very mixed blessing for the likes of Wailers Peter Tosh, who contributes the album's "Stop That Train" and "400 Years", and Bunny Wailer, who left shortly after the album's release, unable to cope with aspects of worldwide touring. It is, nonetheless, a crossover classic, with ubiquitous songs such as "Stir It Up" siting alongside West Indian black rights classics such as "Slave Driver" and "Concrete Jungle" and the gospel-like "No More Trouble". The 50th Anniversary Boxset comes with a 24-page book featuring words from Marley expert Chris Salewicz and plenty of rare photos. There are also three more records, one with slightly extended Jamaican versions of songs from the original album, plus "High Tide or Low Tide", and two live sets, one from London's Paris Theatre in May '73 and another, particularly welcome and vibrant, featuring "Slave Driver", "Get Up, Stand Up" and "Stop That Train" from Edmonton's Sundown Theatre the same month. Between the four discs, the listener is slowly reminded of Marley's potency, his ability to reach outside what reggae then was, a little-known Third World music form, to what it would become. Most hardcore
reggae fans regard Marley with affection, a key figure, but never listen to him much. It seems likely, for instance, that Adrian Sherwood and Creation Rebel may have been more seriously into Lee "Scratch" Perry, Prince Far I and the like. Indeed, the latter appears, despite being murdered in 1983, on the opening cut of Creation Rebel's first album in 40 years, Hostile Environment (the title is a repurposing of Prime Minister's Theresa May's term to describe what Britain should be for asylum seekers). Creation Rebel's original albums were the foundation stone on which Sherwood learned his trade and on which On-U Sound located a musical direction, their willingness to embrace some of punk's ethos, inventing a unique style of psychedelic collage dub along the way. Hostile Environment mingles classic organic dubs such as "That's More Like It" with rude boy rebel spirit (the likes of "Salutation Gardens"). Featuring guests such as Daddy Freddy, and Dean Fraser, and arriving on sunshine bright yellow vinyl, it's another delicious addition to the On-U catalogue. Comes with a 12" x 12" portrait on card of late band member Keith "Lizard" Logan.
Pharoah Sanders Pharoah Boxset (Luka Bop) + Johnny Griffin Live at Ronnie Scott's 1964 (Gearbox) + Berke Can Özcan featuring Arve Henriksen & Jonah Parzen-Johnson Twin Rocks (Omni Sound) + Vilhelm Bromander In This Forever Unfolding Moment (Thanatosis)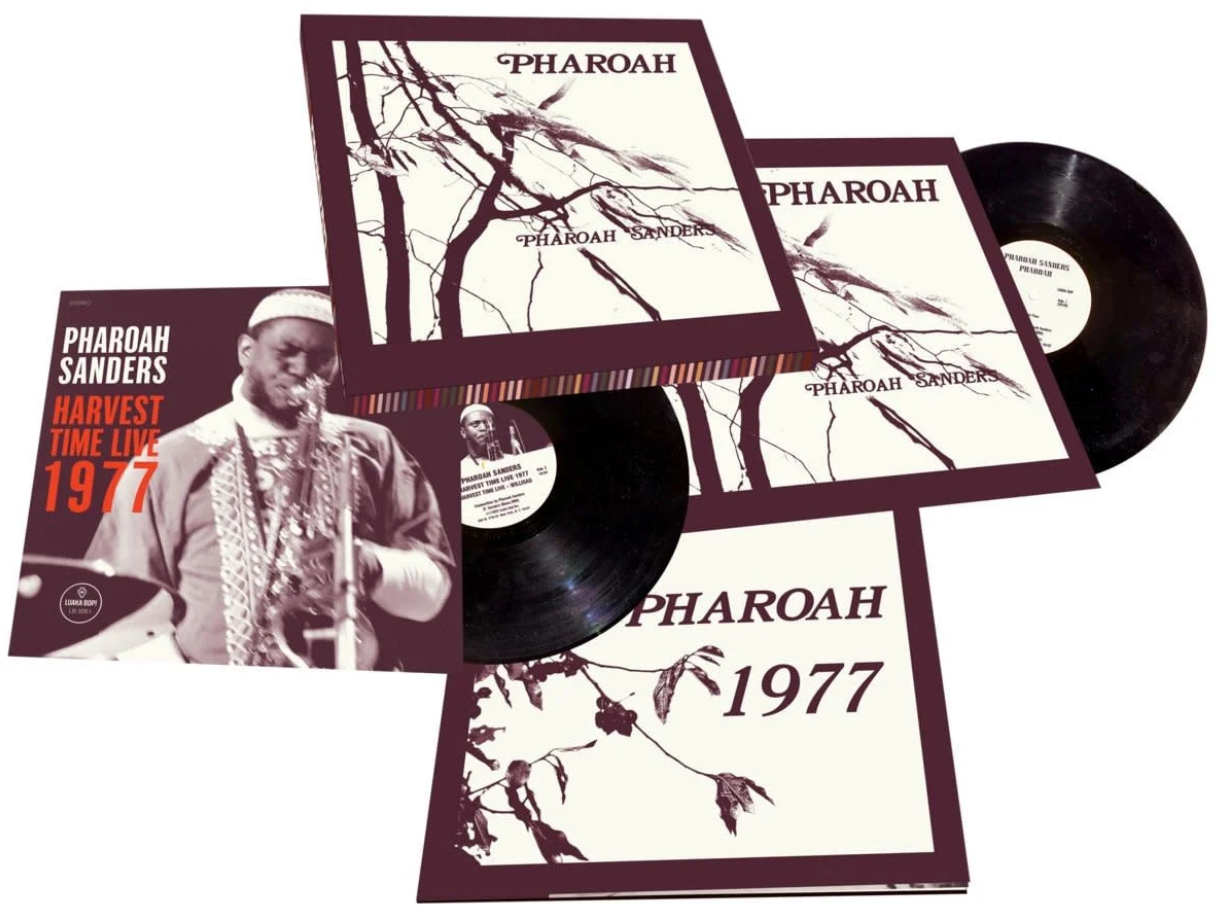 And so to Part Two of the jazz deluge! Pharoah Sanders, on his own and via his associations with John and Alice Coltrane, is one the key figures in 20th century jazz, particularly in the Sixties and Seventies. He took learnings from his John Coltrane collaborations – as did Coltrane from him – and moved from strident free jazz attack to something subtler, more spiritual. Pharoah, which appeared in 1976, did not receive the plaudits it deserved at the time but has slowly grown in stature. It's easy to see why. The three tracks, "Harvest Time" (20 minutes), "Love Will Find a Way" (15 minutes) and "Memories of Edith Johnson" (seven minutes) have a rough-edged organic roll, an appealing, almost-messy stew tinted with Middle Eastern and African sounds, featuring Sanders' wife Bedria Sanders on harmonium (an instrument she did not know!). "Harvest Time" fits well with post-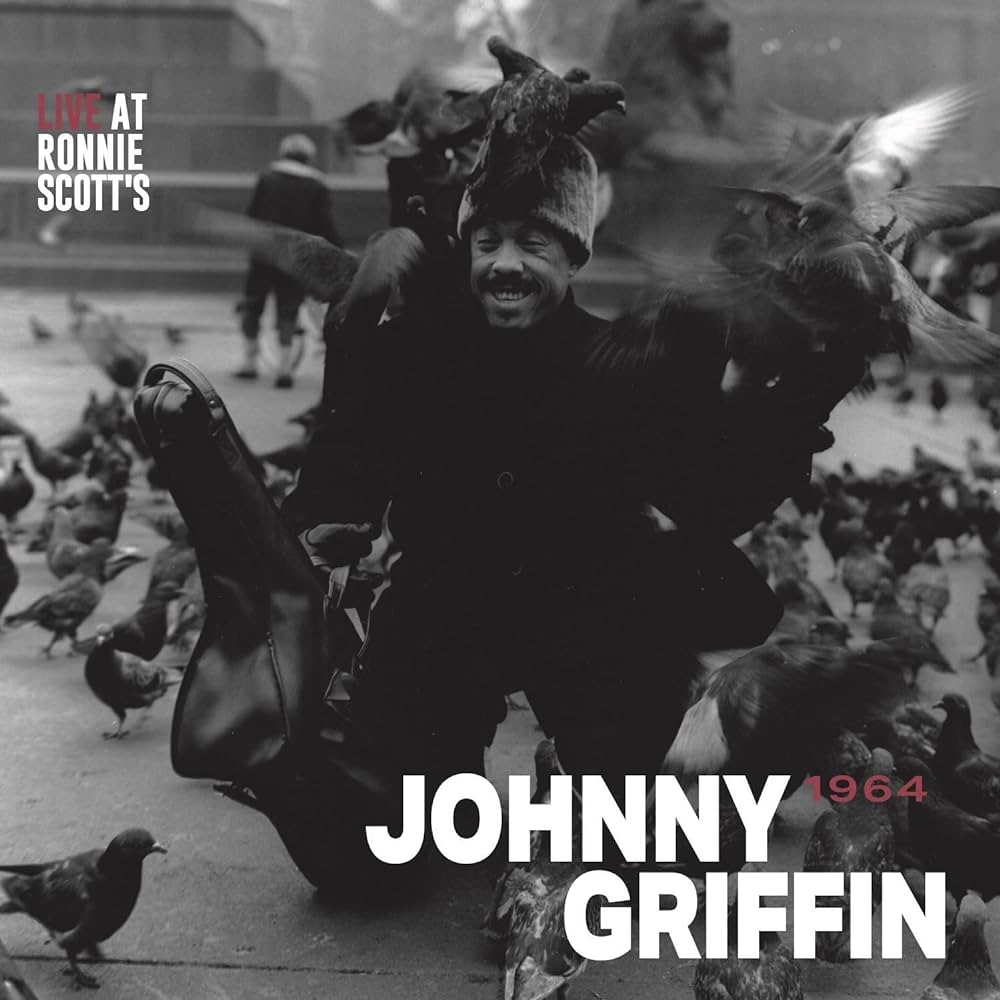 Nineties exploratory downtempo music, flavoured by global sounds, while "Love Will Find a Way", a proper song with vocals by Sanders, has a rolling funkiness, and "Memories..." is an organ-addled psychedelic splurge. The boxset also contains two genially sprawling live versions of "Harvest Time" which, if you have the time and inclination to let your head float off, are well worth a listen. Comes with a 12" x 12" booklet of photos and background, a replica black'n'white contact sheet, a poster for the International Montmartre Jazz Festival of 1977, a photo print of Sanders, a replica New York Daily News review, a replica ticket, a set of smaller photos, and a replica page of handwritten score. In January 1964, just over three years after Ronnie Scott's Jazz Club began, and a year before it moved from Chinatown to its current Frith Street location, it hosted Chicago tenor saxophonist Johhny Griffin. Griffin had recently moved to Europe and was
enjoying being feted there. Over four sides of vinyl in a gatefold containing a background essay, he sounds loose, flying free, and this set is very much about his solo-ing, with in-house sidesmen pianist Stan Tracey, bassist Malcolm Cecil, and drummer Jackie Dougan providing supporting architecture. Griffin's career went back to Forties big bands but had embraced early bebop and his style melds both with fluidity and ease. Turkish musician Berke Can Özcan's latest album consists of two tracks, one per side, that come in at over 15 minutes long each. They aim to conjure Lycia, the Anatolian region that was a successful state many centuries before the birth of Christ. Özcan provides an atmospheric soundbed, busy with percussion and effects, as well as his vocals, while the first side features Norwegian trumpet-player Arve Henriksen and Side B features New York baritone saxophonist Jonah Parzen-Johnson. Both players don't forefront themselves but, instead, mould into the rich tapestry of sound, adding up to something dense, original and occasionally otherworldly. The debut from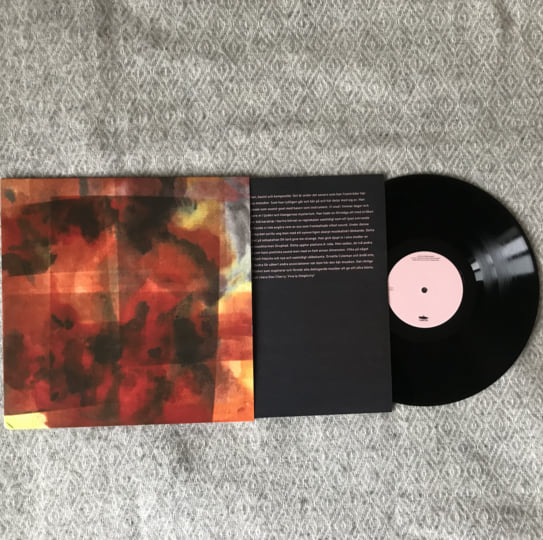 Swedish double bassist Vilhelm Bromander's new 13-piece ensemble is equally – if nor more – cosmic in intent and outcome, as its title suggests (In This Forever Unfolding Moment). Side A is centred on the ancient Hindu classical music dhrupad, strongly featuring singer Marianne Svašek for much of its one-track length, before exploding into wildness, with the brass and woodwind letting rip. The first track on Side B blossoms into something akin to Ornette Coleman at his most off-the-hook, but settles to the sweet and ambient twinkling of second track "Blommor Och Bröd". Ambitious and sometimes not immediate, this is an album for those seeking a meeting of spiritual jazz and the avant-garde.
Melenas Ahora (Trouble in Mind)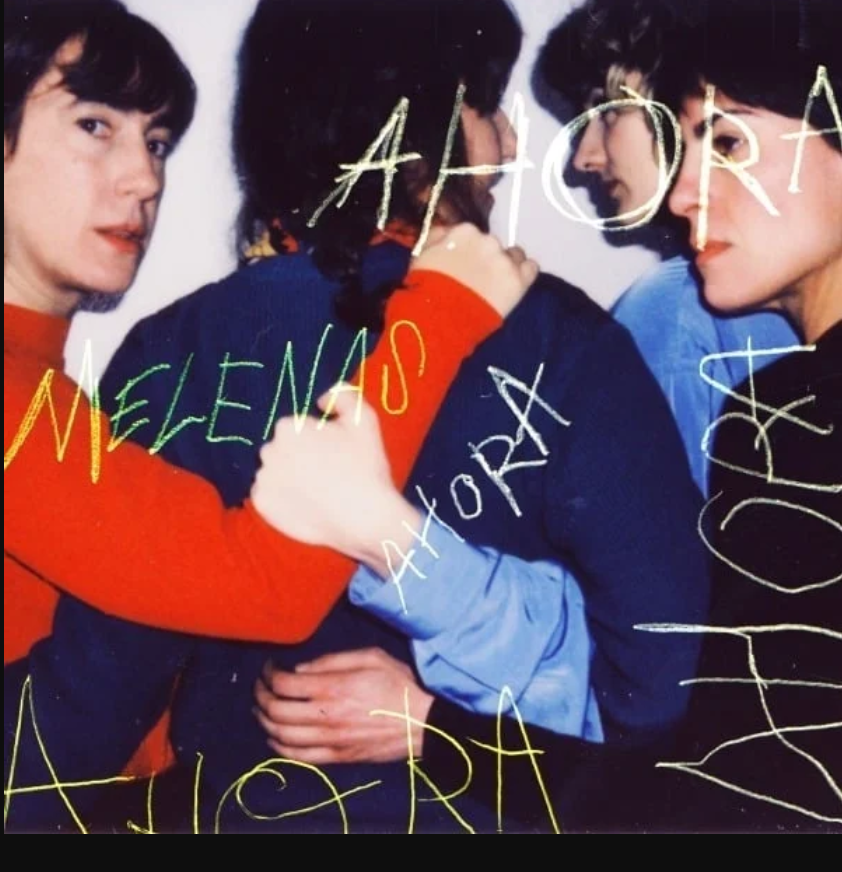 Previously, on their first two albums, all-female Pamplona four-piece Melenas majored in jangly indie with a dose of Sixties garage spice, and a sweet way with a melodic vocal. Their third album, though, is much more interesting. They've maintained the sweetness but attached it to motorik rhythms and analogue synths, occasionally sounding a bit Stereolab but mostly their very own stately Teuton-Hispanic pop. During the last two or three years Spanish indie has taken to exploring the musical landscape and magpie-picking what it fancies. Melenas sound reborn on Ahora. Comes with 12" x 12" photo/lyric insert.
Melodiesinfonie Softboi (Melodiesinfonie)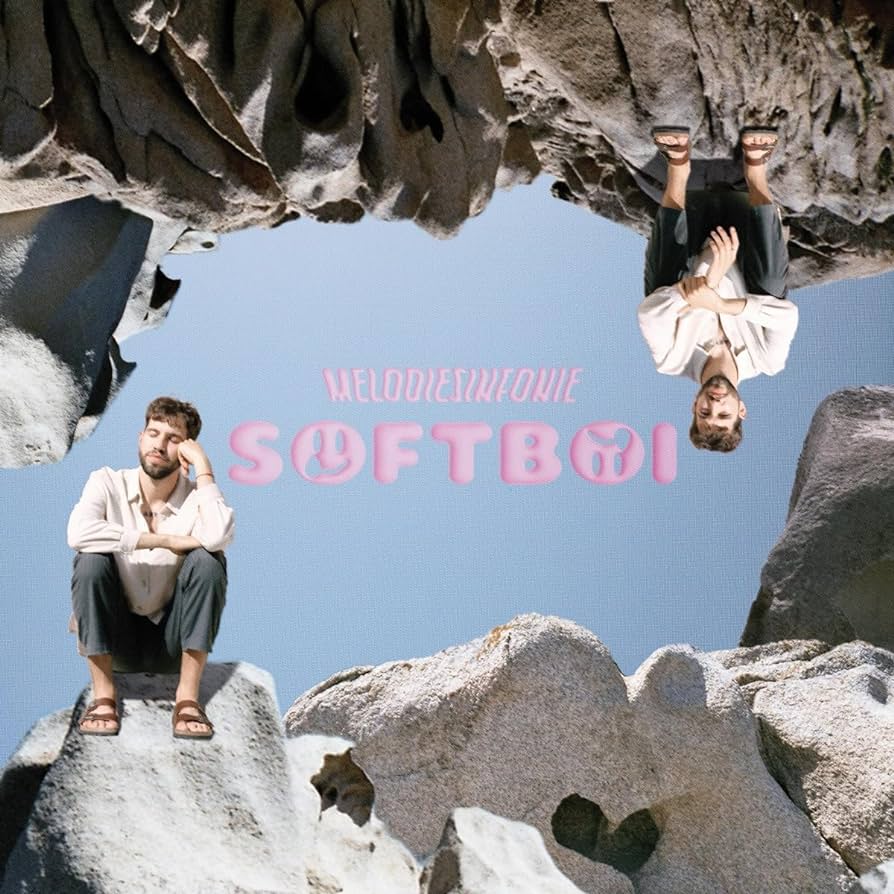 On the outer sleeve of his latest album Swiss producer Kevin Wettstein, AKA the awkwardly-named Medlodiesinfonie, tells us to "celebrate the beauty of being soft" and proceeds to do so over 10 tracks, including the vinyl-only bonus songs "Walking Ducks" and "Bye". The mood throughout is entirely redolent of lying in a hammock on a breezy, hot, sun-dappled day, a mixture of faintly Hawaiian beach exotica, drifting lounge-funk, and the lightest snifter of trip hop. Partly instrumental there are also wafting songs sung in English, German and Portuguese; the opener featuring Claudia Isaki's lazy Amy Winehouse-ish delivery is particularly notable. Come on vinyl, that, contrary to the music, is a smudged blur of dark blue and dark green, like the bruising of the sky before a storm.
ALSO WORTHY OF MENTION
Stornoway Dig the Mountain (Cooking Vinyl): Folkies Stornoway split up in 2016 but festival interest has revived the band and they now return with an impressive comeback album. Ranging from choral the aspects of "Bag in the Wind" to the acoustically plucked mystical seafaring of "Sea Legs", quite a chunk of it is not my bag (the title track especially), but there's a sense throughout of a band rediscovering what they love doing, not going back over old ground, heading off in new directions, accompanied by some musicians' musicians, such as Fyfe Dangerfield of Guillemots, thriving folkie Sam Lee, and Chinese musician Yijia Tu. The single "Trouble With the Green" is a noticeably ear-grabbing and original song. Comes on muddy gold vinyl in art/info inner sleeve.
Half Moon Run Salt (BMG): Montreal indie band Half Moon Run take a dive into kosmische rhythms on the opening song of their new album, Salt, but the rest of the record doesn't pursue that idea. Instead, it revels in poppy eclecticism, entertainingly swerving hither and thither, recalling The Eagles on one song and the Scissor Sisters the next. The band have been around a while. This is their fourth album. Very rare is the group where you can really hear how GOOD they've become at playing their instruments but who are not indulgent about it. Half Moon Run are one-such. Comes on white vinyl.
ĠENN Unum (Liminal Collective) + Jonathan Wilson Eat the Worm (BMG): Two albums that joyfully reimagine what indie rock might be. Both are unafraid of pop, global roots music or psychedelia, which is surely to their advantage. ĠENN are from Malta but are now based in Brighton and their debut album, often hued in Arabic scaling, is equally indebted to unhinged jam bands such as Goat, as Turkish psyche merchants like Gaye Su Akyol. Arriving in art gatefold on orange vinyl with 12" x 12" art/info insert, it's a bold opening statement, balancing songcraft with riffs, powerful female vocals, and wallowing guitar reverb. The key to its appeal, however, is an imaginative pop suss. Los Angeles producer and regular Father John Misty collaborator Jonathan Wilson is mostly known for his engagement with Americana and folk but Eat the Worm chucks all that out for a bonkers but often brilliant double album that fuses the eclectic mania of Arthur Lee's Love with heavier indie-rock tropes. Sounding LSD-buzzed, with quirked out lyrics (just check out "Wim Hof"), it's a rollicking album that's great fun, full of bounce and memorable tunes.
Move 78 Grains (Village Live) + Matana Roberts Coin Coin Chapter Five: In The Garden (Constellation) + Manuel Pasquinelli's Akku Quintet Kinema (Morpheus) + Frode Halti Avant Folk Triptyk (Jazzland): So much solidly decent jazz this month! Here's yet another lot. Move 78 are a Berlin outfit whose methodology is to combine programmed electronic sounds with live horns, flute, sax, viola and so on. Their third album takes the listener on a ride that's downtempo hip hop sunshine one minute and scuttling, snagged, cinematic soundscapes the next. The vinyl is limited to 500 copies and comes in info inner sleeve. If in the mood, mostly holds the attention. The latest chapter in New York saxophonist-radical Matana Roberts' Coin Coin album series is not as smooth a listen, nor is it supposed to be. Coin Coin will eventually be a kind of sonic avant-garde novel of 12 chapters, each broaching the African-American experience. Chapter Five hones in explicitly on black womanhood, reproductive rights, motherhood, bodies, and related. The lyrics in songs such as "How Prophetic" and "Unbeknownst" lay this out for those in doubt of about what the majority instrumental album is trying to say. In The Garden could drift into pretension and preachiness but, instead, maintains import and artistic interest. Also comes with a 10" x 10" four-page booklet wherein Roberts further lays out the work's thesis. Drummer Manual Pasquinelli is well-known in Swiss jazz circles for his boundary-pushing albums and live sets that have physical zest. His fifth album, the press release suggests, is in thrall to post-punk and electronic music. It is, indeed, but not in an explicit or obvious way. Instead, alongside Pasquinelli's drums, the piano, sax, guitar and bass meld and/or bounce off each other in a way that's usually energized and ear-intriguing. My favourite of these four, though, is Triptyk, the third album by a collective drawn together Norwegian accordion-player Frode Halti. The aim of the game seems to be bouncing jazz into folk music, as the band name suggests. It's a success. Opening "Trippar" lays it all out in one tune, then Side A wanders off into likeable ambient explorations, leaving it Side B to let jazz lead on the ever-changing 12-minute odyssey "Pillar" before ending on the slow blown folk-jazz melancholy of "Bu, Mi Tid".
The Blind Boys of Alabama Echoes of the South (Single Lock): You think The Rolling Stones have been going awhile? Check out The Blind Boys of Alabama, who have beena round since shortly before Hitler invaded Poland. Naturally, in that time, members of the great gospel institution have left for that great singalong in the sky. Their latest album, indeed, is a tribute to two longstanding members lost, Ben Moore and Paul Beasley, as well as recently retired band leader Jimmy Carter. The remaining members are no spring chickens but on these 12 songs muster a roosty unforced joy and an earthy authenticity. It's unlikely to drag in a whole new wave of fans but it also flies the flag of their tradition high, honouring what they do and holding its own, the passion in their voices undimmed.
X-Press 2 Thee (Acid Jazz) + Fatboy Slim You've Come a Long Way, Baby (Skint/BMG) : Two albums by sturdy Nineties dance bods whose careers peaked as the decade ended. Rocky & Diesel were and are a DJ duo whose production/remix team X-Press 2 (at one stage with Ashley Beedle) were a regular feature of clubland but whose commercial peak, by far, was their 2002 almost-chart-topper "Lazy", featuring David Byrne. They return, after a break of eight years, with a new album, a double. Proper house music was always X-Press 2's home territory and, aside from "Phasing You Out", featuring Kele Okereke, Thee is as much a DJ tool as a listening album. It contains 10 meaty pulsers that ride the joins between techno and house, like the last 20 years didn't happen, not attempting to woo the unconverted but providing solid 2.00 AM moments those riding that endless love train. It seems like only yesterday that I was reviewing the 20th anniversary release of Norman Cook's whopper of a chart-topping album, but here it comes again as a gatefold double 25th Anniversary edition, well mastered at Abbey Road. In all honesty, what I said in 2018 applies exactly now (especially the bit about the ubiquity of gyms) and I won't top it here, so go here, scroll down, and have a read.
Grant Lee Buffalo Copperopolis + Jubilee (Chrysalis): Following the reissue of their first two albums, LA grunge-adjacent three-piece Grant Lee Buffalo now release their last two, Copperopolis from 1996 and Jubilee from 1998,. Both arrive, pressed fat'n'loud over four sides of clear vinyl in gatefold sleeves. Produced by bassist Paul Kimble, Copperpolis burnishes their Neil Young-ish sound, painting it on a larger canvas. It sounds epic yet intimate, even a touch like The Psychedelic Furs in places. It's a step forward from what came before without losing the core sense of what the band does. Jubilee, meanwhile, has more ebullient sound, coming on like a huge hit album, which it wasn't, although it did have the band's biggest ever single "Truly, Truly" (which still wasn't a proper hit – the only place they ever made the Top 10 was the Norwegian album charts, albeit not for this album!). Stirring in psychedelia and crunchy pop-rock on songs such as "Seconds" and "Fine How D'Ya Do", Jubilee combines smart lyricism with catchy tunes.
Laura Misch Sample the Sky (One Little Independent): An album that investigates the ways orchestration, traditional and otherwise, can be used to create new types of popular music, skirting modern classical, ambient, easy listening and other nearby pastures to find its own thing. The debut album from London saxophonist-composer Laura Misch doesn't sound like Kate Bush – it's more polite, choral, and musically gentle – but it does have some of that star singer's robust desire to push boundaries on a suite of songs, interconnected in spirit, which float by in a thoughtful, blissed haze. Misch has found a mood – electro-organic, airy – and builds a small world within it via her singing and sax.
Adam and the Ants Young Parisians/Lady (Decca) + Keith Relf Mr Zero/Knowing (Demon) + Keith Relf Shapes in My Mind/Blue Sands (Demon) + Blood Incantation Luminescent Bridge (Century Media): Four singles in very different styles from very different eras. The debut single from Adam, with his Ants, was released in 1978, becoming a Top 10 hit two years later when reissued on the back of his success. Some, especially old punks, love Adam Ant's early material. I'm not in this camp and find both songs oddities. "Lady", while nursery rhyme catchy, is puerile, probably intentionally so. "Young Parisians" is a bizarre music-hall-punk Parisian café music pastiche. It's a frolic. But gimme the post-Kings of the Wild Frontier stuff any day. In the wake of their excellent All the Falling Angels compilation (thoroughly recommended!), Demon Records have been releasing singles by the Sixties psychedelic maverick Keith Relf, his post-Yardbirds fare. These two singles came out in 1966 and, with the exception of the bluesey jaunt "Blue Sands", are way ahead of the curve, the Walker Brothers-ish "Shapes in my Mind" and "Knowing" and the Barrett Floyd-y "Mr Zero". But the most exciting of this bunch of singles is a 12" by Denver death metallers Blood Incantation, featuring the nine minute blast beat prog slaughter of "Obliquity of the Ecliptic" and, by contrast, the near-10-minute illbient woosh of the instrumental "Luminescent Bridge". Both showcase a band keen to stretch the perceived limits of their genre of choice.
Tonique & Man Opening Soon (Tonique): After listening to their debut album, if you had to make a guess as to where the duo Tonique & Man hail from, well, it could only be France. From Dimitri From Paris to the whole "French Touch" movement to, of course, Daft Punk, the French have cornered the market in smoothly stylised, lightly poppy takes on updating disco. Thus is the case with Opening Soon a fluffy, puff pasty of falsetto vocals, lazy-sounding grooves, and beachside, helium-light songs. It's there and gone but leaves a fizzy strawberry aftertaste. My copy arrived in a branded pizza box with a white tee-shirt.
The Cinematic Orchestra Man With a Movie Camera (Ninja Tune): The Cinematic Orchestra's Man With a Movie Camera soundtrack appeared 74 years after the film it accompanies. Dziga Vertov was a Marxist filmmaker of the kino school, a movement that wished to inject absolute realism into cinema (and rejected fictional storytelling). His crowning work was Man With a Movie Camera, an avant-garde outing that's credited with quantum leaps in cinematic technique. This soundtrack, meanwhile, appears in a chunky double in gatefold on grey and white vinyl, a 20th anniversary edition. By the time of its creation's Jason Swinscoe's Cinematic Orchestra were already established amongst the wave of chill-out/trip hop/downtempo/smokers'-groove acts that prospered during the long comedown from the 1990s. Indeed, there are repurposed cuts from his 2002 album Every Day. Swinscoe's USP was (and is) to inject a classicist's rigour to a sound that was dominated by hip hop bedroom producers. Taken out of context, it doesn't drag me in but I'd hazard it works well with the film.
Richard Hawley Now Then: The Very Best of Richard Hawley (BMG) + Billy Bragg The Roaring 40: 1983-2023 (Coking Vinyl): A couple of greatest hits collections by two sturdy, worthy staples of dad-rock. Richard Hawley and Billy Bragg both actively engage in excavating popular music's early history for inspiration. They are not futurists, they are songsmiths conscious of the musical path they're treading and its lineage. Hawley's oeuvre walks a path between the twangy post-rock'n'roll sound exemplified by his magnificent recent Little Bangers compilation (Link Wray, etc), and ballad singers such as Roy Orbison and Bobby Darin, with a smidgeon of Bruce Springsteen thrown in occasionally for good measure (especially on "Heart of Oak"). From his only Top 40 hit (just!) the Morrissey-meets-Matt Munro easy listening of "Tonight the Streets are Ours", to the sheer skiffle of "Serious" to his elegant cover of Bob Dylan's impeccable "Ballad of a Thin Man", Hawley knows his territory and inhabits it with confidence over two records on double gatefold. Billy Bragg is the decent Englishman incarnate. His new collection is all his biggies, 13 songs on a single album. It takes us from the raw, post-punk, one-man-band heart-on-sleeve songs that made his name, Kirsty MacColl's "A New England" and "Between the Wars", through indie-sounding cuts such as "Sexuality" and fatter, soul-favoured pieces such as "Upfield", then back to connecting with his roots on "The L&N Don't Stop Here Anymore", with US country folker Joe Henry. Throughout, his sung commitment to the common good is solid. For me, Bragg is best enjoyed as a live entity, but this collection showcases a singer who never swerves from an admirable philosophical path.
Fantastic Twins Two is Not a Number (House of Slessor) + Teeth Of The Sea Hive (Rocket) + Markus Floats Fourth Album (Constellation) Three albums that take an original sally at the space where deep electronica runs into synth-pop. Berlin-based French producer Julienne Dessagne is Fantastic Twins and her second album, Two is Not a Number, combines wibbly electro with a doomed ambience and occasional interludes of her vocalising and singing. It's faintly akin to Miss Kittin but very much its own thing. One number, the morose "Land of Pleasure Hi-Fi", is especially outstanding, but the whole is worth a plunge. Comes on blue vinyl. The latest album from Rocket Records outlier indie perennials Teeth Of The Sea, on the other hand, comes on fluorescent lime vinyl and, well, it's certainly not indie. It's more akin to Add N To X-style electronic crunch, albeit less abrasive, and with more of a consistent kosmische rhythm running through the whole thing. It's as much a trip as a set of songs, a mood of fuzzed synth atmospheres interlaced with actual tunes and moments of cinematic retro-sci-fi euphoria, all leading the listener along effectively. Comes in a striking colourful art/info inner sleeve. The only similarity with Canadian producer Markus "Floats" Lake's Fourth Album is an interest in that same motorik rhythm section. Unlike the two aforementioned albums, there's no vocal element, also a relationship with modern classical minimalism. Yet these bleepy revolving numbers have a tuneful sensibility too, a Philip Glass-ish playfulness that gives juice and friendliness to what might otherwise be an esoteric exercise. Numbers such as "AS ABOVE" have the quirkiness of long-forgotten acts such as Plone and Pluxus, but spiked with wilful avant-gardism. Comes in art inner sleeve with a set of three bright art prints.
Super Furry Animals Phantom Power (BMG): The 20th anniversary release of Super Furry Animals' Phantom Power sees them amid the peak phase of their popularity and powers. The album returns with a die-cut front cover on double vinyl in gatefold, put together from the original mixdown tapes, nailing the largest sound possible in the grooves. The band balance joyous indie-pop with swirling psychedelic edging. Whether that's the Gram Parsons-ish stylings of "Sex, War & Robots" or the motorik grooves of the more-ish "Out of Control" and "Valet Larking", melody and harmony are never far away.
Super City InTheMidnightRoom (Sofa Burn): Baltimore band Super City are a side project of Bodega's Dan Ryan. Except maybe they're not such a side project, judging from the quality of the songs on their third album. InTheMidnightRoom is a restless creature, opening with "Getouttahere", which comes on like The Knack or some 1979 new wave mod band. It's a great little punky moment. But, before long, Ryan is indulging in everything from Talking Heads-ish funk to melodramatic torch songs. I don't like all of it but the best of it hits the button. It's original and never boring. Comes with 11" x 11" lyric insert.
East Village Drop Out (Heavenly): East Village were early-Nineties also-rans who originated in Byrds-y 1980s jangle-indie and put together Drop Out in 1990, adding a strong flavour of The Stone Roses to their musical mixture. Indeed, it has moments that sound like big Primal Scream numbers from the period. At the time the album languished unreleased for a multiplicity of reasons described in detail by Jon Savage in the 12" x 12" art/info insert. Eventually released in 1993, after the band had split, it was very much a snapshot by then (and is still now) of a particular era, the "baggy" time. As vocalist-guitarist Paul Kelly says in the notes, "Oasis were just around the corner so [if we'd reformed] the timing would have been a lot better for us." It's a valid point. For afficionados of that brief MDMA+indie-guitars era, it's a solid addition to the canon.
dadá Joãozinho tds bem Global (Innovative Leisure): João Rocha gives Brazilian music a fresh spin on his debut album, tds bem Global. Based in São Paulo, but hailing from Niterói, near Rio de Janeiro, he's musically restless and reckless, taking the ghost of pop-reggaeton and shoving it into a hip hop swirl of urban styles from his adopted home city. It's original and, at first, I wasn't sure whether it appealed or is just noticeable for its strangeness, but I'm settling in now. In places it's even oddly psychedelic. Keep an eye on this one. Comes with a black'n'white lyric/art insert.
Jerry Leger Donlands (Latent) + Broken Records The Dreamless Sleep of the 1990s (JSharp): A couple of country-ish singer-songwriters whose work has meat on the bone, articulate emotional heft. Jerry Leger is an epically prolific Toronto songsmith whose wordy songs come across like the kind one might hear in a late night bar where the man at the piano has given in to his desire to poet his life to the few remaining whisky-soaked punters. It's sparse, literate, and nocturnal, and has a Leonard Cohen-esque aspect, but his voice is a younger more hopeful thing. Comes in lyric inner sleeve. Going on 15 years ago Edinburgh band Broken Records, signed to 4AD, looked to be on their way to a level of success that didn't happen, but they've maintained a career and a following. Their latest release maintains their sense of passion, heartfelt, somewhere between Tindersticks and Arcade Fire. Not my thing but, judging from this, I'm surprised they're not bigger with earnest indie sorts.
Circus Underwater Circus Underwater (Soundway): This album comes with a gripping, revealing, tightly-printed 12" x 12" info/photo insert in which one half of Circus Underwater, Richard Sales, tells his life story alongside that of his late Circus Underwater musical partner Jay Yarnall. The pair of them are very much children of the 1960s counterculture, Grateful Dead fellow travellers, and, boy, did they throw themselves at the druggy hedonism. Yarnell became paraplegic after jumping out of a second storey window on STP (mega-LSD) in 1966 but that didn't stop him being a force to be reckoned with or the pair working together. Circus Underwater is their 1983 synth project. It's heavily influenced by Dead-style jamming and sounds as stoned (and self-indulgent!) as the mood they were self-admittedly in. It also has moments that rise from the brain noodle, such as the mantric psychedelia of "Surface of the Water". On double vinyl it's an unearthed oddity for unreconstituted Seventies hippies (as well as, perhaps, Ozric Tentacles fans) everywhere.
AND WHILE WE'RE HERE
The latest album from Canadian country singer Bahamas – AKA Afie Jurvanen – is called Bootcut, on Brushfire Records. His music has a light, almost tropical, self-referential feel that sometimes recalls wry old Jimmy Buffett, as on songs such as "I'm Still", but mostly his sound is earthed closer to Willie Nelson. Ether way, his new album sneaks up on the listener, by combining simplicity, songwriting and intelligence. Comes in photo/lyric/info inner sleeve. Female-fronted Essex quartet She's In Parties fire out their debut EP, a four-tracker which, as their name may suggest, has an alt-Eighties feel… not Bauhaus, though, more like a loose fusion of The Cure and Strawberry Switchblade, with a dash of Slowdive. The best song, "Summer Haze", a tuneful mid-paced affair about weed paranoia, hints at a future. It's on transparent yellow vinyl. Samuel Nicholson dwells in the indie meadows too. He's more singer-songwriter-ish, but the songs on his latest album, Birthday Suit, on his eponymous label, are band-based numbers, growling guitars topped with his extrovert gulping singing style, here'n'there hooky stuff, with a strong flavour of Suede. Comes on gatefold on milky pink vinyl. Over in Spain, another indie outfit, Belako, have maintained a ten-year career, slowly building a following for their original, female-led songs. Their latest album, Sigo Regando on their eponymous label via BMG, continues the mission with aplomb, an unusual combination of post-punkery and quirked out alt-pop, spirited and underivative. Comes on transparent vinyl. In US indie band terms Wilco are just always there, ploughing their Wilco furrow, but bringing in Cate Le Bon to produce their latest album, Cousin on dBPM, turns out be an inspired move. It's an album where singer Jeff Tweedy's state-of-our-broken-nation lyricism and worn-down tones are matched by a creaky, fuzzed, low level glitchiness in the music. It's a quietly potent conversion and succeeds much better than Le Bon's innovative but ill-fitting recent work with Devendra Banhart. Shadwick Wilde, of low-level indie perennials Quiet Hollers, had a burst of solo creativity in 2020, writing three albums of material. Forever Home is one of them, put together in Nashville with producer and ex-Wilco drummer Ben Coomer. It's not country, more singer-songwriter fare that dabbles about stylistically but deliberately never really turns up the heat. A poky intimate set. Comes with 12" x 12" photo/lyric insert on vinyl that looks like green, smoky murk deriving from an experiment that Michael Fassbender might carry out in one of those Alien prequels. More abrasive and punk is Manic Pop Thrill on Demon Records, the 1986 debut album from That Petrol Emotion, an outfit created by two ex-Undertones with US singer Steve Mack. I used to like this band but, listening to this squalling attack of an album today, I'm not feeling it. Perhaps it was when they grew less cacophonic and more dancey later on... they were good live. Anyway, it's cut well to vinyl with a 12" x 12" four-page lyric pamphlet, including background on the band by writer John Harris. Knoel Scott is saxophonist with the Sun Ra Arkestra. Aged 67 he releases his debut album, Celestial on Night Dreamer Records, which features Arkestra leader Marshall Allen (who's 99-years-old), amongst others. Its five tracks offer a varied feel, featuring squalling free jazz sax on a couple but, perhaps more interesting, are cuts such as the gentle "Blu Blues" and, especially, the title track, which features Allen on an EWI (Electronic Wind Instrument) that sounds like a 1950s Forbidden Planet-soundtrack-style synthesizer, as well as Scott's rough yet rich voice. Comes in photo/info inner sleeve with as a photo-led 12" x 12" insert. Sticking with jazz (again!) Get The Blessing haven't been around as long as Scott and Allen but they've still been around a while. Their new album, Pallett, on their own eponymous label, is their eighth in a quarter of a century of existence (albeit their first release was in 2008). All four members are busy as working musicians, so Get The Blessing must be a release to vent their own creativity. Pallett combines solid grooves, slow and speedier, with an icing of electronic swirl, and the topline taken by trumpet and sax. It's not leaping out but it's there doing its thing. If you like 'em already, you'll probably dig it. There's also a strong jazz flavour to Mr Bongo's With Love Volume 2 compilation, spread over two records on double in info-packed gatefold (there's also a 12" x 12" art/info insert). Put together by DJ Miche, it majors in the soul-funk end of things, making me think of old school Eighties soul boys, yellow Pringle jumpers, blond flicks, stone-washed jeans, Atlantic Starr records, despite a couple of respectable Latin cuts along the way. Also funkin' up the jazz are Apollo Suns from Winnipeg, out on the Canadian plains, with their debut album Departures on Do Right Music. Their music is filmic, big catchy brass motifs, but also laced with a 1970s prog feel, unafraid to take an easy listening spin when they fancy: fusion of a playful variety. Comes with 12" x 12" info insert. Producer Dirty Hairy makes instrumental hip hop but his debut album, Pegs, on his own Village Live Records, is still marinated in jazz. It's a wittily constructed laze of a record, lolloping beats playing off against vocal samples, including Barrack Obama, scratching, discreet backing vocals. It's a genial affair, slow, easy going, and unforced. Comes with 12" x 12" photo/info insert. Lukid is also a producer's producer and has been putting out esoteric fare for a decade-and-a-half. His latest album, Tilt on Glum Records, is woozily interesting, not so much drawn to beats as sections of sound, whether synthesized string sounds, bleeps or slivers of fuzzed vocal, weaving them into minimalist-influenced looping collages that vary between clonking and ambient. Leeds-based producer PJ Johnson records as Bug Teeth and their latest EP, Lucky Me, Lucky Mud, on the city's scene-supportive Come Play With Me Records, contains five songs that place Johnson's sweet vocals within groggy synth-scapes that are equal parts machine buzz and melodic ambience. The result is sometimes shoegazey and sometimes sweet'n'summery. There's something here. It will be interesting to see where they go. Comes on transparent grey-ish vinyl with a rather lovely art/lyric insert. Veteran LA electronic producer Gregg Kowalski also captures sunshine in his music on his new album Eso Es on Mexican Summer Records. Created using generative MIDI, its squiggles and splashes of sound meld and globule together in a post-minimalist plod that splodges itself through the ears and into the brainpan. It's original but subtly so. Moving further into ambience, albeit of the orchestral kind, is the skies, they shift like chords by Roger Eno on Deutsche Grammophon. Eno leads a small ensemble – synths, guitar, clarinet, sometimes additional strings, sometimes his piano, lonely, reverbed to the fore – for a set of 12 pieces that revel in the beauty of quietness. One number, "Strangely, I Dreamt", features effective, emotionally engaging singing by his daughter Cecily, but, mostly, this is an exercise in life-overview contemplation. Comes in art/info inner sleeve. Franco-Belgian singer Penelope Antena's third album, James & June, on New York label Youngbloods, explores downtempo as a canvas to mingle piano-centred songs with a lacing of well-wrought electronic manipulation and effects, resulting in a set that's like Joni Mitchell quietly attempting cosmic soul ballads in a dystopian cyber-ghetto. Worth a visit. I have sometimes enjoyed the output of Kronos Quartet and, more often, spent time with Philip Glass, so the 1995 album Kronos Quartet performs Philip Glass on Nonesuch should seem appealing. However, I admit that I come at modern classical from an appreciation of minimalism, avant-garde music, film music, electronica, and so on. I am not a fan of full-blown classical. That statement is trite but, as US music writer Mark Swed acknowledges in the introduction on the 12" x 12" photo/info insert, this album "may contain [Philip Glass's] most intimate music". I can hear Glass in there but my luggish ears are not hauled in. Delicate and beautiful, quite probably, for those regularly to be found at Wigmore Hall and the like, but it slid by me. Into the realms of experimentalism, the second album from Kazakh-Brit violinist-producer Galya Bisengalieva, Polygon on One Little Independent, is themed around the hidden Kazakh catastrophe of the Semipalatinsk Soviet nuclear test site, ostensibly "uninhabited" but, of course, in reality, its own human and environmental eco-system. The album features seven pieces of scuttling, tone music impressionism, as gloomy as the blue of the vinyl, the art on the inner sleeve, and the 12" x 12" insert. The self-titled album from Venera, like so much on Mike Patton's Ipecac label, is also experimental – and noisy. This is not so surprising, given that one half of them is James Shaffer of Korn. The other half is Atlanta filmmaker-musician Chris Hunt. Together they muster a doom-goth industrialism, soundscapes intermingle with clattering white noise attack. Often instrumental the album also features vocals from various guests, notably HEALTH. It's not friendly! Comes in art inner sleeve. Less abrasive but equally abstract is 3 by Off World (AKA Toronto electronic musician Sandro Perry) on Constellation Records. As its title suggest, it's the third and final part of a musical project. This time Perry's ambient wind instrument-ish soundbeds and dubscapes play off against violin and trumpet among other things. By far the best track is the 10-minute "Impulse Controller", a bubbling Orb-ish thing. Comes with a 12" 24" poster of the civer arg and a 12" x 12" info sheet.
FINALLY, THREE THAT HAVE ALREADY BEEN REVIEWED ON THEARTSDESK BUT WHICH ARE WORTH OWNING ON PLASTIC
OMD Bauhaus Staircase (100%): The fourth album since their 21st century reformation from the Eighties synth-pop innovators receives a full critique from me here.
Osmo Lindeman Electronic Works (Sahko): Kieron Tyler gets to grips with a collection of groundbreaking 1967-74 work by a Finnish synth innovator here.
Dexys The Feminine Divine (100%): Never backwards in coming forwards, Kevin Rowland's tuneful and theatrical unpacking of sexual liberation is put under the microscope by me here.
We welcome any and all vinyl for review. Please hit thomash.green@theartsdesk.com for a postal address.
The avant-garde can sometimes be fun!
Share this article