The Who: The Story of Tommy, BBC Four |

reviews, news & interviews
The Who: The Story of Tommy, BBC Four
The Who: The Story of Tommy, BBC Four
The making of Pete Townshend's 'rock opera' about the deaf, dumb and blind kid
Saturday, 26 October 2013
Amazing journey: The Who give it some onstage
Grand claims and superlatives were not lacking in this examination of The Who's fabled rock opera. "This is a quintessentially important creation," said Des McAnuff, the man who staged Tommy on Broadway and in London's West End. "This might just be the first pop masterpiece," wrote pop critic (and Pete Townshend's pinball-playing buddy) Nik Cohn in his review in 1969.
But Townshend himself was not blind to the dangers of Tommy's mystical pretensions. When Cohn, who'd loved The Who's early and frantically wired-up singles, complained that the Tommy concept was too po-faced and quasi-religious, it prompted Townshend to create the scintillating "Pinball Wizard" to lighten it up a bit. He also acknowledged the importance of drummer Keith Moon's Goon Show-like antics in "Tommy's Holiday Camp", which brought a bit of music-hall silliness to the album's themes of trauma and spiritual search (Pete Townshend at the piano, pictured below).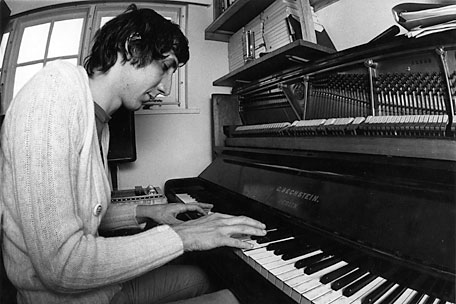 All of which went some way to explaining why Tommy has remained one of the benchmarks of rock's golden years. While the earnest, ever-analytical Townshend was consciously attempting to smuggle Importance into rock music, egged on enthusiastically by The Who's cultured and epicurean manager Kit Lambert, it was the way the four members of The Who interpreted and transformed the material and how a wider audience was able to see itself in the songs that has given it lasting power.
There was a telling moment when Townshend recalled coming to the recording studio one day, intending to sing the plaintive high parts in the song "See Me, Feel Me". Kit Lambert had decreed that Townshend should sing them, so the latter was taken aback to discover that Roger Daltrey, competitive to the hilt, had already recorded them in especially heart-rending style. Daltrey had found himself, as he put it, "inhabiting the music".
Townshend also needed to lean on his band-mates for help with some of the darker pieces on the album, like "Fiddle About" and its tale of the repulsive child-molesting Uncle Ernie. Townshend spoke frankly here about the bullying and neglect he'd suffered as a kid, and also retains some incomplete but murky memories of suffering "some weird shit" at the hands of his sinister grandmother. Struggling to get the required songs written, he asked bassist John Entwistle if he'd have a crack. Entwistle readily agreed, and accomplished the task so successfully that it made Townshend wonder what experiences of his own he might have been drawing on (Mike McInnerney's sleeve artwork for Tommy, below).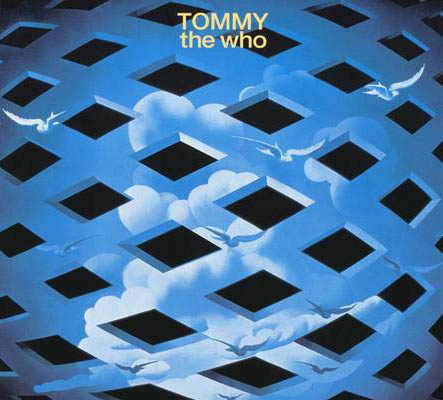 Tales of child abuse and neurological shut-down were hardly the common currency of Sixties pop music, or for that matter of society at large, so in that respect Tommy was prophetic of issues which would come to glaring prominence several decades later. The film also emphasised the way Tommy had enabled The Who to blossom into the globe-devouring rock titans they hadn't previously managed to become (the way it was told here, if Tommy had failed the band would have split up), since in live performance the songs somehow galvanised the group into staggering levels of performance they'd never achieved before. Symbolically, it was at this point that Daltrey, hitherto "just another pop singer" as he put it, was transformed into a tumble-haired, bare-chested rock'n'roll Adonis, a template for countless wannabe vocalists to come.
Even so, not everyone was convinced. Townshend wryly recalled how Bob Dylan had come to hear them play Tommy live in the States. His only comment was "I've got another appointment."
The Tommy Super Deluxe Edition will be released on 11 November 2013