theartsdesk in Berlin: The 60th Berlinale |

reviews, news & interviews
theartsdesk in Berlin: The 60th Berlinale
theartsdesk in Berlin: The 60th Berlinale
The 60th Berlinale turns up tales from far and wide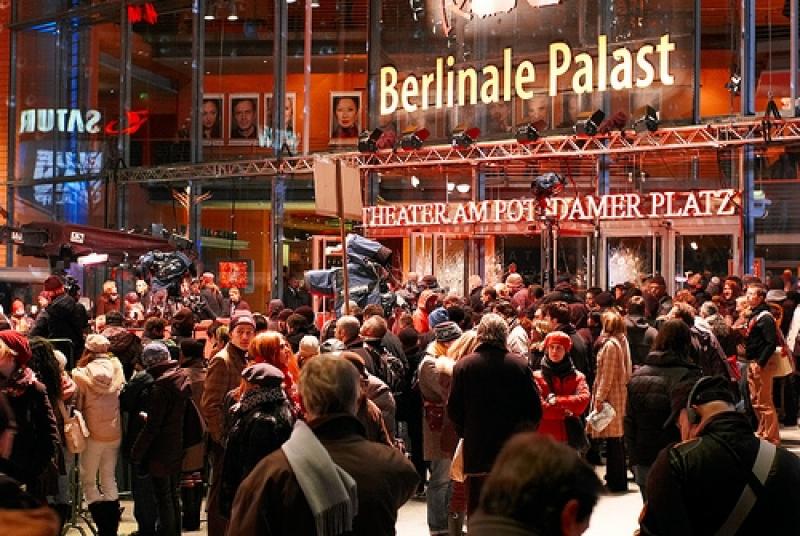 Red-carpet crowds: the heart of the Berlinale
The Palme d'Or at Cannes makes headlines. The Golden Bear in Berlin tends not to, and few films that win in competition at the German capital's annual film festival, the Berlinale, go on to command global clout, though that's no general reflection on the quality of entries.
This year's winner,
Bal
("Honey"), a lyrical story about a little boy and his father's beekeeping obsession, is the first, fully fledged Turkish film in recent memory to win; director Semih Kaplanoğlu might hope that
Bal
goes the same way as 2004's grim winner, Fatih Akin's
Gegen die Wand
, which, though German-funded and set mainly in Hamburg, was also about Turks and Turkey. As
Head-On
in English, it became - rather exceptionally from Berlin - an international hit.
In truth, Bal will probably reach enthusiastic but small audiences (it might even make the Oscar shortlist for Best Foreign Film, like last year's Golden Bear laureate, the exquisite La teta asustada, or The Milk of Sorrow, from Peru). The Berlin jury, this year headed by veteran German director Werner Herzog, invariably has a pronounced taste for the edgy and difficult and, rightly, eschews the big hitters.
In the latter category in 2010 was Roman Polanski's The Ghost Writer (The Ghost in the UK), starring Ewan McGregor and Pierce Brosnan, a less-than-taut thriller about a former British prime minister accused of war crimes - no prizes for guessing who that's based on - and more in sympathetic tribute (I'd guess) to a popular but absent director currently under house arrest in Switzerland than for the quality of his film, Polanski was duly awarded the Silver Bear for Best Director.
Commendably honest award-giving came the way of a remarkable Romanian film, Eu cănd vreau să fluier, fluier - "If I Want to Whistle, I Whistle" (yes, that really is the title) - which I reckoned might win; in the event, it picked up the Jury Grand Prix Silver Bear and the Alfred Bauer Prize for most innovative film. Adapted from a play, Florin Şerban's first feature tells the story of Silviu, a teenage delinquent in a correction centre who runs amok, and threatens to kill a social worker, Ana, when he learns that his mother is about to migrate to Italy with his infant brother. It's intimately shot, brilliantly plotted, and, with schoolboy George Piştereanu in the lead, thrillingly acted, as well as by real offenders and ex-offenders. I felt Piştereanu should have landed Best Actor, too, but that was shared by Grigori Dobrygin and Sergei Puskepalis in the Russian Kak ya provel etim letom ("How I Ended This Summer"), a psychological thriller set in the Arctic.
These aren't glamorous films, and even with the red carpet being graced this year by Leonardo DiCaprio (Scorsese's Shutter Island) and Julianne Moore (Lisa Cholodenko's The Kids Are Alright), Berlin does struggle to attract a world spotlight. Maybe it's something to do with the low-key time of year.
Chatting to the festival's director, Dieter Kosslick, I found this mustachioed, loquacious Swabian admitting, surprisingly in view of his position, that given a choice between eating lobster al fresco by the Mediterranean and tramping through slush and warding off flu, most sane people would naturally opt for Cannes in May over the Berlinale in February. But as chief of such a prestigious event, Herr Kosslick can, knowingly, no doubt get away with this. For someone like me, there's no choice. If I tried to see a film at Cannes, I'd be told I'd stand a better chance of gaining free passage to Algiers on Julia Roberts's yacht. Or someone's rowing boat.


Unfortunately this year, Berlin was also suffering from what Britain got rid of weeks ago: dirty, unmelted snow; treacherous pavements; lead-grey skies; a wind plainly blowing direct from Vladivostock... I could go on. Berliners do. Most I talked to were fed up with the winter. As if winters like this never land on Berlin: every Berlinale I've known has been perishing, if not quite as snowy as this one. So Dieter Kosslick might have a point, even if he's managed since 2001, when he took over, to turn this hibernal jamboree into what is in fact one of the most variegated film parties on the planet. Kosslick has a lightness of touch and a genuine catholicity of taste, having introduced, for example, a mini-film school lasting the duration of the festival, called the Talent Campus, and a rather unlikely but popular section dedicated to the culinary arts in film. He's also been unapologetic about waving a flag for new German cinema.


That said, the city has none of the fabled romance of Venice, or Cannes. And Berliners, as I've suggested, are moaners. They're hard-wired to complain, especially about Berlin's newer contours, such as Potsdamer Platz (pictured). This is the central agglomeration of high-rises and wild architectural enterprise created by the likes of Renzo Piano, Richard Rogers, Helmut Jahn and Hans Kollhoff. I love it but many Berliners claim not to. It's certainly better than the old death strip between east and west, which is what the Cold War Platz became, and a lot better than Centrepoint and the BT Tower; but no - Berliners find it brash, crass, and offensively commercial. (Come on, Berlin: you've been bankrupt for over a decade. Europe's newest capital needs something as funky and fun, and as potentially revenue-guzzling, as Potsdamer Platz.)
Now the heart of the Berlinale (the festival used to be based around graceful theatres near Zoo Station and the Kurfürstendamm, in the city's western sector), the area abounds in super-comfortable cinemas, with the flagship Berlinale Palast screening premières over ten nights. The Berlinale is, above all, about watching films - and that's what I've done over a decade of attendance at the festival: seen some of the most stimulating films from around the world, and this includes in the richly stocked and imaginative non-competition sections, the Forum and the Panorama.
The latter always yields surprises, and one such this year was Por tu culpa (clunkily translated as "It's Your Fault"), from Argentina, about a young mother who, taking her small boy to hospital after he falls from her bed and breaks his arm, finds herself suspected of domestic abuse. The tension as it dawns on her that she might lose her boy and his older brother is insidiously, superbly generated, and simply done: in a chilly hospital corridor, the camera plays, for long minutes, over actress Erica Rivas's nervous body and very sympathetic, bewildered face.
OK, this might be a bit arty, and not terribly upbeat, but the Berlinale is good at throwing up challenges. Surely that's what an international arts festival should do: open portals to a wide, complex, dissatisfied world. That's what's truly global about the Berlinale. And when you're not watching films, you can scoot off to any one (or many) of the thousands of bars and cafés where you can eat well and cheaply, which don't give a fig about celebs and which stay open until two in the morning. Give me the bracing corners of a cold Berlin over lobster by the Mediterranean any day.