Berlinale 2013: The Grandmaster, Promised Land, More Than Honey |

reviews, news & interviews
Berlinale 2013: The Grandmaster, Promised Land, More Than Honey
Berlinale 2013: The Grandmaster, Promised Land, More Than Honey
Festival opens with chop socky, while Matt Damon does fracking and bees star in own documentary
Saturday, 09 February 2013
Breaking and bashing, crashing and smashing: Zhang Ziyi in Wong Kar-Wai's 'The Grandmaster'
Ecology at the first full day of the Berlin film festival. An intriguing Matt Damon city-versus-country movie, Promised Land, puts fracking into the mainstream for the first time. Damon plays Steve Butler, an eager corporate buyer of leases in rural America to enable his New York employers Global to start deep drilling for massively lucrative natural gas.
In a failing Pennsylvania small town Butler runs up against ancestral devotion to farming and an incomprehensible aversion to instant fortune, and into (of course) a pretty schoolteacher Alice (Rosemarie De Witt). In her inherited home she's undecided both about Global's intentions and the place Butler might or might not take in her life.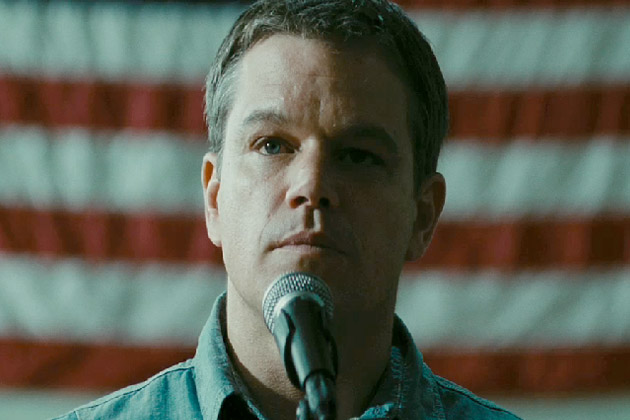 John Krasinski, co-writer and co-producer with Damon, is slick, clever and uncomfortably charismatic as eco-campaigner Dustin slinging dirt at Global's machinations; yet he is not what he seems. Frances McDormand is incredibly cool as Butler's colleague and minder Sue.
The film has tanked in North America, as Damon (pictured above right) freely admitted at the Berlin press conference, but Gus van Sant has directed an emotionally and politically complex drama. If narrative logic wobbles with the Dustin plot, perhaps the film also sails too close to Americans' inner conflicts about territory and property, industrial voracity and worship of the dollar for instant box-office huggability.
Just as topical as fracking is the dying of bees. Swiss Markus Imhoof's More Than Honey, which premiered at Locarno last August, is a troubling survey across four continents - Europe, the US, Asia and Australia - of the crisis, or crises, in the sustainability of the pollinators essential to one-third of the food humanity eats. The micro-cinematography of this awesome documentary, shown just once in Berlin, is an ocular feast. The film might well break out in the most unexpected way.
Mere breaking and bashing, crashing and smashing, are what we have in Wong Kar Wai's kung-fu epic The Grandmaster. It opened the Berlinale on Thursday for reasons that are beyond me - apart from its director being this year's jury president, which, at a pinch, is an understandable one. Millions out there will claim it's a masterpiece of its genre and that it'll earn similar millions. Others might feel that it egregiously hand-chops its way into time that'd be better spent doing almost anything else, so roll on, please, the ambiguous, politically controversial and psychologically adventurous fare that normally makes the Berlinale such a break from the predictable, and invariably a blast.
The film has tanked in North America, as Damon freely admitted at the Berlin press conference
Explore topics
Share this article