theartsdesk in Berlin: The 62nd Berlinale |

reviews, news & interviews
theartsdesk in Berlin: The 62nd Berlinale
theartsdesk in Berlin: The 62nd Berlinale
Love, war and Brangelina in the German capital's annual film fest - and a shock winner
Prisoners in an Italian maximum-security jail perform Shakespeare in Golden Bear winner 'Cesare deve morire'
In a major festival upset last night, the Taviani brothers Paolo and Vittorio won the 2012 Berlinale's best-film award, the Golden Bear. Their film, Cesare deve morire (Caesar Must Die), defies categories. Set in Rome's Rebibbia maximum security jail, this extraordinary hour and a quarter charts the making by inmates of a production of Shakespeare's Julius Caesar.
The sheer daring and troubling intimacy the directors bring to the dozen-plus prisoners' engagement with drama clearly knocked sideways the Berlin jury, headed by Mike Leigh. There was much else to choose from, including Barbara, a more regular feature (and frontrunner, it was thought) by the German Christian Petzold, who won Best Director.
From hardened criminals to kids: there were lots of children around the festival this year. In one of the showier first weekend screenings, young Thomas Horn ran through New York like a satchelled brat out of hell in the 9/11 threnody, Extremely Loud and Incredibly Close. It is, as an artsdesk colleague has already proposed, an unsatisfactory affair. Much edgier kid stuff came from Spain in the form of Dictado by Antonio Chavarrías. Things seem normal for Daniel (Juan Diego Botto) and Laura, two teachers living together; they don't have children but Laura yearns to be a mother. An old friend of Daniel's, Mario, visits Daniel to remind him of some awkward plot from the past. Mario then climbs into a bath with his little daughter Julia (Mágica Pérez) and slits his wrists.
The couple take Julia in. It transpires that as boys Daniel and Mario committed the most dreadful crime against another girl – a haunting (coincidental) evocation of the James Bulger case – and Julia has now appeared like a sweet pretty virus to curdle Daniel's conscience (Botto and Pérez, pictured above). The connection between present and past is a dictation, dictado, a rhyme, which the killed child learnt and Julia can also recite. In a taut, unaffected thriller, Chavarrías brilliantly explores memory, repression, innocence and guilt. And in a Spain still troubled by its dictatorship – besieged Judge Baltasar Garzón being the virus here – it is not preposterous to suggest that Dictado touches more than glancingly on some of the unaddressed crimes of the country's murderous civil conflict of 1936-9.
More, sad to report, of civil war shortly, but a really affecting French Swiss movie with a boy – Kacey Mottet Klein, playing Simon – is L'enfant d'en haut ("Sister" in English, which alters the character focus). Simon and his impoverished sister Louise (Léa Seydoux, with Kacey Mottet Klein, below right) live in a block in a dreary plain beneath a ski resort. Louise is probably a hooker and might be on drugs. Simon finances their diminished existence by stealing skis up on the slopes and selling them to mates, and tells whoppers about his parentage. It turns out that Louise is not his sister but his... yes...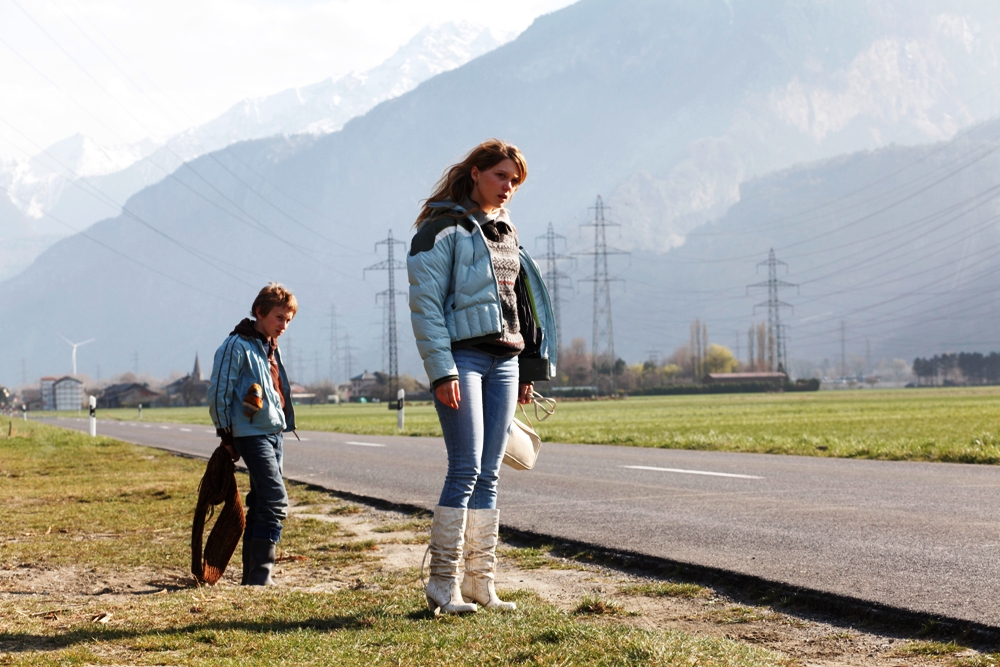 With this acute emotional shift at the film's centre, the story becomes one not about prosperity, or the lack of it; nor about stealing, really – and expect no spectacular Alpine scenes either – but about the thinness of lies and the inevitability of the parent-child bond. It is a completely unexpected, narratively rounded work from Ursula Meier, director of a similarly probing family 2008 drama, Home, with Isabelle Huppert. Rightly, L'enfant... won a special Silver Bear. In true contrast, glamour à la française dripped aplenty from this year's gala opener, Les adieux à la Reine (Farewell My Queen), a richly absorbing costume drama about Marie Antoinette (Diane Kruger) in Versailles just as the Revolution breaks in July 1789.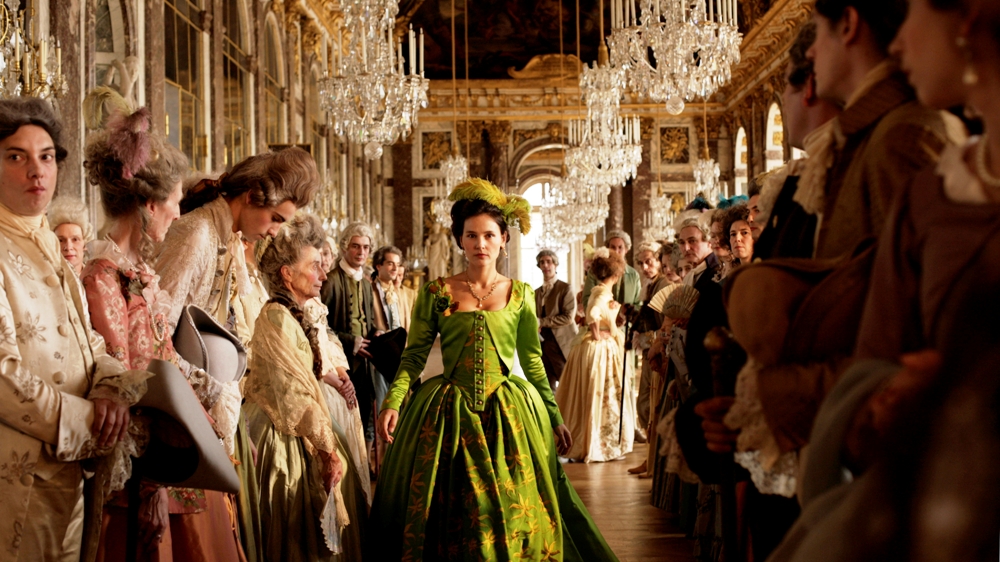 Léa Seydoux, probably the sexiest young star at this year's Berlinale, features again as maid Sidonie, forced to impersonate the object of her queen's Sapphic passion, Gabrielle de Polignac (Virginie Ledoyen, left), in order to save the latter's head. You don't get more dazzling than these women sashaying through the sun-drenched courtyards and corridors of Louis XIV's great temple, and behind it all a Frenchman (director Benoït Jacquot) paying luscious tribute to his country's royalty at its point of extinction. No romp this – compellingly quiet, wonderfully acted.
Angelina Jolie's out-of-competition, writer-directorial debut, In the Land of Blood and Honey, set at the start the Balkan wars, is a conundrum. In festival terms, her presence in Berlin over the first weekend to promote it, and to party with Brad Pitt, added more glamour to bubbling glamour. Her defence of the film in the press conference and later in a chat with Bosnian director Jasmila Žbanić was honest and thoughtful. The film also got a standing ovation from an audience of 5,000 in Sarajevo after the Berlin screenings; but it has been blackballed in Republika Srpska, and Jolie has received threats in the post and online.
Its depiction of ethnic-cleansing Serb militia and their rape of Bosnian Muslim women is hard to watch, and explains likely Serb accusations of bias (and the ample boos, Serb no doubt, in Berlin). If this were a documentary, that charge might make sense. But a problem here is that the most violent scenes do have a documentary authenticity about them. Did Bosnian Serbs behave like this? History, however fresh, is telling us many of the uniformed men did. We are being asked to buy into truth, but the film is a fiction. Jolie could, then, be properly accused of wanting to bolt fact and fiction together. Its central love story, between a Serb police officer and a Muslim painter, seems to belong to quite another film, by Bertolucci or Polanski maybe. The way the affair ends is horrible, and absolutely ridiculous. Jury, dann, still out.
Jolie's courage doesn't disguise her being a novice writer. She should learn from Christian Petzold. Barbara is his fifth feature with Nina Hoss, one of the most charismatic actresses working in European film and theatre, and it is his strongest to date. Barbara's a doctor, "relocated" in 1980 from East Berlin to a dowdy Baltic town after requesting official exit from the German Democratic Republic. Finding a sympathetic ear in hospital consultant André (Ronald Zehrfeld), she plots a real escape, by sea to Denmark. André is required to report on her but stirrings between them awaken. In a wonderfully executed twist at the end, the destiny of a younger female rebel whom Barbara has helped fight meningitis in hospital keeps hope in this story alive.
Petzold doesn't make upbeat or melodramatic movies. In this respect he parts company from his compatriot directors of Goodbye Lenin! and The Lives of Others, rich in GDR lore though they were. Here, Petzold's nutty surveillance state is forensically accurate (I checked with an east German friend who was at the screening with me), down to the colour of the carpets, the vehicles, the jokes. He also finds in Hoss (above left, with Ronald Zehrfeld) a fellow traveller in subtlety and grace. Their on-screen work together is turning into one of the most intelligent in cinema anywhere. It should be better known, but probably won't be, outside Germany.