theartsdesk at the 2011 London Film Festival |

reviews, news & interviews
theartsdesk at the 2011 London Film Festival
theartsdesk at the 2011 London Film Festival
The highs and lows of the 55th festival are assessed by four film writers from theartsdesk
Thursday, 27 October 2011
'I don't write for the Tourist Board,' the Italian director of 'Corpo Celeste' told the audience after a screening
It may not have quite the glam tackiness of Cannes in May, nor the pizzazz of Venice in September, nor the chin-stroking seriousness of the Berlinale in February, but each October the BFI London Film Festival takes its own place on the European film festival circuit. theartsdesk has been attending the 55th festival in quadruplicate.
On the closing day of a packed fortnight, our critics Nick Hasted, Emma Simmonds, Demetrios Matheou and, in quirkier mode, Matt Wolf bring you their highs and lows, their recommendations and their early warning signs.
But first the winners of this year's awards.
Best Film: We Need To Talk About Kevin (dir Lynne Ramsay)
Best British Newcomer: Candese Reid (Junkhearts)
Sutherland Award Winner: Pablo Giorgelli (dir Las Acacias)
Grierson Award for Best Documentary: Into The Abyss: A Tale of Death, A Tale of Life (dir Werner Herzog)
BFI Fellowship: Ralph Fiennes and David Cronenberg
NICK HASTED
The LFF's main wonder is catching films you'll never get the chance to see again. I tended to avoid Hollywood films due for release anyway, with some exceptions. Roman Polanski's Carnage shoved Kate Winslet, Christoph Waltz, Jodie Foster and John C Reilly into a New York apartment as two arguing middle-class couples, with the promise that they'd fight like ferrets in a sack. The acting's excellent - Foster's spittle-flecked rage, neck veins like steel cords, and Winslet's vomiting drunk especially - but the results barely count as a row in some families, in a short yet meandering film. The Pianist apart, Polanski has coasted on his reputation for 20 years now. Lisa Aschan's debut She Monkeys (she also directed Danish TV's sainted The Killing) was a far more unsettling account of rivalry between two Swedish female schoolfriends, love twisting to hate with subtle adolescent ferocity.
Woody Harrelson was utterly convincing as the Very Bad LAPD Cop in the James Ellroy co-written Rampart. But director Oren Moverman couldn't capture the needed sulphur of true self-destruction. Harrelson's free-associating Q&A afterwards was, though, a delight.
Richard Linklater reunited with his School of Rock star Jack Black (pictured right) for Bernie, a baggy but entertaining true tall tale of a likeable murderer in a Texas small town. Interjections from the town's real citizens gave it a salty edge. Still more down-home Americans could be found in Nick Brandestini's tremendous documentary Darwin, about the titular town in California's Death Valley, population 33, every one of them an ornery, fascinating sonofabitch, turning their back on mainstream America for a rusting sliver of Old West freedom. Brandestini brings out their hilarious absurdity, but honours them, too. If this is a freak show, it's on the side of the freaks. So is Alex Gibney and Alison Ellwood's documentary Magic Trip, marshalling footage of Ken Kesey's legendary acid-fried 1964 ride across America in a psychedelic school bus.
Germany's Dreileben trilogy brought three of the country's best directors together to tell radically different stories around a sex killer's escape, to exciting and unsettling effect. The most striking Italian feature, meanwhile, was Alice Rohrwacher's debut Corpo Celeste, observing a 13-year-old girl's resistance to her Catholic parish's claustrophobic customs. Audience members from its southern Italian setting got into outraged exchanges with Rohrwacher afterwards, wondering, in the spirit of Berlusconi, why she couldn't have told a nicer tale. "I don't work for the Tourist Board," she let them know.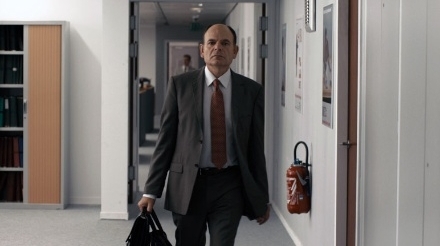 Rebellious unease with the world's current state was a regular theme. Jean-Marc Moutout's Early One Morning (pictured left) was a character study of a middle-aged French banker whose values and self-worth are in meltdown. Moutout starts with his explosive last day at work, then fills in the disgusting business behaviour and eerily quiet moments of routine leading to it. Andrea Molaioli's The Jewel was a gaudier Italian thriller, entertainingly plotting an Italian corporation's corrupt fall with the bosses as anti-heroes, but populist anger at its basis in truth. Katie Galloway and Kelly Duane de la Vega's documentary Better This World was a gripping account of two young American idealists apparently entrapped by an FBI informant to a point where they would make (but not use) Molotov cocktails, after which the post-9/11 US justice system ground them up. The directors were on hand to fill in the details afterwards. This year's LFF was an education in what's happening outside cinemas, too.
Best Film: Dreileben 1: Beats Being Dead (dir Christian Petzold)

Best Performance: Rachel Weisz (The Deep Blue Sea)
Most Promising Director: Justin Kurzel (Snowtown)
Film That Should Be Released But Probably Won't: Darwin (dir Nick Brandestini)

Turkey: Almayer's Folly (dir Chantal Akerman). The most bored walk-outs I've ever seen
Watch the trailer to Snowtown
EMMA SIMMONDS
While world premieres were, as ever, in meagre supply, this year's London Film Festival still offered up an appetising assortment, giving us a mouth-watering taste of the cinematic year to come. Last year's festival anticipated what would turn out to be an excellent year in British cinema and 2011's event brings a remarkable year to a triumphant close. British highlights this time round included Lynne Ramsay's return to the fold, dynamically rendering maternal discomfort in We Need to Talk About Kevin, low-budget romance Weekend and the keenly anticipated Shame.
Steve McQueen's follow-up to his 2008 debut Hunger is an immaculately presented tale of sex addiction, told in both sordid detail and with substantial compassion. In Shame Michael Fassbender's neatly ordered but morally questionable lifestyle is interrupted by the arrival of his sister (Carey Mulligan, pictured above right), whose chaotic presence forces him to confront his own failings. McQueen's ingenious direction often astonishes and it features a(nother) courageous performance from Fassbender, plus a delicately trilled version of "New York, New York" from Mulligan. Weekend – directed by Andrew Haigh - is as beguilingly loving as Shame is achingly disillusioned, yet it's similarly provocative with refreshingly frank (and properly romantic) depictions of gay sex. It's the story of a tentative romance born out of a one-night stand.
Other notable achievements include the Dardennes's reliably brilliant The Kid with a Bike which follows bundle-of-energy Thomas Doret who, after he is abandoned by his feckless father, is taken in by saintly hairdresser Cécile De France (pictured left with Doret). It's breezily shot and enchantingly earnest. Making everyone sit up and take notice were a pair of remarkable debuts: Snowtown and Martha Marcy May Marlene. The former is Australian director Justin Kurzel's bone-chilling take on the "Bodies in Barrels" murders. Kurzel's film is suffocating in its hopelessness and prosaic depravity, and rings with authenticity. Martha Marcy May Marlene, from US writer/director Sean Durkin, is a sinister, disorientating and gorgeously rendered depiction of a young girl's escape from the clutches of a cult, boasting a fearless performance from newcomer Elizabeth Olsen.
Film of the festival for me would have to be split between Once Upon a Time in Anatolia and The Artist. Turkish director Nuri Bilge Ceylan has amusingly stated that his intention with Once Upon a Time in Anatolia (pictured right) was to somewhat bore his audience - and the leisurely pacing certainly reflects the agonising nature of its overnight search for a murdered man. However, it's a terrifically moody, philosophical and even witty ensemble piece which plays out like a dark night of the soul. The Artist is an unabashed joy, a comedic paean to the silent era and Hollywood studio system which itself boldly takes the shape of a silent movie. The radiant creation of French director Michel Hazanavicius, it stars Hazanavicius favourite Jean Dujardin alongside Hollywood stalwarts John Goodman and James Cromwell. No greater testament to its utter lovability can be that, during its gala screening, a near-climactic gag prompted the audience to burst into premature, effusive applause.
Best film: Once Upon a Time in Anatolia (dir Nuri Bilge Ceylan) / The Artist (dir Michel Hazanavicius)

Best performance: Michael Fassbender (Shame)
Most promising director: Sean Durkin (Martha Marcy May Marlene)
Film that should be released but probably won't be: Nobody Else But You (Poupoupidou) (dir Gérald Hustache-Mathie)
Turkey: 360 (dir Fernando Meirelles)

Watch the trailer to The Artist
DEMETRIOS MATHEOU
It was "business as usual" for this year's London Film Festival. That means – the quibble first – too many high-profile films whose general release was just around the corner, featured in part for their red-carpet value, but in my opinion a waste of a valuable spotlight; but it also means a strength in depth in the programme that offers less a "snapshot" than a wonderful widescreen of world cinema. This year's selection was as enticing as ever, frustrating only in that there simply wasn't enough time.
Therefore, this year I decided to give myself a project to focus my efforts, namely to test the recent assertions that British cinema is at its strongest in years. Among those familiar faces, Steve McQueen's Shame is a phenomenal film, daring and thought-provoking, with Michael Fassbender mesmerising as a man struggling with sex addiction; Ralph Fiennes's directorial debut, a muscular and intelligently rendered Coriolanus (pictured above left), launches him into the top echelons of Shakespeare adaptors; Michael Winterbottom's adaptation of Tess of the D'Urbervilles, Trishna, and Andrea Arnold's of Wuthering Heights were both flawed, but also boldly original and beautifully filmed.
Of the newcomers, I was particular impressed by DR Hood's Wreckers, a rural tale of sibling rivalry and skeleton-packed closets, one of those films whose seeming idyll has a barely concealed moral rot; and Andrew Haigh's wonderful Weekend, a genuinely bitter-sweet love story and the best film about being gay in the UK that I think I've ever seen.
The presence of the country's most criminally neglected talents of recent years – Lynne Ramsay (whose We Need to Talk About Kevin was, admittedly, one of those red-carpet premieres) and Terence Davies, whose The Deep Blue Sea closes the festival – has indeed underlined the British contingent as the most significant element of this year's edition.
That said, I've gone down many other avenues and been amazed. The German trilogy Dreileben (pictured right), three films made by different directors but their narratives connected by the escape of a convict into a small town, offered an absorbing, long-haul experience; the Dardennes brothers' The Kid with a Bike was another of their spot-on and affecting exercises in social realism; a strong selection of Argentine films featured Medianeras, an extremely funny and inventive romantic comedy set in Buenos Aires.
And there was no bigger surprise, or delight, than the sight of Sean Penn, playing a depressed former pop star with an uncanny resemblance to The Cure's Robert Smith, in Paulo Sorrentino's This Must Be the Place. With Penn holding the attention, the Italian managed to combine fame, family, Americana and Nazis in a story about a man shackled by his inner child. Sublime.
Favourite Film: This Must Be the Place (dir Paulo Sorrentino)

Best Performance: Michael Fassbender (Shame)
Most promising director: Andrew Haigh (Weekend)
Film that should be released, but probably won't be: Medianeras (dir Gustavo Taretto)
Turkey: W.E. (dir Madonna)
Watch the trailer to This Must Be the Place
MATT WOLF
It's not necessarily the films I'll remember as the circumstances in which I saw them. Who can forget, just by way of example, the gala screening of The Descendants, which was preceded by a cocktail gathering hosted by the Mayor in which Boris signally failed to appear? I mean, isn't one of the perks of public office the opportunity to hobnob with the cultural great and good? Or maybe his bike simply got stuck in traffic, or on stage of the National Theatre premiere of 13 (the first play to introduce Boris Bikes on stage). But I digress…
Then there was the premiere several nights later of A Dangerous Method in which the on-screen spanking presumably got too much for one spectator, who passed out within minutes of the conclusion of the film, necessitating a break in proceedings that gave especially hungry audience members time to scavenge the theatre for uneaten chocolate bars that were very kindly provided next to every seat. (And jolly good they were, too!)
It was fun – well, sometimes – comparing red-carpet strategies at the various events, the ostensibly craziest (Clooney and co working the crowd for The Descendants) also the best managed, whereas the Anonymous scrum was marred by a particular Kommandant who seemed determined to send keen film-goers to the wrong cinema altogether. (Pictured left, Clooney in The Descendants). I liked the graciousness with which the A Dangerous Method assemblage hosted their post-screening Q&A, David Cronenberg's much-vaunted geniality and calm always a surprise given the passions that his films both confront and provoke: Crash, anyone? Method co-star Viggo Mortensen also looked as if he would be a groovy guy to go partying with, which I assume – hope? – was in the back of Festival director Sandra Hebron's mind as she made her nightly foray to the stage to introduce the talent, her black attire clearly the colour of choice for virtually the entire LFF staff.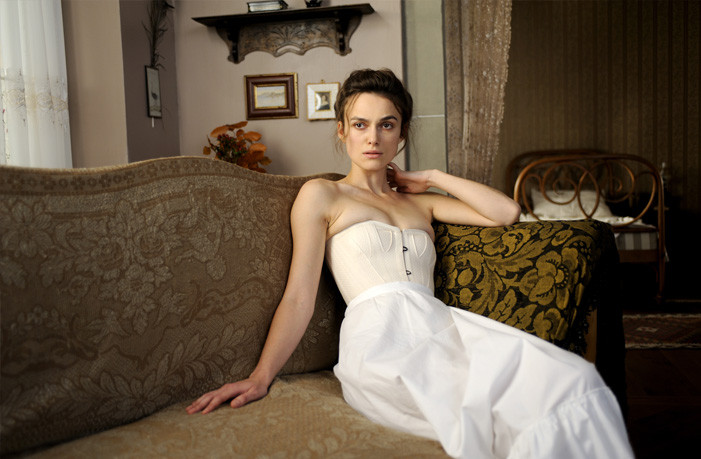 Among the distaff talent, Keira Knightley's flowing black-and-white number at the Dangerous Method gala - an outfit well chosen to contrast with a red (or any colour) carpet – looked guaranteed to make headlines, as indeed it did (pictured right, Knightley in A Dangerous Method), though I was rather worried that Descendants actress Shailene Woodley's precipitous shoes might send her flying. So was she, apparently, judging from the way the rising star, and Oscar hopeful, clutched George Clooney as she made her way off stage. Joely Richardson showed up for Anonymous looking every inch a vintage 1930s celluloid icon: if they decide to remake LA Confidential, cast Richardson in the Kim Basinger part, and fast.
Favourite film: We Need To Talk About Kevin (dir Lynne Ramsay)

Best performance: Tilda Swinton (We Need To Talk About Kevin). What can't this woman do?
Most ubiquitous: Rachel Weisz (360 and The Deep Blue Sea), George Clooney (The Ides of March and The Descendants), Vanessa Redgrave (Coriolanus and Anonymous)
Turkey: Hunky Dory (far too low-budget and modest to also be as cheesy and manipulative as it is)
Most likely to win an Oscar: Shailene Woodley in The Descendants: Hollywood loves young actresses on their way up
Most maligned presence: Shakespeare, who isn't credited with the screenplay for Coriolanus (that goes to John Logan, of Gladiator fame) and is stripped of his entire oeuvre in Anonymous
Watch the trailer to The Deep Blue Sea
A strength in depth in the programme offers less a 'snapshot' than a wonderful widescreen of world cinema
Explore topics
Share this article