Nitin Sawhney and LSO, Yogoto No Yume, Barbican |

reviews, news & interviews
Nitin Sawhney and LSO, Yogoto No Yume, Barbican
Nitin Sawhney and LSO, Yogoto No Yume, Barbican
Fusion maestro's latest work transcends corniness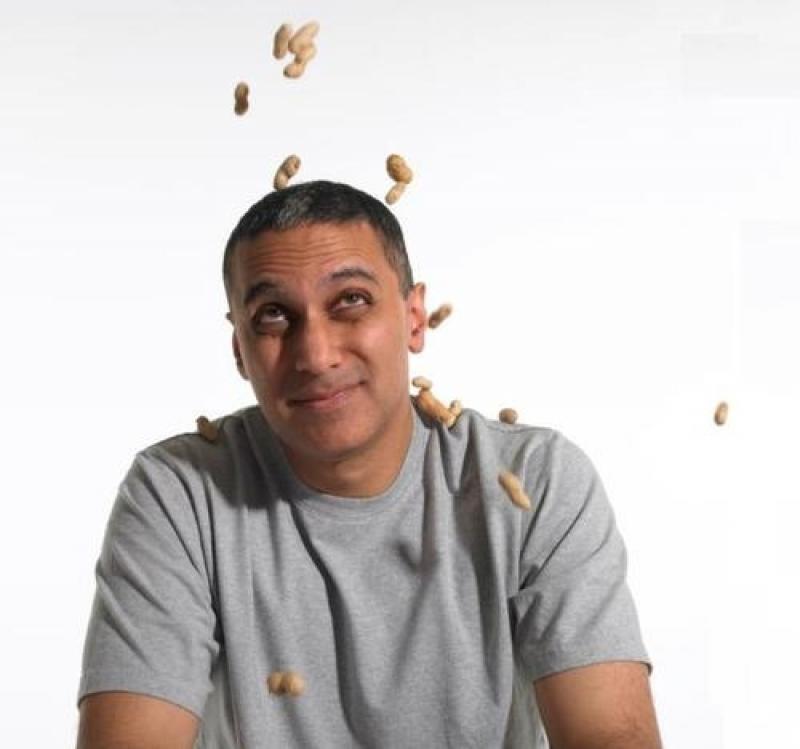 Sawhney: Mozart of fusion or hack?
When I last met Nitin Sawhney, I'd heard that he was a whizz at mental arithmetic. I asked him, perhaps impertinently, what was 91 times 94? "8,827," he relied, quick as a flash. Several hours later, I worked out he was probably right. "Vedic mathematics," he said. What I can say about last night's performance was there was some interesting mathematics going on. Some time signatures rubbed friskily against others in certain scenes in ways a mathematician would love.
The score had an enormous facility. But a question we have to confront is - imagine this said in the voice of Carrie from
Sex And the City
– when does facility become facile?
Composers who are as prolific as Nitin Sawhney – 40 film scores, dance and theatre scores, eight or so albums, video game music - to mention just part of his Stakhanovite output, are generally viewed, usually correctly, with some scepticism. Philip Glass or Michael Nyman come to mind, although I'm not as anti as many critics (the word bollocks would never enter my head, in reference to either of them, as it did to a colleague on theartsdesk).
I think they both have composed highly effective and moving pieces (Nyman's settings of Paul Celan sung by Ute Lemper, and Philip Glass's collaboration with Ravi Shankar, and some of their film scores like The Ploughman's Contract and Koyaanisqaatsi spring to mind), but almost inevitably if you knock it out at that rate it's impossible to keep up any consistent excellence. Nitin Sawhney wrote the whole of this score in a month. Which means he's either Mozart or a total hack. Actually, it seems he's somewhere between the two.
Last night saw Sawhney premiere a soundtrack to a 1933 Japanese silent film called Yogoto No Yume (Nightly Dreams) by the director Mikio Naruse, who at the time was seen as rather daring for his social realism. The stoic heroine Omitsu is a barmaid struggling to bring up a child. Her feckless husband returns. Can't get a job. Child gets ill. She thinks about prostituting herself, but is too pure. He does a robbery to bring in some cash to stop her. I haven't given away the end, but it all ends very very badly. It's all rather melodramatic.
In those days, working in a bar as a woman in Japan was seen as highly morally hazardous. The modern equivalent would find Omitsu working in lap-dancing club to bring in cash for her child. For the bar scenes, Sawhney has a Weill-like decadent tune. I half expected someone to start singing, "Show me the way to the next sushi bar." Oh, don't ask why.
Omitsu has her own theme, which is the missing link between "Lara's Theme" from Dr Zhivago and the theme from Nyman's The Piano (which I last heard when my dentist had it as background music). Effective and memorable, I was whistling it to myself as I left the theatre, even if in the end it was slightly irritating. I would have preferred to be humming "Chaos" from the New Young Pony Club (out today, pop-fans) or "Caesar" from Chris Wood, which have been my main internal tunes for the last couple of days, which you can hear here.
Most effective and original was a mono-chord groove section in the middle which managed to escape the sometimes crass literalisms elsewhere (sunny violins: maternal love or kid playing with ball; police chase: urgent rhythms, and so on). There were some interesting textures, caused by the Japanese singer (and composer) Mieko Shimizu's appropriately pure and beguiling singing of appropriate haikus or tankas (very short poems about how children are more precious than gold or silver, for example) and the drum-kit which included one of those boxes they use in flamenco and an African djembe. The use of celestes and other metallic percussion gave it a slight and appropriate orientalism at times, but it never felt too Japanese for the sake of it, which gave the story a trans-national resonance. The LSO performed with aplomb, as though they could do the score in their sleep.
Actually, both the story and music were a little corny. By the end my own mental gymnastics decided this wasn't entirely a bad thing. The story, or variants of it, applies to thousands of bar-girls in many countries struggling to raise a child on their own, and the corniness emphasised the universality. And the stoicism of Omitsu, in the face of this narrative, heard many times before, was rather touching. The uplifting end credit music, after such a tragic tale, was the highlight of the evening.

Watch trailer for Yogoto No Yume: