What Makes a Great Tenor? BBC Four |

reviews, news & interviews
What Makes a Great Tenor? BBC Four
What Makes a Great Tenor? BBC Four
Rolando Villazón explores the allure of opera's leading men
Rolando Villazón as Rodolfo and Anna Netrebko as Mimi in Puccini's 'La bohème'
Thus I approached
What Makes a Great Tenor?
in a spirit of moderate scepticism. Had
appearing on
Popstar to Operastar
destroyed at a stroke the credibility of its presenter, the Mexican tenor Rolando Villazón?
In a bid for the dreaded "accessibility", were they about to propose Paul Potts, the Carphone Warehouse Pavarotti, as the answer to the titular inquiry? Happily neither. In fact the programme struck an almost perfect balance between erudition, entertainment and a genuine fascination with the historical lore and legend of the opera house.
As a presenter,
Villazón radiates a hyperactive effervescence
which might have become grating in longer doses, but which was held in check by sharp insights into the art of the tenor from a very respectable list of its leading practitioners. When Villazón pointed out that any top tenor worth his salt must be able to hit those hair-raising high Cs until the cows come home, who better to amplify the point than the superb Juan Diego Florez, who has been knocking 'em dead at Covent Garden in the high Cs bonanza that is
Donizetti's
La fille du régiment.
"You need to have good nerves to sustain a career made of pressure," said Florez, adding that it would be "psychological suicide" for a tenor to attempt La fille if he wasn't 1000 per cent secure in his top register. In passing, he added that Donizetti had been inspired to write the opera's tenor showcase, "Ah! Mes amis", while under the influence of Tyrolean yodelling, and supplied a vocal illustration to prove his point. Not many people knew that. Not me, anyway.
Then we had Jonas Kaufmann dissecting in some detail the psychological hurdles of singing Don José in Carmen, and the emotional extremes it demands from a tenor. Roberto Alagna (pictured below) lapsed into a poetic reverie as he described the vocal requirements for Gounod's aria "Ah! Lève-toi, soleil!" in which "you have to feel the sun rising in the voice of Roméo". Clearly this goes far beyond being just a job for these guys.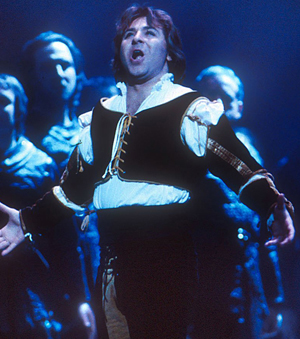 Leafing back through my notes, I can't believe how much material they crammed into an hour. Villazón presented a helpful tutorial about the "zones" of the tenor voice (avoiding pseud-ish terms like "fach") and how the trick is to maintain the same "colour" throughout the vocal register. He put theory into practice with his own performance of Donizetti's "Una furtiva lagrima". He swept back through operatic history to hold forth about castrati and counter-tenors, and to reflect on how the tenor used to be the bad guy rather than the romantic hero into which he was subsequently transformed.
Great tenors from the past were held up for inspection. Conductor Mark Elder paid generous tribute to the "power and athleticism" of Franco Corelli's singing, and was eloquent in his praise of the great Mozartian, Fritz Wunderlich. Everybody loved Pavarotti, including soprano Renée Fleming, who reckoned he had "the greatest technique of anyone I've ever known or heard". They also loved - or love, I should say - Placido Domingo, with Villazón leading the accolades to his musicality, acting skills, vocal power and work ethic.
Not least, the film made a successful stab at putting the supposedly modern-day urge for tenors to cross over into pop into perspective. Villazón reminded us that Enrico Caruso became a wealthy superstar by energetically exploiting the potential of newly created recording technology, while Mario Lanza followed him to international adulation thanks to
his starring role in
The Great Caruso
. And that movie, in turn, would be cited as a source of inspiration
by each of the Three Tenors
. We must hope that Florez, Villazón and Alagna will have a similar galvanising effect on the next generation of tenors.
Explore topics
Share this article