Glen Campbell, Royal Festival Hall |

reviews, news & interviews
Glen Campbell, Royal Festival Hall
Glen Campbell, Royal Festival Hall
The Rhinestone Cowboy bids a sad yet celebratory farewell to his life in music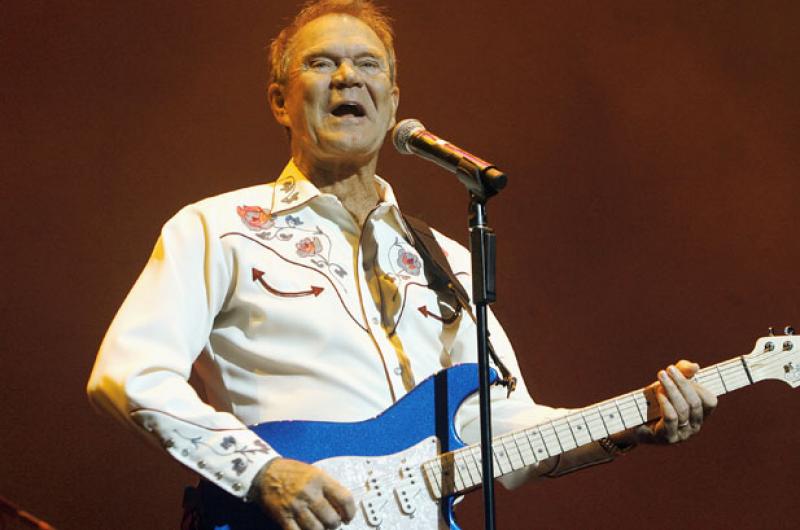 The Wichita Lineman bows out
The anticipation of Glen Campbell's valedictory concerts has gone far beyond the goodbye to his music. It's involved a reflection on his entire life. The sugar-throated cowboy with film-star looks and ballads as epic as daybreak in Arkansas has lived life like a great American novel. One of 12 children of a sharecropper, he went on to play the guitar with The Beach Boys, act with John Wayne, marry four times, and count Ronald Reagan as his friend.
But with the onset of Alzheimer's this is the last time the public will get to see him reflecting on his extraordinary years.
Recent interviewers have been alarmed how quickly the disease has progressed since it was first announced. But with a band on stage including three of his children, Campbell may have appeared occasionally absent-minded, but mainly he was in fine voice, and his guitar chops were still firmly in place. His kids' band, Instant People, not only backed Campbell but was also the support act, warming up the cavernous Festival Hall with their engaging country rock.
If Campbell occasionally faltered, he certainly wasn't lacking confidence or showmanshipWhen they reappeared in the second half, it was with their dad. The crowd immediately erupted. Given the circumstances, casting the evening as something of a big family singalong was a masterstroke. Campbell arrived on stage with a grin the size of Texas, and even when occasionally losing his way a little, seemed to love every minute. Instant People might not have been the best band he's played with, a little too alternative and a little young, but they sure brought Southern charm, and, in youngest daughter Ashley's case, glamour by the yard. And, of course, they made Campbell feel at home.
If Campbell occasionally faltered, he certainly wasn't lacking confidence or showmanship. He started the evening with "Gentle on my Mind". A couple of fluffed lines prompted the old crooner to start to signal that he either needed more monitor or a bigger autocue. But then the guitar solo spot came around and suddenly there he was, like the old "Wrecking Crew" guitarist who played with Sinatra and Elvis, running his fingers up and down the fretboard like he was jamming in the studio.
Throughout, it was simply impossible to separate the music from the emotion in the room. Of course the performance was often stuttering, the voice quavering in the upper register, and errors punctuating the night. But with the joyous naivety inhabiting Campbell's performance, I can't imagine he's actually given many more enjoyable concerts. At many points Campbell seemed to be marvelling at the quality of his repertoire as if he'd just discovered it. Again and again he introduced and finished songs, with, "Wow, isn't that just a great song?" "Galveston", "Where's the Playground Susie", "Dreams of the Everyday Housewife". He was right. It was an incredible set list.
The only major stumble of the night came when the charismatic Dixie Chick lookalike Ashley challenged her dad to duel banjos. Campbell started one phrase in the wrong key and only came back in at the end. But the showman was present throughout that song and the evening. Campbell kept grinning, striking poses, and when he lost the guitar key in "Wichita Lineman", he slid his fingers up and down the rosewood until he remembered it. Suddenly he was letting rip. And although sometimes visibly reading the teleprompt, in the big numbers like "Rhinestone Cowboy" and "Southern Nights", Campbell just seemed lost in the music, transported back to the Seventies.
The showman was present throughout that song and the eveningCuriously it was on one of the newer tunes, the cover of Teddy Thompson's "In My Arms", that it was hardest to tell that anything might be amiss. But no sooner had he rocked that number than the crowd was brought to earth with Campbell retelling an anecdote about having laryngitis that he had told moments earlier. The words of the song he was introducing, the evening's closer, said it all: "Some days I'm so confused Lord/ My past gets in my way/ I need the ones I love, Lord/ More and more each day/ One thing I know/ The world's been good to me".
Back in 2008 a new audience was invited to Meet Glen Campbell, on an album of contemporary covers. Younger listeners probably incorrectly assumed that there was irony in the way he sang the words "Jesus/ Help me find my proper place" on Lou Reed's "Jesus". Others would have been put off if they knew about his Republican tendencies. But Campbell comes from a different time and a place that only really ever existed in the imagination. Jimmy Webb might have often provided the songs, but together they created a mythology and an America that will remain eternal. That's one heck of a legacy.
Watch a young Campbell sing "Galveston"
Campbell arrived on stage with a grin the size of Texas, and even when occasionally losing his way a little, seemed to love every minute
rating
Explore topics
Share this article