Don Pasquale, Glyndebourne on Tour |

reviews, news & interviews
Don Pasquale, Glyndebourne on Tour
Don Pasquale, Glyndebourne on Tour
Not everything fits in Mariame Clément's backdating of Donizetti's comic opera, but this is a classy Glyndebourne show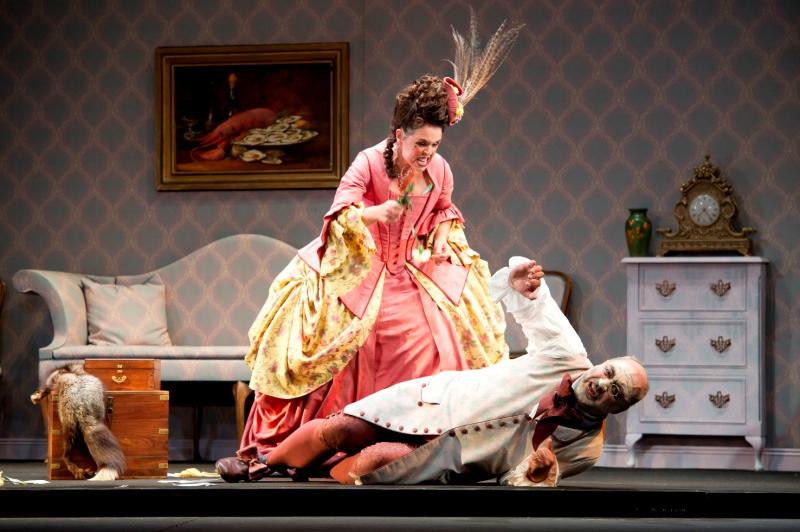 Shrew triumphant: Ainhoa Garmendia's Norina as 'Sofronia' belabours her new 'husband' Don Pasquale (Jonathan Veira)
Who would have thought that in a comic opera by Donizetti, least orchestra-indulgent of Italian composers, the conductor could be paramount?
While Mariame Clément's production frisks around the soft edges of the stock
opera buffa
plot - sometimes imaginatively, elsewhere a bit superfluously - and four classy singers ensure Glyndebourne pleasures at a high level, it's Enrique Mazzola down in the pit who sets a vital pace: culling any slack business from his cast, according elegantly with the backdate to the 18th century and razor-sharp enough to keep us interested when plot and music threaten to self-repeat.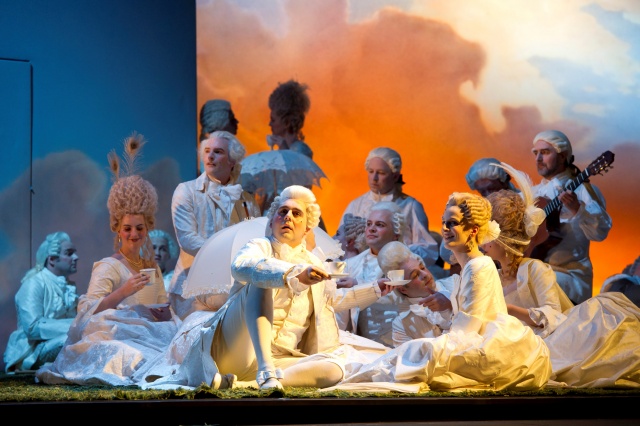 What simple pleasure, all the same, to see a Don Pasquale where the characters aren't reduced to distant dolls by an overwhelming set in a larger theatre - Jonathan Miller's toy house at Covent Garden - or pushed into unfunny sitcom style. Glyndebourne, where this production is still to be seen until next Saturday, is the perfect size for the nimble four-hander (a chorus is amusingly accommodated in Act III as 18th-century theatre-going, picnicking society [pictured right] rather than the stipulated servants; and the tour venues should fit it well, too.
Julia Hansen's designs show us three rooms on a revolve: the salon where jippy-hearted old Don Pasquale reclines, tended by a housekeeper with reasonable hopes of becoming the missus; the messy bedroom where nephew Ernesto sprawls; and the room with a bath where his supposed intended Norina sits at a desk cynically writing (rather than reading, as Donizetti and his librettist originally intended) romantic novels. Soon she's to be whisked into a slip of a plot to play the demure "Sofronia", proposed as Don Pasquale's wife - the uncle will wed in pique at his nephew's refusal to marry into money - who turns termagent in a farcical trick as old as Plautus.
Clearly the dark lynchpin in Clément's very French re-imagining is Doctor Malatesta, and it would have been reasonable to expect Ukrainian baritone Andrei Bondarenko, after his charismatic in a BBC Cardiff Singer of the World competition many thought he should have won, to be the star of the show. He's not, though he does spin a lovely line when allowed. Surprisingly, it's the stage presence which is a little wanting; the nervous hands are a giveaway, and he's an inch away from relaxing into the most delicious of all the comic duets, the Act III Malatesta-Pasquale Catherine wheel, as personably as Jonathan Veira (the pair pictured above). Here's a comic (bass) baritone now in his vintage prime. The big eyes which Veira uses without resort to mugging, the relaxed body language, the impeccable delivery of Italian recitative: all these raise him to the level of the consummate buffo performer.
Like most tenors today, Sicilian Enea Scala looks good, but it's his singing, of a world-class stylishness, which is a revelation
Ainhoa Garmendia comes close in one of the most spirited soprano roles in the book (such a change from some of Donizetti's wilting opera seria heroines). The soubrette-ish performance is more or less what you'd expect in the role, but doesn't quite rise to the edgier implications of Clément's premise that Norina is involved in a sort of liaison dangereuse conspiracy with Malatesta, the lover she skips off with at the end. This is a spin you can take or leave; it doesn't make much sense to me when the sparkling score speaks nothing but happy reconciliation.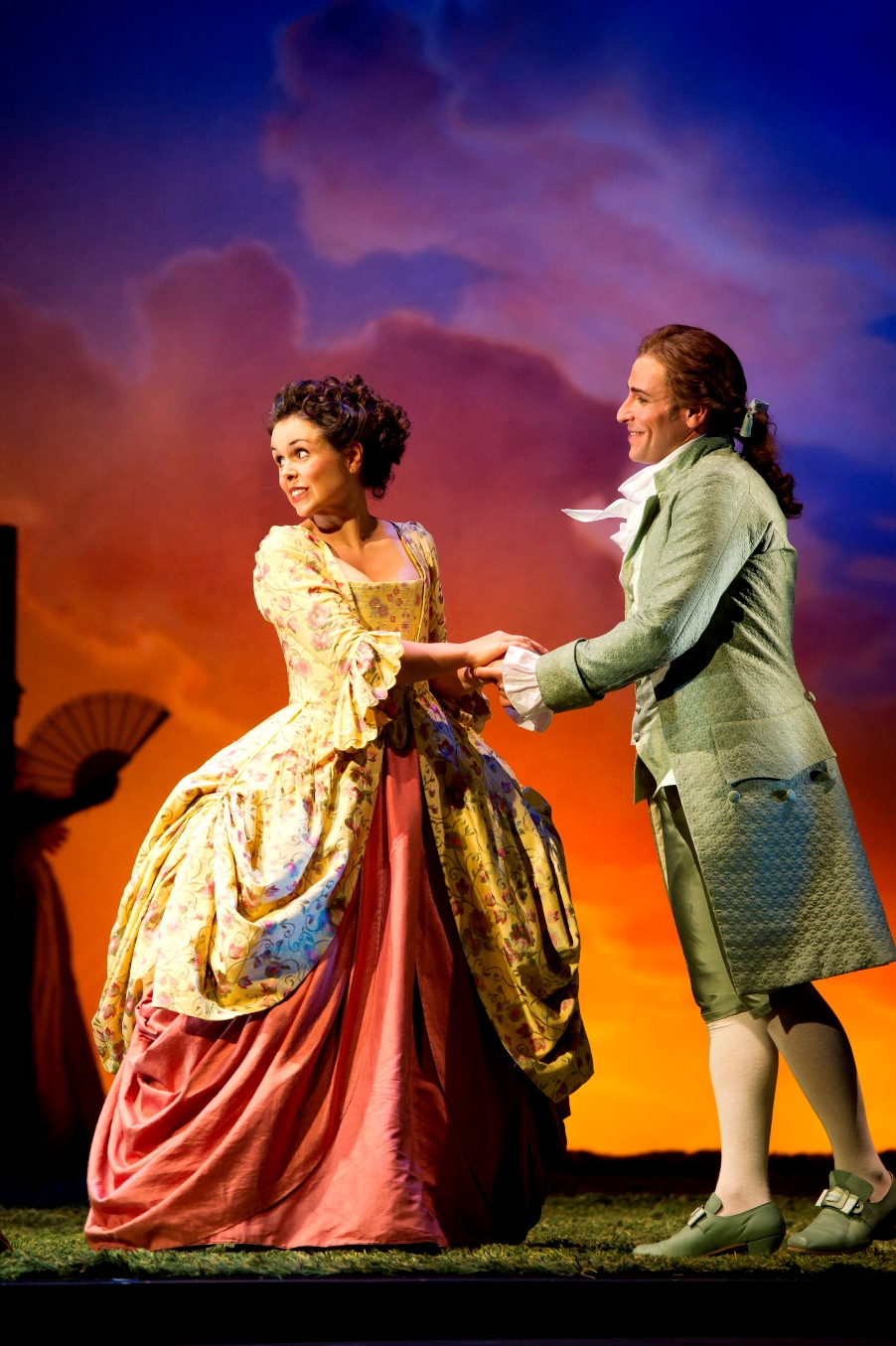 Clément's slightly hard-edged 18th-century setting, working overtime to fill in any gaps in the simple-minded tale, throws up a few happy ideas in Act III, where it seems that we, along with elegant society - the Glyndebourne Chorus, nimble in a great little set piece originally written for a cohort of servants, and kitted out in costumes that must have cost a bomb - are watching an opera within an opera, and where the pretty Watteau-esque fête champêtre against Tiepolo-blue skies marks the score's last-minute concession to a romanticism that Clément will soon strip away.
And this is carried, musically, by one of the prettiest tenore di grazia voices I've heard for a long time. Like most tenors today, Sicilian Enea Scala (pictured right with Garmendia) looks good, but it's his singing, of world-class stylishness, which is a revelation. Perhaps it wouldn't carry in a bigger house, but what of that when the gracefulness and ease are so ideal for Donizetti's very specific demands? So the perfect tenor, along with Veira's easy comic charm and Mazzola's impeccable string-pulling down in the pit, is what I'll take away from a performance well up to the standards of anything in the main Glyndebourne season. May the house find an ensemble as good when it goes for the supposed upgrade.
Don Pasquale at Glyndebourne on 26 & 29 October, then on tour to Woking, Milton Keynes, Norwich, Plymouth, Wimbledon and Stoke-on-Trent until 3 December
What simple pleasure to see a production of Donizetti's comic opera where the characters aren't reduced to distant dolls or pushed into unfunny sitcom style
Explore topics
Share this article