theartsdesk at the Gnawa Festival, Essaouira |

reviews, news & interviews
theartsdesk at the Gnawa Festival, Essaouira
theartsdesk at the Gnawa Festival, Essaouira
400,000 people converge on what may be this year's biggest Festival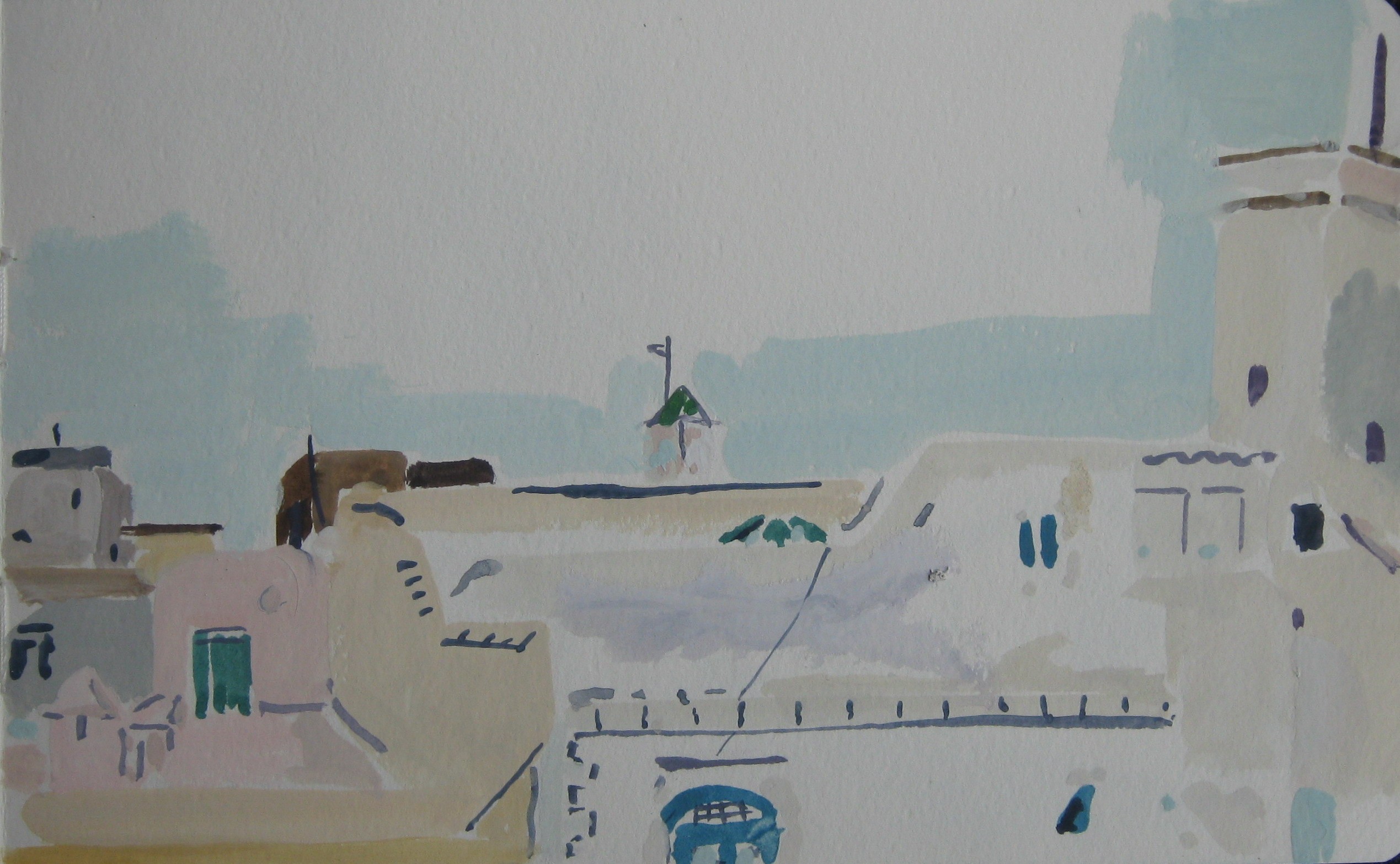 Not anymore. Today, Gnawa is a celebrated and central part of Moroccan culture and tradition, supported by wealthy benefactors. The music is powered by a three-string ghimbri bass lute made of animal skin, call and response vocals that invoke a retinue of saints and powers, and a chorus of krekeks, the iron castanets whose rattling, insistent rhythm is thought to date back, like the circular head dances of the Gnawa, to the days of captivity when their heads were the only part of the body they could move. Over the four days of festival, Morocco's most popular and respected Gnawa Malaams – from Casablanca, Marrakesh, Meknes, Essaouira – play a set of pure Gnawa before testing the mettle of international guests ranging from American jazz legend Wayne Shorter in 2008  to contemporary British bands such as Asian Dub Foundation – whose late-night set in the vast Bab Marrakech square was a big hit in 2007.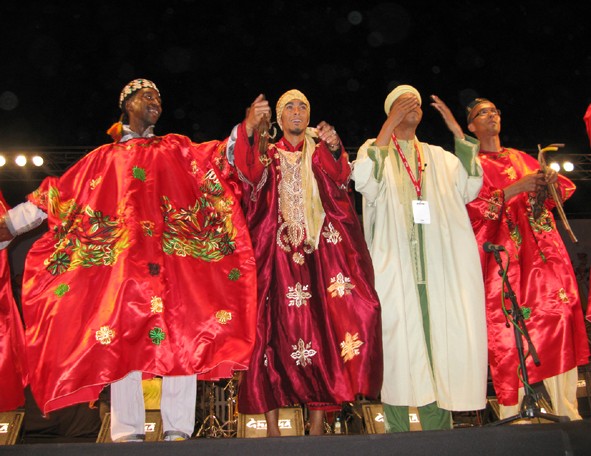 But it is the pure Gnawa that makes the deepest impact – it's the music you hear all over town, from music shops and street stalls, and later in the evening from select open-air courtyards where the serious music begins after midnight and blasts until the early hours.
(Pictured left: Maalem Aziz Bakbou, in white, receiving applause.)
"The festival tries to keep its identity in the roots of the area," says Titi Robin, the French guitarist and bazouk player who had come to Essaouira with celebrated Qawwali singer Faiz Ali Faiz. "There are so many festivals in world music that are like supermarkets with all kinds of things that you can buy – but there is no identity. These people take care of their roots. It is always Gnawa music and it is also open, and it is free."
Like the Master Musicians of Jajouka beloved of Brion Gyson and Brian Jones, Gnawa is one of those sounds that, once heard, becomes embedded deep in your head. Visiting musicians almost never fail in their admiration for the visceral power of the form – it is often overwhelming. You can see its effect play out through the crowd, as the name of a favoured Malaam goes up like a terrace chant. Groups of hennaed girls cluster together for bouts of frenetic headbanging, and long lines of dancers hold hands and steam their way through a crowd so dense it can take half an hour to work from one side to the other.
"Our music is universal," says Mahmou Guinea, one of the most revered Malaams in the Gnawa tradition, a native of Essaouria, and a man whose name can be heard chanted as if he was a Premiership hero. "Our music speaks to everyone, without barriers. It has a very spiritual dimension that speaks to us all, and it attracts people so that they almost become addicted to it."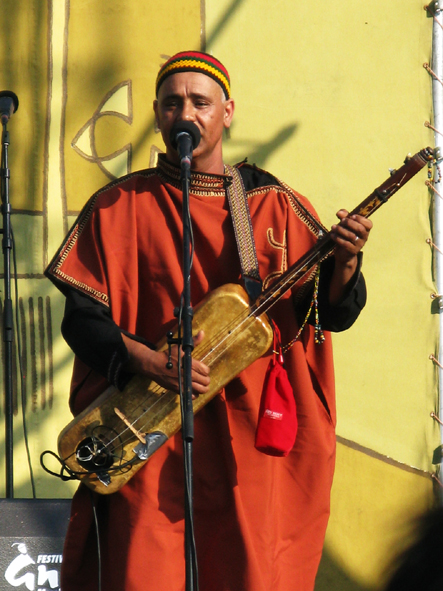 (Pictured right: guimbri player in Iguidar.)
One of the festival's original founders, the composer of the soundtrack for The Sheltering Sky and 30 other movies, Richard Horowitz took me to meet Guinea in a friend's traditional riyad in the labyrinthine northern part of the medina in the early hours of the morning following the festival's opening procession. Guinea was among friends and family, finishing a dish of watermelon, a sipsi by his side, his feathered ghimbri propped up by his leg. Later, he played a song for us; I'd heard him several times on the big stages but to hear him up close and personal was a potent and unforgettable experience. This is a man with a Blues holler as wild and strong as Howlin' Wolf's – and the kind of stature Wolf would understand. As a player and a healer, he carries the weight of the Gnawa tradition, as well as its 21st-century evolution into fusion and festival.

This year, the major international guests included two dance troupes – the Georgian National Ballet, who performed with two legendary Malaams, brothers Mohamed and Said Kouyou as the culmination of the Thursday night's opening parade, and Step Afrika, an Afro-American troupe from Washington who were spectacular at times – or at least when the curtain of chants, krekek percussion and ghimbri parted to let them be heard as well as seen. Titi Robin's quartet and Faiz Ali Faiz and Party gave two outstanding performances on the big stage in Place Moulay Hassan, and the following night at the more intimate riyad setting of Dar Saouri, which also saw a strange meeting between Bitches Brew and Gnawa trance with Senegalese-Vietnamese guitarist Herve Herv Samb sparring brilliantly with Maalam Adil Amimi.


Not all fusion comes out so well. The Armenian Navy Band's East European jazz paled against the frenetic, energizing Gnawa that had gone before and while Mahmoud Guinea's set with Daby Toure saw the Senegalese guitarist and singer meshing tightly with Guinea's ghimbri, there are times, even for Guinea, when the fusion fizzles rather than burns. Or maybe he just won't let them in. "For fusion to work out they have to love the Gnawa music and be sensitive to it so that they can get in," he says. "When it doesn't work out I feel really bad. I get really sick. Because my music is so important to me."

Essaouira benefits from a strange anomaly of magnetism that means the fishing port's many boats require a specially adjusted compass to navigate by. And maybe that's why people who visit tend to come again. It's certainly a hard setting to beat for a festival location.

As the sun goes down, hundreds of thousands of people gather in the portside Place Moulay Hassan, set between the Atlantic and the town's famous windsurfer's beach, bathed in the light of a full moon rising behind the stage as the first acts prepare for the night's revelries and reveries. Climb the six or so floors of the Casa Vera to their roof terrace overlooking Place Moulay Hassan, and down below you'll see the Gnawa musicians in full flow onstage, and before you extends the vast crowds, broiling and flaring with energy and communal release as the African sun sets over the Atlantic and the sky darkens. It's a scene from panoramic photographer Andreas Gursky, but in three dimensions, and for real. And the pulse and the music grows louder, and louder.
Watercolours of Essaouira by Tim Cumming
Photographs by Richard Duebel
Watch video trailer for the Gnawa Festival


Subscribe to theartsdesk.com
Thank you for continuing to read our work on theartsdesk.com. For unlimited access to every article in its entirety, including our archive of more than 10,000 pieces, we're asking for £3.95 per month or £30 per year. We feel it's a very good deal, and hope you do too.
To take an annual subscription now simply click here.
And if you're looking for that extra gift for a friend or family member, why not treat them to a theartsdesk.com gift subscription?