LUMIERE, Durham |

reviews, news & interviews
LUMIERE, Durham
LUMIERE, Durham
A city and its great Norman cathedral in lights, thanks to Artichoke's vision of art for everybody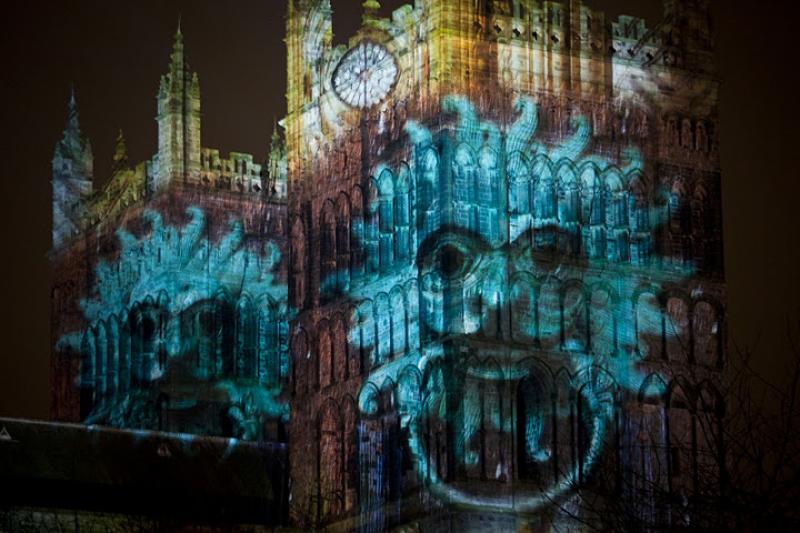 Crown of Light: Durham Cathedral's door knocker projected on its west towers as the centrepiece of LUMIERE
It would be hard to say which was the more breathtaking: a sunny autumn morning walk around the woody-banked loop of the River Wear, looking up at Durham's monumental Norman cathedral from every perspective, or seeing the great edifice illuminated the previous evening with pages of the Lindisfarne Gospel, centerpiece of the city's LUMIERE festival. For dynamic outdoor art to rival one of the world's most spectacular natural-urban scenes is quite something; for the citizens, who must almost take Durham's hilly location for granted, the festival offers a bewitching chance to renew a sense of awe about where they live.
Over the next three nights the narrow streets will be thronged with locals and visitors taking in not only the "Crown of Light", as this most sophisticated of cathedral son et lumières is called, but 34 other installations of varying sizes and ambitions. It comes at a high cost, so all praise to the phenomenal enterprise of Artichoke, the team who gave London The Sultan's Elephant and Liverpool La Machine, for their faith in great art for all outside the gallery walls and their involvement with Durham's council and businesses as well as major European Commission funding (artists from eight member states are involved).
Most simple in its loveliness is Splash, Canadian Peter Lewis's water cascade pouring over Ove Arup's concrete Kingsgate Footbridge
On a special preview evening, dress rehearsal, call it what you will, we were led into the centre past Claire Morgan's A New Moon, chandelier-bulb shining above, and reflected in, the Wear; 60 Second Cathedral, Pole Dominik Lejman's projection onto the Clayport Library of skydivers in architectural formation and Fusion, local artist Mick Stephenson's brilliant, LED-multicoloured transformation of two sides of an undistinguished building overhanging the busy road over Milburngate Bridge.
Most simple in its loveliness is Splash, Canadian Peter Lewis's water cascade pouring over Ove Arup's concrete Kingsgate Footbridge, a seeming illusion in blue and purple which prompted passing vicars, tarts and ancient Romans – in other words, Durham University students partying (on a Wednesday?) – to question its reality and judge it cool. New York has seen the like, in Olafur Eliasson's strategically placed waterfalls, but London will enjoy the Lewis experience some time soon; more, at the moment, I'm not allowed to say.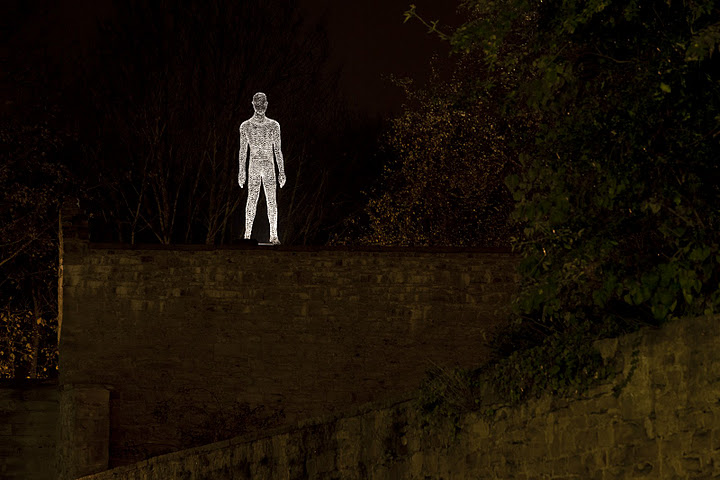 Up in the Market Place stands what's bound to be a jokey, populist hit. The locally unadmired, pompous statue of the Marquess of Londonderry on horseback has been encased by Jacques Rival in a plastic dome with "I Love Durham" in purple neon on the plinth: when activated, it will become a giant snow shaker, and has already captured the fancy of passers-by. Rival and his fellow French artists have ring-fenced the cathedral with great ideas, again ones I didn't have a chance to see in nocturnal action. But Les voyageurs, Cédric Le Borgne's unearthly flying, diving, standing and seated images (pictured above right, image by Matthew Andrews) looked hauntingly wraith-like in the morning light (pictured below left, image by David Nice); and Spirit, the Compagnie Carabosse's frameworks of scrap iron, flower pots and wired vests around the cloisters and in the cathedral itself promised pagan fire-magic which looks extraordinary in the photographs below.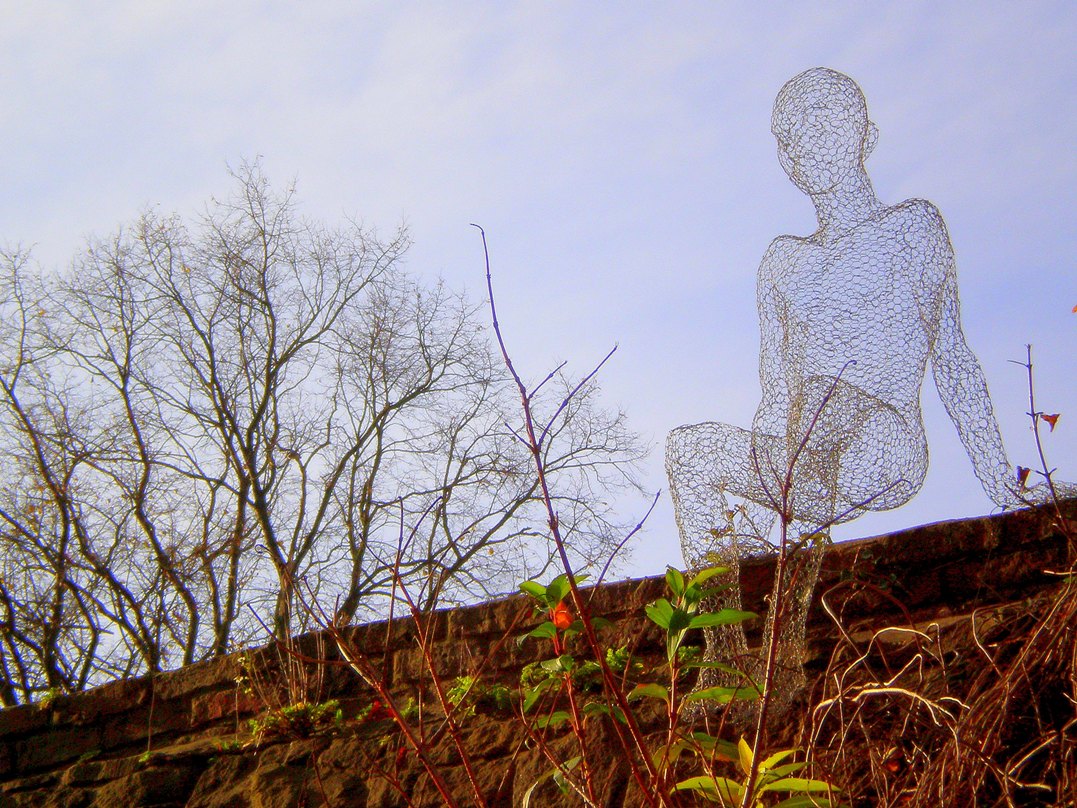 Unquestionably the grandest concept, and perfected since its hugely successful unveiling two years ago, is Crown of Light on the cathedral. By day, whatever you've seen from afar of the massy centerpiece will not quite prepare you for the first approach on Palace Green; this is the most imposing religious building most of us will ever encounter, though not the most elegantly beautiful (Gothic there is at the east end of the cathedral, but it's dwarfed by the massive Norman towers, choir and nave). By night, the massiness is flattened out, but Ross Ashton's images of old manuscripts – chiefly, of course, the Lindisfarne Gospel brought with the remains of St Cuthbert to Durham by the Viking-persecuted monks of the holy island (pictured below right, image by David Nice) – stained glass, cathedral treasures and images of time's vicissitudes – rise and fall awesomely up and down the walls, reaching to the very peak of the central tower.
The surround-soundscape, a collaboration between John Del'Nero and composer-conductor Robert Ziegler, begins with the waves at Lindisfarne, captures the rootedness-in-nature of the monastery and goes on to evoke the changing musical styles and sounds of passing centuries. The sound of hammering behind us was part of the intended effect – all of it superbly well amplified – but the occasional roar of youth from the direction of the castle was not; students pissing on Palace Green were possibly too pissed, in another sense, to share the wonder. No matter; the good folk of Durham and northerners from far and wide will come and be amazed, as we were; this is something which every great city should have, and which every humble citizen can own for these four days in November.
Click on Matthew Andrews's images below for the bigger picture
[bg|/ART/jasper_rees/Durham]
Spirit, Compagnie Carabosse
Spirit, Compagnie Carabosse
Les Voyageurs, Cédric Le Borgne
Splash, Peter Lewis
Binary Waves, LAb[au]
Crown of Light, Ross Ashton, Robert Ziegler, John Del' Nero
Sixty-Second Cathedral, Dominik Lejman
Love Durham, Jacques Rival
For dynamic outdoor art to rival one of the world's most spectacular natural-urban scenes is quite something
Explore topics
Share this article
Subscribe to theartsdesk.com
Thank you for continuing to read our work on theartsdesk.com. For unlimited access to every article in its entirety, including our archive of more than 10,000 pieces, we're asking for £3.95 per month or £30 per year. We feel it's a very good deal, and hope you do too.
To take an annual subscription now simply click here.
And if you're looking for that extra gift for a friend or family member, why not treat them to a theartsdesk.com gift subscription?