Lumiere London review - London in a different light |

reviews, news & interviews
Lumiere London review - London in a different light
Lumiere London review - London in a different light
Artichoke curate luminous installations and projections round the capital
Saturday, 20 January 2018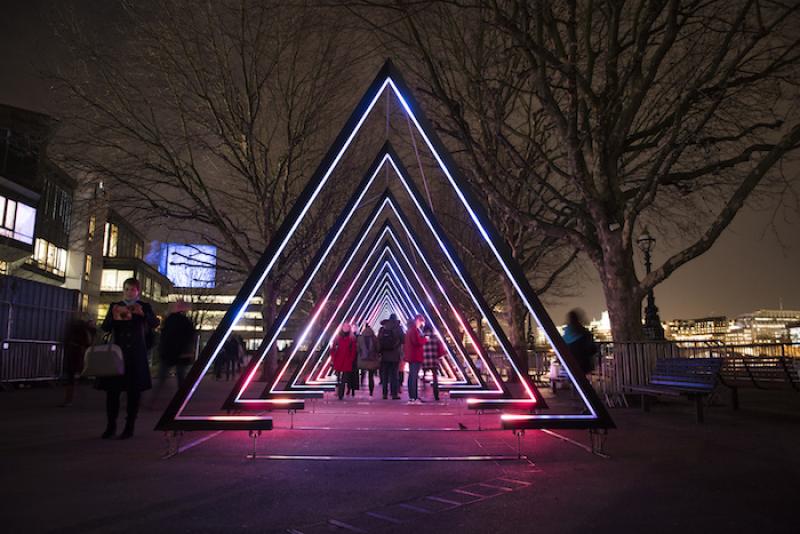 The Wave, by Vertigo at Riverside Walkway, Southbank
It seems they're having trouble with the lights. Thirty-five past five and they're not yet on. "Typical," laughs a woman, surveying the huddle of hi-vis chaperones. Palm fronds wave in the wind, suits leave work. St James's Square slowly fills with people. The huddle of technicians breaks up and in a short moment, candy coloured bulbs strung in rainbow belts between plane trees light up and everyone goes "Oooooh" and gets out their phone.
It's the second year of Lumiere London, the four-day (or rather four-night) festival of light across the capital put on by maestros of urban show, Artichoke. To some extent it's a way of flooding social media with pretty, graphic pictures of London. Instant impact. In another it's a slightly wonderful event – and totally free – kind of the apogee of public art. Attendees (or more accurately, pedestrians) have 58 sculptures to choose between, and this year's sculptures can be found in King's Cross, the West End, Mayfair and Fitzrovia, Westminster and Victoria, and Southbank.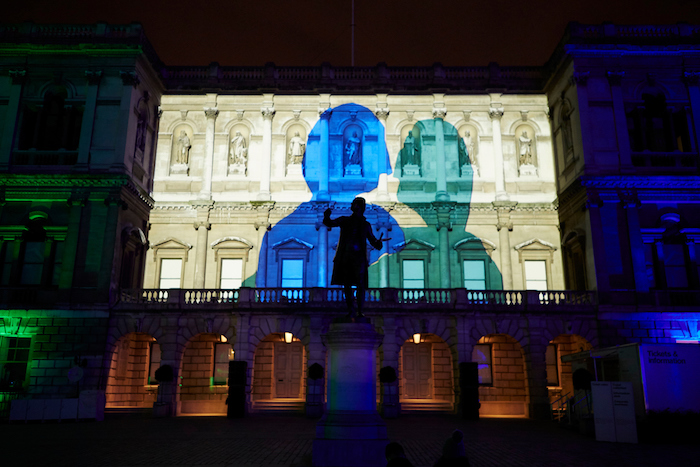 The atmosphere around Piccadilly is almost festive. The area is closed to cars and the quiet only becomes apparent when running into queues of black cabs down side streets, their distinctive gritty thrum identifiable at distance. People stroll down the middle of the road, peeling off to watch Rhys Coren's animation Love Motion (pictured above) projected in the Royal Academy's courtyard, or wander round St James's church which hosts Chris Plant's Harmonic Portal, Tracey Emin's Be Faithful to Your Dreams, and My Light Is Your Light by Alaa Minawi – a triptych of peace, hope and resilience, if you will.
In Kings Cross, Granary Square is filled with fog and blue lasers which fuse into patchy waves shimmering above excited spectators (Waterlicht by Daan Roosegaarde). There's glow-in-the-dark candy floss on sale, and the occasional whiff of mulled wine. Two Canadian girls picking at their luminous sugar stacks catch my eye: "I know, right?!" one says. Behind them, a guy exclaims "Kings Cross is craaaazy busy. Oh my daaaysss," and a mousy young tourist livecasts in Dutch.
It's hard to refrain from cynicism when a forest of raised phones sprout like glowing pistils from every spectator gaggle, and there are sale signs in all the shopfronts. So I ask the kids what they think. Here's Freddy (6), a natural critic: "There's not as many lights as I expected." Aisha (5) is more appreciative "It's like the sun's making a real rainbow at night," as is Hajrah (7) "It reminds me of peace." Kenneth and Orlando (average age 6) describe what their own sculptures would be: "I'd make a building out of lego and fill it with lights," and "I'd make a glowing football." I ask Jack (10) how he it makes him feel. "Happy," he replies.
So though the quality is variable, walking round London becomes something special – a treasure hunt which draws attention to temporary light shows and permanent lighting features alike. Most of the kids (and some of the adults) describe the experience as magical.
Making my way home, I turn into Chinatown and come across a mesmerised throng. Ahead, a fleet of illuminated flamingos dance and wheel above their puppeteers' heads. They cavort with punters queuing for restaurants, dip their wings to a group of cheery chattering Italian students, and lower curious beaks to the level of small children who laugh and hide behind parents' coats. One baby, a few months old and bundled warm strapped in a pram, stares transfixed at the bird face inches from its nose. Cynicism melts. The kids have it – the show's a success.
It's like the sun's making a real rainbow at night
rating
Explore topics
Share this article