Bloomberg New Contemporaries, Institute of Contemporary Arts |

reviews, news & interviews
Bloomberg New Contemporaries, Institute of Contemporary Arts
Bloomberg New Contemporaries, Institute of Contemporary Arts
Not so 'contemporary' but very pleasing work by recent graduates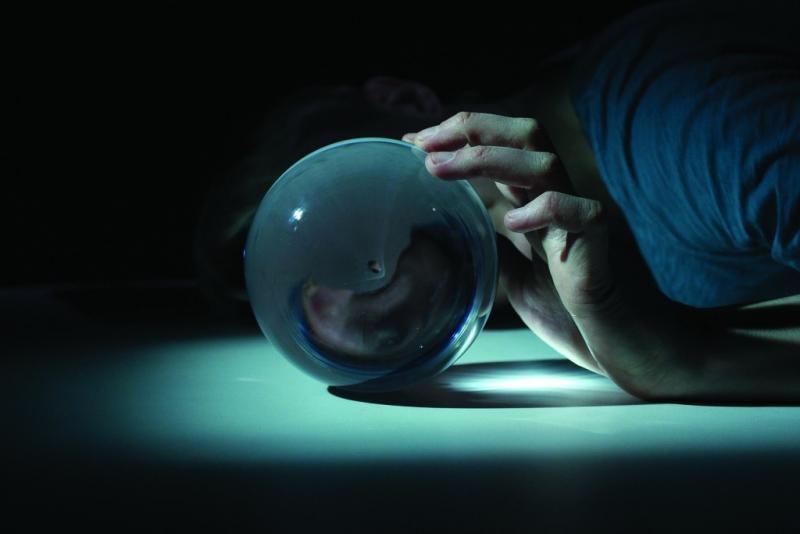 Still from 'Unnamed' by Yelena Popova
In his catalogue essay, Peter Osborne discusses the meaning of epithets such as "new" and "contemporary" when applied to current art, yet no one in this year's New Contemporaries seems to be striving to make work that is "new", "different", "radical", "challenging", "avant-garde" or even "eye-catching" – to name just a few of the attributes supposed to make an artwork significant, relevant or desirable.
As a result, this show of work by recent graduates is remarkably free of melodrama, posturing, narcissism, self-pity or self-importance – tedious qualities so often found in recent art.
Rather than desperately trying to attract the attention of dealers or collectors, these young artists seem to be working largely for themselves, which is just as well since, in these cash-strapped times, few people are willing to risk investing in untried talent. It's worth remembering, though, that Damien Hirst's generation emerged from college during an equally deep recession and, with no hope of being offered any exhibitions, decided to open their own galleries and set up their own shows on a shoe-string budget. Their work wasn't especially remarkable, but their vision, determination and drive were phenomenal.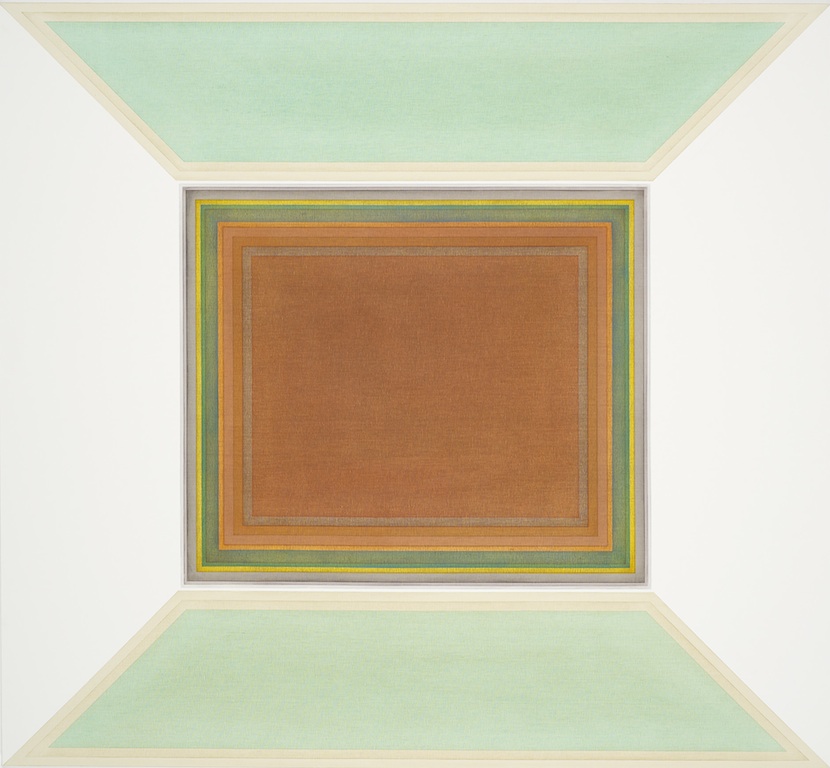 The work in this show is quiet, contemplative and often very satisfying. Take Selma Parlour, for instance. Painted in
thin washes of oil on linen, Room (pictured right) consists of a nest of squares flanked by trapeziums to create an illusion of depth, while acknowledging the flatness of the canvas. It allows the picture to be read as a flat surface, a box, a truncated pyramid or all three. The game is as old as painting itself, but Parlour's handling is perfect. A series of extremely subtle colours – mainly warm browns and soft greens plus the white of the ground – have been applied with the exactitude of an illuminator decorating a manuscript. The results are as pleasing as a perfect equation and the acronym QED (quod erat demonstrandum), usually appended to the proof of a theorem, would not be inappropriate.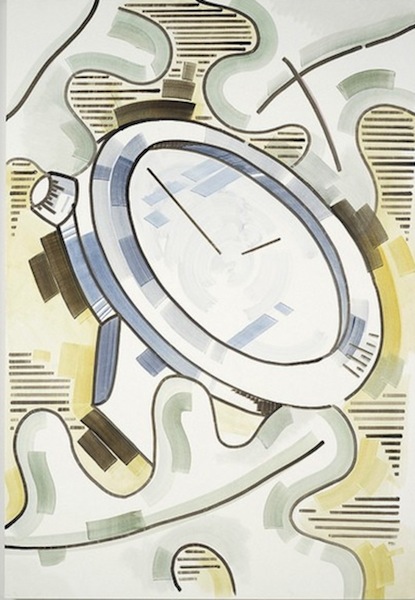 Marco Palmieri's paintings are equally finely modulated. Painted in pale ochres and grey-blues, his semi-figurative compositions (pictured left, Our time Sir, is vile and anti-philosophical) remind me of the Shell posters designed in the 1930s by established names like Graham Sutherland and Ben Nicholson; they have the same elegance and apparent simplicity, but contain sophisticated nods to Cubism and Russian Suprematism.
In The Ghosts in the Back Garden Anna Ilsley employs loose, expressionist brushwork to create an atmosphere of mystery coupled with an unexpected emotional neutrality; it's as though she were distancing herself from the dramatic, sci-fi implications of the fiery red sky smouldering ominously over the horizon.
Sculptor David Buckley also deals in ambiguity. Five lumpish bronzes (pictured below; photographs by Marie Angeletti) sit atop MDF plinths; coloured white over blotches of red and dark green, one resembles a swirl of Neapolitan ice cream; there's a honeycombe cluster reminiscent of a wasp's nest and another swirl resembling a torch flame. Each has a distinct personality – hence the desire to name them – but despite being pleasingly familiar, they seem to be metamorphosing into awkward aliens.
Photography appears to be in the doldrums; now that we have more mobile phones on the planet than people and SIM cards are daily filled with idiotic pictures of trivia, no one seems able to restore a degree of dignity or gravitas to the abused medium. For exploring interesting ideas and important issues, video still seems a viable option, though. In Unnamed (main picture), Yelena Popova probes the interface between personal memory and official history. She was born in a town in the Urals built on a peninsular surrounded by lakes for people involved in Russia's first nuclear project; the place had no name and its existence and location were kept secret. What a gift for an autobiography! Add to this the fact that they suffered the worst nuclear accident after Chernobyl but it was kept secret for 20 years – until 1979, when Popova was one year old – and you have the ingredients for a fascinating discourse on the nature of identity and belonging, and of memory and denial. Contemplating the effects of radiation on the human body and using photographs bleached to near invisibility, Popova makes a brave stab at tackling this huge subject; with such a rich vein of material at her disposal, she has the potential to return to the topic again and again.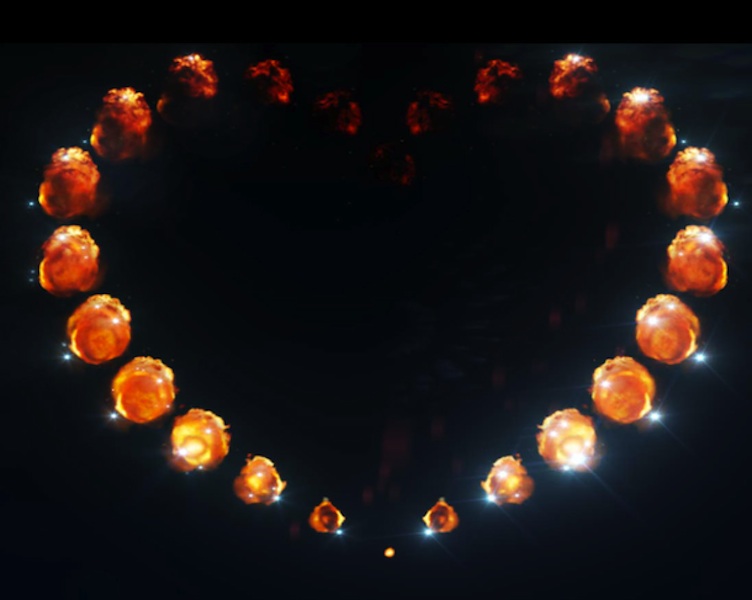 South Korean artist Hyewon Kwon takes the story of Mullaedong, a housing project built for workers in Seoul in 1961, as the focus for a similar exploration. Footage filmed during the inauguration is repeated eight times with voiceovers from the news; optimism gives way to dismay as reports come in of a worker crushed by falling masonry, a murder, an inmate dying of malnutrition and budget cuts that reduced meals to a bowl of bean sprout soup. Finally, in 1999, the building was demolished and the records burnt – presumably to erase all traces of this embarassing failure. By giving the project renewed visibility, Kwon invites us to speculate about other events erased from the history books.
The most politically astute video, though, is Ian Marshall's apparently apolitical Barclay Blooms (pictured above right). A series of explosions culled from the media are repeated into patterns whose mesmerising beauty belies the horrific reality of their source – whether it be a car bomb, an arson attack or simply special effects. Taken out of context, these glorious fire balls become pure spectacle, an invitation to indulge one's love of pyrotechnics without having to consider either the effects of the blast or the circumstances that provoked it. Perhaps envisaging a time when, numbed by video games and fictional or real violence, our ability to empathise has been irreversibly damaged, this film is deeply pleasurable and profoundly amoral. I wonder if Marshall is aware of just how pertinent – how "contemporary" – his idea actually is.
Rather than desperately trying to attract the attention of dealers or collectors, these young artists seem to be working largely for themselves
Share this article