The Nutcracker, Royal Ballet |

reviews, news & interviews
The Nutcracker, Royal Ballet
The Nutcracker, Royal Ballet
The Royal Ballet knows how to Crack a Nut: an always inventive production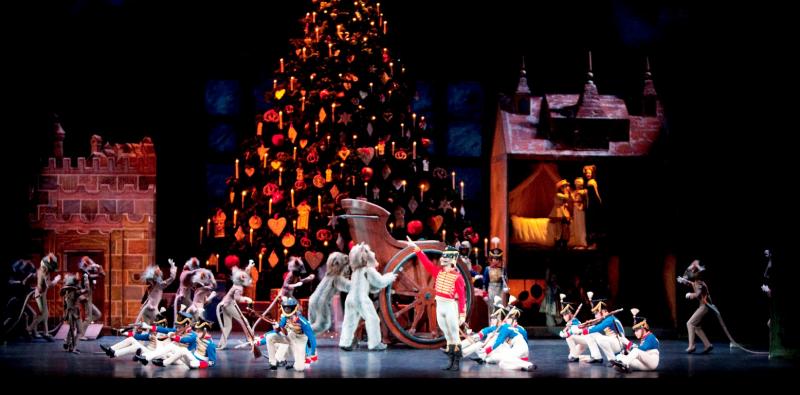 'The Nutcracker': love it or hate it, the Royal Ballet boasts a model production
The Nutcracker, if this isn't too much of a mixed culinary metaphor, divides audiences like Marmite: love it or hate it. Usually it's the critics who hate it, and for them it is often only the annual round of Nuts to be Cracked that wears on the soul. It is hard to imagine, otherwise, that anyone with functioning ears can fail to be thrilled as what is arguably Tchaikovsky's greatest orchestral work begins to swell from the pit.
The Royal Ballet has, for the last quarter-century, been blessed with a model production. Where it has survived, Lev Ivanov's choreography is carefully staged by Peter Wright; where it hasn't, he has efficiently knitted the seams together with new material. More magical yet, Julia Trevelyan Oman's sets walk sure-footedly along the fine line between historical accuracy and theatrical magic. Wright revised his work about a decade ago, to balance better the realist/historical first act (little dancing, but lots for children to love) and the classical second (lots of dancing, but little narrative to keep the kinder amused). Both acts now work more harmoniously and the silence from the children in the audience even during the long danced segments proved the strength of his production.

There were some nice performances across the board: Fernando Montaño and Valentino Zuccheti, both young First Artists, impressed in the party scene; David Pickering was a splendidly ferocious Mouse King (and the Lower School tinies made particularly fine mice paramedics as they collected their fallen comrades). Ricardo Cervera was a splendid Nutcracker. Drosselmeyer, in many ways the key to any depths of emotion the evening may produce, was sensitively performed by William Tuckett, who was both a dab hand with the magic tricks, and also showed how Drosselmeyer's magical persona is a shield for his loneliness.
Sarah Lamb, the scheduled Sugar Plum Fairy, was taken ill at the last moment (indeed, the announcement was only made at the interval), and Marianela Nuñez stepped in to dance with Thiago Soares. Nuñez's classical credentials grow stronger by the day, and she also becomes more interesting, even in roles like this, where one thinks that there is not much more to be found. She is at heart a performer, as well as a dancer: everything is pitched doubly, to the characters she is interacting with on stage, and to the audience. Always a strong technician, now she is developing further. Nothing is simply a step, but has meaning, both theatrical and musical. Thiago Soares is her equal, and although as her cavalier he does not have much scope, his own variations, and his partnering, are a pleasure to watch.
Even more of a pleasure was the BBC Concert Orchestra, under Barry Wordsworth, who played as if Tchaikovsky's music were new-minted. The opening bars of Act II, with their haunting rise and dying fall, in particular, were memorable. A special Christmas treat.
Watch the Royal Ballet perform The Nutcracker on their DVD

It is hard to imagine that anyone with functioning ears can fail to be thrilled by Tchaikovsky's greatest orchestral work
Share this article