The Nutcracker, English National Ballet review - a thoroughly enchanting performance |

reviews, news & interviews
The Nutcracker, English National Ballet review - a thoroughly enchanting performance
The Nutcracker, English National Ballet review - a thoroughly enchanting performance
Great warmth, lush detail and a twist of darkness
Thursday, 14 December 2017
Fabian Reimair as Drosselmeyer in English National Ballet's Nutcracker
The familiar doesn't have to get old. Last night at the Coliseum there were children in the boxes, adults in the circle and grandparents in the stalls.
Seasonal favourite Tchaikovsky's
Nutcracker
brings all ages to the
ballet
—
as well as each audience member's inner child, and this year's revival by
English National Ballet
is no exception.
The magic begins with Peter Farmer's designs. Snow falls in gusts as guests arrive to the party by skating across a frozen lake; the interior of the house is festooned with lavish drapery which makes the most of the space's depth and later warps well into Clara's dreamscape. This twist into darkness is touched on in Clara's bedroom: a triple bow of of baby blue arches lit up and isolated from the rest of the darkened stage. It implies the loneliness of dreams — such solitary journeys — and the homeliness of known surroundings. Young Clara, danced with accomplishment by Sophia Mucha, nervously checks under the bed before settling to sleep, an action which captures the hinge between the strange and the reassuring upon which fairytales balance so precariously.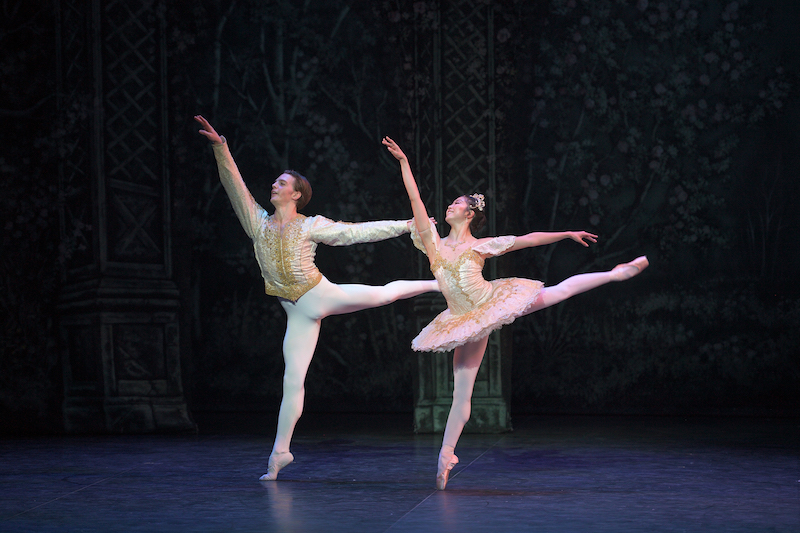 And amid the grand tableaux, it's these little details that count. Before the party, a perfectly pitched vignette of sibling rivalry plays out: Young Freddie (usually Fritz, performed brilliantly by Emile Gooding) scampers round Clara's room while she's changing, and Clara's little burst of pride at her swirling silky skirts is brushed aside when big sister Louise (Alison McWhinney) sweeps in to survey with brittle and excitable vanity her dress in the pier glass. Tensions between the three siblings are set up with precision and economy, and play out rounded off by humour. Later, when Freddie is chastised at the party by his parents for toppling Clara in front of guests, he bridles at the unfairness and stomps over to his Grandfather (Michael Coleman) who proffers a glass of champagne. While the ensemble dances, Freddie drains and returns the glass; after a moment's surprise Grandfather simply calls for more. Querulous Grandmother (Amber Hunt) is beautifully oblivious. Later the pair doze while the youngsters party.
Close attention to dramatic minutiae persists throughout Act I. Drosselmeyer (Fabian Reimair, pictured top centre) presides over the party's gift-giving with unashamed partiality and the reception of each gift is played with particularity by a splendid ensemble of young dancers from Tring School. Later, in the midst of battle, lewd rats waggle their bums like raffish berserkers to mock the staid soldiers they are fighting — though their catapult which fires cheese is about as effective as the soldiers' squib of a cannon. James Streeter's Mouse King is pleasingly and overweeningly hectic, and Clara's (Shiori Kase, pictured above with Joseph Caley as Drosselmeyer's Nephew) astonishment when the Nutcracker (Gilherme Menezes) drops his mask is just a single remarkable moment in a thoroughly enchanting performance. Clara stretches her crossed and clasped hands downwards in almost palpable joy as the Nutcracker lifts her holding her hands in his — her excitement is quite literally the pivot of our delight.
Act II's Land of the Sweets is more uneven. While the Spanish dance is carried off with camp, glee and red velvet pantaloons, the Arabian dance is gorgeously sinuous but very questionable, and the Chinese, Russian and Mirliton dances feel thin. The emptiness of the stage intrudes. The orchestration too seems to pull into over-decorousness as plot cedes to show. Drosselmeyer remains a vivacious MC, but the energy doesn't return until the Flower Waltz (pictured above), which refills the stage with dancers, and lifts to a glorious pas de deux between Clara and Joseph Caley as Drosselmeyer's Nephew.
Clara wakes suddenly in bed. Freddie too is awake and despite the petty resentments of the evening's excitement, they recount their dreams and embrace — loving siblings. Then, together, they peer out at the snow. It's a wintery night and they hurry downstairs in time to see Drosselmeyer and his Nephew off. It is cold so they huddle for warmth. Before returning to the house, they catch sight of their departure vehicle, a balloon. No matter how many times Christmas comes round, there's always a little bit of magic to be found.
The English National Ballet's Nutcracker is at the Coliseum until 6 January
In the midst of battle, lewd rats waggle their bums like raffish berserkers
rating
Explore topics
Share this article