Guitarist Hubert Sumlin, 1931-2011 |

reviews, news & interviews
Guitarist Hubert Sumlin, 1931-2011
Guitarist Hubert Sumlin, 1931-2011
Influential blues great dies at 80
Tuesday, 06 December 2011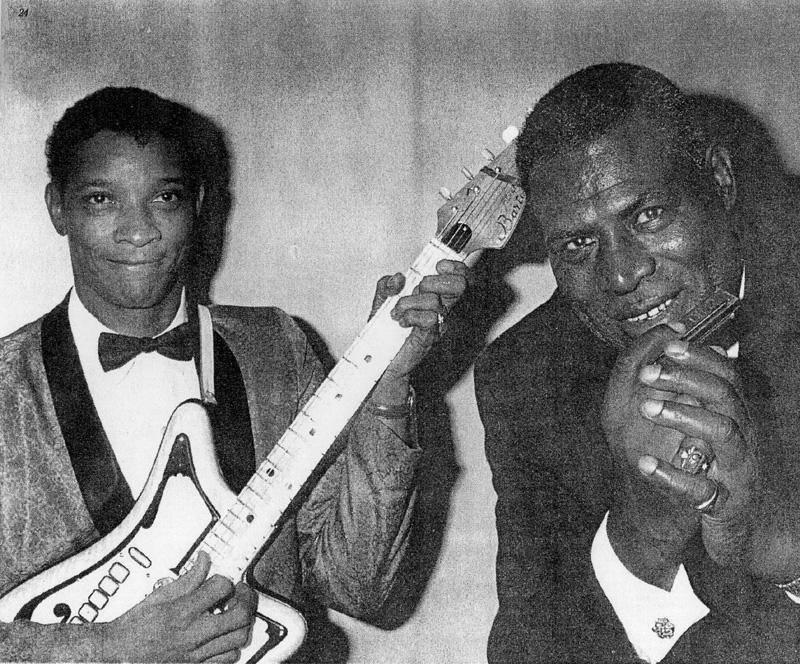 Hubert Sumlin (left) with Howlin' Wolf
Without Hubert Sumlin there would have been no Yardbirds, Captain Beefheart, Led Zeppelin, T-Rex or White Stripes. He was also an essential ingredient for The Rolling Stones. As Howlin' Wolf's guitarist, his straightforward power was the perfect foil to Wolf's guttural vocal roar. The combination of Sumlin's razor-wire distortion and bouncy riffing was irresistible and prefigured – influenced – the hard rock which evolved in the late Sixties.
It also gave Marc Bolan his electric guitar style when Tyrannosaurus Rex became T-Rex.
The songs Sumlin played on became classics and were influential. But they were fun, too, and about more than just Howlin' Wolf. Sumlin was integral to the sound, essential to Wolf's persona. Below are a selection of highlights to watch and listen to.
Sumlin was born in Greenwood, Mississippi. Self-taught, he began playing guitar at six. In 1948 he started playing with James Cotton, but it was Howlin' Wolf's invitation to join him in Chicago in 1954 after he'd signed with Chess Records that gave Sumlin the platform he'd occupy until Wolf's death in 1976. The Howlin' Wolf band originally had two guitarists, but after Jody Williams dropped out in 1955 Sumlin became the outfit's sole guitarist. The impact of his playing was acknowledged on the 1970 album Howlin' Wolf London Sessions, recorded in London, which featured Sumlin alongside Eric Clapton, Steve Winwood and The Stones's Ian Stewart, Charlie Watts and Bill Wyman.
Following Wolf's death, Sumlin toured in a band called The Wolf Pack. His last album, 2004's About Them Shoes, included contributions from Keith Richards, Eric Clapton and David Johanson. Sumlin had a lung removed that year and would play live with an oxygen canister close to hand. He died of heart failure.
Hubert Sumlin. Born 16 November, 1931. Died 4 December, 2011.
Listen to Hubert Sumlin playing on Howlin' Wolf's studio recording of "Moanin' at Midnight"
Watch Hubert Sumlin performing "Smokestack Lightnin'" with Howlin' Wolf in 1964
Listen to Hubert Sumlin playing on Howlin' Wolf's studio recording of "Smokestack Lightnin'"
Watch Hubert Sumlin performing "Shake For Me" with Howlin' Wolf in 1964
Watch Hubert Sumlin performing "How Many More Years" with Howlin' Wolf in 1966
Watch Hubert Sumlin performing "Dust my Broom" with Howlin' Wolf in 1966
The combination of Sumlin's razor-wire distortion and bouncy riffing was irresistible
Share this article