Cabaret Falafel, Gaby's Deli, second verse! |

reviews, news & interviews
Cabaret Falafel, Gaby's Deli, second verse!
Cabaret Falafel, Gaby's Deli, second verse!
Performers protest, musically: save Gaby's Deli in London's theatre-land
Saturday, 10 December 2011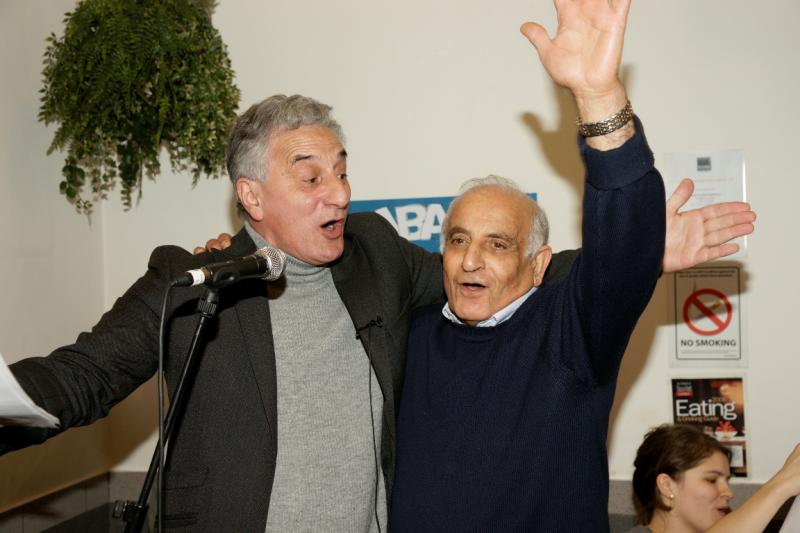 Henry Goodman sings out for Gaby's Deli, with owner Gaby Elyahou
Well, the stars were out near Leicester Square, and it was neither the premiere of a Hollywood blockbuster, nor even a clear night. Instead, the stars were in conjunction at Gaby's Deli, now the hotbed of a revolt against the plastification of London, a valiant push-back against the heart of theatre- and cinema-land being turned into a clone of every high street in the country.
Gaby's Deli has fed hundreds of thousands of audiences before and after shows, with its mix of Jewish deli and Middle Eastern favourites. It has also, crucially, fed thousands of actors, singers, dancers and musicians. Now they are massing against the might of the Marquess of Salisbury (ground landlord), whose company wants to evict the lovely Gaby and his deli, in order that a (I quote) "a Strada-like chain restaurant" can take its place.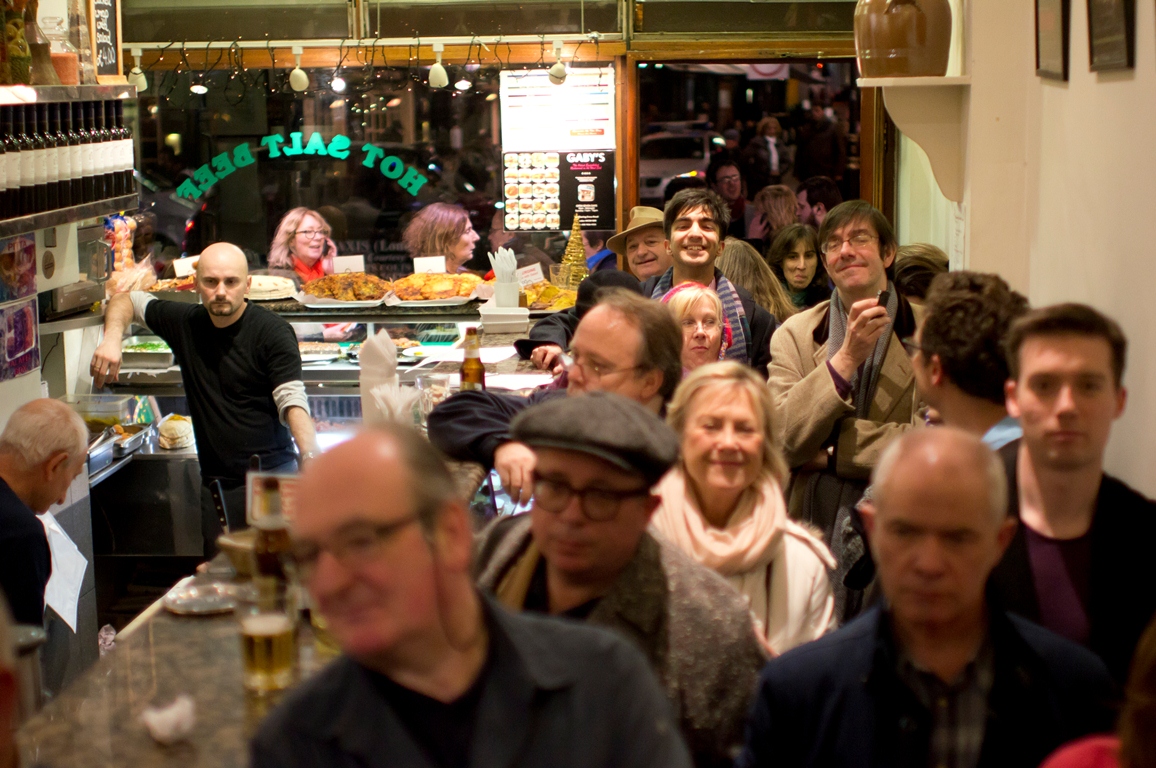 Performers are shrieking "no", very melodiously, and on Thursday night at the hastily renamed "Cabaret Felafel" (Gaby's with some tables pushed aside and standing room only by the takeout counter, above, including theartsdesk's own David Nice -- a falafel for the reader to identify him first!), the double-Olivier-award-winning actor and singer Henry Goodman performed carols written by Alistair Beaton. (Watch him, on youtube, below.)
Goodman told theartsdesk: "As a young boy growing up in the East End of London it was quite a treat to go up to Charing Cross Road. I would dream of appearing in all the theatres, visit Foyles to browse through the books and maybe if I could have a cup of tea at Gaby's Continental Bar." He understands the allure of Gaby's to its thousands of customers: "Gaby's always felt a bit un-English," yet while "it is so unassuming, it has developed a niche role in the area…I remember talking to Jeremy Irons there about a play we were both in, and to Alun Armstrong after a performance, and to Ute Lemper during our time together in Chicago". Take that, Strada, say campaigners. Who's sat in your chain? Betcha it wasn't Ute Lemper.
Goodman's vibrantly duetted with Gaye Brown, actress and revue artist (right, with, left to right, Gaby Elyahou, Henry Goodman and Alistair Beaton), who is also a Gaby's stalwart. "Prettifying an area is not always good…look at what the council has allowed to be done in the rest of the West End. We have lost the Piccadilly Café, the Burlington Arcade is under threat and now Gaby's. This is a complete disregard for what makes London great. When I first worked on Charing Cross Road the street was full of small independent cafés and restaurants. Now it is only the Indian restaurant and Gaby's left. Gaby's is part of what makes London such an extraordinarily diverse city. He brings in a lot of custom and pays the rent. What more could you ask?"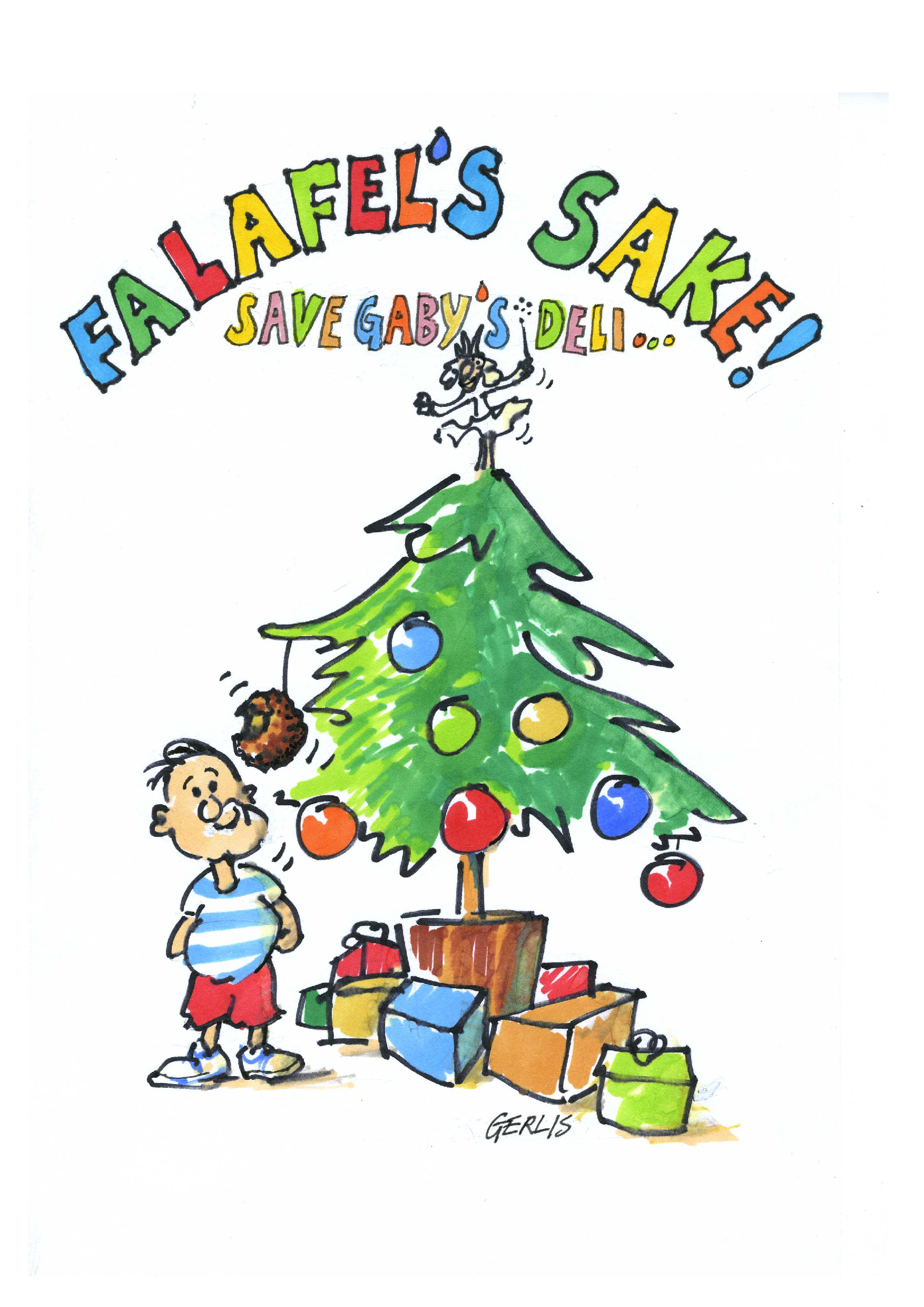 Good question, and no doubt one that will be asked at the next rousing chorus of Cabaret Falafel, in January, when Simon Callow will give a reading. A specially written play is commissioned after that. In the meantime, "Save Gaby's Deli" Christmas cards are available (pictured left): send one to Boris Johnson, another to the Marquess of Salisbury. And sign the petition!
For more Cabaret Falafel news, stay tuned, and in the meantime, theartsdesk raises a salt-beef sandwich to salute these fine performers and Gaby's.
Henry Goodman performs at Cabaret Falafel, on youtube: