Laurencia, Mikhailovsky Ballet, London Coliseum |

reviews, news & interviews
Laurencia, Mikhailovsky Ballet, London Coliseum
Laurencia, Mikhailovsky Ballet, London Coliseum
Another hero, another peasant revolt, but these Russians offer surprises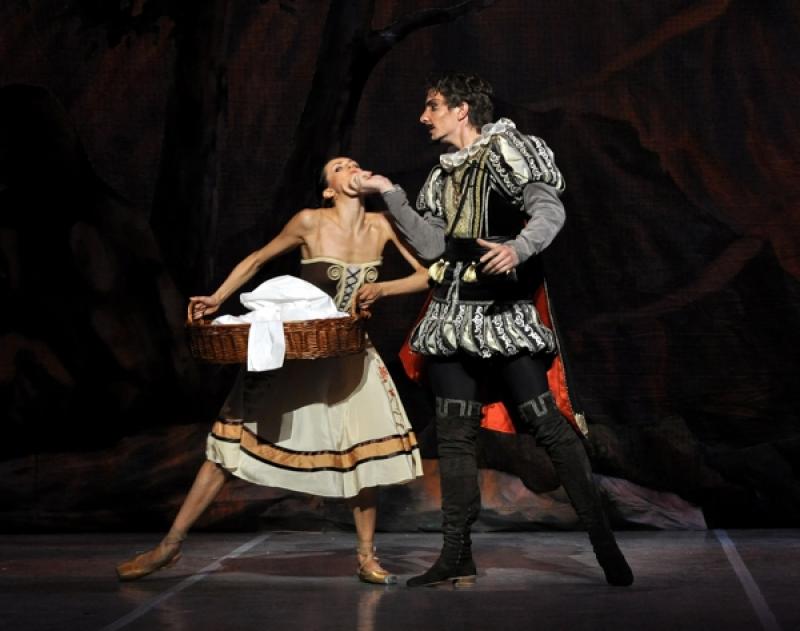 Villainy goes forth to pillage: Irina Perren as Laurencia and Mikhail Venshchikov as the evil Don Fernan Gomez
Rape, marauding soldiers, peasants on the warpath and a flash hero - are we at the Bolshoi's Spartacus once again? No, we're at the Mikhailovsky Ballet down the road at the Coliseum where a rather more Erroll Flynn-type spectacle is being offered, Laurencia.
This is a Soviet warhorse predating Grigorovich's
Spartacus
by two decades, and with a much more 19th-century costume ballet feel to it, more of an alternative
Don Quixote
, with a bravura pair of leading roles and lashings of Spaniards and castanets.
It's set in Spain, based on Lope da Vega's 17th-century peasant revenge tragedy Fuente Ovejuna in as serious a way as Don Q is based on Cervantes. Ie, the great literary work is a McGuffin for dancing. Like Don Q it has a perky boy and girl ready to flirt and leap all the way to their wedding, but this time the invading aristocrat is less benevolent. He is the vain and hideously moustached Grand Commander of the Order of Calatrava, Don Fernán Gómez, a symbol of every corruption in the West (Mikhail Venshchikov a dead ringer for Lord Edmund Blackadder), and his mind is fixed on harvesting pretty proletarian girls.
However, he has to contend against the high-flying legs of the dashing role originated by the ballet's creator, the USSR's first real male superstar Vakhtang Chabukiani, and a leading lady once incarnated by the two über-ballerinas Natalia Dudinskaya and Maya Plisetskaya. So unlike Spartacus we know whose head is going to end up on a halberd, and it isn't Erroll Flynn's.
In 1939 this ballet was a monster hit, and remained so for decades - there is some Fifties film of it showing Chabukiani's muscular gipsy charms crackling over the celluloid more than half a century later. His solos have idiosyncratic folkloric heft to them, rather than classical finesse, yet his choreography delivers the expected classical refinements for the side couples. Nureyev loved the ballet (see video below), and even staged parts of it for the Royal Ballet. This new staging by the Mikhailovsky is a restorative adaptation by their artistic director Mikhail Messerer: restorative, in that it brings back to view a work that had become a tainted relic of the Soviet old-hat which Grigorovich's Spartacus rallied the modernist forces to fight, and adaptation in that Messerer has stitched it together from several variant productions.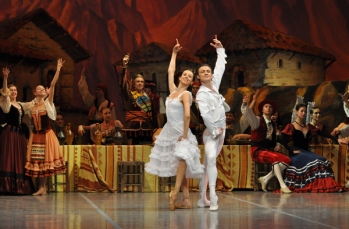 But enough sober history. Is Laurencia an intoxicating night out with the stars? Not quite. Its first problem is its music. By the 20th century, spoiled by Tchaikovsky, Prokofiev and Rimsky-Korsakov, one's expecting superior sounds in ballet, while this is sub-Khachaturian by a compositional footsoldier Alexander Krein, smudgy music with Hispanic flavour but not real Spanish rhythms, and with strange foretastes of the Spartacus themes to come 20 years later from the younger Khachaturian. As for some of those waltzes in the Act 2 wedding scene, don't they sound suspiciously 19th-century and European? So musically this is inconsequential by comparison with Rimsky-Korsakov and Khachaturian, let alone Prokofiev (and not even as effective as Asafiev). Valery Ovsyanikov was conducting last night, rather sceptically, I thought.
Also, if the Mikhailovsky have proved one thing about their natural company style, it is discretion and good taste, not the kind of rumbustious smack and kick that this ballet calls for. When choreography isn't great, you need a pair of knock-out performances even more, and while Denis Matvienko delivered eager fervour and some bravura in his many double tours en l'air, and Irina Perren was a ravishing Laurencia, their grace as a couple appeared to me too restrained, even criminally subtle, compared with the blazing fragments of Chabukiani film that flickered like ghosts over the curtain between scenes. (Pictured above, Perren and Matvienko: photograph John Ross)
For the desirable combination of Bolshoi-esque blatancy and orientally tapered finger and toe, Sabina Yapparova scored top female points, while Oksana Bondareva had a whale of an acting scene as a rape victim, all torn skirts, tumbling hair, and hands clutching the skies. Next to this kind of full-on approach, Perren, a beautifully gentle Giselle last week, appeared the least likely rabble-rouser of the three.
How this enjoyably retro piece fits into Russian ballet history is understood; whether outside Russia it will travel robustly beyond the drawer marked "Old Postcards" I doubt. But still, the Mikhailovsky Ballet has done bravely on this tour in its programming as far as balletomanes are concerned: offering a trail of discoveries and some handy company dancing. Their attitude seems refreshingly directed towards artistic surprises rather than box office predictability, and of what other Russian company can one say that nowadays?

Video of Rudolf Nureyev and Ninel Kurgapkina ina 1959 festival performance (with Yuri Soloviev and Tatiana Legat, now the Mikhailovsky's coach, in the supporting quartet):
Unlike Spartacus, we know whose head is going to end up on a halberd, and it isn't Erroll Flynn's.
Share this article