Knight and Day |

reviews, news & interviews
Knight and Day
Knight and Day
Satirical romcom action thriller on steroids fails to convince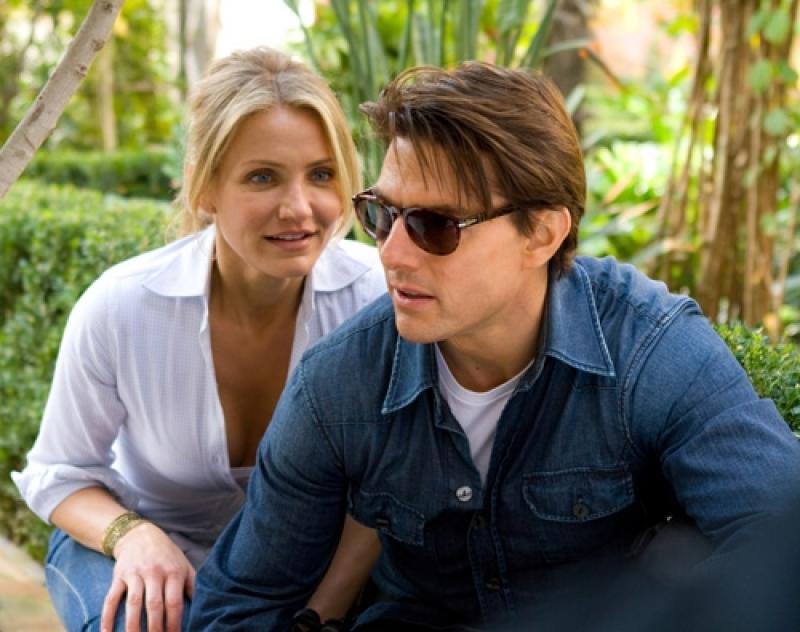 'How did I get here?' Cameron Diaz is swept away by hyperactive super-agent Tom Cruise
Director James Mangold says he "set out to create a world that feels completely real to the audience, yet is also deeply comic". Somehow he ended up with Knight and Day, which feels completely unreal and is modestly amusing in places. Tom Cruise, playing CIA super-agent Roy Miller, is so "real" that he can survive lethal assaults by swarms of assassins, plummet unscathed from high windows, swim underwater for miles and leap off flyovers onto speeding vehicles.
Walking through gales of automatic-weapons fire, he suffers only a cut across his ribs.
Somewhere on the travel itinerary any directorial magic went missing
Such humour as there is comes from the way Cruise keeps flashing his orthodontically miraculous smile and talking soothing nonsense to love interest June Havens (Cameron Diaz, looking bewildered and under-written) in moments of absurdly cranked-up levels of danger, nonchalantly massacring bad guys like rows of fairground ducks in between. Other incidental pleasures include the way Cruise wanders into the corpse-littered cockpit of a Boeing 727 and plonks the plane down in a cornfield as calmly as if he's unwrapping a stick of gum, or the scene where he's spreadeagled across the windscreen of a careening limo trying to get a hysterical Diaz to let him climb inside. Unfortunately the best stuff happens in the first half-hour.
There is a plot of sorts. Cruise is trying to protect the hopeless nerd Simon Feck (Paul Dano), who has invented the world's most powerful and long-lasting battery called the Zephyr. However, the CIA believes Cruise has "gone rogue" so they're out to hunt him down. Diaz inadvertently gets caught up in Cruise's airborne micro-armageddon, is sucked into the mêlée of battling agents (including a criminally wasted Peter Sarsgaard), and finds that Cruise has decided to save her whether she likes it or not. A strangely uninteresting Spanish arms dealer called Antonio Quintana sticks his 10 euros of evilitude in for good measure, but really needn't have bothered (Tom and Cameron's big adventure, pictured below).
If Cruise can manage a kind of frantically overachieving levity, he can't stretch to sexual chemistry. He couldn't even manage it with Nicole Kidman, and she was his wife. His idea of "romance" is to scare Diaz to death, shoot her ex-boyfriend amusingly in the leg (no worries, only a flesh wound!), knock her out with drugs and cart her by boats, trains and planes to his secret lair in the Azores. She's aghast to find that he has undressed her and squeezed her into a bikini while she was unconscious, though what might in other circumstances be stalker-ish creepiness is presented as a token of Tom's cheeky charm.
There are lots of glamorous locations - Salzburg, Seville, the Alps - whose profligacy is presumably intended to spoof the Bourne and Mission: Impossible franchises, but somewhere on the travel itinerary any directorial magic went missing. Mangold unwisely name-checked North by Northwest and Stanley Donen's rather adorable Charade as wannamake influences, but in place of charm, irony or style he just keeps shovelling in more set-pieces.
The director scored big with the Johnny Cash movie Walk the Line and his hard-bitten remake of 3.10 to Yuma, but both were powerful narratives driven by well-rounded characters rather than X-Box fantasies. Knight and Day might have been a better picture if he'd given his stars more expressive rope (remember Cruise's astounding turn as movie producer Les Grossman in Tropic Thunder?) but the supposedly fun-packed action format has locked them in a giant prison. Oh well, it's only a summer blockbuster.
Watch Knight and Day trailer