Coram Boy, Bristol Old Vic at Colston Hall, Bristol |

reviews, news & interviews
Coram Boy, Bristol Old Vic at Colston Hall, Bristol
Coram Boy, Bristol Old Vic at Colston Hall, Bristol
Award-winning adaptation of Jamila Gavin's classic comes to the west country
Saturday, 24 December 2011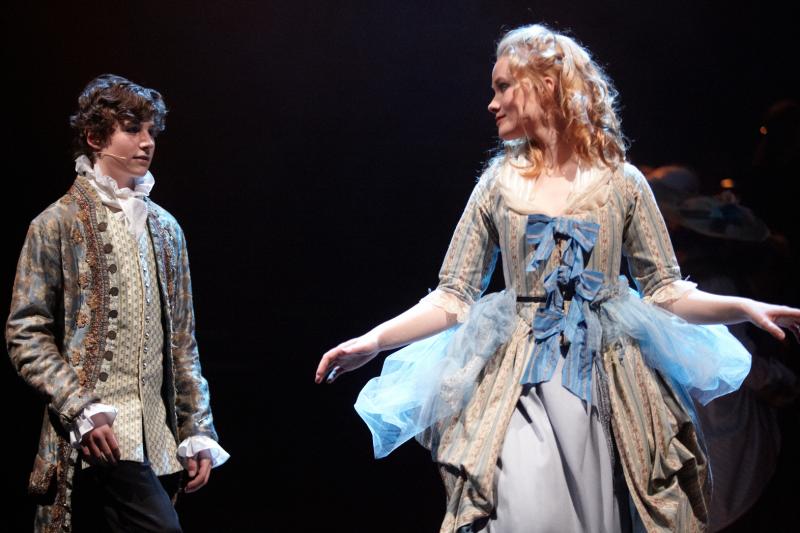 George Clark (Alexander) and Mabel Moll (Melissa): the love that shines on the dark world of 'Coram Boy'
Coram Boy is a thrilling story of dead babies, teenage love, material greed and the redeeming power of music. This is Christmas entertainment that packs a powerful punch, borne aloft by the inspiring sound of Handel's Messiah, with horrific events presented on stage, an emotional rollercoaster ride that is definitely not for the very young or the faint of heart.
The production comes from the same team that launched the show, based on Jamila Gavin's now classic young persons' novel, at the National Theatre in 2005. Adapted by Helen Edmundson and directed by Melly Still, it has been re-imagined as a larger-scale event involving young people from Bristol as well as local musicians and actors. The show is part of Bristol Old Vic's ambitious outreach programme, a nomadic series of performances in venues around the city during the major refurbishment of the 18th century Theatre Royal, now under the dynamic creative leadership of Tom Morris.
The many-layered story, loosely but faithfully based on historical fact, concerns the fate of children born to unmarried or destitute mothers who were received in a home for unwanted babies founded by the philanthropist Thomas Coram. Coram Boy focuses on the lives of a large group of characters, whose inter-related fates transcend social class, offering a microcosm of 18th century society – not far in spirit from the world of Dickens – a confrontation between what is worst and best in a society driven by human greed as well as a sense of charity.
Otis Gardiner, the mercurial impersonation of evil, tricks mothers into parting with money and their newborns while pretending to be an official "Coram Man". He then kills them heartlessly and buries some of the babies alive. This is a part that could easily spill over the top but Tristan Sturrock (pictured right) knows how to move, speak and shriek with just the right dose of emotion. This is no caricature but a very real depiction of human weakness disguised as strength. His son Meshak, played with great sensitivity and uncanny presence by Fionn Gill is the exact opposite in this archetypal dyad – a sterling heart in a frame of mental and physical frailty. Otis is driven by the lure of money, while Meshak has visions of angels. The dance that both unites and divides them takes the show well beyond the realm of seasonal entertainment for kids.
Although these two are the stars of the show (as well as the mainstay of the story), the other performers come across just as vividly. With a few minor exceptions among the younger members of the cast, the acting is of a high standard. Saskia Portway brings great warmth to her portrayal of Lady Ashbrook – as well as a powerful sense of grief. Lucy Black, also a seasoned member of Andrew Hilton's talented regulars for his Shakespeare at the Tobacco Factory, plays the scheming Mrs Lynch, Otis Gardiner's sidekick and housekeeper of the Ashbrook household, with an eye to the woman's bitterness and hurt, emotions which explode when she turns on her aristocratic employers, reminding them that, however much good they think they are doing, their comfortable lives rest on exploitation and wrongdoing.
Jamila Gavin's novel was adapted by Helen Edmundson who has done great work with Shared Experience: Coram Boy has something of the same cinematic feel, with a great deal of narrative complexity reduced to a series of overlapping scenes, varying in length and pacing. There are a few moments when the elision that comes with adaptation goes too far, and events pass by as if in a flash and without the lingering effect that would give them more strength, or indeed intelligibility. When the pace does allow for things to happen at a slower pace they possess an undeniable force, as when Alex the young Ashbrook heir, soon to run away from his aristocratic home, declares his love to cousin Melissa, or when, a decade or so later, he is re-united with a transformed father who had originally denied him his musical calling.
Throughout the story of Coram Boy music embodies a force for the good, the antithesis of materialistic desire. The show itself is sustained by music, Handel's as well as composer Adrian Sutton's. There is glorious child soprano from the leading boys – not least "young" Alexander (George Clark) and Thomas (Max Macmillan) (pictured above left) – vigorous playing from an orchestra conducted by Jonathan James and a very competent choir. Towards the end of the show, the chorus is more than doubled in size to great dramatic effect.
This is a big production, in which the Bristol Old Vic have made the most of the extra space – not designed for theatre – at the Colston Hall. There is also a fitting irony in a Christmas show that touches on Bristol's dubious past, performed in a space named after the city's most famous celebrated slave trader, a man who combined great philanthropic acts with criminal trade in human beings. Coram Boy is a strong piece because it reflects with admirable subtlety and emotional force on the way in which these things are paradoxically tangled: there is a great deal more to enjoy in this very entertaining show than in the usual seasonal fare with which we are served.
It offers a confrontation between what is worst and best in a society driven by human greed as well as a sense of charity
rating
Explore topics
Share this article