Enter the Void |

reviews, news & interviews
Enter the Void
Enter the Void
Gaspar Noé's talent doesn't yet match his daring
Thursday, 23 September 2010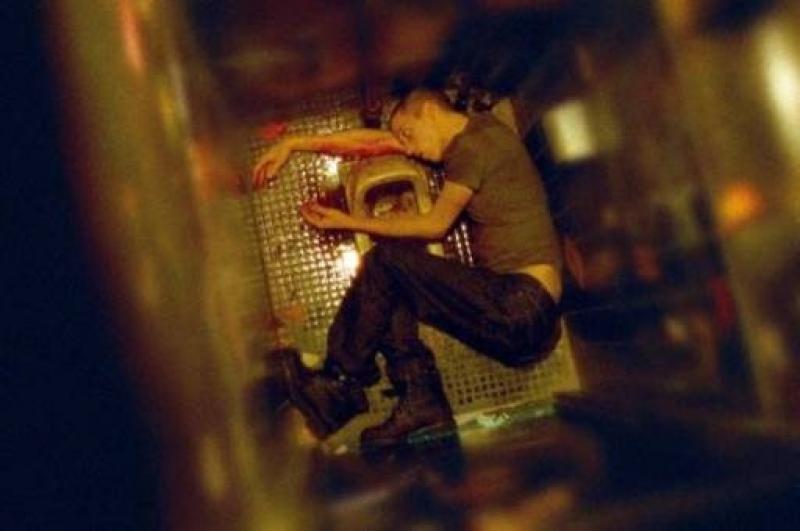 Nathaniel Brown enters the Void: 'Oscar's visit to the Void ends with him shot dead in a toilet cubicle by Tokyo police'
The constant strobing lights us white like we're watching an Atom bomb test. From its garish credit sequence to the somehow inevitable vagina's view of a penetrating penis, Enter the Void attempts assaultive cinema. You'd expect no less from Gaspar Noé, whose previous film Irreversible (2002) menaced audiences with the prospect of Monica Bellucci's character's real-time rape half-way through.
The director is an idealist as much as a provocateur, as this long trip through the post-death visions of a murdered young American in Tokyo proves.
We only see casual drug dealer Oscar (Nathaniel Brown) in mirrors - Noé was inspired by watching the famous subjective Raymond Chandler adaptation The Lady in the Lake (1946). He's already fuzzy with hallucinations of red kaleidoscopes and coral when we meet him, living with sister Linda (Paz de la Huerta, pictured below), who he's almost incestuously close to and promised never to leave, since surviving the car crash that orphaned them. Dubious night-clubs' names are keys to Noé's films, and after Irreversible's nightmare trip to the Rectum, Oscar's visit to the Void ends with him shot dead in a toilet cubicle by Tokyo police. Leaving his body by the toilet's bloody hole, Oscar's spirit moves through time and space, observing past and future.
Enter the Void could be taken as an adaptation of the Tibetan Book of the Dead Oscar has been reading, as his spirit journeys away from his old life towards reincarnation. As with the wrong turns that lead to Irreversible's rape, Oscar's choices (sex with his best friend's mum, for one) pave the path to his death, while the walloping shock of the car crash waits round every corner of his fragmented dream. Long pornographic scenes in the Love Hotel act as purgatory, where golden smoky tendrils around copulating bodies test your patience with Noé's visionary efforts, before that penis head looms, to inevitable sniggering this side of the Channel. A fleshy aborted foetus and final rebirth complete Oscar's slacker-Buddhist cycle.
Noé is far more interested in the visceral possibilities of cinema itself. Tokyo's non-stop neon daylight makes the night-time panic at Oscar's death among his hunted drug buddies still darker. The city seems made of toy bricks as the camera takes vertiginous Ferris-wheel spins and plunges through it. Oscar's blinks cause jump-cuts, while time jumbles and loops. Noé is a punk in his clear frustration that his medium won't let him tear us from the seats where we passively watch, and make us physically feel his film. He's far more of a hippie in his solution, to try for a trippy, immersive state with the juddering sound and vision at his disposal. This is a film that wishes it was a drug.
The 135-minute UK release is abbreviated from Noé's preferred cut, but duration isn't the reason why he fails. The complex physical and digital effects and psychedelic light shows rarely hit home. Noé can't find the means to reorder reality. The script is intellectually banal, with frequent longueurs where the dope talks too much. Few directors are as ambitious for a medium where most risk nothing at all, but Noé's talent doesn't yet match his daring. Having spent eight years getting this made, his proposed next, hardcore sex subject may be his real test. Though many never got past the Bellucci rape for the reverse-order, tenderly intimate sex between her and real-life partner Vincent Cassel near Irreversible's end, it made that film more humane and profound than its reputation. Paz de la Huerta finds similar truth in moments here, when her screen brother isn't sniffing her panties. Watching two people in bed may be where Noé will find his longed-for total cinema. Enter the Void fails to go all the way.
Watch the Enter the Void trailer